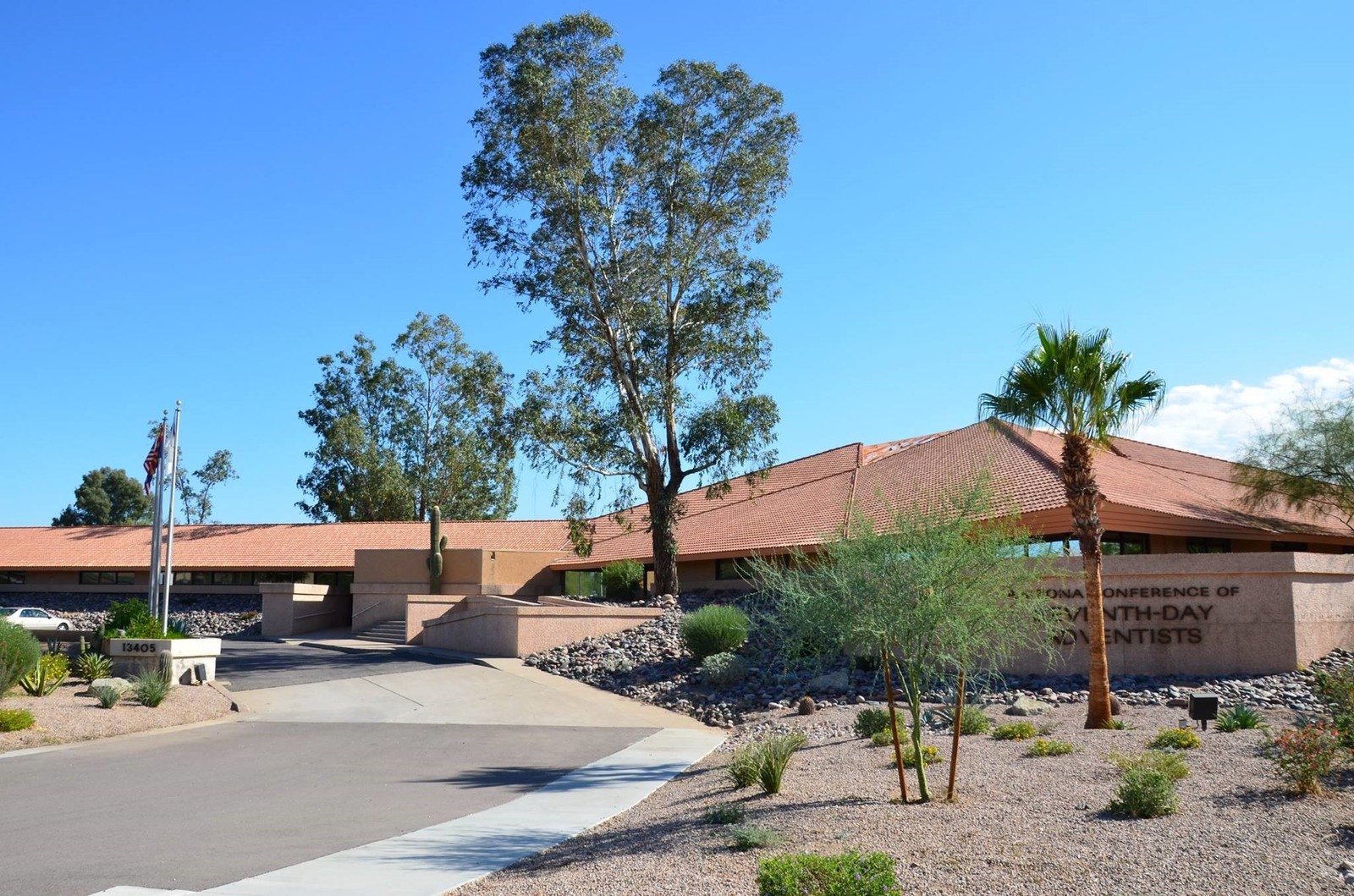 Arizona Conference
×
Raymond D. Tetz has served as director of Communication and Community Engagement for the Pacific Union Conference since 2015. He served as vice president for strategic communication and corporate development at the Adventist Development and Relief Agency (ADRA) from 1986 to 1995. For two decades, he successfully operated a consulting and media production company that served dozens of Adventist organizations and ministries. Tetz began his ministry in the Southern California Conference, initially serving as a pastor, Bible teacher, and youth director.
Arizona Conference Corporation is a church administrative unit in the Pacific Union Conference of Seventh-day Adventists.
Territory: Arizona.
Statistics (June 30, 2020): churches, 78; membership, 20,793.1
Origins
The first published mention of the presence of Adventists in Arizona comes in the Seventh-day Adventist Yearbook for 1884, but no details are provided.2 A letter from A. J. Potts indicates that the Phoenix church began meeting in 1887 and was organized in 1890. In 1889 the California Conference took the responsibility for the largely unentered territories of Utah and Arizona.3 At the 1891 General Conference session, R. A. Underwood reported, "Since the last General Conference, the California Conference has opened the work in Utah and Arizona. At Phoenix, Ariz., a church has been organized with eighteen members, and a good work started."4
In an 1899 report in the Review and Herald, George States, a pioneer worker in Arizona, wrote frankly about the difficulties of the work there:
The work in this territory moves slowly, and at times looks discouraging. About the first of October [1898] I began holding Bible readings in Phoenix. . . . As a result, I had the joy of baptizing two souls, and seeing them unite with the Phoenix church. January 15 I bade good-by to a large number of our brethren and sisters, and came to my new field at Flagstaff, nearly three hundred miles distant. As far as I know, there are none of our people within one hundred miles of us. It was quite a change to leave the warm climate of Phoenix and go to a place where the ground was covered with snow at an altitude of about seven thousand feet. I began at once to visit from house to house, leaving tracts, and taking orders for "Steps to Christ." I have been over about two thirds of the place, have distributed several thousand pages of tracts, and expect to put at least seventy-five more copies of that valuable book into the homes of the people. I am giving some Bible readings, and a few seem interested.5
States' experiences illustrated the challenges of spreading the Word in those early days. He went by bicycle through the Verde Valley, where he gave out tracts and visited people from previous meetings. While he was traveling through Peeples Valley with a tent and equipment, his wagon broke down, forcing long treks to find water. He had convinced a number of people of the truth, but when he returned 30 months later, only one family was left. There had been a drought and, due to the nature of the environment, the population was very transient.6
It was in Arizona that the Seventh-day Adventist church gained its first Hispanic converts in the United States. In 1899 literature evangelists Walter Black and Charles Williams contacted a Methodist minister, Marcial Serna, from Tucson. Following a public debate, Serna accepted the Sabbath, and he then shared this truth with his members, many of whom also became Adventists. This resulted in the denomination's first Spanish church in the United States, organized in Sanchez, Arizona, with 15 members attending and their pastor, Marcial Serna, becoming the first Hispanic pastor.7
Organizational History
Since Arizona was initially entered by Adventists from California, it nominally came under the jurisdiction of the California Conference. When in 1890 the General Conference divided the work in North America in districts, Arizona was placed in District 6, along with California, Utah, Nevada, Idaho, Oregon, Montana, Washington, and the Province of British Columbia.8
At the 1901 General Conference, R. M. Kilgore reported the following regarding Arizona:
In this mission field we have four organized churches, three of which have been developed since last General Conference. They are provided with a neat and comfortable meeting-house at each point (total value, $3,700), and so nearly paid for that they are practically out of debt. Two of these are Spanish-speaking churches, a few Americans being connected at Tucson. In the territory there are 111 members and 17 isolated Sabbath-keepers. Tithes paid to General Conference in 1900 were $459,—$4.13 per capita. Amount paid to the Foreign Mission Board, $59.90; book sales for six months, $107.50.9
In 1901 Arizona became a mission of the Pacific Union Conference,10 newly-established in a global reorganization of the Adventist church's administrative structure intended to allow local leadership greater say in directing the church's work. This change led directly to significant evangelistic progress in various areas, including the Pacific Southwest. General Conference president A. G. Daniells commended the new union conference for taking immediate action to send workers to Arizona to develop the church's program there.
Perhaps no conference in the States has done more thorough work in organizing than has the Pacific Union Conference. It has added to what was District 6, Arizona, Alaska, and Hawaii. The new administration began July 1, 1901. Without delay, laborers were sent to Arizona, Alaska, and Honolulu.11
The Arizona Conference was organized in 1902. It had four churches – Flagstaff, Phoenix, Solomonville, and Tucson, along with a company at Bisbee, altogether comprising 128 members, with one ordained and three licensed ministers. E. W. Webster, who had been superintendent of the mission, continued as president of the conference.12 The conference was formally admitted to the Pacific Union Conference on March 18, 1904.13
Because of the Great Depression, the Arizona Conference merged with the Southeastern California Conference in 1932, but it became a separate conference again in 1936, with a membership of 1,107.14
Hispanic Growth. At the time of conference organization, the Tucson church membership was made up of 13 Spanish speakers, nine English speakers (including four workers), and one Chinese speaker. The church at Solomonville consisted entirely of Spanish-speaking members.15 After Arizona Academy (now Thunderbird Adventist Academy) was established in 1913, the General Conference in 1919 voted a Spanish teacher for the academy, but placed the financial responsibility on the Pacific Union: "VOTED, That a Spanish teacher be placed in the Phoenix (Arizona) academy, and, that we ask the Pacific Union to provide this teacher's support."16
In 1920 the Spanish-American Training School was set up at Arizona Academy to assist with the Hispanic work. Up until this point the training of Spanish-speaking workers had not received a priority. A rather sharp criticism published in the Review and Herald makes the point:
Since the beginning of the message among the Spanish-speaking peoples, it has been greatly crippled for lack of properly trained native workers. There was no place where our native young people could receive the necessary preparation, and very few Americans have been willing to give sufficient study to the language to make themselves more than tolerated by the better, or educated, Spanish-speaking public. Even those in our schools who studied Spanish, often did it to obtain school credit rather than with the idea of fitting themselves to render creditable service in the language. And even those who studied with the true motive,— that of using the language in giving the message,— were often lost sight of and failed to find their place in the work.17
The Spanish-American Training School was closed in 1933 and merged with Arizona Academy.18
By 2020, the number of congregations identified as Spanish-speaking in the Arizona Conference had reached 27 with a collective membership of 7,223 – 35% of the conference total.19 At the annual Hispanic Convocation and Ministries Festival held in Phoenix on November 16, 2019, conference leaders announced five new Hispanic churches had been planted that year.20
Native American Evangelism. In 1933 the first Native American to become an Adventist in the Arizona Conference, from the Maricopa Reservation near Phoenix, was baptized. The following year the Orno Follett family began holding meetings among the Maricopa. Later a school and church were established, and other Southern tribes were contacted.21
In 1941 Marvin Walter and his wife started their work with the Navajo in northern Arizona. This led to the creation of the Seventh-day Adventist Indian Mission School at Holbrook in 1946, assisting evangelism among the various tribes in Arizona. Some of those baptized have gone to Adventist academies or colleges for training to work among their own people.22
Regional Ministries. Endeavors to reach Black Americans in Arizona began in Tucson during the 1920s with a group that met in the home of Emma Wood. This group developed into the Tucson Sharon church, with a membership of 360 as of 2020. The Beacon Light church in Phoenix, organized in 1936, has become the conference's largest predominantly-Black congregation, reporting a membership of 743 in 2020.23
Educational and Medical Institutions: Arizona Conference has operated medical institutions for two periods in its history. The Arizona Sanitarium founded in Phoenix in 1903 and housed in a rented two-story 40-room building, was initially operated by the Arizona Medical Missionary and Benevolent Association. After approximately one year, it came under conference management until 1906, when it became a private institution. In 1961, the Tempe Clinic-Hospital in Tempe, Arizona, previously privately operated, was turned over to the Arizona Conference and became an acute-care hospital, renamed Tempe Community Hospital. In 1974 its operation was assumed by the Pacific Union Conference.24
With construction of residential housing and a large shopping center replacing the wheat fields that had previously surrounded Arizona Academy, the conference moved the school in 1953. The new locale, north of Scottsdale, had been Thunderbird Field Number 2, a government air base made available for educational purposes. Renamed Thunderbird Adventist Academy in 1973, the accredited secondary school has continued in operation to the present.25
Evangelism, Community Engagement, and Growth. The Arizona Conference added 138 members in 1957, the largest one-year net gain in its history, bringing the total membership to 2,263. With the state's population growing as never before, conference leaders initiated an evangelistic program with the slogan, "Attempt the Great in '58."26 An even larger increase of 263 that year brought the total to 2,526. The gains of the late 1950s were surpassed in the 1970s. The 577 new members in 1979 brought to culmination a decade marked by a 70 percent net increase in membership from 4,024 in 1970 to 6,880 at the outset of 1980. The strongest decade since the 1970s was the first decade of the twenty-first century, which the conference began with 12,490 members in 2000 and concluded with 17,515 at the end of 2009, a net increase of 40 percent.27
Recent evidence of continued vitality in public evangelism includes an It is Written's "Revelation Today" series in Mesa in 2019, which led to well over 200 baptisms.28
The Diamond Street Resource Center (DRSC), opened in 2015 under the auspices of the Camelback church in the predominantly low-income Garfield District of east-central Phoenix, is an example of evangelism through ministry to the whole person. Rather than distribute material goods, the center offers resources and services such as health screenings, Volunteer Income Tax Assistance (VITA) programs, English as a Second Language (ESL) classes, cooking classes, demonstration vegetable gardens, and worship services.29
Conference Headquarters and Camp. Camp Yavapines near Prescott has served the conference since 1947 as a site for camp meeting, retreats, and summer camp. The camp comprises 170 acres (70 hectares), and permanent buildings, including a large open-air pavilion, make it possible for the camp to be utilized year-round.30
The first locale of conference offices was 1230 N. First Street in Phoenix. The headquarters moved to 2601 East Thomas Road in 1949 and remained there until 1974 when an executive office-book center complex was occupied at 322 North 44th Street. Not long afterwards, however, an advantageous sale of that property both funded construction of a new headquarters facility and made possible appropriations of $100,000 for evangelism and $500,000 for an educational trust fund. The new office and Adventist Book Center located in Scottsdale, near Thunderbird Adventist Academy, was completed in 1983.31
Headquarters: 13405 North Scottsdale Road, Scottsdale, Arizona 85267.
Presidents
E. W. Webster, 1902–1903; A. J. Howard, 1903–1904; C. E. Knight, 1904–1905; F. I. Richardson, 1905–1907; H. G. Thurston, 1907–1912; G. W. Reaser, 1912–1914; J. E. Bond, 1914–1919; A. R. Sandborn, 1919–1926; C. S. Prout, 1926–1927; Adolph Johnson, 1927–1930; T. L. Oswald, 1930–1932; (combined Southeastern California-Arizona Conference) C. S. Prout, 1932–1934; E. F. Hackman, 1934–1936; (Arizona separated from Southeastern California Conference) W. E. Atkin, 1936–1939; C. E. Andross, 1939–1949; Carl Becker, 1949–1950; G. H. Rustad, 1950–1959; D. C. Butherus, 1959–1967; W. D. Blehm, 1967–1968; John V. Stevens, 1968–1974; E. Frank Sherrill, 1974–1988; Herman Bauman, 1988–2001; Orville Parchment, 2001-2003; Duane McKey 2003-2007; Antonio M. Anobile 2009-2015; Ed Keyes 2016- .
Sources
A Chronology of Seventh-day Adventist Education 1872-1972.
Allen, A. N. "Our Spanish-American Training School." ARH, September 6, 1923.
"Arizona Conference." North American Informant, September-October 1961.
Bergh, Henry T. "Arizona is Growing." Pacific Union Recorder, February 24, 1958.
Corella, Gary and Phil Draper. "Hispanic Convocation and Ministries Festival." Pacific Union Recorder, November 2019.
Daniells, A. G. "A Brief at the Work of Re-organization." General Conference Bulletin, Third Quarter 1901.
Draper, Phil. "Diamond Street Resource Center." Pacific Union Recorder, July 2019.
Hardy, Frank W. "Holbrook Indian School, Arizona." Encyclopedia of Seventh-day Adventists, January 9, 2021. Accessed February 12, 2021, https://encyclopedia.adventist.org/article?id=49HK.
Ireland, J. J. "Arizona Conference." Pacific Union Recorder, May 8, 1902.
Jones, Dan T. "General Conference Districts." ARH, February 25, 1890.
Kilgore, R.M. "Biennial Report of General Conference District 5." General Conference Bulletin, April 4, 1901.
Matambo, Karen and Phil Draper. "God's Relentless Love: Revelation Today with It Is Written Speaker/Director John Bradshaw." Pacific Union Recorder, December 2019.
"News Notes – North American Division." ARH, March 20, 1980.
"Reports of Superintendents of Districts." General Conference Bulletin, March 8, 1891.
Seventh-day Adventist Encyclopedia. 2nd rev. edition. Hagerstown, MD: Review and Herald Publishing Association, 1996. S.v. "Arizona Conference" and "Thunderbird Adventist Academy."
Spalding, Arthur Whitefield. Origin and History of Seventh-day Adventists. Volume 3. Washington, D.C.: Review & Herald, 1962.
States, Geo. O. "Arizona." ARH, February 14, 1899 and April 24, 1900.
"The Pacific Union Conference." Pacific Union Recorder, March 24, 1904.
Vasquez, Manuel. The Untold Story. Boise, ID: Pacific Press, 2000.
Webster, E. W. "The Arizona Mission Field." Pacific Union Recorder, August 15, 1901.
Notes