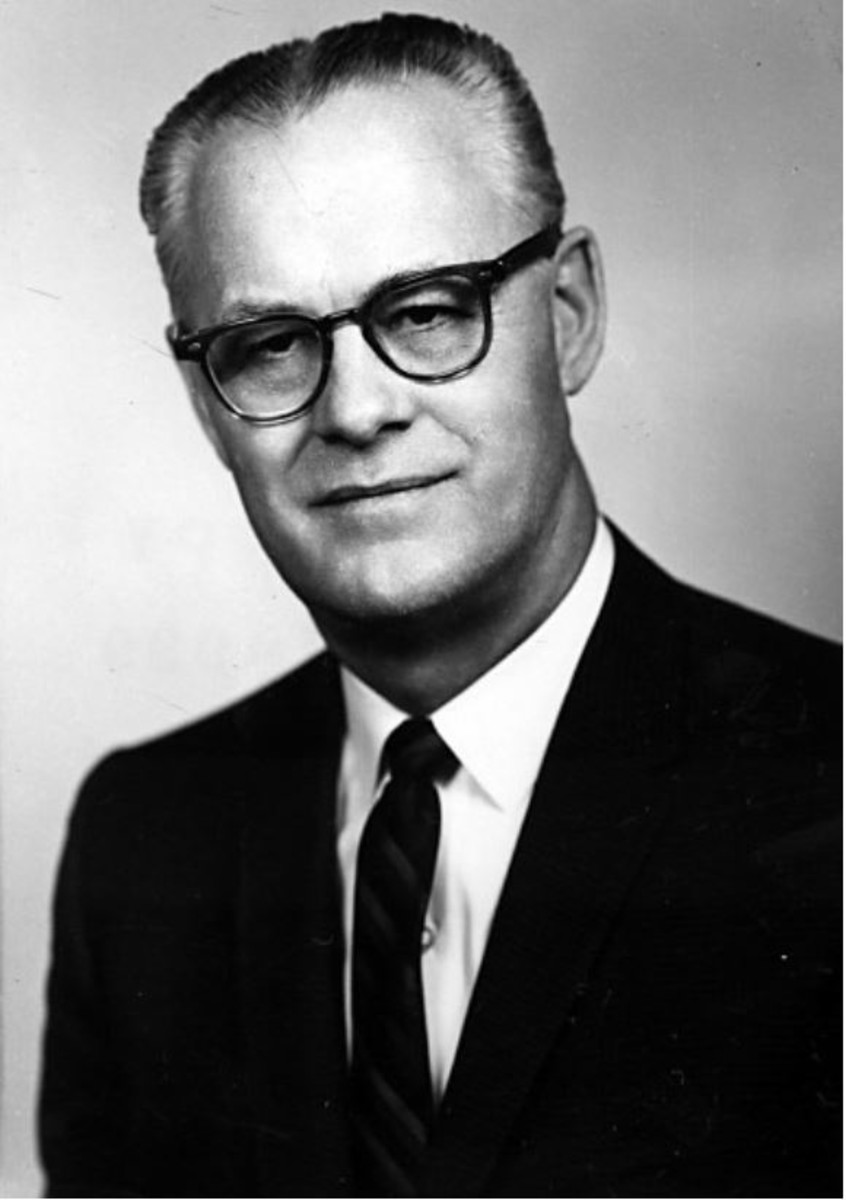 Bieber, David J. (1910–2008)
×
Sabrina Riley was born in Auburn, New York and raised in Dowagiac, Michigan. She received a B.A. in history from Andrews University and an M.A. in information and libraries studies from the University of Michigan. Riley was a member of Andrews University's library staff from 1998 to 2003, library director and college archivist at Union College from 2003 to 2016, and is presently a freelance researcher, author, and information professional.
First Published: January 29, 2020
David J. Bieber, an Adventist educator and administrator, was born November 14, 1910, in Tolstoy, South Dakota,1 to John Bieber and Katherine Trefz (1881–1918; 1876–1973).2 At birth he was given the name David Bieber. He later added the middle initial of J., but it does not represent a particular name.3
Both of Bieber's parents were Germans from Russia who immigrated to South Dakota as children. The Trefz family immigrated in April of 1889 as an extended family of aunts, uncles, cousins, and grandparents and settled on farms. Originally Lutherans, Katherine Trefz's immediate family became Seventh-day Adventists sometime before 1902, when she married John Bieber in Tolstoy, South Dakota.4 John Bieber immigrated to the United States in 1899.5 Both John and Katherine were buried in the Seventh-day Adventist cemetery in Tolstoy, South Dakota. David J. Bieber's siblings were Dorothy (1903–1982), Lydia (1904–1993), Katie
(1906–1995), George H. (1908–2009), Edward (1909–1984), and F. William (1916–2013).6 F. William was also an Adventist educator and administrator who, among many other positions, served as president of the South Dakota, Idaho, and Iowa conferences.7
Education and Marriage
Bieber attended Plainview Academy8 before enrolling at Union College in 1931 where he was active as a student leader. He completed his undergraduate degree in economics and business in 1936,9 followed by a Master of Arts degree from the University of Minnesota in about 1945. In 1971 he completed a PhD from the University of California at Berkeley with an emphasis in higher education administration. His dissertation studied the trend of Adventist students moving away from Adventist colleges.10
Bieber married Eva Beatrice LaFave (she preferred to be called Eva Mae), who was born into a family of cattle ranchers in Pollack, South Dakota, on May 10, 1912.11 She briefly attended Union College in 1934–1935 and 1963–1964, but never completed a college degree. Throughout her husband's long career she supported him and filled positions in the libraries at Oak Park Academy, Maplewood Academy, and La Sierra College. She was also registrar at Hawaiian Mission Academy and Monterey Bay Academy.12
The couple had one son, Donald Oliver, who taught physical education at Hawaiian Mission Academy, La Sierra College, Loma Linda University, and Pomona Adventist Junior Academy (now San Antonio Christian School). After leaving denominational employment, Donald became a nursing home administrator and operated a ranch for troubled boys. He later became a vice president of Castle Medical Center in Hawaii. Donald married Glenda Hunt.13 The Biebers' nephew, Kenneth Pierson, also became like a son to them after the death of his parents in a drowning accident. The son of Eva's sister and brother-in-law, Hulda and Merlin Pierson, Kenneth Pierson graduated from Loma Linda University's School of Dentistry.14
Career
After graduating from Union College, David Bieber accepted the position of accountant at Oak Park Academy in Nevada, Iowa, in the fall of 1936. He also taught the commercial (business) course.15 In 1939 he moved to Maplewood Academy in Hutchinson, Minnesota, where he also served as accountant, as well as teaching commercial and occasionally German classes,16 until the principal resigned before the end of the 1940–1941 academic year. Bieber stepped in to finish the year as interim principal and was then offered the position permanently. He was Maplewood's principal and business manager for four years.17 In 1949 Bieber moved to Watsonville, California, where he was the founding principal of Monterey Bay Academy.
In 1957 Bieber transitioned to college leadership when he became president of Union College. Under Bieber's leadership the number of faculty pursuing advanced degrees doubled. He was also responsible for the campus' first paved road and the reinstatement of a public relations position.18 In 1964 Bieber accepted the presidency of La Sierra College (now La Sierra University), moving to southern California.19 When La Sierra College merged with Loma Linda University in 1967, he became president of the enlarged Loma Linda University (LLU). Under Bieber's leadership, LLU continued to grow with the addition of four new schools in the areas of health, allied health professions, and education. An extension school also enrolled 23,000 students across the United States and around the world.20
Throughout his long career Bieber served on various boards and committees, including the board of trustees for Andrews University, Antillian College (now Antillean Adventist University), Home Study Institute, Porter Memorial Hospital, Christian Record, and Pacific Union College.21
Later Life
Citing a desire to reduce his workload, Bieber resigned as president of Loma Linda University in 1975 and became vice president for planning and development instead. He retired in 1976.22 In addition to his illustrious career as an educator, Bieber was ordained to the gospel ministry in 1958.23 He was an honorary minister in the Southeastern California Conference from 1990 to 1993.24
Eva Bieber suffered a stroke and, after four years in a nursing home, died on May 2, 1997. On March 22, 1998, Bieber married a retired nurse and widow, Anna Lucille Noggle Aitchison (1914–2017), whose first husband, James Robert Aitchison (1912–1993), had been a dentist and adjunct instructor at Loma Linda University School of Dentistry.25 David Bieber died on April 16, 2008, in Loma Linda, California.26
Contribution
Bieber was the chief operating officer of an Adventist academy or college continuously for 39 years. Under his administration each campus flourished. In 1989 Union College recognized his "outstanding and continuing service" by naming him president emeritus.27
Sources
"Accountant, Principal, Missionary, Father, President–Mr. Bieber." Clock Tower, August 25, 1958.
"At Rest: Bieber, David." Pacific Union Recorder, June 2008.
"Bieber 90th." North Pacific Union Gleaner, August 2006.
Bieber, David J. "Factors Contributing to the Shift of Students Away from Seventh-day Adventist Institutions of Higher Learning: Implications for Program Development." University of California, 1971.
Bieber, David J., and Loma Linda University. 1970: The Year We Woke Up. Loma Linda, Calif.: Loma Linda University, 1970.
Bieber, F. W. "A Tribute to Mother." Northern Union Outlook, October 14, 1966.
"Bieber Named President Emeritus." Mid-America Adventist Outlook, May 1989.
Bowes, Ronald W. "Dr. D. J. Bieber Will Take Planning-Development Role." Pacific Union Recorder, February 11, 1974.
"Brief News of Men and Events." ARH, April 16, 1964.
California Death Index, 1940–1997. State of California Department of Health Services, Center for Health Statistics, Sacramento, California. Accessed March 4, 2019. http://www.ancestry.com.
Campbell, M. V. "Meet the Principal of Maplewood Academy." Northern Union Outlook, August 18, 1942.
"David Bieber Honored by LLU." Pacific Union Recorder, July 5, 1976.
Dick, Everett, George Gibson, and Union College. Union College: Light Upon the Hill. Lincoln, Nebr.: Union College, Alumni Association, 2004.
"Edward Bieber." Mid-America Adventist Outlook, August 2, 1984.
"George H. Bieber obituary." Find a Grave. Accessed March 1, 2019. https://www.findagrave.com/memorial/76208595/george-h-bieber.
"Katherina Trefz Bieber obituary." Northern Union Outlook, August 24, 1973.
Loma Linda University. What We're Learning About Learning: The President's Report Given at Winter Convocation, 1971. Loma Linda, Calif.: Loma Linda University, 1972.
"Loma Linda University President Announces Resignation." Central Union Reaper, February 19, 1974.
"Plainview News Items." Northern Union Outlook, December 17, 1929.
"PUC Students Loses Family." Pacific Union Recorder, May 3, 1965.
"Report From First Meeting of New Loma Linda Board." Review and Herald, June 22, 1967.
Schwarz, Gerhart. "Merlin Pierson Family obituary." Northern Union Outlook, July 2, 1965.
Seventh-day Adventist Yearbook. Washington, D.C.: Review and Herald Publishing Association, 1936–1993.
Skinner, Linda. "Former Union College President Dies." Cord Magazine, Summer/Autumn 2008.
South Dakota. Faulk County. 1910 United States Census. Digital images. Ancestry.com, March 1, 2019, http://ancestry.com.
Steinert, A. G. "Jacob Trefz obituary." ARH, March 17, 1927.
Notes