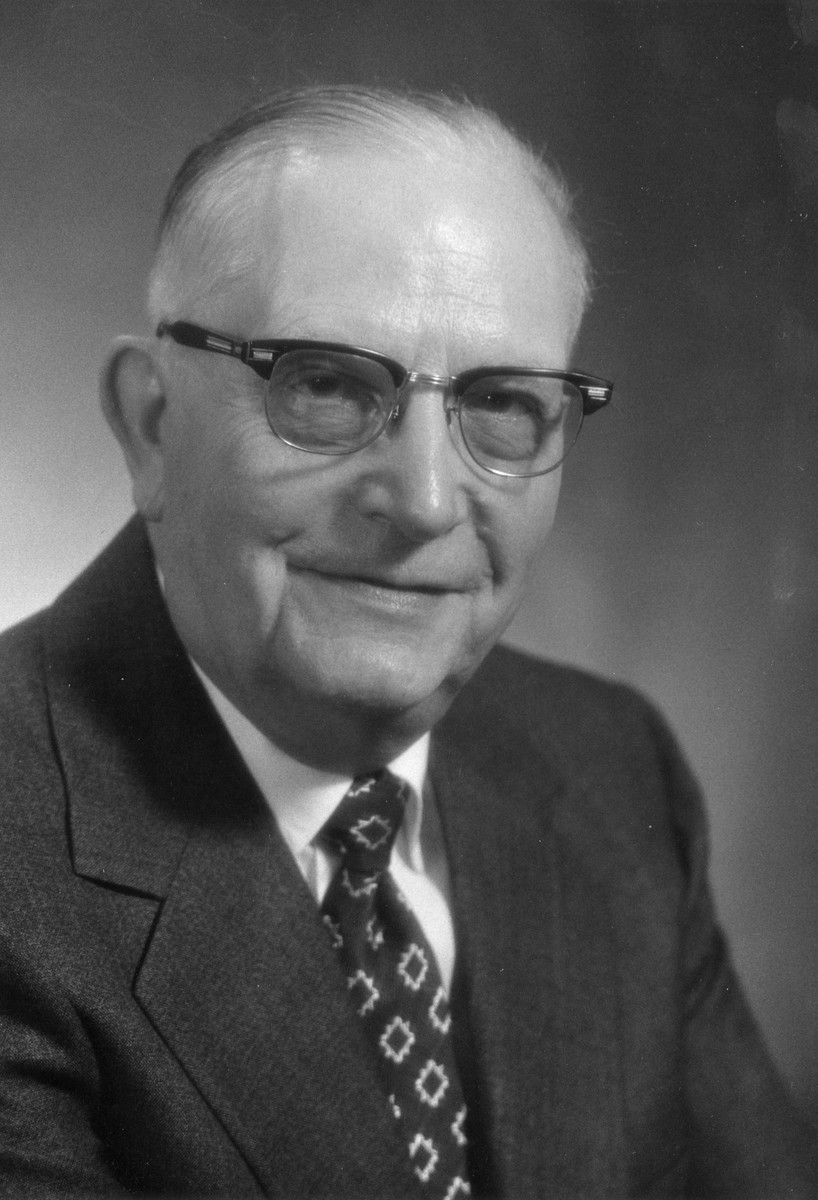 Vande Vere, Emmett Kaiser (1904–1989)
×
Brian E. Strayer, Ph.D. (University of Iowa). Strayer taught history at Jackson (MI) Junior Academy, the University of Iowa, Southern Adventist University, and Andrews University for 41 years. He has written 10 books, 120 scholarly and professional articles, 40 reviews and critiques in French and Adventist history and directed three Adventist heritage tours of New England.  He writes a weekly column ("The Past Is Always Present") in the Journal Era and shares Adventist history at camp meetings, schools, and churches.
First Published: January 29, 2020 | Last Updated: January 19, 2023
Emmett Kaiser Vande Vere was a historian, author, educational administrator, history professor, historical consultant to university presidents, and promoter of the narrative interpretation of Adventist history.
Early Life
Emmett Kaiser Vande Vere was born on May 2, 1904, in Hennepin County, Minnesota, to Adventist parents Charles Vande Vere, a machinist, and Dorothea K. Vande Vere, a housewife. In 1918 at the age of fourteen, he was baptized into the Seventh-day Adventist Church.1 He completed the elementary grades in Hutchinson, Minnesota, and then enrolled at Maplewood Academy (1918-1922) in Maple Plain, Minnesota, receiving his diploma in May 1922.
Vande Vere entered Union College in Lincoln, Nebraska, in 1923 and majored in history with minors in German, English, education, and religion. He earned top grades in all his courses except typing and gym. In June 1927 he received a Bachelor of Arts degree in history. In 1928 Emmett married Margarete Carter Hayes, a graduate of the Music Conservatory at Union College. They had one child, Wayne Elmer Vande Vere.
Academy Teaching and Graduate Studies
From 1927 to 1932 Vande Vere served as dean of boys and history teacher at Plainview Academy in Plainview, South Dakota. In 1932 the family moved to Hutchinson, Minnesota, where Emmett was history teacher (1932–1941) and acting principal (1940–1941) at Maplewood Academy while taking graduate courses in American and European history at the University of Minnesota at Minneapolis (1937–1939). In 1939–1940 he taught history and political science courses at Union College while pursuing his Master of Arts degree in history at the University of Nebraska, completed in the summer of 1941. His master's thesis was titled "Medical Service in the Union Army, 1861–1865."
That fall the Vande Veres moved to Walla Walla, Washington, where Emmett was a history teacher and principal at Walla Walla College Academy (1941–1943) and then a history and Bible teacher at Auburn Academy (1943–1947) in Auburn, Washington. During this time he also took advanced coursework at the University of Washington in Seattle. He graduated in 1948 with a Doctor of Philosophy degree in history and a minor in political science. His dissertation was titled "History of Irrigation in Washington."
College Professor and Author
Before completing his dissertation, however, Vande Vere accepted a faculty position at Emmanuel Missionary College (EMC) in Berrien Springs, Michigan, where he became chair of the Department of History and Political Science in 1947. He taught courses in Adventist, United States, and American frontier history and continued to serve as department chair until 1963, when the institution was expanded and renamed Andrews University (AU). He remained on the history faculty at Andrews until 1980. During his 33 years at EMC–AU (1947–1980), Vande Vere taught courses year-round except for short leaves of absence during the summer of 1948 (to complete his PhD degree), the summer of 1960 (to accompany a Reformation lands tour), and the winter quarter in 1970 (to work on writing the history of the university).
He was also active in the American Historical Association, the American Society of Church History, the History Teachers' Council (of which he served as chair in 1954 and secretary in 1958), and the National Education Association, and he read papers at their conferences. The titles of his presentations indicate the wide range of his research: "Water or Your Life" (1950); "Physiological Reform" (1954); "Early Educational Reform" (1955); "Early Sabbath Reform" (1956); "The Career of Dr. John H. Kellogg" (1958); "A Theology of History" (1962); and "The Civil War: An Interpretation" (1962).
Historian of Adventism
By the late 1960s, however, Vande Vere began focusing his attention on Adventist history. His major works, published by Southern Publishing Association, included The Wisdom Seekers (1972), a history of Andrews University; Windows (1974), a collection of readings in Adventist history; and Rugged Heart (1979), a biography of George I. Butler. Between 1972 and 1982 he wrote several articles in the Review and Herald and a lengthy series on Adventist history in the Lake Union Herald.
Teaching Style
As a professor, Vande Vere preferred narrative history. He filled his lectures with anecdotes, stories, and humor. His quiz questions were often based on riddles (example: What institution, like an octopus, spread its tentacles across the U.S. after the Civil War? answer: the railroads). In addition to teaching and writing, Vande Vere served as a historical consultant for university presidents Floyd Rittenhouse, Richard Hammill, and Joseph Smoot; History department chair Richard Schwarz (who called him the Dean of Adventist Historians), and archivist Louise Dederen. During his tenure Vande Vere supported adding faculty in Middle Eastern, African, and Asian history; increasing the department's library budget to $6,000; offering a course in Adventist Church history; reimbursing faculty who had paid for their own doctorates; restoring Founders' Day celebrations; and preserving rare Adventist artifacts. He also suggested in 1959 that the campus church be called Pioneer Memorial church, which it is to this day.
Later Life
During the 1970s Vande Vere taught part time, giving greater attention to his writing. Visitors to the Vande Vere home at 108 Rose Drive often saw him typing his manuscripts on a manual typewriter using only his two index fingers. In June 1980 he and Margarete retired to live in Ooltewah, Tennessee, near their son, Wayne Vande Vere. In December 1982 Emmett and Margarete gave $5,000 to establish the Vande Vere Endowed Scholarship in History to benefit history graduate students at Andrews University. Emmett K. Vande Vere died on August 23, 1989, at age 85 in Collegedale, Tennessee.
Contributions
Emmett K. Vande Vere's contributions to the Seventh-day Adventist Church and to the profession of history in general include his impact on hundreds of academy students, history majors, and history graduate students he taught at six Adventist educational institutions. Many of those students would themselves go on to teach history in both secondary and higher education around the world.2
He advanced scholarship in Adventist history with the many articles and three books that he wrote promoting the narrative interpretation of that history and in the boxes of rare Adventist source materials he donated (and persuaded others to donate) to the Adventist Heritage Room at Andrews University. In frequent letters to Vande Vere, Richard Hammill thanked him for his "efficient and dedicated service,"3 his "effective and creative life,"4 and the "good influence you have exerted in the lives of other people," and affirmed that the "contribution you have made to the university and to these young people is indeed a significant one."5
Sources
Faculty Biographical Information form for Emmett Kaiser Vande Vere. Andrews University. October 21, 1965.
Teacher Information form for Emmett Kaiser Vande Vere. Department of Education, General Conference of Seventh-day Adventists. November 20, 1952.
Hammill, Richard. Correspondence to Dr. Vande Vere. Center for Adventist Research, James White Library, Andrews University (hereafter cited as CAR), 1963–1973.
Schwarz, Richard W. Richard W. Schwarz to E. K. Vande Vere. June 7, 1979. CAR.
Smoot, Joseph. Joseph Smoot to E. K. and Mrs. Vande Vere. December 30, 1980. CAR.
Vande Vere, Emmett K. Emmett K. Vande Vere to Floyd O. Rittenhouse. January 24, 1963. CAR.
———. Emmett K. Vande Vere to Richard Hammill. November 29, 1966. CAR.
———. Emmett K. Vande Vere to Joseph Smoot. October 19, 1976. CAR.
———. Emmett K. Vande Vere to Joseph Smoot. N.d. (c. 1980). CAR.
———. Emmett K. Vande Vere to Joseph Smoot. December 14, 1982. CAR.
———. Emmett K. Vande Vere to Joseph Smoot. April 11, 1983. CAR.
———. Emmett K. Vande Vere to Louise Dederen. April 5, 1983. CAR.
———. 1947–1983. Personal papers and files. University Archives, CAR.
Notes