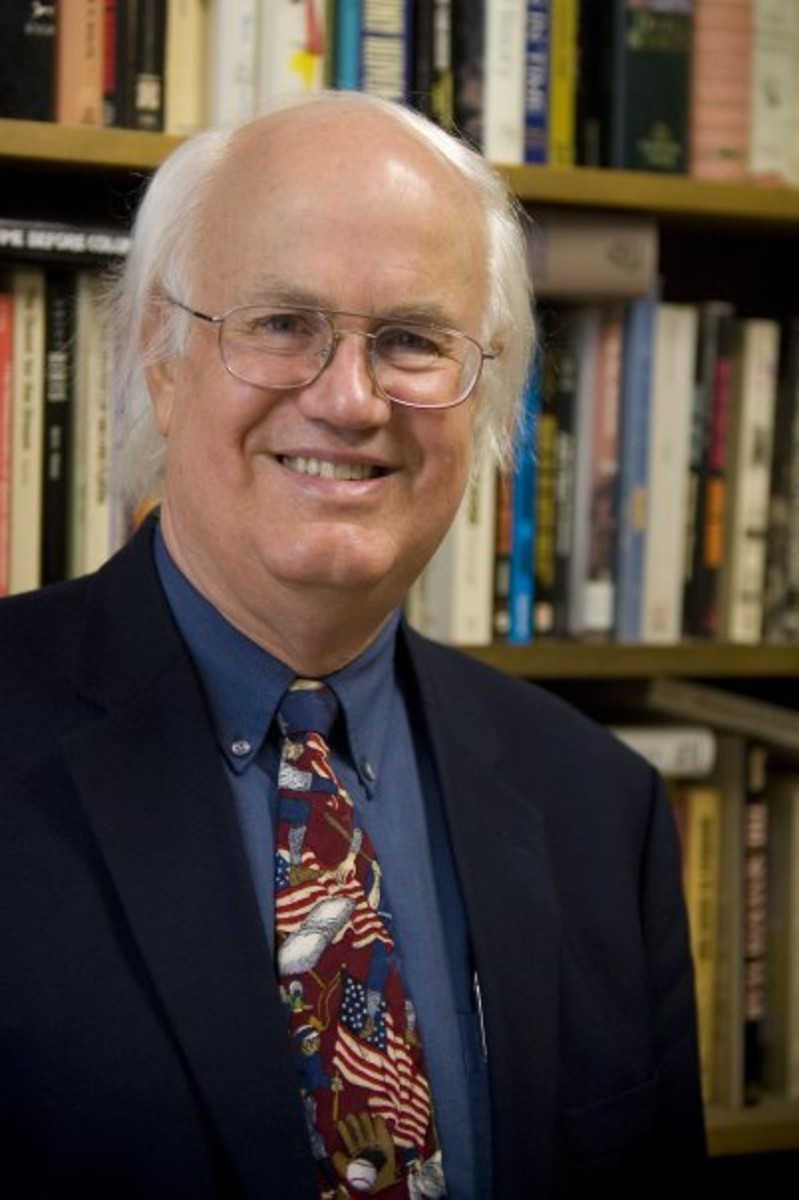 Land, Gary Gene (1944–2014)
×
Brian E. Strayer, Ph.D. (University of Iowa). Strayer taught history at Jackson (MI) Junior Academy, the University of Iowa, Southern Adventist University, and Andrews University for 41 years. He has written 10 books, 120 scholarly and professional articles, 40 reviews and critiques in French and Adventist history and directed three Adventist heritage tours of New England.  He writes a weekly column ("The Past Is Always Present") in the Journal Era and shares Adventist history at camp meetings, schools, and churches.
During his forty years at Andrews University, Gary Land advanced historical thinking in the Seventh-day Adventist church both through his teaching and through extensive publications that made him one of his era's foremost historians of the Adventist experience in America.
Early Life
He was born Gary Gene Booth on August 22, 1944, in San Francisco, California, to Elliott Booth, a longshoreman and Navy veteran, and Virginia May (Bradley) Booth, a nurse. After the couple divorced, Gary lived briefly with his father and a stepmother until they too separated. Then for a short time he lived with his Aunt Bernice and Uncle Bo. By age three he had been sent to live with his mother's sister, Barbara Pennington, and her husband who lived in Riverside. But when they decided to place him in an orphanage, his Uncle Bob and Aunt Audrey Bradley, Seventh-day Adventists of Napa, adopted him and sent him to kindergarten as Gary Bradley. Within a couple of years, however, as their family grew, they sent Gary to live with Audrey's father and stepmother, Aubrey and Thelma (Gillespie) Land, Adventists who lived nearby. When their marriage ended a few years later, Gary stayed with Thelma, becoming Gary Land. He attended the elementary grades at Napa Junior Academy (1950-1958) and received his high school education at Monterey Bay Academy (1958-1962), earning his diploma in June 1962.1
Education and Marriage
Land next attended Pacific Union College in Angwin, California (1962-1966), where history professor Walter C. Utt inspired in him a love of history. Gary graduated in June 1966 with a B.A. degree in History.2 At the University of California-Santa Barbara he earned an M.A. (1967) and Ph.D. (1973) in history, specializing in intellectual and cultural history. His dissertation explored trans-Atlantic cultural and intellectual links between leading thinkers in Great Britain and the United States.
In July 1970 Land joined the History and Political Science Department at Andrews University where for the next forty years he taught courses in American Intellectual History, Adventist History, Research Methods, Historiography, American Biographies, and various topical seminars to both undergraduate and graduate students.3
On August 19, 1973, Land married Edith Marie Stone, a graduate of Southern Missionary College in Collegedale, Tennessee. Together they raised two children: Jeffery Alexander and Jessamyn Elizabeth.4
Teaching Career
At Andrews University, Land was for twenty-two years Chair of the Department of History and Political Science (1988-2010). In addition, he served as a graduate programs director, assistant dean in the College of Arts and Sciences, president of the Andrews University chapter of Phi Kappa Phi (the interdisciplinary honors society), the faculty sponsor of the campus Phi Alpha Theta chapter (the international history honors society), and a member of the J. N. Andrews Honors Society Faculty. Andrews University bestowed on him its prestigious J. N. Andrews Medallion and the Research Professor of the Year Award for his outstanding contributions.5
Active in community service, Land was for many years a member of the Berrien County Historical Association's Board of Directors. He served his church at the local level as a Cradle Roll, Kindergarten, and Primary Sabbath School director and teacher at Pioneer Memorial Church, and more broadly as a member of the editorial board for Spectrum, the journal of the Association of Adventist Forums. He frequently attended baseball games of the Class A South Bend Silver Hawks and personally participated in vintage (following early nineteenth century rules) baseball games played in Berrien County.6
Scholarship
Although initially trained in trans-Atlantic cultural history under Professor Robert L. Kelley at the UC Santa Barbara, Land quickly turned his focus to the history of religion and became a recognized scholar in the United States in the study of millenarianism and Seventh-day Adventism. In 1974 he became coeditor, with Jonathan M. Butler and Ronald L. Numbers, of Adventist Heritage and continued in an editorial capacity with the journal until 1998. He became editor of the newsletter for the Association of Seventh-day Adventist Historians (ASDAH) and served a term as ASDAH president beginning in 1998.7
A prolific scholar, Land wrote or edited nine books: Adventism in America (Grand Rapids, MI: Eerdmans Press, 1986); The World of Ellen G. White (Hagerstown, MD: Review and Herald Publishing Association, 1987); (with Calvin Edwards) Seeker After Light: A. F. Ballenger, Adventism, and American Christianity (Berrien Springs, MI: Andrews University Press, 2000); Teaching History: A Seventh-day Adventist Approach (Berrien Springs, MI: Andrews University Press, 2000); Growing Up with Baseball: How We Loved and Played the Game (Lincoln: University of Nebraska Press, 2004); Historical Dictionary of Seventh-day Adventists (Lanham, MD: Scarecrow Press, 2005); The A to Z of Seventh-day Adventists (Lanham, MD: Scarecrow Press, 2009); (with Terri Aamodt and Ronald Numbers) Ellen Harmon White: American Prophet (New York and Oxford: Oxford University Press, 2014); and Uriah Smith: Apologist and Biblical Commentator (Hagerstown, MD: Review and Herald Publishing Association, 2014). He also contributed prefaces or chapters to 137 other books and publications on Adventist, American, and baseball history. His 71 articles appeared in such scholarly publications as the Journal of Adventist Education, College and University Dialogue, Spectrum, Adventist Heritage, The American Historical Review, as well as in many popular and specialized magazines.8
Later Life
Land retired to his home in Berrien Center, Michigan, in July 2010 as professor emeritus of history and spent the next four years battling intestinal cancer with chemotherapy, radiation, and acupuncture. During 2013 and 2014, despite intense pain, he completed his last three books: a greatly enlarged second edition of the Historical Dictionary of Seventh-day Adventists for Scarecrow Press; the edited collection Ellen Harmon White: American Prophet with Oxford University Press; and his Uriah Smith: Apologist and Biblical Commentator, which appeared in 2014 as the ninth volume in the Review and Herald Publishing Association's Adventist Pioneer Biography series.9
Contribution
Gary Land died on April 26, 2014, at 69 in the St. Joseph Medical Center in Mishawaka, Indiana.10 Prominent among his contributions to the Seventh-day Adventist Church and to the profession of history in general are the hundreds of history majors and graduate students he taught in his demanding courses, many of whom today teach history in high schools, academies, colleges, and universities around the world.11 Land's career was distinguished by his voluminous publications on Adventist history and by the depth insight on the Western intellectual tradition, particularly the currents of American thought, that be brought to bear on his scholarship and teaching.
During the 1970s and 1980s, as the Adventist Church experienced internal controversies concerning Ellen White's use of sources, Desmond Ford's rejection of Adventist prophetic interpretations, and Donald Davenport's misuse of church funds in pyramid schemes, Land, following the British tradition of "loyal opposition," remaining firmly within the community of faith while exemplifying and championing the rigorous use of critical historical methods to arrive at reasoned, objective conclusions about denominational history. His closest friends also remember him as one who held a deep love of baseball, music, books, stamp collecting, model building, cooking, and thought-provoking conversations.
Sources
"Gary Land obituary." St. Joseph Herald-Palladium, April 30, 2014.
"Gary Land obituary." The Journal Era, May 7, 2014.
Land, Gary Gene. Personal Papers and Files, 1970-2014. University Archives, Center for Adventist Research, Andrews University, Berrien Springs, Michigan.
McArthur, Benjamin. "In Memory of Gary Land." Spectrum 42, no. 2 (Spring 2014): 7-9.
Nay, John R. and Brian E. Strayer. "In Memoriam." ASDAH Newsletter, Fall 2014. Accessed June 14, 2020. http://www.sdahistorians.org/newsletter-2014.html.
Numbers, Ronald L. and Brian E. Strayer. "Gary Gene Land: 1944-2014." Perspectives on History, November 1, 2014. Accessed June 14, 2020. https://www.historians.org/publications-and-directories/perspectives-on-history/november-2014/in-memoriam-gary-gene-land.
Strayer, Brian E. 2014. "A Personal Tribute to Gary Gene Land." Tribute read at Gary Land's memorial service, Pioneer Memorial Church, Andrews University.
Notes