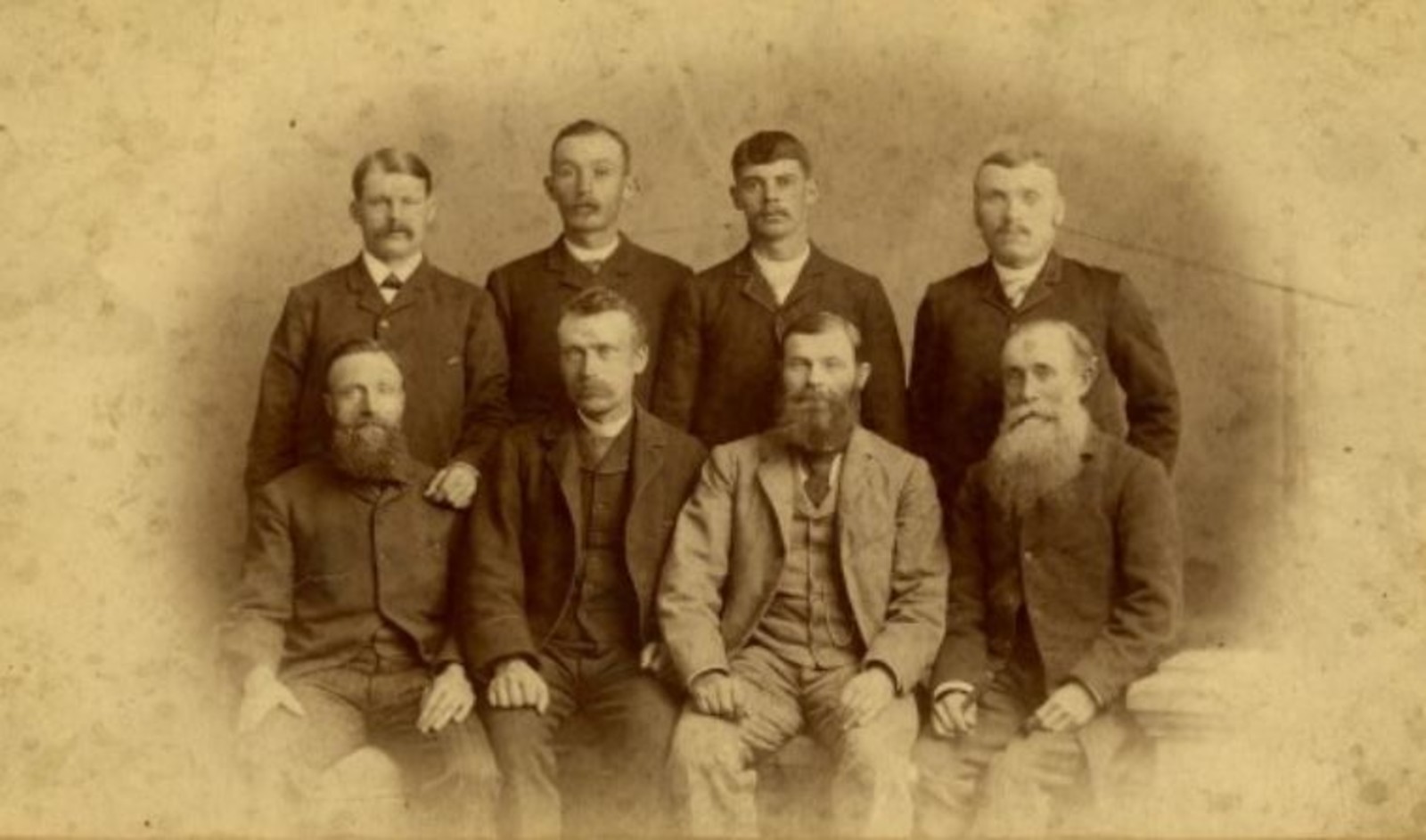 Marsh, Joseph Melville (1855–1892)
×
Milton Hook, Ed.D. (Andrews University, Berrien Springs, Michigan, the United States). Hook retired in 1997 as a minister in the Greater Sydney Conference, Australia. An Australian by birth Hook has served the Church as a teacher at the elementary, academy and college levels, a missionary in Papua New Guinea, and as a local church pastor. In retirement he is a conjoint senior lecturer at Avondale College of Higher Education. He has authored Flames Over Battle Creek, Avondale: Experiment on the Dora, Desmond Ford: Reformist Theologian, Gospel Revivalist, the Seventh-day Adventist Heritage Series, and many magazine articles. He is married to Noeleen and has two sons and three grandchildren.
First Published: September 25, 2020
Joseph M. Marsh was captain of the Pitcairn on its first missionary voyage to the South Pacific, 1890-1892.
Early Life
The eldest of five children in the family of Thomas and Maria (Taylor) Marsh, Joseph Melville Marsh was born in 1855 in Economy, Nova Scotia, on Cobequid Bay where there was a ship-building industry at the time. Joseph's father was a farmer and raised his family in the Baptist faith.
Joseph himself became a sailor. His travels took him, among other places, to Liverpool, England, where he met Eliza Pauline Ormsby. They married in Liverpool on December 24, 1882, and Joseph established his home there as he continued his seafaring. Their first child, Ida May, was born in Liverpool in 1887 and christened in the Anglican church of St. Michael.1
A Change of Faith
It was soon after the birth of their first child that Joseph and Eliza became Seventh-day Adventists. Joseph had been in command of several large vessels including the 1,400-ton Treasury registered at St John, New Brunswick.2 He was chosen to captain the missionary vessel Pitcairn because of his skill as a navigator. Locating dots of land in the vast South Pacific Ocean would test his experience. At the dedication of the Pitcairn in San Francisco on September 25, 1890, specific mention was made that the entire crew of eight were Seventh-day Adventists. In addition to the six missionaries on board Eliza Marsh and three-year-old Ida accompanied the group of intrepid sailors.3
Leaving San Francisco on October 20, 1890, Marsh brought the ship safely to Pitcairn Island on November 25. During their stopover the missionaries witnessed the baptism of all the adults on the island and the organization of the Pitcairn Island church. Marsh then sailed for Tahiti, arriving there on December 24.4 The little islands of Raiatea, Huahine, Rurutu, Mangaia, Rarotonga and Aitutaki were next on their itinerary, selling many denominational books and making friendly contact with the inhabitants.5
On April 27, 1891, Marsh steered the vessel into Pago Pago harbor, American Samoa. The missionaries were impressed with the beauty of the harbor and its calm waters protected by high mountains. Marsh took advantage of the peaceful situation to have his crew repaint the bulwarks of the boat. Their next port of call was Apia, Western Samoa.6 Continuing west they visited Tonga and sold many more books, almost depleting their stocks. They departed from Tonga on July 30 and sailed for Fiji.7
John and Hannah Tay remained at Fiji to begin mission evangelism among the islanders while the Pitcairn continued to Norfolk Island.8 Albert Read and his wife, Hattie, were left at the island to establish a mission base among the relatives of the Pitcairn Island people. Marsh then sailed the vessel to Auckland, New Zealand, arriving there on Sabbath, October 10, 1891.9 They had been at sea for twelve months.
In November Joseph and crew made a trip back to Norfolk Island where Eliza gave birth to their second child, Melville William Pitcairn Marsh, on December 4, 1891.10 On March 15, 1892, the group, including Eliza and her two infants, set out for Auckland again. They encountered the worst weather since leaving San Francisco. They remained in Auckland while the vessel underwent a refit, an extra cabin and the forecastle and galley being built on deck.11
Untimely Death
On the return trip to Norfolk Island Marsh had shown the first signs of illness. During the return to Auckland he grew worse and was unable to leave his cabin. A church member in Auckland made his own home a comfortable refuge for the Marsh family and a doctor attended Joseph regularly. His condition steadily deteriorated, the gastric, hepatic, renal and cardiac functions gradually closing down.
Despite constant nursing attention, Captain Marsh passed away on June 3, 1892. He was in his thirty-seventh year at the time of his tragic death. Ships in the harbor and city offices flew flags at half-mast for a man who had earned their respect for his navigational skills and Christian principles. The funeral service was held in the Auckland Seventh-day Adventist church and his burial took place at nearby Purewa Cemetery.12 Almost seventy years later Seventh-day Adventist church officials arranged for a suitable headstone to mark his resting place.13
Rather than taking a steamer back to San Francisco Eliza courageously chose to return with her two infants on board the Pitcairn captained by J. Christiansen. They departed from Auckland on June 20, 1892, sailing directly to Pitcairn Island where Edward Gates and his wife, Ida, disembarked to nurture the islanders.14 The vessel was taken to San Francisco via Tahiti, arriving October 8, having spent two years abroad.15 Eliza returned to Liverpool to raise her two children.16
Sources
Bahler, M. J. "Sailing of the 'Pitcairn.'" ARH, November 4, 1890.
"Captain Joseph Melville Marsh." FamilySearch.org. 2020. Accessed November 25, 2020, https://www.familysearch.org/tree/pedigree/landscape/LVLN-GZC.
"Capt. Joseph Melville Marsh." Find A Grave Memorial no. 104755283. Accessed November 25, 2020, https://www.findagrave.com/memorial/104755283/joseph-melville-marsh.
"Death of Captain Marsh." Bible Echo and Signs of the Times, July 1, 1892.
District of New Zealand. Birth Certificates. Government of New Zealand Department of Internal Affairs, Wellington, New Zealand.
Gates, E. H. "Death of Captain Marsh." ARH, July 19, 1892.
Gates, E. H. "From the 'Pitcairn.'" ARH, October 20, 1891; November 10, 1891; December 15, 1891.
Gates, E. H. "From the 'Pitcairn." Bible Echo and Signs of the Times, January 1, 1892.
Gates, E. H. "News From the 'Pitcairn.'" Bible Echo and Signs of the Times, May 15, 1891.
Gates, E. H. "News From the 'Pitcairn.'" ARH, May 12, 1891 and June 23, 1891.
Starr, G. B. "Sailing of the Pitcairn." Bible Echo and Signs of the Times, August 15, 1892.
Stewart, A. G. "Memorial to a Missionary Mariner." Australasian Record and Advent World Survey, July 24, 1961.
"The 'Pitcairn' arrived in San Francisco . . ." Bible Echo and Signs of the Times, December 1, 1892.
Wilcox, F. M. "The Dedication of the Missionary Ship." ARH, October 14, 1890.
Notes