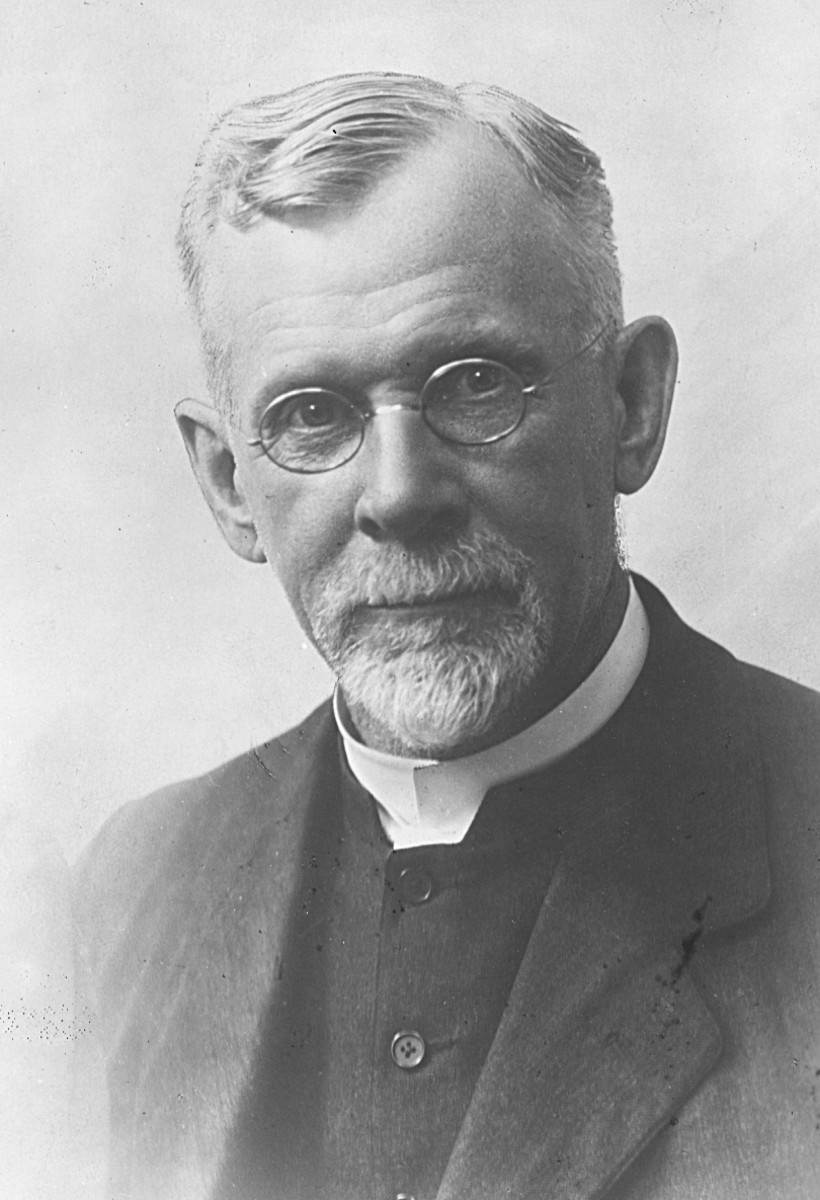 White, William Byington (1856–1948)
×
Brian E. Strayer, Ph.D. (University of Iowa). Strayer taught history at Jackson (MI) Junior Academy, the University of Iowa, Southern Adventist University, and Andrews University for 41 years. He has written 10 books, 120 scholarly and professional articles, 40 reviews and critiques in French and Adventist history and directed three Adventist heritage tours of New England.  He writes a weekly column ("The Past Is Always Present") in the Journal Era and shares Adventist history at camp meetings, schools, and churches.
First Published: October 18, 2020
William Byington White's primary contribution to the Seventh-day Adventist Church lies in his thirty-three years (1887-1920) of service as a president of four conferences (South Dakota, Nebraska, Indiana, and Montana) and four union conferences (Pacific, North Pacific, Atlantic, and South African).
Early Life
William Byington White, conference and union president, was born on November 10, 1856, in Bucks Bridge, New York, to Ambrose White (1824-1907), a farmer, and Caroline (Byington) White (1828-1901), the eldest daughter of John and Catharine Byington, who lived on a farm nearby. The Whites had six other children: Laura Priscila (1849-1940), Teresa (1849-1850), Charles (1850-1936), Frank (1850-1934), Rollin (1853-1855), and John (born in 1861).
In 1859 or 1860, when William was very young, the family moved to a farm in Ceresco, Newton County, Michigan. William often visited the Byington's nearby farm and helped them with household and gardening chores. It is likely, however, that he had a mischievous streak in his character. In April 1876, while John and Catharine Byington were on a preaching trip to Parkville, Michigan, William, either deliberately or by accident, set fire to their barn. The flames totally consumed the barn's contents, including seven tons of hay and corn. Seven years would pass before William confessed to his grandfather that he had burned down the barn.
In 1874, William White entered the newly established Battle Creek College. Sometime during his four years there (1874-1878), he experienced conversion.1 In May 1878, he and his brother John were baptized in the Battle Creek River. It was also at the college that William met Nettie Grant of Minnesota. Following graduation, they were married in 1879. They had two daughters: Ellowyn (White) Oster and Lulu. W. (White) Butler.
Conference and Union Conference President
In 1881 when he was twenty-five, William, then a farmer, ditch-digger, and teacher, began preaching part-time in a self-supporting ministry. In December 1886, only four weeks before John Byington died on January 7, 1887, he urged his grandson to "give your whole heart to the Lord."2 As his subsequent career demonstrates, William White heeded this advice. In 1887 when he was thirty-one, White was appointed superintendent of the North Dakota Mission. His effectiveness as a leader there soon opened doors to conference administrative positions.
Over the next two decades, White would serve as president of the South Dakota Conference (1887-1891), president of the Nebraska Conference (1891-1896), president of the Indiana Conference (1897-1898), and president of the Montana Conference (1898-1905). After 1901, when union conferences were formed in the United States, White became president of the Pacific Union (1904-1905), president of the North Pacific Union (1906-1909), and president of the Atlantic Union (1909-1913). In the latter position, White strongly supported the work of female Bible instructors, especially in large metropolitan areas such as New York City. In 1913, the Whites traveled to Cape Town, South Africa, where William served as the president of the South African Union for seven years (1913-1920).
Later Life
In 1920, William White's failing health dictated that he seeks less strenuous duties, so the Whites returned to the United States. For one year (1920-1921), he sought complete rest before returning to active ministry. At the 1922 General Conference session in San Francisco, John L. Shaw (1870-1952), the treasurer of the General Conference, asked White to serve on the Mission Round Tables, which were practical workshops for foreign mission workers. Recognizing that White, as a veteran missionary, had dealt with interpersonal problems in the South African Union, Shaw assigned his panel the topic of "Friction among Missionaries—How Can It Be Avoided?"3 Eleven years later in 1933, White retired from active ministry at the age of 77 to care for Nettie, who was ill. William Byington White died on November 22, 1948, at the age of 92 with Nettie, his wife of 69 years, by his side.
Sources
McArthur, Benjamin. A. G. Daniells: Shaper of Twentieth-Century Adventism. Nampa, ID: Pacific Press Publishing Association, 2015.
Spalding, Arthur W. Origin and History of Seventh-day Adventists. Volume 3. Washington, DC: Review and Herald Publishing Association, 1962.
Strayer, Brian E. John Byington: First General Conference President, Circuit-Riding Preacher, and Radical Reformer. Nampa, ID: Pacific Press Publishing Association, 2018.
Valentine, Gilbert M. W. W. Prescott: Forgotten Giant of Adventism's Second Generation. Hagerstown, MD: Review and Herald Publishing Association, 2005.
Seventh-day Adventist Encyclopedia. Second Revised Edition. Hagerstown, MD: Review and Herald Publishing Association, 1996. S.v. "White, William Byington."
"William Byington White obituary." ARH, December 30, 1948.
Notes
"William Byington White," ARH, December 30, 1948, 20, 23.↩

John Byington to William White, December 10, 1886, MS Box 006388, Center for Adventist Research, Andrews University.↩

J. L. Shaw letter to W. B. White, March 9, 1922, General Conference Archives.↩