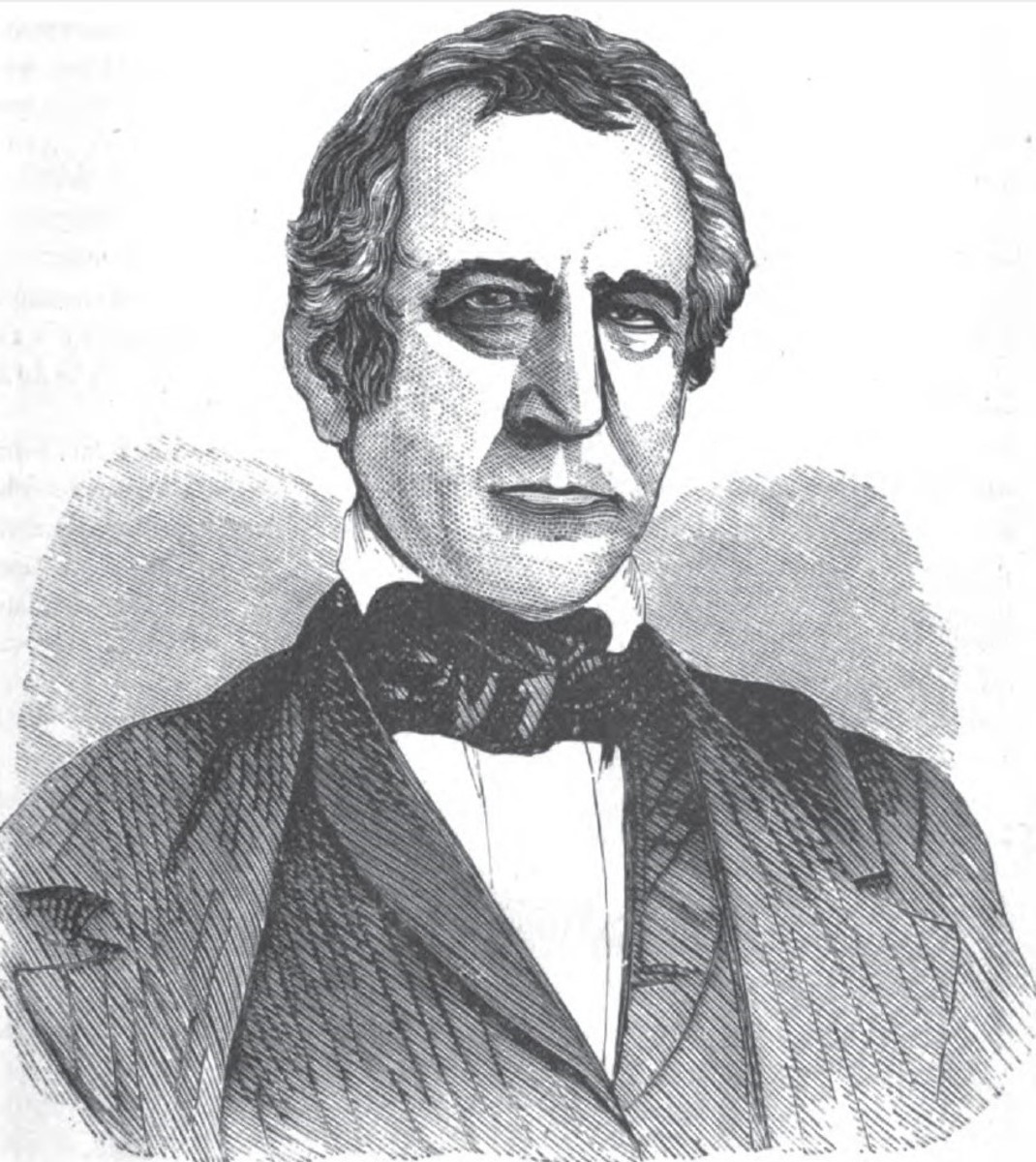 Galusha, Elon (1790–1856)
×
Douglas Morgan is a graduate of Union College (B.A., theology, 1978) in Lincoln, Nebraska and the University of Chicago (Ph.D., history of Christianity, 1992). He has served on the faculties of Washington Adventist University in Takoma Park, Maryland and Southern Adventist University in Collegedale, Tennessee. His publications include Adventism and the American Republic (University of Tennessee Press, 2001) and Lewis C. Sheafe: Apostle to Black America (Review and Herald, 2010). He is the ESDA assistant editor for North America.
First Published: October 6, 2022
Elon Galusha was a prominent Baptist minister and antislavery activist based in western New York state who became an influential advocate of the Second Advent message beginning in 1843.
Baptist Leader
Born June 18, 1790, in Shaftsbury, Vermont, Elon Galusha was the seventh of the nine children of Jonas Galusha (1753-1834) and Mary Crittenden Galusha (1758-1894).1 Jonas Galusha held several judicial and elective positions in the state of Vermont, including governor, 1809-1813 and 1815-1820.2
After a conversion experience in 1810, Elon Galusha dedicated himself to ministry in the Baptist church. He married Elizabeth Bottum (1796-1880) on August 25, 1815. They had three sons: Elijah (1817-1894), Elon (1820-1902), and Judson (1824-1876).3
Galusha became a successful Baptist minister in western New York, founding a church at Whitestown (Whitesboro), and later pastoring churches at Utica, Rochester, Perry and Lockport. He rose to prominence through leadership in an array of endeavors beyond the local pastorate. In the educational arena, he earned high academic credentials—a B.A. from the University of Vermont in 1816 and an M.A. from Brown University in 1820—and led a drive to establish the Hamilton Literary and Theological Institution for the training of ministers in 1819. The institution later expanded its curriculum and eventually became known as Colgate University.4 Galusha was president of the Baptist Missionary Convention of New York, the main organizational vehicle for joint Baptist endeavor in the state, for 19 years.5
Political Abolitionist
A wide-ranging reformer, Galusha was described as a man whose "sympathies encircled every form of benevolent effort, whether local or general, social or religious."6 In the 1830s he pioneered efforts to organize Baptists in support of the abolition of slavery. He became president of the American Baptist Antislavery Society at its origin and represented his church at the world antislavery convention in London, England, in 1840.7
Galusha sided with the "political abolitionists" who emerged in 1839, breaking with abolitionist leader William Lloyd Garrison's strategy of "moral suasion" rather than partisan political activism. The political abolitionists formed a new political party, the Liberty Party, in an effort to expand their influence. With the demand to abolish slavery as the sole plank in its platform, the Liberty Party ran candidates during the presidential elections of 1840 and 1844. Though short-lived, the party helped generate the momentum that brought the antislavery cause, something neither of the major parties previously would touch, onto the national political agenda.8
Second Advent Advocate
Galusha's preaching "abolitionized" many Baptist churches and he became a strong and steadfast promoter of the Liberty Party.9 But between the elections of 1840 and 1844, the reformist preacher and Liberty Party advocate became a Millerite evangelist. Galusha read some of William Miller's lectures on Bible prophecy and had been impressed by "the laborious biblical and historical research" that went into them. Yet he did not give the message of the near Second Advent very serious consideration until early 1843 when a letter from his friend and respected Baptist colleague, N. N. Whiting, prompted him to do so.10 Then, in November 1843 William Miller, delivered a series of lectures at the Baptist church Galusha pastored in Lockport, after which Galusha publicly committed himself to the Second Advent message and "devoted himself to its advocacy."11 He withdrew from his Baptist connections and formed Advent congregations in Lockport and Perry.12
In an address published in the April 10, 1844, issue of the Advent Herald, and separately as a pamphlet entitled Address of Elder Elon Galusha with Reasons for Believing Christ's Second Coming, At Hand, Galusha set forth his biblical case for expecting the return of Jesus Christ to earth and the beginning of the millennium to take place that year. He urged readers to weigh the evidence for themselves rather than relying on "popular commentators and preachers" likely to be blinded by "prepossession, long-cherished predilection, pride of opinion, and a dread of the frown of a perverted public sentiment." As for evidence of such blindness, he asked, rhetorically, if it could not be seen in "the painful fact" that many "force the gospel of our blessed Savior into the support of a system of cruelty and injustice which legally annihilates the attributes of man, sunders every tie of consanguinity, virtually annuls holy marriage, tramples the helpless in the dust, and makes merchandise of the image of God?"13
Gaining the influential Baptist preacher as an advocate was cause for celebration in the Second Advent movement. Millerite leader Joshua V. Himes expressed delight that Galusha had cast "the whole weight of his intellect and influence with the Adventists."14 The renowned preacher possessed a "glowing enthusiasm" and a capacity for "pure eloquence," according to a Baptist Encyclopedia entry published in 1881. "Few men could carry a large congregation with such overwhelming power as Mr. Galusha," the author claimed.15 As a Second Advent evangelist, Galusha attracted audiences numbering in the thousands. His most talked about exploit was the conversion of 800 at a single meeting in Rochester in March 1844.16
Advent Preaching and Antislavery Voting
For Galusha, conviction about the imminent, premillennial return of Christ did not detract from but added to the urgency of reforming both individual lives and society in preparation for the great transformation. Along with renunciation of slavery and other social sins, Galusha believed preparation for Christ's return required overcoming denominational or "sectarian" divisions. His Second Advent congregations in Lockport and Perry were not organized for the purpose of institutionalizing another sectarian variety in Christendom, but to bring together those who responded to the call to "come-out" of churches corrupted by "denominational pride" and hierarchy in favor of a fellowship based on the "principles of spiritual democracy."17
He urged preparation for the return of Christ in 1844 and, at the same time, "eagerly continued his Liberty Party involvement" in the American election held that same year. Historian Douglas Strong explains that Galusha did so in belief that "an increase in sanctified reformatory efforts could only speed the Lord's coming." At his Advent hall in Lockport, Galusha hosted interdenominational abolitionist meetings, held under the auspices of the Liberty Party, for the expressed purposes of advocating both "ecclesiastical comeouterism" (coming out of the established denominations) and antislavery voting.18
Some time during the decade following 1844, Galusha at least partially restored his Baptist connections. He did not affiliate with any of the post-1844 Adventist groups that eventually organized denominations (such as Advent Christian, Evangelical Adventist, and Seventh-day Adventist).19 However, according to Second Advent movement chronicler Isaac T. Wellcome, Galusha continued to advocate the doctrine of the soon coming of the Lord for the remainder of his ministry.20 He died of tuberculosis on January 6, 1856, in Lockport, New York, at age 65.21
Legacy
The name Elon Galusha was "like a household word in our denominational history" stated an obituary for him in the Examiner and Chronicle, a Baptist newspaper published in New York City. Galusha had "stood in the front rank of the ablest and the best, beloved and respected of all" until "he became the dupe of the 'Millerism' that swept over the land like a demolishing tornado," the obituary lamented. While acknowledging that all who knew him held his Christian character in high regard, the Examiner and Chronicle opined that the Galusha "that has been known among us the last fifteen years, was not the Galusha of twenty-five years ago."22
Those who identify with the Adventist heritage see the fact that Galusha was "one of the most influential individuals ever to join the Adventist movement" in a more positive light.23 The aspiration that animated his Advent congregation in Lockport—that of a final movement of believers united by the apostolic gospel, transcending differences of creed, sect, denomination, and social status, remains compelling, if elusive. Equally if not more remarkable, Galusha demonstrated that expectation of Christ's return in the most intense and immediate form can motivate an increase rather than a decrease of social activism for justice and mercy as preparation for the Coming King.
Sources
The Baptist Encyclopedia. William Cathcart, editor. Philadelphia: Louis H. Everts, 1881.
Cross, Whitney R. The Burned-Over District: The Social and Intellectual History of Enthusiastic Religion in Western New York, 1800-1850. Ithaca and London: Cornell University Press, 1950.
"The Death of The Rev. Elon Galusha." New York Examiner and Chronicle, January 17, 1856.
Froom, Le Roy Edwin. The Prophetic Faith of Our Fathers, Vol. IV. Washington, D.C.: Review and Herald, 1954.
Galusha, Elon. "To All Who Love Our Lord Jesus Christ in Sincerity," Advent Herald, April 10, 1844.
Graybill, Ronald D. "The Abolitionist-Millerite Connection." In The Disappointed: Millerism and Millenarianism in the Nineteenth Century, ed. Ronald L. Numbers and Jonathan M. Butler, 139-152. Bloomington and Indianapolis: Indiana University Press, 1987.
Litch, Josiah. "Rise and Progress of Adventism." In Advent Shield and Review, edited by J.V. Himes, S. Bliss, and A. Hale, 46-92. Boston: Joshua V. Himes, 1844.
"Rev. Elon Galusha." FamilySearch. Accessed October 3, 2022. https://www.familysearch.org/tree/pedigree/landscape/M618-PRM.
Strong, Douglas. Perfectionist Politics: Abolitionism and the Religious Tensions of American Democracy. New York: Syracuse University Press, 1999
Wellcome, Isaac C. History of the Second Advent Message and Mission, Doctrine, and People. Boston: Advent Christian Publication Society, 1874.
Notes