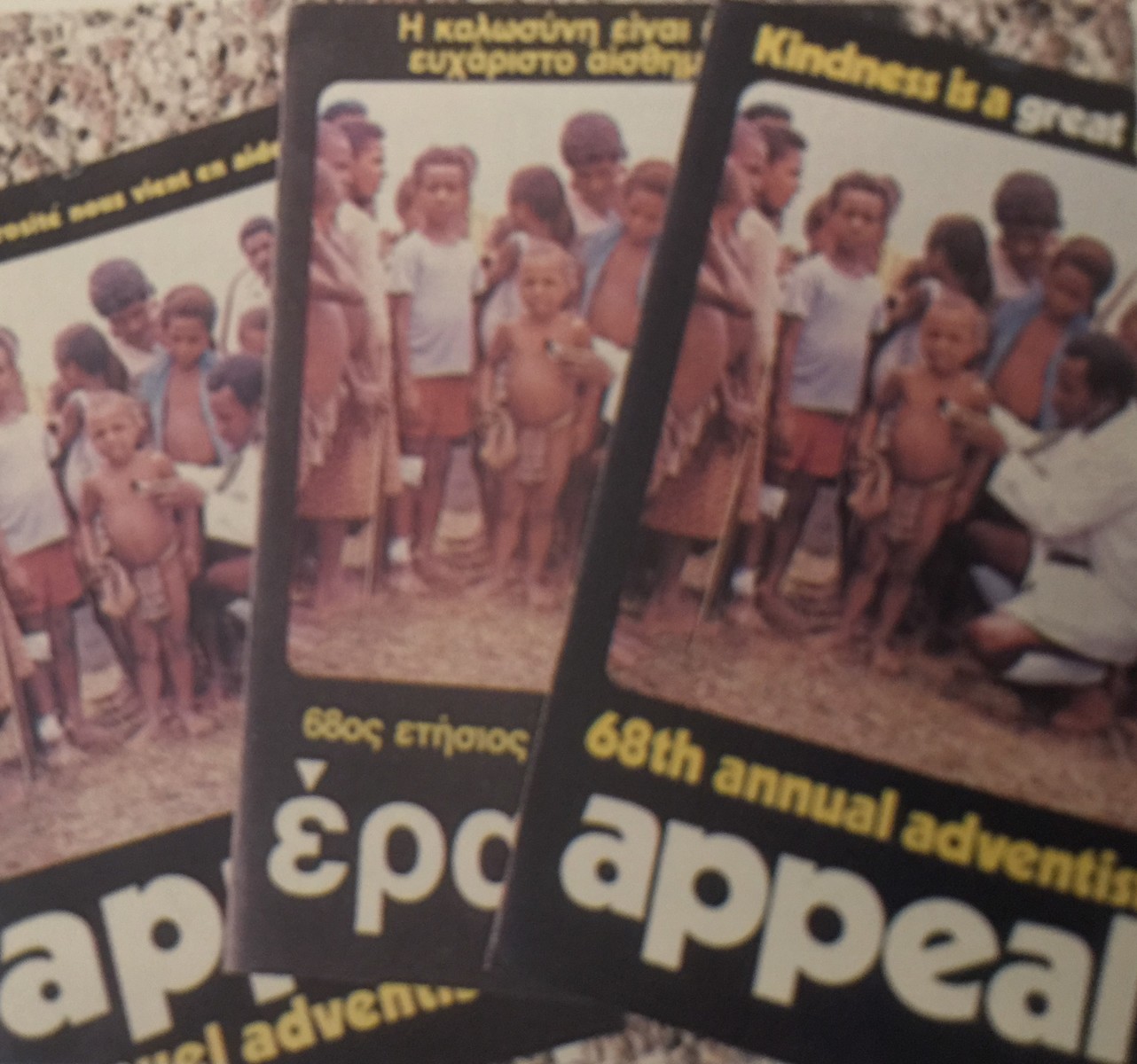 Appeal for Missions, South Pacific Division
×
Milton Hook, Ed.D. (Andrews University, Berrien Springs, Michigan, the United States). Hook retired in 1997 as a minister in the Greater Sydney Conference, Australia. An Australian by birth Hook has served the Church as a teacher at the elementary, academy and college levels, a missionary in Papua New Guinea, and as a local church pastor. In retirement he is a conjoint senior lecturer at Avondale College of Higher Education. He has authored Flames Over Battle Creek, Avondale: Experiment on the Dora, Desmond Ford: Reformist Theologian, Gospel Revivalist, the Seventh-day Adventist Heritage Series, and many magazine articles. He is married to Noeleen and has two sons and three grandchildren.
The Appeal for Missions was an annual campaign in which church members voluntarily went door-to-door, soliciting donations from the public for the church mission program in the Pacific Islands.
The Adventist Church introduced the American concept of Harvest Ingathering to Australasia in 1918 under the title Ingathering for Missions. In fact, for a short time some church members continued to use the term Harvest Ingathering.1 The Australasian Union Conference (AUC) Home Missions Department, at that time under the supervision of Cecil Meyers, had responsibility for the project's promotion and organization. The rapidly expanding mission enterprises in the Pacific drove the urgency for such funds.2
Meyers cited a 1908 Ellen White tract titled An Appeal to Ministers and Church Officials that defended the propriety of accepting money from the public and using it for religious purposes. He also provided some examples of success by solicitors in China and Australia who had already used the method. The aim set for the Australasian churches was a goal of £2,500. Finally, he concluded his article with some words of encouragement for the timid.3
Many church members responded to Meyers' rallying call. In 1919, under the new title Appeal for Missions, they collected a total of £7,000. By 1921 donations rose to £19,000. Further totals in the 1920s were £16,000 (1922), £15,000 (1923), £16,500 (1924), £15,750 (1925), £14,635 (1926), £15,835 (1927, £15,314 (1928) and £16,037 (1929).4 The Australasian Record would publish progress reports during the campaign.5 Each year the church printed a new colorful brochure, up to 24 pages in length, for solicitors to give to donors. Every brochure bore the name Seventh-day Adventist so that critics could not complain that the collection of funds took place under false pretences.6
In the wake of the worldwide depression the church set the annual goal at only £12,000. The amount in 1933, for example, edged to £12,859. However, beginning in 1933, Pacific Island missions obtained additional funds from the Big Week program. Big Week was a project in which church members went door-to-door selling booklets of a religious nature, generally about signs of the apocalyptic end-time. In 1933, for example, total sales of Big Week books amounted to £1,288.7 A further source of mission funds involved the sale of The Interpreter of the Times periodical, purchased by church members and distributed under the project name "Free Literature," i.e., literature given gratis to non-members. It became customary to report the totals of the three annual campaigns as a single sum. In 1940, for example, the total amount realized for missions was £19,418.8 In the same year the AUC treasurer observed that the Appeal for Missions funds alone accounted for 21 percent of all operating monies AUC received, including tithe, appropriations, and offerings.9
With the passage of time the setting of goals and the distribution of funds became more sophisticated. The AUC adopted a general goal for the entire Australasian field and then sub-divided it among the local conferences. Each local conference met any Appeal for Missions expenses from their own funds so that the goal achieved plus any excess went entirely to Pacific Island missions. The church did not subtract any operating expenses from the money collected among the public. AUC explained to church members in 1951 that if a local conference exceeded their goal for the year, then that conference would receive half of the overflow in the form of an allocation from the union. Thus, if a local conference exceeded its goal by £4,000, then AUC would give the conference £2,000 from a fund not connected to Pacific Island missions.10 The allocation was, in effect, an incentive for the conferences to exceed their Appeal for Missions goal.
Every church was assigned a territory usually surrounding their location. Ideally the members would canvass the same area each year, thus allowing them to become known to the householders. Often a friendly association would develop, enabling conversations to turn to religious topics. The campaign became a form of evangelism. For decades colleges11 and academies12 would suspend classes for a few days to enable students and teachers to participate. In this manner the church harnessed the energy of the youth to raise significant amounts for missions.
In 1978 the church discontinued the large format brochure with its short mission stories and replaced it with a small bulletin titled Appeal Report.13 It contained only snippets of information from the mission field. A further change took place in 1983 when larger bulletins began to appear under the new title Adventist Appeal.14
The Big Week and Free Literature campaigns no longer exist. It became increasingly dangerous for members to go from door-to-door with a bag of money in hand, no matter how well it was disguised and despite the fact it was regarded as charitable funds. Women and children serving as collectors were especially vulnerable. Nevertheless, significant totals continued to accumulate from the campaigns which, since 2000, have become the Adventist Development and Relief Agency Appeal. Donors gave to this entity with the knowledge that the money raised was used to rebuild after floods, fires, and other disasters worldwide. However, twenty-first century results testify of a shrinking trend in the annual totals collected during Appeal for Missions door-knock appeals. In 2003 the total amounted to $1,318,205. By 2006 aggregate was $1,246,848. It further declined to $1,029,804 in 2011, $837,162 in 2014, and $669,123 in 2017. For the past decade the campaigns have been confined to Australia only.15
Sources
Adair, R[eginald] H. "Treasurer's Report." The Australasian Union Conference Bulletin, September 1940.
"An Echo of the Harvest Ingathering." Australasian Record, December 22, 1919.
Appeal for Missions Brochures. South Pacific Division of the General Conference Archives, Cooranbong, NSW. Box 7. Folder: Appeal for Missions. Documents: "Annual Brochures, 1919 - 2000."
Gilmore, Laurence A. "Strathfield Makes 'Hay' While the Sun Shines." Australasian Record and Advent World Survey, July 21, 1975.
Halliday, D[onald] J. "Longburn Does It Again!" Australasian Record and Advent World Survey, May 14, 1962.
Hammond, T. W[illiam]. "Union Conference Treasurer's Report." Australasian Record, September 29, 1930.
Meyers, Cecil K. "Ingathering for Missions." Australasian Record, May 20, 1918.
Pascoe, W[illiam] L. "Appeal for Missions Overflows." Australasian Record, July 16, 1951.
Piper, A[lbert] H. "Union Conference Secretary's Report." Australasian Record, September 17, 1934.
Piper, H[arold] E. "Secretary's Report." The Australasian Union Conference Bulletin, September 1940.
South Pacific Division Statistical Reports. South Pacific Division of the General Conference Archives, Cooranbong, NSW. Serials. Folder: Annual Statistical Reports. Documents: "South Pacific Division Statistical Reports, 2000-2017.
"Time - Our Greatest Asset." Australasian Record, December 9, 1929.
Notes