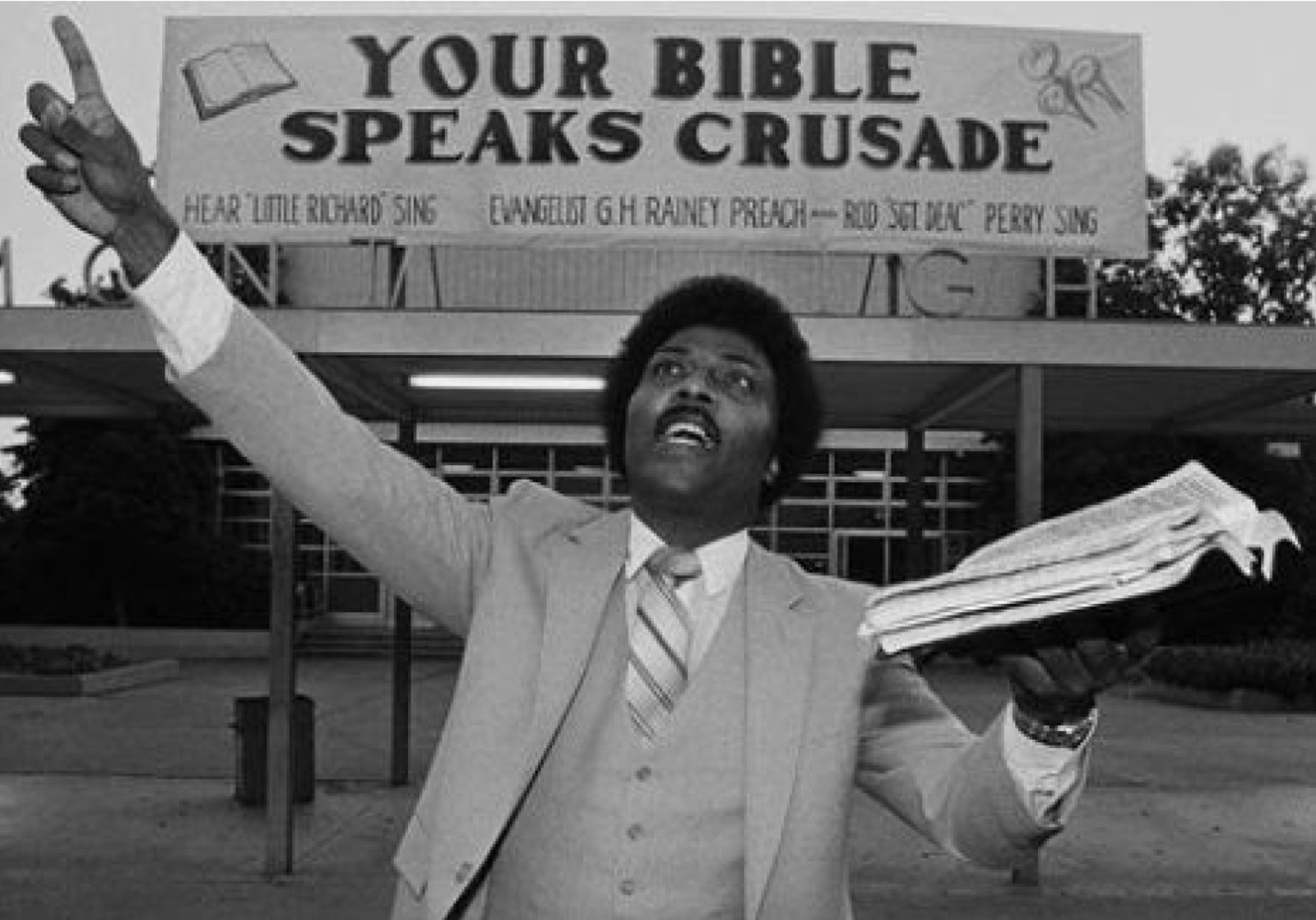 Penniman, Richard Wayne (Little Richard) (1932–2020)
×
Dan Shultz, emeritus professor of music, Walla Walla University, has researched and written extensively about Seventh-day Adventist music history and musicians. His publications include A Great Tradition–a history of music at Walla Walla University, and the Adventist Musicians Biographical Resource–an encyclopedia with biographies of over 1100 Adventist musicians. He founded the International Adventist Musicians Association, serving as its president for ten years and editing its publications and website for over thirty years. Shultz and his wife, Carolyn (nee Stevens), live in College Place, Washington.   
First Published: March 21, 2023
Richard Penniman's paradoxical career combined Seventh-day Adventist evangelism with international renown as rock 'n' roll pioneer Little Richard.
Early Success
Richard Wayne Penniman was born in Macon, Georgia, on December 5, 1932, the third of 12 children of Charles (Bud) and Leva Mae Stewart Penniman. During boyhood he attended Baptist and Holiness churches and also became acquainted with Seventh-day Adventists. He aspired to be a singing evangelist but instead left home as a teenager to perform with "traveling medicine and minstrel shows" for which he was billed as "Little Richard."1
By the early 1950s, Richard was writing and recording music that would earn him recognition as one of the pioneers in rock 'n' roll music, a hyper-kinetic rhythmic musical style that fused rhythm and blues, boogie-woogie beats, and a highly emotive gospel style of singing and shouting. Though not the sole inventor, Penniman made a distinctive contribution to the emerging genre. He "raised the energy level several notches and created something not quite like any music that had been heard before."2 In 1955 22-year-old Penniman's fame skyrocketed with the release of "Tutti Frutti," his first big hit. Other mega-hits followed, all featuring uninhibited vocals, edgy saxophone solos, and frenetic piano accompaniments.3
Adventism and Oakwood
Just two years into his new-found fame, Penniman began to have troubled thoughts about his music and lifestyle. While he was on tour in Australia in 1957, the Russian satellite Sputnik appeared overhead during an outdoor concert in Sydney. To Richard, it seemed like a "great ball of fire," an omen sent from God. He stopped the concert abruptly, determined to commit his life fully to God.4 Struggling with his decision, he contacted a Seventh-day Adventist minister, J. B. Conley, and followed Conley's counsel to stop performing immediately.5 After his return to the United States, further guidance from his friend Joe Lutcher, a jazz saxophonist who had recently become an Adventist, led Penniman to likewise join the Seventh-day Adventist church and enroll at Oakwood College (now University) in the Fall of 1957 to study for ministry.6
At Oakwood, Richard entered a course of study designed specially for him, combining high school courses at Oakwood Academy to strengthen his basic academic skills with college religion courses to equip him for ministry. He did not earn a degree.7
During the summer of 1958, Richard, along with Joyce Bryant, a recently converted nightclub singer who was also attending Oakwood, worked with E. E. Cleveland, famed black evangelist, during a 12-week series in Washington, D.C. An article in the Review and Herald described the closing night:
The fond title "Little Richard," a name Richard Penniman acquired when he began to sing as a small boy, still follows him. Tops in his field when he was twenty-four years of age, he gave a glowing account of God's power to save him from sin. He explained that he had made as much as $10,000 a day, but was glad to lay it aside as nothing compared with what Jesus had done for him. . . . When the one-time rock-and-roller called his former fans from the audience to gather around the pulpit, more than 300 responded. He prayed a touching prayer for them.8
Penniman then engaged in traveling ministry, singing and giving his testimony at churches and tent meetings. Quartets from Oakwood College often accompanied him. He eventually formed the Little Richard Evangelistic Association and, according to one source, was ordained as a minister in the Church of God of the Ten Commandments.9 There is no evidence that he was ever employed or ordained as a minister in the Seventh-day Adventist denomination.
Rock Star and Evangelist
Richard married Ernestine Harvin, whom he had met at a Washington, D.C. revival, on July 12, 1959, in California. However, the marriage came to an end after Richard was arrested in a police raid of a men's room at a Los Angeles bus station. Ernestine filed for divorce in 1964.10
During a tour in Europe in 1962 Penniman again began performing and recording secular music. In further performances in Europe over the next two years, his opening acts included the Beatles and the Rolling Stones, both bands then at the start of their careers.11
In 1977, having reached a crisis point due to use of alcohol and cocaine, Penniman returned to the church and evangelism. He was featured in an evangelistic series led by G.H. Rainey in Jamaica in 1980, where 956 persons were baptized.12 For a period of eight years he disappeared from public prominence, performing and recording religious songs and engaging in a variety of evangelistic projects.13
In an authorized biography, The Life and Times of Little Richard by Charles White, published in 1984, Penniman openly discussed his struggles with drugs and sexuality. Regarding the latter, he described himself through the years "variously as gay, bisexual and 'omnisexual.'"14 The book, coupled with his inclusion among the first seven inductees into the new Rock and Roll Hall of Fame in 1986, created a new wave of interest in Little Richard.
In subsequent years, Penniman held together the roles of rock 'n' roll artist and lay evangelist. He told of handing out copies of the book Steps to Christ by Ellen G. White at his concerts and sharing it personally with other performers. During his travels he often attended Sabbath worship services at Adventist churches.15 He put it this way in 2009: "Although I sing rock 'n' roll, God still loves me. I'm a rock 'n' roll singer, but I'm still a Christian."16
Finale
Penniman was plagued with health problems in his eighties, complicated by a failed hip and back surgery in 2009 that left him confined to a wheelchair. He was living in Tullahoma, Tennessee, when he died of bone cancer on May 9, 2020. He was survived by his adopted son, Danny Jones Penniman, and a brother.17 He was memorialized and laid to rest at Oakwood University's Oakwood Memorial Gardens in Huntsville, Alabama, on May 20, 2020.18
Richard Penniman received a wide array of honors and awards for his artistic genius and cultural influence. To cite a few major examples, he was an inductee in the Songwriters Hall of Fame as well as the Rock & Roll Hall of fame and received lifetime achievement awards from the National Academy of Recording Arts and Sciences and the Rhythm and Blues Foundation. For much of his career he was "torn between the gravity of the pulpit and the pull of the stage."19 Yet he concluded it with a note of clarity. At a meeting broadcast on Three Angels Broadcasting Network in 2017, he made this appeal: "I'm gonna tell you something, brothers and sisters: Get on your knees, and talk to Jesus. Don't you go to bed another night, another day, without giving a commitment to God. The world is getting ready to end. Jesus is getting ready to brush the clouds away. Please, please give your life to Jesus."20
Sources
Conley, J. B. "The Battle for the Human Mind." Australasian Record, March 30, 1959.
Kellner, Mark A. "'Little Richard' Penniman, Adventist and Controversial Rock Pioneer, Dies at 87." ARH, May 12, 2020. Accessed November 21, 2021. https://adventist.news/news/little-richard-penniman-adventist-and-controversial-rock-pioneer-dies-at-87
"Little Richard, Rock and Roll Musician, Dead at 87." Adventist Today, May 9, 2020. Accessed March 15, 2023. https://atoday.org/little-richard-intermittent-adventist-dies-at-age-87/.
McArdle, Terence. "Little Richard, flamboyant star of early rock-and-roll, dies at 87." Washington Post, May 9, 2020. Accessed March 14, 2023. https://www.washingtonpost.com/local/obituaries/little-richard-incendiary-spirit-of-early-rock-and-roll-dies-at-87/2020/05/09/4c0b038a-9201-11ea-a0bc-4e9ad4866d21_story.html.
Penniman, Richard. "It Took a Miracle." Message, July 1960.
Pinkney, A. V. "Evangelistic Series Held in Washington, D.C." ARH, September 11, 1958.
"Rock 'n' roll star and Adventist pastor Little Richard deceased." Adventist Press Service Switzerland APD (Adventistischer Pressedienst), May 12, 2020. https://apd.media/news/archiv/13810.html.
"USA: Little Richard to be buried in university cemetery in Huntsville (AL)." Adventist Press Service Switzerland APD (Adventistischer Pressedienst), May 18, 2020. https://apd.media/news/archiv/13821.html. 
Wake, Matt. "What it was like being at Little Richard's funeral." Alabama Life and Culture, May 20, 2020. Accessed March 15, 2023. https://www.al.com/life/2020/05/what-is-was-like-being-at-little-richards-funeral.html.
Weiner, Tim. "Little Richard, Flamboyant Wild Man of Rock 'n' Roll, Dies at 87." New York Times, May 9, 2020. Accessed November 21, 2021. https://www.nytimes.com/2020/05/09/arts/music/little-richard-dead.html.
Weir, M. E. "Thousands Attend Rainey Crusade." ARH, February 28, 1980.
White, Charles. The Life and Times of Little Richard. New York: Random House, 1984.
Williams, DeWitt S. "Little Richard and His Time at Oakwood." Spectrum, May 15, 2020. Accessed November 21, 2021. https://spectrummagazine.org/news/2020/little-richard-and-his-time-oakwood-college.
Notes