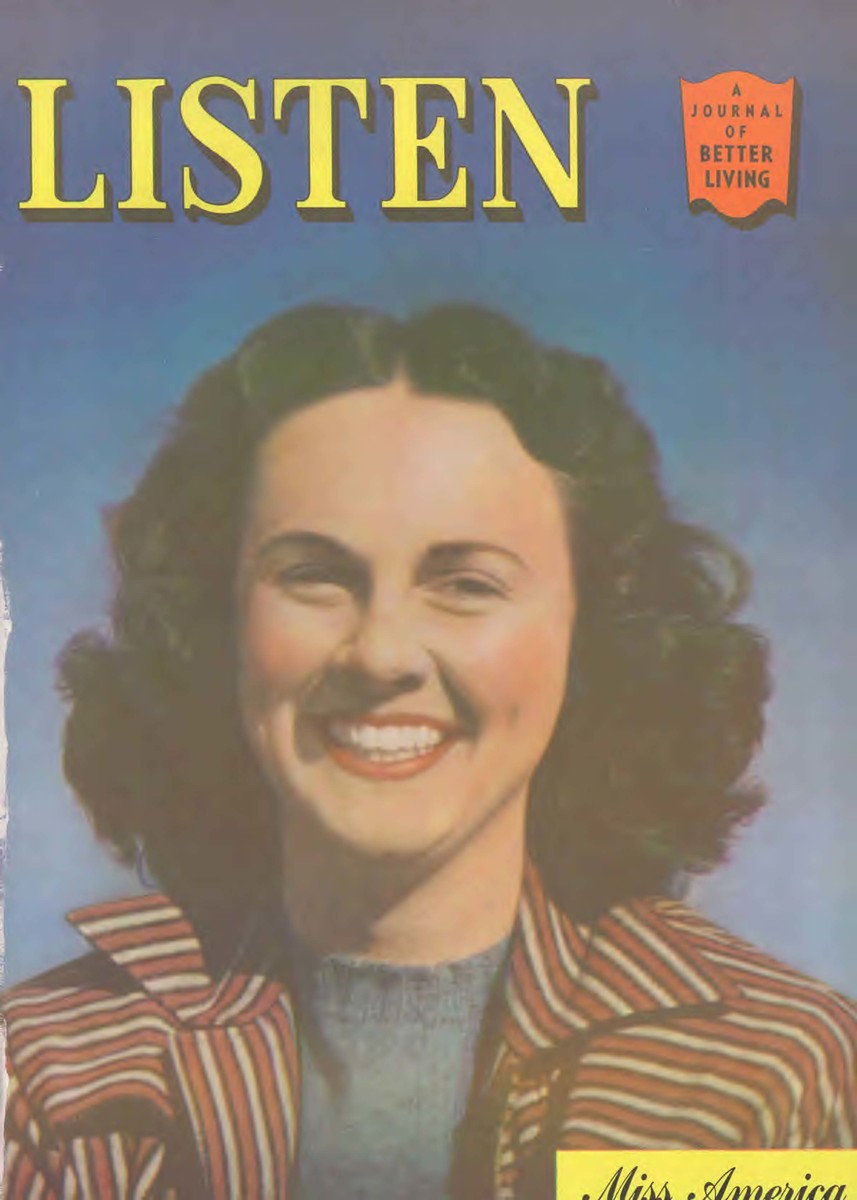 Listen (1948–2011)
×
Milton Hook, Ed.D. (Andrews University, Berrien Springs, Michigan, the United States). Hook retired in 1997 as a minister in the Greater Sydney Conference, Australia. An Australian by birth Hook has served the Church as a teacher at the elementary, academy and college levels, a missionary in Papua New Guinea, and as a local church pastor. In retirement he is a conjoint senior lecturer at Avondale College of Higher Education. He has authored Flames Over Battle Creek, Avondale: Experiment on the Dora, Desmond Ford: Reformist Theologian, Gospel Revivalist, the Seventh-day Adventist Heritage Series, and many magazine articles. He is married to Noeleen and has two sons and three grandchildren.
First Published: June 13, 2022
Listen magazine was dedicated to a war against the scourges of alcohol drinking, tobacco smoking and other forms of substance abuse. The magazine's subtitle for nearly 40 years, "A Journal of Better Living," was changed to "Celebrating Positive Choices" beginning with the September 1987 issue.
Purpose and Audience
Teenagers and young adults were the target audience of Listen. It was sponsored in a general sense by the General Conference of Seventh-day Adventists, Washington, D.C., and printed by the Pacific Press Publishing Association in California.1 Sponsorship arose specifically from the Temperance Department of the General Conference and an affiliate, the American Temperance Society. The editor of Listen was an ex-officio associate secretary of both entities.2
The periodical was initially published quarterly. It could be purchased for 25 cents as a single issue or one dollar for an annual subscription. The first issue carried a statement by the General Conference president, James McElhany, outlining the aims and purposes of the magazine. In his mind the publication would be directed chiefly at alcoholism in the American public, a magazine "to counter misleading advertising propaganda for alcoholic beverages," he wrote.3
Production Particulars
Throughout the life of the magazine its size varied. It began as a 32-page production and maintained that size for most of its history but at times was reduced to 24 or 20 pages, shrinking to 16 pages in the last two years of its existence.4 The number of issues per year also varied. In 1958 it was increased from a quarterly to a bi-monthly publication5 and a monthly in 1966.6 In its later years it was not issued during the summer months, June through August.7 The early issues displayed attractive four-color covers and in the late 1970s there began the gradual adoption of the four-color process for the entire periodical.8
Editorial Approach
In order to appeal to a young age group the editors resorted to a variety of approaches. The style of the longer articles was laborious reading for many but that factor was compensated by a generous use of illustrations, cartoons9 and poetry.10 Other features were short book reviews,11 simplified medical and scientific reports,12 relevant news from the world press,13 puzzles14 and writing contests.15 Much of this was journalistic sugar-coating but vital in order to retain the attention of impressionable younger minds.
The main strength of the magazine was found in the leading articles on alcoholism and drug abuse. These often took the form of testimonials from respected personalities such as court judges,16 beauty queens17 and sporting champions like tennis star Chris Evert.18 These individuals were cast as role models for young readers. Other articles were prescriptive, discussing ways to alleviate the causes of drug abuse, boredom being one example of the problem.19
Partnerships and Affiliations
The magazine came to the notice of the National Safety Council for its advocacy of sober driving. For this reason, in 1962, Listen and its editorial staff were granted the National Safety Council Exceptional Service Award.20
Editors of Listen worked in co-operation with the public school system, not only to cultivate a wider readership but also to assist school teachers with their classroom presentation of temperance themes. They offered the teachers a regular teaching guide with each issue, available through a General Conference affiliate named Narcotics Education, Inc.21 A similar offer was made of visual aids showing graphic pictures of diseased lungs caused by tobacco smoking.22 Another initiative was the offer of 80 cards each month containing facts about alcohol and tobacco smoking gleaned from credible scientific, medical and education sources. These sets were made available through an entity established under the title Listen Fingertip Data Service, once again associated with Narcotics Education, Inc.23
Diversified Media
In 1970 a stirring story based in Monterey, California, appeared in Listen. It was titled "I Took the High Road." It was the account of a young girl with a drug problem who overcame it with her conversion to Christ. The story formed the basis of a film by the same name which was produced by Listen as it diversified into multi-media.24 Cassettes were also offered for personal or radio use under the title "The Sound of Listen." A different set of nine could be purchased each month for $20 or a single cassette for $2.50.25 Francis Soper, editor, compiled small books from selected articles for what he named "The Better Living Library." Sample titles were Marijuana: To Go to Pot or Not; If You Smoke, What Have You?; and Alcohol: Invasion Upstairs. They were published in paperback for $2.95 each and a cloth version at $4.95.26
The magazine maintained its campaign and format for 63 years. It was last listed in 2011 as an official publication of the Seventh-day Adventist Church.27
Editors
J. Arthur Buckwalter, 1948-1953; Francis A. Soper, 1953-1984; Gary B. Swanson, 1984-1990; Lincoln E. Steed, 1990-2000; Larry Becker, 2000-2001; Anita L. Jacobs, 2001-2004; Céleste A. Perrino-Walker, 2005-2011.
Sources
Listen. General Conference of Seventh-day Adventists Online Archives (GCA), https://documents.adventistarchives.org/Periodicals/Forms/AllFolders.aspx.
Seventh-day Adventist Yearbooks. GCA, https://documents.adventistarchives.org/Yearbooks/Forms/AllItems.aspx.
Notes