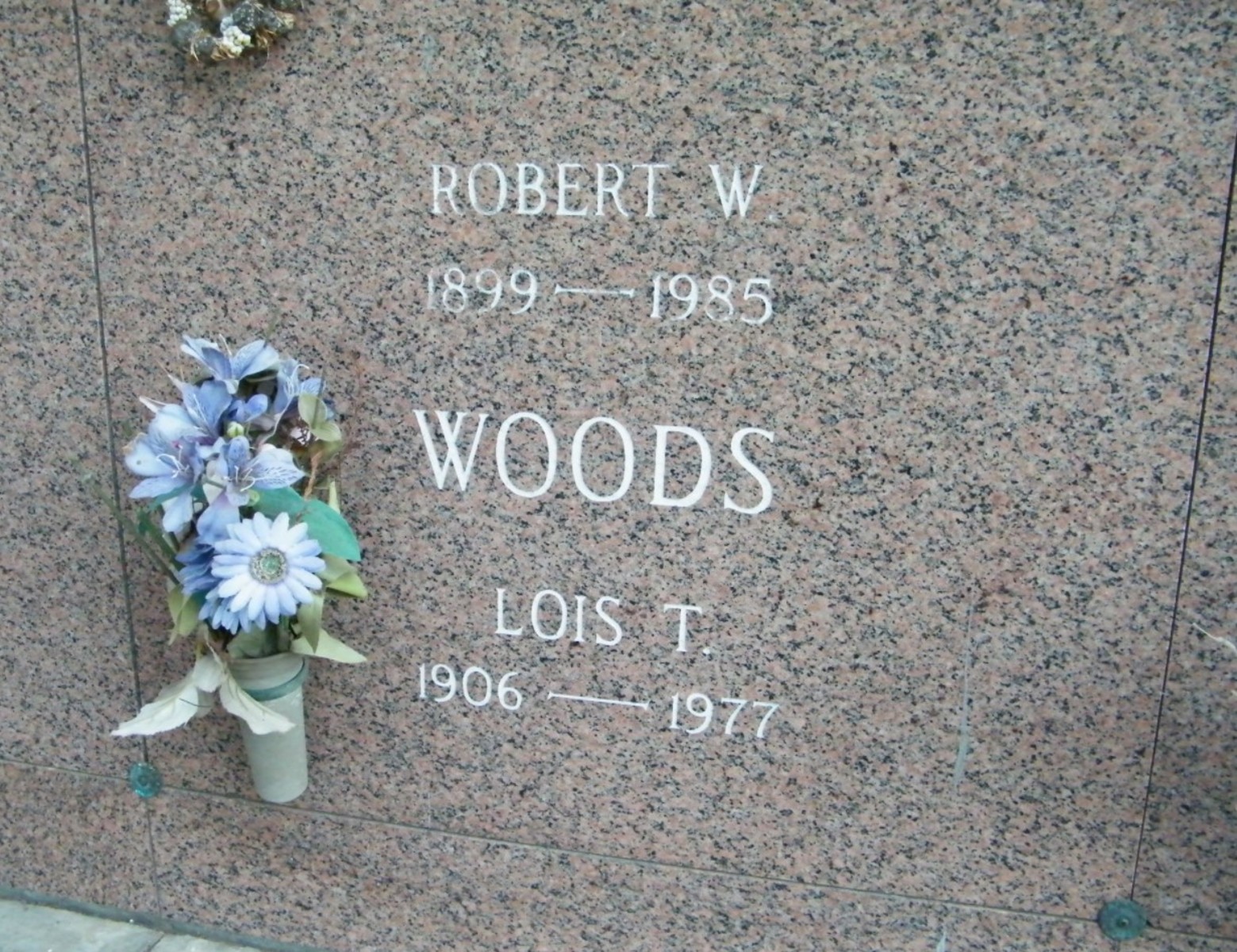 Woods, Robert William (1899–1985)
×
Sabrina Riley was born in Auburn, New York and raised in Dowagiac, Michigan. She received a B.A. in history from Andrews University and an M.A. in information and libraries studies from the University of Michigan. Riley was a member of Andrews University's library staff from 1998 to 2003, library director and college archivist at Union College from 2003 to 2016, and is presently a freelance researcher, author, and information professional.
First Published: January 29, 2020
Robert William Woods, an Adventist educator and physicist, served as president of Union College and acting president of Antillean Union College, among other academic positions.
Early Life
Robert William Woods was born on August 12, 1899, in Covington, Kentucky, to Robert Bellville Woods and Etha Lena Mendenhall (1873–1966; 1873–1960).1 A second-generation Irish-American born and raised in Covington, Kentucky, Robert Bellville Woods was an iron worker who moved his family numerous times following a variety of job opportunities, including factory foreman in Toledo, Ohio;2 toolsmith and machine hand in Dayton, Ohio;3 and anglesmith in a Pascagoula, Mississippi, shipyard.4 Another job took the family to Atlanta, Georgia.5
How and when the Woods family joined the Seventh-day Adventist Church is unknown. However, there is no evidence that any members of the family were members of the church before Robert Bellville and Etha Lena Woods. Their younger son, Cecil Lamborn (1903–1997), also an educator, taught at the China Training Institute and Pacific Union College.6
Education
Robert William Woods attended Georgia Technical University (now Georgia Institute of Technology, better known as Georgia Tech) for three years before transferring to Emmanuel Missionary College, graduating with a B.A. degree in June of 1920. In 1930 he graduated from the University of Cincinnati with an M.A. degree in secondary education.7 Woods earned a PhD in physics from the University of Chicago in 1941.8
Marriage and Family
While teaching at Indiana Academy, Woods met and married Lois Theresa Schleicher in 1924 in Indianapolis, Indiana. They had one daughter, Mary Kathryn.9 Lois Woods died in 1977. Robert Woods remarried on December 11, 1980. His second wife, Olga Callen (1901–1996), whom he met in Angwin, California, was the widow of William Beckett.10
Career
Woods joined the faculty of Indiana Academy in 1921, where he taught science and Spanish, and served as preceptor (boys dean).11 His college teaching career began in 1928 when he moved to Southern Junior College, where he taught physics and math until 1939.12 In 1939 Woods moved to Atlantic Union College, where he taught for two years.13
Woods first came to Union College as a physics teacher in 1941. He served as chair of the college's Physics Department.14 During World War II Woods took a leave of absence from Union College in 1942–1943 to teach radio communications to naval officers at Harvard University.15 His work was highly regarded, and he was invited to become a permanent member of the Harvard faculty; however, he turned down this offer, believing that teaching "for the Lord" was more important.16
From 1944 to 1946 Woods was academic dean of Union College before becoming president in 1946. Under Woods's leadership, the nursing program expanded to a baccalaureate degree with the opening of a clinical campus at Boulder, Colorado, in December 1946. It was the first collegiate nursing program in Nebraska, accredited by both the Nebraska Bureau of Education and Registration of Nurses and the Colorado State Board of Nurse Examiners.17 Woods also retained his interest in radio communication, maintaining a shortwave radio operator's license.18
In 1950 Woods moved to La Sierra College (now La Sierra University), where he served as academic dean until 1952.19 In February of 1952 Woods accepted the position of biophysics researcher at the College of Medical Evangelists (now Loma Linda University), which he began while simultaneously completing the academic year as dean of La Sierra.20 While at Loma Linda, Woods's research resulted in the publication of a number of articles, most as a member of a research team.21
Returning to the physics classroom, Woods became acting chair of Pacific Union College's Physics Department in 1964.22 Sometime between 1964 and 1970 he entered partial retirement, reducing his teaching load to part-time. He fully retired in 1971.23
During retirement Woods accepted two different temporary appointments as part of the General Conference's Sustentation Overseas Service program. The first in 1966–1967 sent Woods to Antillean Union College in Puerto Rico, where he served as interim president.24 In 1975–1976 Woods taught at West Indies College (now Northern Caribbean University) in Mandeville, Jamaica.25
Robert Woods lived in Deer Park, California, in his later years. In December 1985 health issues led to a surgical procedure from which he did not survive. Woods died on December 26, 1985.
Contribution
Robert William Woods dedicated more than fifty years to Adventist education, working at ten academies and colleges, and publishing at least seven articles. Colleagues respected him for his "outstanding" scholarship and loyalty to the Seventh-day Adventist Church.26 Upon Woods's retirement in 1971, his interpersonal skills were deemed "cordial" and "tactful" by Pacific Union College president F. O. Rittenhouse. Rittenhouse also praised Woods's "natural talent for grasping mathematical and physical problems; the ability to absorb and organize complicated information in a logical fashion and to teach effectively."27
Sources
"Brevities." Inter-American Messenger, November 1, 1966.
"Cecil Lamborn Woods obituary." Napa Valley Register, November 23, 1997. Accessed October 18, 2019. Newspapers.com.
"Dean Woods Resigns to Join C.M.E. Staff." Pacific Union Recorder, February 4, 1952.
Dick, Everett, George Gibson, and Union College staff. Union College: Light Upon the Hill. Lincoln, Nebraska: Union College, Alumni Association, 2004.
"Dr. Robert Woods Back on Campus to Teach in Physics Department." Pacific Union Recorder, August 28, 1967.
"Dr. Woods Carries Teaching at Harvard." Clocktower (Union College), April 7, 1943.
Follett, Margaret. "Pacific Union College." ARH, August 20, 1964.
"Former President Accepts New Position." Clocktower (Union College), February 1, 1952.
Harvey, Gerald. "Faculty Footnotes." Clocktower (Union College), November 13, 1946.
Indianapolis, Indiana, Birth Certificates. Indiana State Board of Health, Division of Vital Statistics. Ancestry.com. Accessed October 17, 2019. https://www.ancestry.com.
Lemon, Frank R., Richard T. Walden, and Robert W. Woods. "Cancer of the Lung and Mouth in Seventh-day Adventists." Cancer 17, no. 4 (April 1964): 486–497.
Mississippi. Jackson County. 1920 United States Census. Digital images. Ancestry.com. October 18, 2019. https://www.ancestry.com.
Napa, California. Marriage Index. Marriage Registrations. Ancestry.com. Accessed October 21, 2019. https://www.ancestry.com.
Ohio. Lucas County. 1910 United States Census. Digital images. Ancestry.com. Accessed October 18, 2019. https://www.ancestry.com.
"Retired Couple Tells of Service in Jamaica." Pacific Union Recorder, December 27, 1976.
"Robert Bellville Woods obituary." Pacific Union Recorder, August 29, 1966.
"Robert Woods obituary." Napa Valley Register. December 27, 1985. Accessed October 17, 2019. Newspapers.com.
Rulkoetter, A. H. "New Physics Head at Union." Central Union Reaper, July 15, 1941.
Seventh-day Adventist Yearbook. Washington, D.C.: Review and Herald Publishing Association, 1922–1964.
Steinman, Ralph R., C. Gordon Hewes, and Robert W. Woods. "Histochemical Analysis of Lesions in Incipient Dental Caries." Journal of Dental Research 38, no. 3 (May 1959): 592–605.
Steinman, Ralph R., Mervyn G. Hardinge, and Robert W. Woods. "Experimental Caries With Human Foods." Journal of Dental Research 37, no. 5 (September 1958): 865–873.
"Two Brothers Retire After Total Service of 96 Years." Pacific Union Recorder, July 12, 1971.
U.S. World War I Draft Registration Cards, 1917–1918. Ancestry.com. Accessed October 18, 2019. https://www.ancestry.com.
Woods, Robert W. "Acoustic Resonance of Microorganisms to Supersonic Vibrations." Proceedings of the Society for Experimental Biology and Medicine 89, no. 3 (July 1955): 406–408.
———. "Analysis of a Power Circuit Phase Shifter." Electronics (1945). Complete citation unavailable.
———. "Thermistor Electronic Thermometer." Science 121, no. 3140 (March 4, 1955): 337, 338.
Woods, Robert William. Measurement of the Initial Inner Permeability of Iron Over a Wide Radiofrequency Range. PhD dissertation, University of Chicago, 1941.
"Woods Accepts Deanship at La Sierra." Clocktower (Union College), August 22, 1950.
"Woods to Head Physics Department September One." Clocktower (Union College), June 30, 1941.
Notes