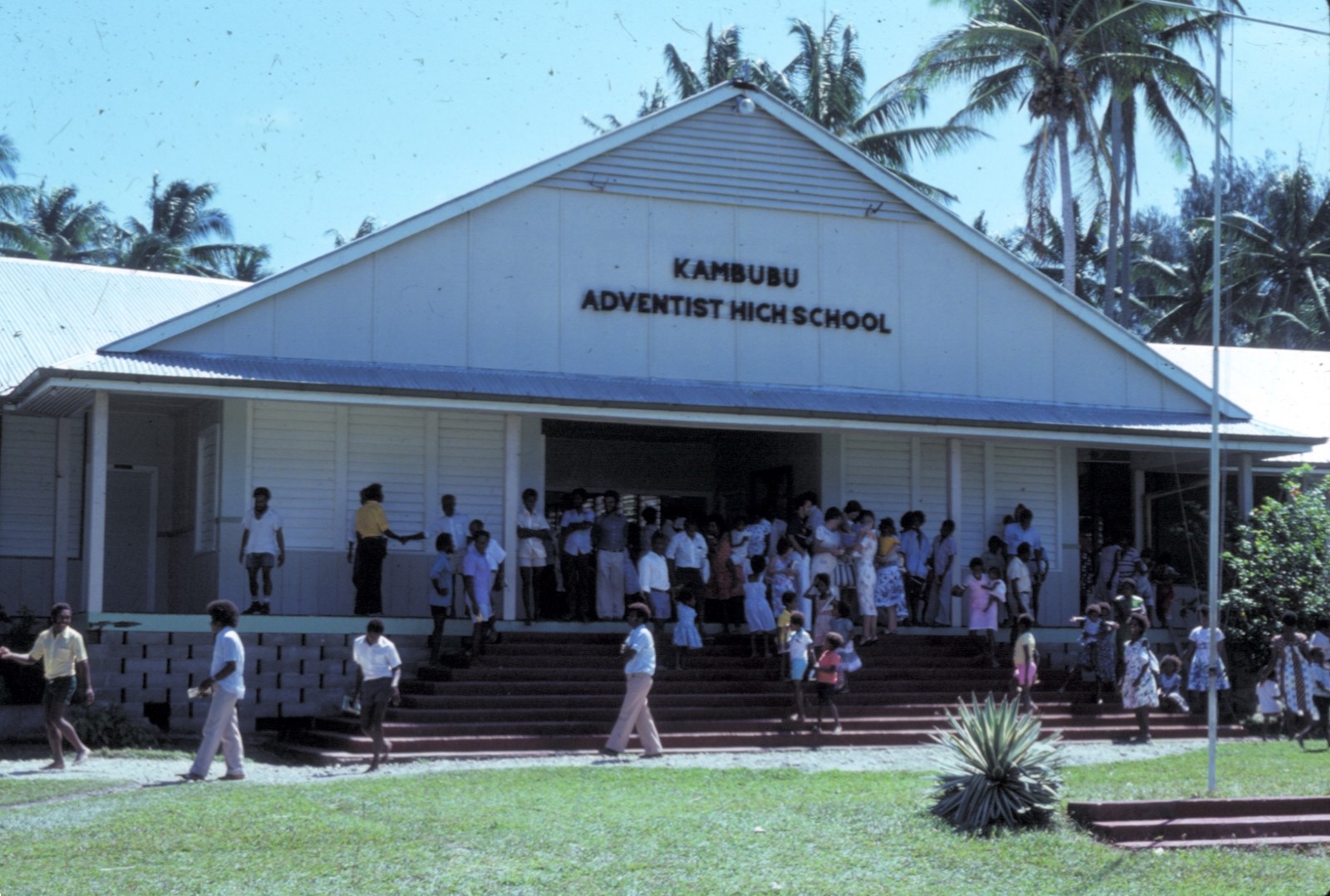 Kambubu Adventist Secondary School
×
Raymond Wilkinson, Ed.D. (Andrews University, Berrien Springs, Michigan, USA) was born to missionary parents and grew up in Fiji. He was educated at Longburn College, Massey University New Zealand, and Avondale College Australia. With wife Ruth, his Church service involved teaching and educational administration in the South Pacific Islands. He retired 1994 but since then has enjoyed volunteer service in the islands. Now married to Lola, Raymond has four adult children and eight grandchildren.
First Published: January 29, 2020
Kambubu Adventist Secondary School is a coeducational boarding secondary school in Papua New Guinea. It was established in 1950.1
Introduction
Mission work of the Seventh-day Adventist Church began on the large island of New Guinea in 1908 when Septimus Carr of Australia and Peni Tavodi from Fiji arrived in Port Moresby, now the capital of Papua New Guinea (PNG), and established their mission station at Bisiatabu on the Sogeri plateau.2 A second PNG mission base was established in 1929, when Captain G. F. Jones came from the Solomon Islands with two Solomon Islanders, Oti and Salau, and established a mission on Matupi Island (more recently known as Matupit) adjoining Rabaul, in Blanche Bay on the island of New Britain. They also established a day school at Matupit. Interest grew rapidly, and soon Rabaul was the center of the Adventist work in that part of PNG.3
Put Put Training School
By the 1930s, the need for a boarding school, which could serve as a central school teaching higher grades and where young people could be trained as workers to help meet the needs of the growing church membership, was recognized. A church member donated £1,500 to be used for training schools in PNG. In 1937, Gerald Peacock paid £200 as a deposit on a 4,000-acre property at Put Put, about 30 miles from Rabaul. The total cost of the land was £4,000, the balance of which was provided by the Sanitarium Health Food Company and the Australasian Union Conference (AUC). In 1937, the AUC allocated £5,000 for the establishment of the Put Put School. Harry Steed was appointed school Principal, and also served as the building supervisor. He established a sawmill so that some of the excellent timber on the property could be used in the buildings. Young men from Bougainville, Mussau, Emirau, Manus, and Ramu gathered at Put Put to become students, and they helped with the construction and with the establishment of food gardens for the school.4
When Steed left Put Put, Aubrey R. Hiscox replaced him.5 In February 1939, E. M. Abbott reported that nineteen students from the Put Put Training School had been placed as teachers in needy areas. He praised the work that A. R. Hiscox was doing in preparing workers.6 That growth continued until 1942 when it was reported that a girls' school had been added to the training program at Put Put.7
However, early in 1942 the Japanese invasion forced all expatriate workers to leave the Pacific war zone, and the school was left in the care of Deni Mark, one of the Solomon Island teachers. A few hours after the expatriates left Put Put, the Japanese bombed the school, destroying most buildings.8 Later Japanese soldiers came and took anything of value from the mission. Deni Mark continued to work as best he could, teaching in nearby jungle areas, and even saving the lives of many who were escaped from the Japanese. He also helped to care for a wounded American pilot for about nine months until he could be rescued. The Japanese suspected that Deni was passing on information to the Allies, and he was badly beaten and imprisoned. In September 1944 he died.9
Kambubu Training College
At the conclusion of hostilities, a rebuilding program began. All that remained of the buildings of the Put Put Training School were concrete slabs and even they were damaged from the Japanese bombing. In June 1948, a special Thirteenth Sabbath overflow offering was dedicated to the rebuilding of training schools in New Guinea and the Solomon Islands. The name was changed to Kambubu Training School and a new training program commenced. In 1950, Hugh A. Dickins, education secretary of the Bismarck Archipelago Mission was able to report that work was almost complete on a fine school building, three residences for expatriate teachers, five dormitories, homes for married students, homes for national staff, a dispensary, and a two-room primary school. There were 130 students at the school, and since the training program recommenced seventeen workers had been appointed to positions in the organized work of the Church.10
Also, in 1950 at the mid-year meeting of the Coral Sea Union Mission, the decision was made to designate the Kambubu Training School the training college for the union. For a short time, the college was referred to as the Coral Sea Union College, but the popular name soon became Jones Missionary College, named after Captain Griffiths F. Jones, the pioneer missionary who had brought the gospel message to much of the territory the college served. Lester Lock was appointed principal of the college.11
The highlight of 1951 was the arrival of brass band instruments for the college. Mrs. L. D. Trott of Glendale, California, donated the instruments and the brass band was a unique feature of college life for many years to come. Also, during 1951 Colonel Murray, administrator of Papua and New Guinea, expressed an interest in the college, and met with Pastor Ken J. Gray, the Union Education Secretary of the new Bismark Solomons Union Mission with headquarters in Rabaul. Gray showed him the master plan for the college, and briefly explained its features.12
A. L. Ham, a field secretary from the General Conference of Seventh-day Adventists, visited Jones Missionary College (which he referred to as Jones Memorial College) in 1954, and in his report he noted the neatness of the campus along with the new administration building that was dedicated while he was there. Buildings were constructed, he noted, using timber milled by teachers and students from trees on the property. He mentioned that there were 14 graduates that year, all men because women had only been admitted into the training classes the previous year for the first time. He was pleased that all the graduates had also qualified as Master Guides and could now lead in Junior Missionary Volunteer work.13 Then in 1956, when W. R. Beach, general secretary of the General Conference, visited Jones Missionary College, he reported that there were about 200 students, and 11 graduates who were all going as teachers or ministers to work for the Church.14
In 1958, Doug Martin joined the college staff. He had been a minister singing evangelist, and it was hoped that, in addition training ministers, he would develop the musical talents of the students. He formed a 60-voice male choir, which won third place in the annual Rabaul choir competition after only three months of rehearsal. By the next year, the choir won first place, and continued to do so as long as the competition continued. Many of those who served in the choir formed choirs in their own churches and schools after graduation. In 1960, a female choir of 32 voices was also formed. In their first competition they also won third place and in subsequent years placed either first or second place.15 In 1965, Martin formed a choir of 40 voices which toured the east coast of Australia, winning wide acclaim. The influence of Doug Martin's choirs continues in the South Pacific Islands.16
In 1962, Ray W. Richter, educational secretary of the Bismarck-Solomons Union Mission wrote of the good examination results achieved at Jones Missionary College. Thirty teacher trainees had gained 'A' certificates, qualifying them to teach in village schools, while five had gained 'B' certificates, qualifying them to teach the higher classes in central schools.17
The Issue of Isolation and the Transfer of Ministerial and Teacher Training to Sonoma College
From the beginning, Kambubu had been difficult to access by road. Transportation from Rabaul's port was generally by ship. Roads were poor and involved several river crossings. In 1965, work began on an airstrip suitable for use of the small planes operated by the church. No bulldozer was available, so work had to be done by hand.18 The completed strip did provide an alternative, but was rarely used particularly since a new government road has provided improved access.
In 1967, A. R. Mitchell, president of the Bismarck-Solomons Union Mission, announced that because of Kambubu's isolation the union had decided to find another location for the training college. For this purpose, they bought the Sonoma Plantation on an all-weather road only 26 miles from Rabaul.19 Building at Sonoma began in 1968 under the direction of Mr. Ray Elliot of Queensland, and the same year training programs began to transfer from Jones Missionary College. In 1968-1969, trainees of the ministerial and teaching courses and one teacher, Pastor Rex Tindall, were housed at Winalin Plantation, near the site of the new college. In 1970, students and staff moved to the new buildings at Sonoma Adventist College.20 The name Jones Missionary College was no longer used for Kambubu, even though the staff and students of the building construction course continued to be housed at Kambubu for some years.
Kambubu continued as an important Adventist secondary school offering ten grades and commended by the government inspector for secondary schools for outstanding results achieved in the government exams in 1969.21 In 1993, when the school's enrollment was about 320, with 80 10th grade students, serious consideration was given to Kambubu Secondary School adding grades 11 and 12.22 The first 12th grade graduation was held in 1999 with twelve graduates. By 2017, there were 93 students who completed year 12.23 In 2018, there were 513 students in grades 9 to 12, with 21 teaching staff members. In 2019, the enrollment was 490 with 36 were day students and 454 boarding students.24
Put Put Training School Principals
Harry R. Steed (1937); Aubrey. R. Hiscox (1938 – 1941); Deni Mark (1941 – 1944).
Kambubu Training School Principals
E. Tonkin (1946-1949); J. R. Aitken (1950).
Jones Missionary College Principals
Lester N. Lock (1951-1957); I. R. Harvey (1958-1960); Ray W. Richter (1961); David C. Sutcliffe (1962-1965); Ken J. Bullock (1966-1969).
Kambubu Adventist Secondary School Principals
K. E. Satchell (1970-1972); David A. Caldwell (1973-1978); Ray K. Wilkinson (1979-1981); Greg Dawkins (1982); Anthony L. Hay (1983); Barrie C. Bidmead (1984-1986); Don R. Edgeworth (1987); Samson Kuku (1988-1989); Samson Panda (1990-1992); Joseph Ponduk (1993); Noah Pune (1994-1996); Jeffrey Wadah (1997-2000); Neva Jimenez (2001-2002); David Bondou (2003-2004); Zebedee Aile (2005-2006); D. Benjamin Mason (2007-2008); Silas Wagi (2009-2014); Kiah Thoa (2015-2017); Alex Sando (2018- )
Sources
Abbott, E. M. "Advance Moves in New Guinea." Australasian Record, February 20, 1939.
Abbott, E. M. "News from Manus." Australasian Record, October 20, 1941.
Abbott, E. M. "Notes from New Guinea." Australasian Record, February 9, 1942.
Australasian Union Conference Officers. "Our Missionaries as Affected by the War in the Western Pacific." Australasian Record, February 23, 1942.
Beach, W. R. "The Bismarck Solomons Islands." ARH, February 16, 1956.
Boehm, Ken. "No Greater Love." Journal of Pacific Adventist History 6, no. 1 (June 2006): 38-41.
Caldwell, David. "Our Years in Kambubu." Journal of Pacific Adventist History 5, no. 1 (June 2005): 19-23.
Chapman, Alfred G. "Establishing Put Put and Omaura Training Schools in New Guinea." Journal of Adventist Pacific History 5, no. 1 (June 2005): 10-12.
Dickins, H. A. "First Fruits from Kambubu." ARH, September 14, 1950.
Greive, Constance M. "Missionaries in Fellowship." Australasian Record, March 19, 1951.
Ham, A. L. "Jones Memorial College in the South Pacific." ARH, August 26, 1954.
"Kambubu Adventist Secondary School Grade 12 Graduation…before Exams." PNG ICT Meri, October 3, 2017. Accessed September 17, 2018. https://pngictmeri.wordpress.com/2017/10/03/kambubu-adventist-secondary-school-grade-12-graduation-before-exams/
Lopa, Aaron. "Adventism's Explosive Presence." Journal of Adventist Pacific History 3, no. 1 (June 2003): 3.
Littlewood, Ian. "Eruption News." Record [South Pacific Division], October 15, 1994.
Martin, Doug. "The Influence of Music at Jones Missionary College and Beyond–Part 1." Journal of Pacific Adventist History 7, no. 1 (June 2007): 49-54.
Martin, Doug, "The Influence of Music at Jones Missionary College and Beyond–Part 2," Journal of Pacific Adventist History 8, no. 1 (September 2008): 19-23.
Mitchell, A. R. "Explosion and Expansion." Australasian Record, November 6, 1967.
Pascoe, W. L. "The Harvest Truly is Great." Australasian Record, October 23, 1950.
Richter, R. W. "Good Examination Results at J. M. C." Australasian Record, April 16, 1962.
Smith, Ray. "Kambubu Builds an Airstrip." Australasian Record, December 6, 1965.
Standish, James. "Changing History One heart at a Time." Record [South Pacific Division], July 4, 2015.
Vickery, Brian. "Kambubu Relieved by Educators." Record [South Pacific Division], May 15, 1993.
Wilson, J. L. "Kambubu Students Do Well." Record [South Pacific Division], April 20, 1970.
Notes