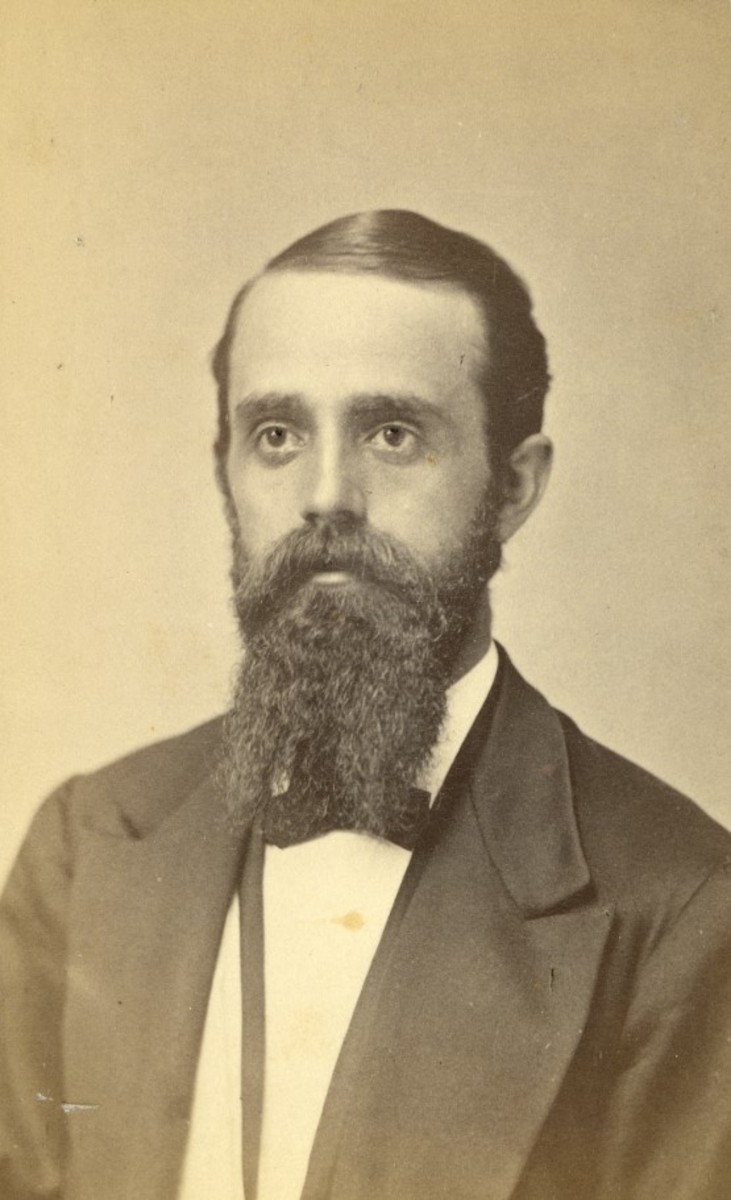 Robinson, Dores Alanzo (1848–1899)
×
Brian E. Strayer, Ph.D. (University of Iowa). Strayer taught history at Jackson (MI) Junior Academy, the University of Iowa, Southern Adventist University, and Andrews University for 41 years. He has written 10 books, 120 scholarly and professional articles, 40 reviews and critiques in French and Adventist history and directed three Adventist heritage tours of New England.  He writes a weekly column ("The Past Is Always Present") in the Journal Era and shares Adventist history at camp meetings, schools, and churches.
Dores Alanzo Robinson was an evangelist, educator, and administrator who served in South Africa, England, and India during the early period of Seventh-day Adventist world mission.
Early Life
Dores Alanzo Robinson was born in 1848 in New Brunswick, Canada, although the exact date and the names of his parents and siblings are unknown. When he was young, the family moved to Maine. At the age of nineteen, Dores attended meetings held by D. M. Canright, H. C. Goodrich, and Luther L. Howard, and was baptized into the Seventh-day Adventist Church.1 Soon he convinced his younger brother, Asa T. Robinson (1850-1949), to convert as well.
In 1872, Dores moved to Battle Creek, Michigan, and during the next two years, he studied Adventist beliefs more deeply, taking a few classes at Battle Creek College when it opened in 1874. Later that year, he returned to work in New England. On October 29, 1875, Robinson, then twenty-seven, married Edna Dewey (1845-1905) of Vermont, who was then thirty.2 In 1876 at the age of 28, he was ordained to the gospel ministry.3
Ministry in New England
Between 1874 and 1887, Robinson held evangelistic meetings throughout the New England region, preaching, baptizing new converts, and raising up churches. In 1882, both he and his wife worked closely with Stephen Haskell and others to establish the new secondary school in South Lancaster, Massachusetts (soon to be called South Lancaster Academy and later, Atlantic Union College). Dores served as its first principal and Edna as one of the first teachers.4 In June 1887, Dores traveled to Basel, Switzerland, as one of four American delegates (the others were Stephen N. Haskell, John H. Waggoner, and Charles L. Boyd) at the Fifth Annual European Council.
Missionary: South Africa, England, India
At the conclusion of this Council, Dores and Edna Robinson, Charles and Maude Boyd, Carrie Mace, and two colporteurs, George Burleigh and R. S. Anthony, left for Cape Town as the first Seventh-day Adventist missionaries to South Africa. In 1887 and 1888, Dores held ten evangelistic meetings in the Cape Town area while the Boyds did the same in Kimberley. Robinson paid particular attention to starting the educational and canvassing work in South Africa. While there, they faced drought, floods, ambushes by lions, baboon raids, and opposition from witch doctors, and also watched many of their friends die from tropical diseases. Ellen White sent them a letter in 1887 encouraging them to preach practical godliness and to exalt the elevated character of missionary work abroad.5
In 1888, the Robinsons traveled to England where they served for seven years (1888-1895). Following the death of Buel L. Whitney from tuberculosis in 1888, Robinson also directed the Central European Mission from his headquarters in London, England, until Henry P. Holser became director in 1895. In London, Robinson published a pamphlet in 1889 titled The Restoration of the Sabbath; or the Bible Testimony concerning the Lord's Day.
In 1895, Robinson took up his new assignment as the first superintendent of the Adventist work in India, headquartered at the Karmatar Mission in Bengal, about 168 miles north of Calcutta. During the next four years (1895-1899), he expanded the agricultural program and built new farm buildings.6 Dores and Edna, who had no biological children, adopted two daughters, one an English girl and the other a Bengali girl. In 1898, Ellen White wrote an encouraging letter reminding the Robinsons that their "common friend Jesus" would always be near them.7
When their daughter Ethel contracted smallpox in 1899, the disease soon infected the rest of the family. While the others recovered, Dores Robinson and his colleague, Frederick W. Brown, did not. Dores died on December 29, 1899, at Karmatar, Bengal, India, five days short of his 52nd birthday. He and Brown were buried together beneath a tree in a field they had often plowed.8 William A. Spicer (1865-1952), editor of the Oriental Watchman and the only ordained minister in Southern Asia at the time, replaced Robinson as director of the work in India. Meanwhile, Dores' widow Edna, with their two adopted daughters, returned to the United States. Edna Robinson died on November 12, 1905, in South Lancaster, Massachusetts, near the school she had helped to establish 23 years earlier. She was buried in the cemetery in Montpelier, Vermont, near her birthplace.9
Contribution
Dores A. Robinson made significant contributions to the Seventh-day Adventist Church as an evangelist in New England (1874-1887), as one of the founders of South Lancaster Academy (1882), and as a missionary and administrator in England (1887-1888), South Africa (1888-1895), and India (1895-1899).
Sources
Haskell, S. N. "Edna Dewey Robinson obituary." ARH, November 30, 1905.
Robinson, Dores A. The Restoration of the Sabbath; or the Bible Testimony Concerning the Lord's Day. London: International Tract Society, 1889.
Seventh-day Adventist Encyclopedia. Second Revised Edition. Hagerstown, MD: Review and Herald Publishing Association, 1996. S.v. "Robinson, Dores A."
Spicer, W. A. "Dores A. Robinson." ARH, March 27, 1900.
Spicer, W. A. "From India." ARH, February 13, 1900.
Strayer, Brian E. "Robinson, Dores A." Denis Fortin and Jerry Moon, eds. The Ellen G. White Encyclopedia. Hagerstown, MD: Review and Herald Publishing Association, 2013.
White, Ellen G. June 18, 1887. Ellen G. White to D. A. Robinson and C. L. Boyd. June 18, 1887. Letter 14, 1887. CAR.
White, Ellen G. Ellen G. White to Brother and Sister Dores Robinson. January 24, 1898. CAR.
Notes