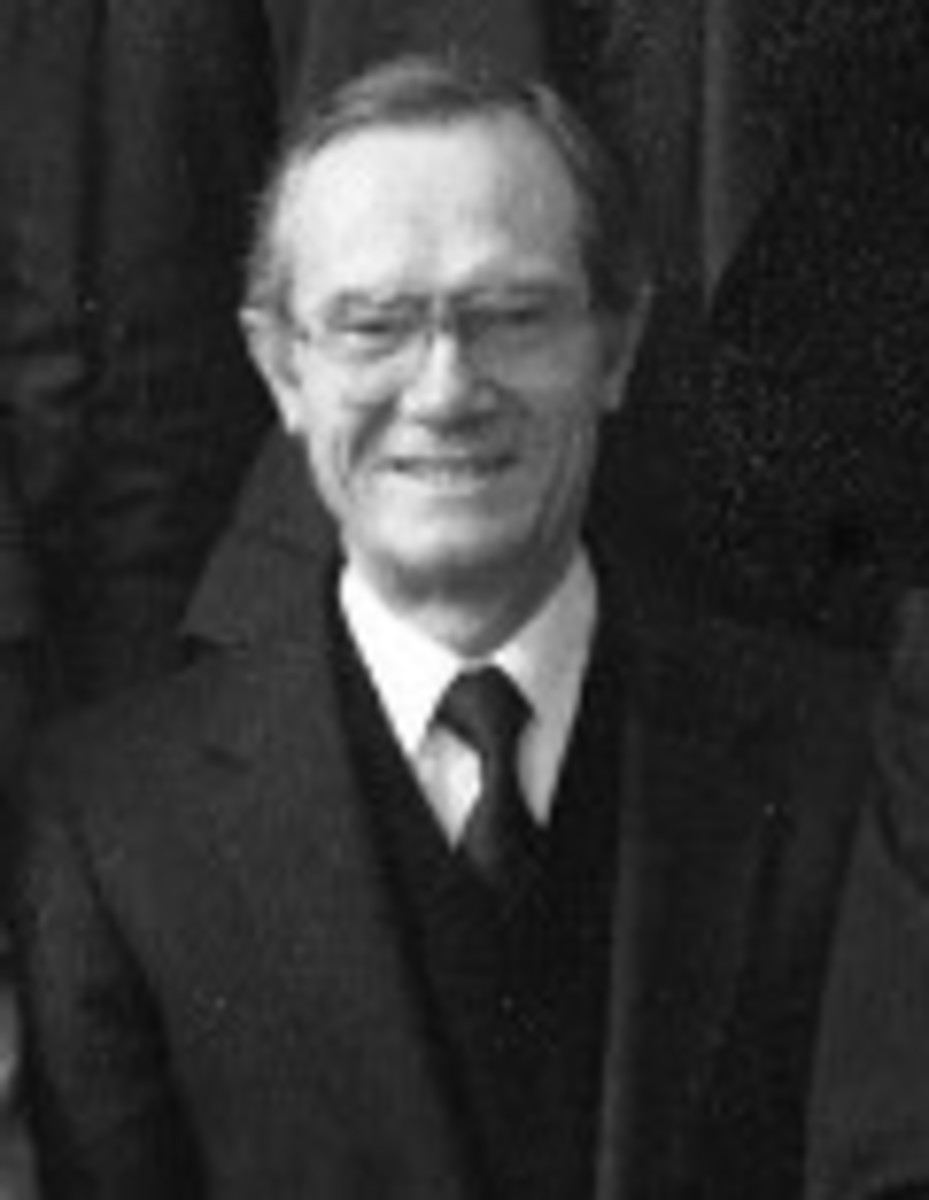 Calkins, Harold LeRoy (1920–2008)
×
Nathalie Johansson, B.A. (English and History), M.A. (English) (University of Southern Denmark), currently (2019) serves as the management assistant to the Treasury Department the Trans-European Division of the Seventh-day Adventists in St. Albans, England. Johansson plans to complete a Ph.D. in Adventist History in the near future.
First Published: September 28, 2021
Harold Calkins pastored in the Illinois, Pennsylvania, Southern California, and Southeastern California Conferences. He also served as the executive secretary and president of the Southern California Conference and president of the British Union Conference.
Early Years
Harold was born on his parent's farm in Ruthven, Iowa, U.S.A., in 1920.1 Following his father's conversion, he started attending the Whitewater Seventh-day Adventist Church with his family when he was 11 years old. Soon afterward, Harold was also baptized.2
In 1939 Calkin enrolled at Emmanuel Missionary College (now known as Andrews University)3 and graduated with a B.A. in religion in 1943.4 Following his graduation, he started an internship in the Illinois Conference. One year later, in 1944, he received his own church district.5
While studying at Emmanuel Missionary College he had met Fern Wagner, their relationship continued to blossom, and in 1944 they married.6 Their first son, Kent, was born in 1945.7 In 1947 Calkins was ordained during a summer camp meeting.8
He accepted a call to the Pennsylvania Conference in 1951, and while in the Lancaster-Lebanon district, earned a reputation as a good pastor and church builder. The same year, his wife gave birth to their second son, Ross.9
Southern California Conference
Calkins received a call to become the pastor of the Temple Church in Southern California in 1956 and remained there until 1966.10 During this period he also had a number of articles published in the Review and Herald that he had condensed from the sermons he presented on The Adventist Hour telecasts in Southern California.11 In 1958 Calkins obtained his M.A. from Andrews University.12 Calkins was a gifted writer and the Review and Herald Publishing Association printed his M.A. thesis "Master Preachers" as a book in 1960.13 During his tenure as a pastor of the Temple Church, he assisted in the building of the new church structure and the establishment of San Gabriel Academy.14 To help young people attending colleges without any Bible classes, Calkins taught an extension course on the "Life and Teachings of Jesus" at the Temple Church.15
In 1966 he became executive secretary of the Southern California Conference.16 During the same year he also earned his M.Div. from Andrews University.17 The Southern California Conference session re-elected him March 21, 1971.18 However, in 1972 the conference chose him as its president, a position he would hold until 1981.19
Christian education and evangelism were Calkins' two main areas of interest. Emphasizing this at the second annual convocation of the Pacific Union Conference in 1976, he declared that it was important to have meaningful contact with every family, home, and person on the planet, and that it should be done through evangelism and education.20
British Union Conference
When elected president of the British Union Conference in 1981, hardly any of the delegates had heard of Calkins. General Conference president Neal C. Wilson, however, had highly recommended him for the position.21 On August 30, 1981, Calkins made his debut as the new British Union president at meetings held in Manchester. 22
At the opening of "Langley," the first Adventist Asian church in the BUC, located in the Oldbury district of the West Midlands, Calkins shared his passion for evangelism and spoke of the influence a congregation can have within the community.23
Evangelism and its results became apparent in 1983 when the British Union membership passed the 15,000 mark. At the end of 1982 the BUC had grown to 15,206 members and 169 churches, then added 819 new members during 1983, making it the third best year of soul-winning in its history.24 In an article in the British Advent Messenger Calkins wrote,
Pastors and laymen are cooperating to seek out former members and to prepare new members for fellowship in God's family. Seek out people who used to fellowship with you in the church. Invite them. In fact, bring them to the services. Sing with the spirit and with understanding songs that will inspire hope and faith. Use young people in the services. Make the house of God attractive.25
Retirement
Calkins retired in 1986 and moved to Loma Linda, California, where he and his wife cared for his elderly father-in-law. 26
After less than a year of retirement, the Southeastern California Conference asked Calkins to pastor the Big Bear Church on a part-time basis, a request that he accepted. In 1994 he stepped down from this responsibility due to heart problems. He and his wife started attending the Bellflower Church where he served as an elder and a Sabbath School teacher.27 Apart from being an active member of the congregation, he was also member on the board of directors of the Emerald Health and Education Foundation, an organization financially helping Adventist work in Ireland.28
On January 4, 2008, Calkins passed away, only a few years after his wife's death in 2005.29 A memorial service took place January 12, 2008, at the Bellflower Church,30 and another at his old Temple City Church on March 8.31
Legacy
Calkins left a legacy of a strong belief in evangelism and the teaching of the scriptures. He was known as a man who was willing to serve his church in any way that he could in order to bring its message to the world. Even during his retirement, he continued to work for the church both as a part-time pastor, elder, teacher, and board member, thereby showing a great example of dedication and faith to future generations of Seventh-day Adventists.
Sources
Calkins, H. L. "Christ is Coming," ARH, May 9, 1963
Calkins, H. L. "College Bible Course available at Temple City," Pacific Union Recorder, January 17, 1966.
Calkins, H. L. "Five Principles of effective Prayer," ARH, September 19, 1963.
Calkins. H. L. "15,000 and Rising." British Advent Messenger, March 11, 1983.
Calkins, Harold. "Read or Trivialize." Ministry Magazine, June 2002.
Canson, E. A. "Second Annual Convocation in Pacific Union." The North American Informant, September-October 1976.
"Harold Calkins, 87." Redlands Daily Facts (online), January 21, 2008. Accessed March 4, 2020. https://www.redlandsdailyfacts.com/2008/01/21/harold-calkins-87/
"Harold LeRoy Calkins." Prabook (online). Accessed March 4, 2020. https://prabook.com/web/harold_leroy.calkins/581674.
Marshell, D. N. "The 'Who? Who?' President." British Advent Messenger, July 24, 1981.
McFarlane, Don. "Pastor Harold Calkins." British Advent Messenger, February 22, 2008.
"New President Makes Debut at Manchester." British Advent Messenger, September 18, 1981.
"So you will know." Pacific Union Recorder, April 5, 1971.
Surridge, R. H. "New Church for Langley." British Advent Messenger, June 25, 1982.
Notes