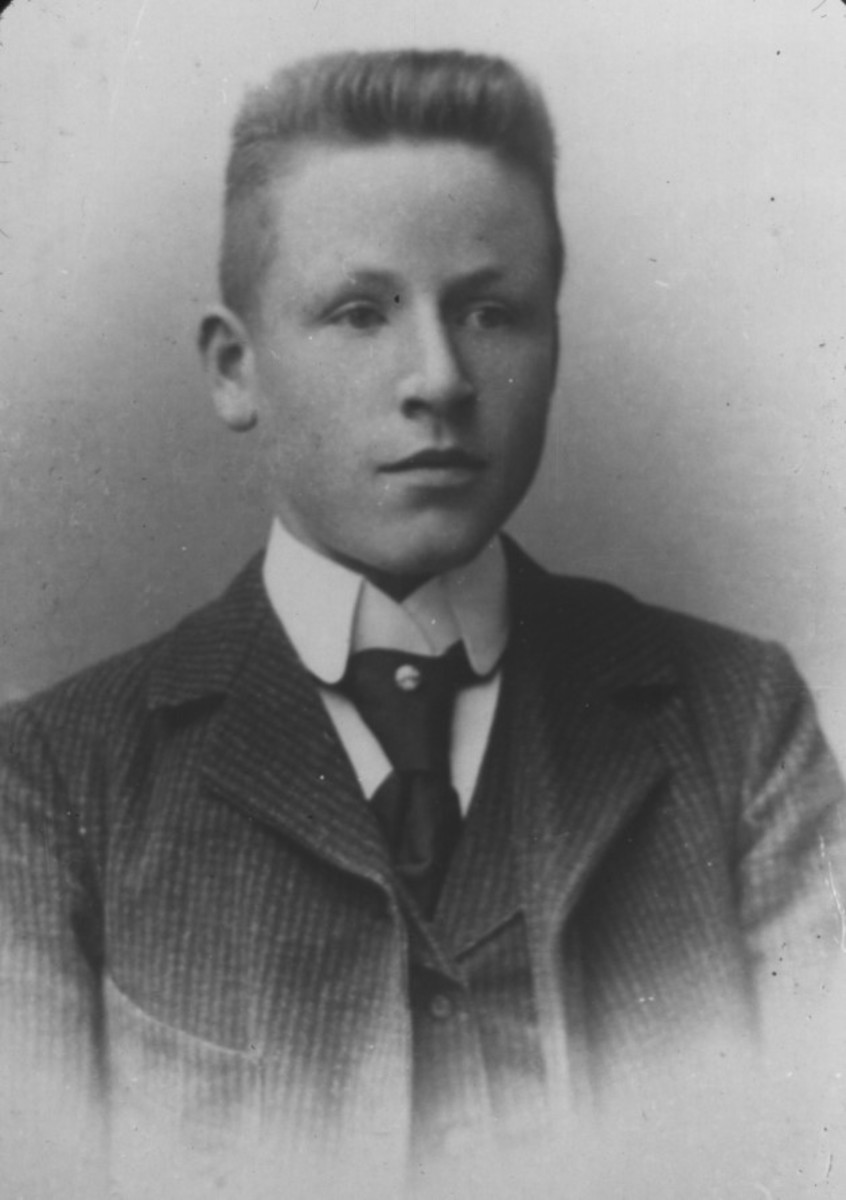 Ambs, Karl Frederick (1903–1970)
×
Kevin M. Burton, Ph.D. candidate (Florida State University). Burton did mission work in the Czech Republic and South Korea and served as chaplain at Ozark Adventist Academy. He currently teaches American history at Southern Adventist University and has published several articles on Adventist history. His M.A. thesis is titled, "Centralized for Protection: George I. Butler and His Philosophy of One-Person Leadership." Burton's doctoral dissertation explores Adventist political involvement in the abolition movement and Civil War.
First Published: January 29, 2020
Karl Frederick Ambs, not to be confused with his uncle, Karl Friedrich Ambs (1884–1967), was an educator, business manager, missionary to Africa, and an assistant treasurer of the General Conference.
Early Life (1903–1925)
Karl Frederick Ambs was born in Medford, Taylor County, Wisconsin, on January 22, 1903, to Martin Ambs and Fredricka Wild. Martin and Fredricka had married in Ihringen, Germany on March 4, 1902,1 and sailed on the S.S. Friesland to America eleven days later.2 Karl was their firstborn child. Louise Johanna (1904–1996), Ruth (1907–1979), and Esther Dora (1910–1998) soon completed the family.
Martin worked many odd jobs after his arrival in America. The family lived in Medford, Wisconsin, until the spring of 1905 when they moved to Battle Creek, Michigan. Martin spent five years as foreman for John Harvey Kellogg and helped "make the first cornflakes," among other tasks.3 In April 1910, the family moved to Comstock, Michigan, to work an 80-acre farm, but they were forced to move in December due to financial setbacks. After wintering in Otsego, Michigan, the Ambses moved to nearby Monterey so that Martin could work for Ezra Brackett as a hired hand. They remained there until March 1912 at which time they returned to Otsego permanently. After working various jobs for several years, in June 1917 Martin took a permanent job at the Mac Sim Bar Paper Company and remained there until his retirement in the spring of 1958.4
Martin and Fredricka married in the Lutheran Church, but joined the Seventh-day Adventist Church in Battle Creek on June 10, 1907.5 In 1917, Martin was elected elder in the Otsego church and held that post for more than fifty years.6 Karl spent much of his boyhood here and "always considered the Otsego S.D.A. church as his 'home' church."7
Entering the Church Work (1925–1933)
Karl graduated from Cedar Lake Academy on May 1, 1922,8 and took his first Adventist job in September 1925 as a schoolteacher in Lafayette, Indiana.9 He held that post until June 1927 when he enrolled at Emmanuel Missionary College. Ambs graduated with his Bachelor of Arts in the summer of 1930 and began work as a preceptor at Pine Tree Academy in Auburn, Maine, that fall.10 In 1931, he became principal and business manager of the academy.11
Ambs' work at Pine Tree Academy placed him in close connection with Glenna Muriel Tatro. Myrle, as she preferred to be called, was a teacher there and the two soon fell in love. They were married on Saturday evening, June 11, 1932, in the home of C. M. Bunker in St. Johnsbury, Franklin County, Vermont, in the presence of a small number of relatives and friends. Karl and Myrle honeymooned in Ohio and Michigan, where they visited family before the next school year began.12 In 1933, Myrle gave birth to Carol Louise in Auburn, Maine.13
Working During the Great Depression (1933–1940)
Pine Tree Academy, like many other institutions in the 1930s, struggled during the Great Depression. By 1933, the school relied heavily on the Atlantic Union Conference for funding, and of the thirty-four enrolled students, "only nine [were] . . . paying students." The academy closed in July 1933.14 Unable to find teaching position in an Adventist school, Ambs moved his family to South China, Maine, so that he could become principal of Erskine Academy, an independent high school not affiliated with a religious denomination. Ambs held that position from fall 1933 to summer 1936.15 However, during his first year there he also served on the executive committee for the Northern New England Conference.16
Times were hard, but Ambs soon found another short-term job with the Adventist Church. From September 1936 to June 1937, he was treasurer of Union Springs Academy in the New York Conference and Myrle worked as the registrar.17 The job ended after one year and the Ambses returned to South China. Between July 1937 and December 1939, Ambs worked as an automobile salesman for Victor B. Stimpson's Suburban Sales Company. The business sold Chevrolet vehicles, which contributed to Ambs' aversion to Ford automobiles.18 In January 1940, the family moved again so that Karl could serve as treasurer of Forest Lake Academy in the Florida Conference. Martin William was added to the family in June 1940, but Karl's job ended in August and the family prepared to move again.
Missionary Work in Africa (1940–1958)
In September 1940, Ambs agreed to go to Africa as a missionary. On November 27, 1940, the Ambses sailed on the S.S. President Harrison on their way to Ruanda-Urundi (Rwanda).19 There were 31 Adventists on that ship and they met together every morning in Elder N. C. Wilson's cabin for a Week of Prayer. Interestingly, this group made some Sabbath adjustments because the ship crossed the International Date Line. Ambs explained, "The first meeting was held on Friday instead of Sabbath because during the week following, we crossed the 180th meridian of longitude and so lost Monday of the week."20 The Ambses arrived in Africa in late January 1941.21
Ambs served as principal at the Gitwe Training School, which had sixty-eight registered students and another 330 in the lower grades when he arrived. The current school building "was a re-reconverted dwelling house and was long inadequate." Ambs immediately set out to resolve this problem. He wrote in 1941, "We are working under very crowded conditions, in fact several of our classes are having to meet out-of-doors, but we are in process of erecting a good-sized school building which will take care of our immediate needs and also allow for some growth." The new building provided seven classrooms, a library, office, and room for storage, but was challenging to build. Ambs quipped, "There is no building-material supply house at the end of the nonexistent telephone line." This meant that roofing tiles had to be carried by hand for three miles over the mountains and that timber had to be "cut in the forest about two days' walk away." Construction took nearly two years, and the structure was completed 1943.22
Ambs served at the Gitwe Training School until May 1956, but also held the posts of secretary-treasurer and president for Congo Union Mission (later known as Zaire Union) from June 1945 to November 1948 and December 1948 to July 1954, respectively. In August 1954, he became treasurer of the Southern Africa Division and held that position until July 1958. During these years he oversaw the construction of more buildings, including "a new Union office building in Lubumbashi (formerly Elizabethtown) in the Congo-Zaire (1952–54), [and] the new Division office building in Salisbury, Rhodesia . . . (1957–58)."23
In the late 1940s, the Congo Union Mission was geographically larger than "the Union of South Africa, Southern Rhodesia and Northern Rhodesia combined" and was populated by some 1,350,000 people. In 1948, the Adventist church operated "nine mission stations, two hospitals, and one training school," but had been authorized to open three new mission stations. At this time, the Mission was operated by "64 European workers," including "10 ordained ministers, 13 licensed ministers and 41 licensed missionaries," and 876 African workers, including "23 ordained ministers, 30 licensed ministers, 6 licensed missionaries, 578 teacher evangelists, 15 colporteurs, and 166 other workers."24 Ambs received his ministerial ordination on June 17, 1944, and, along with several others, baptized converts. Thousands were baptized in the 1940s and 1950s, but Adventist leaders in Ruanda-Urundi were cautious and required that each candidate spend "a minimum of two years" in baptismal preparation. This ensured that people were truly converted before "admission to membership of the church."25
The Ambses came to Africa by ship, but much had changed during their sojourn. By 1964, it was estimated that Adventist missionaries logged "more than 4,000,000 [airline] miles a year."26 On April 25, 1958, Ambs returned to North America on Trans-Canada Air Lines flight 503.27
Church Work in the United States (1958–1970)
In August 1958, Ambs became business manager and treasurer of Potomac University, the theological seminary then located in Washington, D.C. He moved with the seminary to Berrien Springs, Michigan, in 1960 when it merged with Emmanuel Missionary College to form Andrews University. Ambs served at this new university until July 1962 and during this time he "carried the responsibility for scores of important decisions which were necessary in the erection" of many structures on campus. This included the Garland Apartment buildings, 13 faculty homes, the James White Library, the seminary building (Tan Hall), and the 1,000-foot steam tunnel built between the education building and the new seminary building.28
Ambs began working toward his master's degree while living in Berrien Springs, taking several courses at Michigan State University. He then accepted the call to serve as assistant treasurer at the General Conference in August 1962 and returned to the Washington, D.C. area. He continued his coursework while serving in the treasury, and had completed about half of the requirements for his Master of Business Administration by March 1970.29
Ambs' work at the General Conference was cut short when he suffered a heart attack and passed away on March 15, 1970, in Bluemont, Loudoun County, Virginia. His funeral was held at the Takoma Park Seventh-day Adventist Church on March 18 and he was laid to rest in the Mountain Home Cemetery in Otsego, Michigan.30
Contribution
Aside from his regular duties as a teacher, business manager, and administrator, Ambs contributed to the church's work through management of building projects. He oversaw the construction of numerous buildings in Africa and the United States, and taught other leaders how to do likewise with efficiency and frugality.31 He also served as a minister and throughout his lifetime led many individuals to Christ.
Sources
Ambs, K. F. "Before You Build—2: Procedures." Ministry, January 1970.
———. "The Gitwe Training School, East Africa." ARH, June 11, 1942.
———. "Our Work in the Congo Union Mission." Southern Africa Division Outlook, February 1, 1949.
———. "Pine Tree Academy." Atlantic Union Gleaner, December 16, 1931.
———. "'Vital' Statistics, Congo Union Mission." ARH, July 29, 1948.
[Ambs, Martin], "Autobiography of Martin Ambs." n.p. February 1970. Personal collection of Carol Bradfield.
"Autobiographical Information: Karl Frederick Ambs." n.p., 1972, Call Number: 007162, Center for Adventist Research, Andrews University, Berrien Springs, Michigan.
Baden, Germany. Lutherische Kirchenbücher, 1502-1985. Online Database. Ancestry.com, accessed July 14, 2017, http://ancestry.com.
Bunker, C. M. "An Interesting Letter." Atlantic Union Gleaner, January 29, 1941.
———. "Wedding." Atlantic Union Gleaner, June 22, 1932.
Clifford, F. G. "New Missionary Recruits." Southern African Division Outlook, February 15, 1941.
Cooper, V. H. "Karl F. Ambs obituary." British Advent Messenger, May 8, 1970.
Eddinger, John. "A Church with World Headquarters in Maryland: It's the Seventh Day Adventist, Serving 1,400,000 Members from Takoma Park." Baltimore (MD) Sun, October 25, 1964.
Elliott, H. T. "Missionary Sailings." ARH, December 19, 1940.
Florida. Seminole County. 1940 United States census. Digital Image. Ancestry.com, accessed July 14, 2017, http://ancestry.com.
"From East Africa." The Church Officers' Gazette, September 1942.
Germany. Select Marriages, 1558-1929. Online Database. Ancestry.com, accessed July 14, 2017, http://ancestry.com.
Hill, T. S. "Karl F. Ambs obituary." Lake Union Herald, April 1, 1941.
Holmes, Russ. "Karl F. Ambs." Find A Grave. September 21, 2010. Accessed July 14, 2017, https://www.findagrave.com/cgi-bin/fg.cgi?page=gr&GRid=59005004&ref=acom.
Howard, W. H. "Closing Pine Tree Academy." Atlantic Union Gleaner, February 15, 1933.
"In Remembrance: Ambs, Karl Friedrich." ARH, June 6, 1968, 23.
"Karl Frederick Ambs obituary." ARH, August 6, 1970.
Lee, Donald. "James White Library Dedicated at Andrews University." Atlantic Union Gleaner, November 19, 1962.
Michigan. Kalamazoo County. 1910 United States census. Digital Image. Ancestry.com, accessed July 14, 2017, http://ancestry.com.
Michigan. Allegan County. 1920 United States census. Digital Image. Ancentry.com, accessed July 14, 2017, http://ancestry.com.
Michigan. Berrien County. 1930 United States census. Digital Image. Ancestry.com, accessed July 14, 2017, http://ancestry.com.
"New Homes Ready Soon for Faculty." Benton Harbor (MI) News-Palladium, August 25, 1960.
New York. Passenger Lists, 1820-1957. Digital Image. Ancestry.com, accessed July 14, 2017, http://ancestry.com.
Passenger and Crew Manifests of Airplanes Arriving at Montreal, Quebec, Canada, January 1958 to October 1960. Digital Image. Ancestry.com, accessed July 14, 2017, http://ancestry.com
Patterson, Homer L. Patterson's American Educational Directory. Vol. 31. Chicago: American Educational Company, 1934.
———. Patterson's American Educational Directory. Vol. 32. Chicago: American Educational Company, 1935.
———. Patterson's American Educational Directory. Vol. 33. Chicago: American Educational Company, 1936.
———. Patterson's American Educational Directory. Vol. 34. Chicago: American Educational Company, 1937.
Peterson, A. W. "Spirit of Our Missionaries." ARH, July 30, 1942.
"Rev. Karl F. Ambs obituary." Washington D.C. Evening Star, March 17, 1970.
Shankel, G. E. "The Light Glows in Darkest Africa." ARH, December 24, 1942.
Shepard, Edith. "Elementary Schools of Indiana." Lake Union Herald, October 21, 1925.
"Steam Tunnel Work Begun at Andrews." Benton Harbor (MI) News-Palladium, July 2, 1960.
Townsend, V. C. "General Meeting." Atlantic Union Gleaner, June 3, 1931.
Vermont. Certificate of Marriage no. S-30632 (1932). Vital Records Office, Department of Health, Burlington, Vermont. Digital Image. Ancestry.com, accessed July 14, 2017, http://ancestry.com.
Seventh-day Adventist Yearbook. Washington, DC: Review and Herald, 1926.
Seventh-day Adventist Yearbook. Washington, DC: Review and Herald, 1934.
Seventh-day Adventist Yearbook. Washington, DC: Review and Herald, 1937.
Wright, Kenneth A. "Pine Tree Academy." Atlantic Union Gleaner, September 24, 1930.
Notes