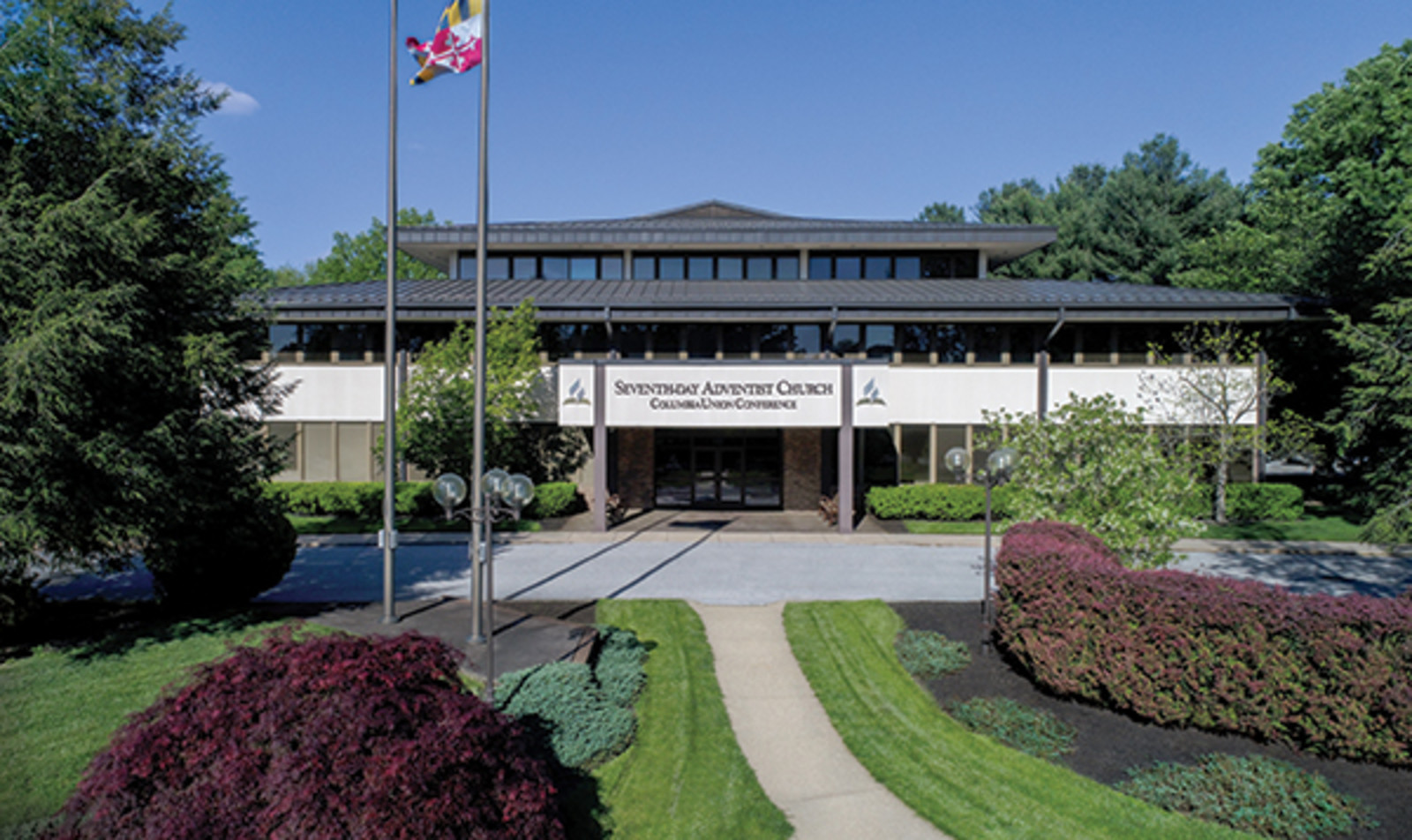 Columbia Union Conference
×
Michele Joseph, Ph.D. (Michigan State University, Lansing, MI) in Information & Media. Joseph writes, edits and manages communication projects through her business, Michele Joseph Creative Solutions. She has written for a variety of publications including newspapers, magazines, books, websites and e-newsletters.
First Published: May 20, 2022
The Columbia Union Conference is an administrative unit of the Seventh-day Adventist Church in the North American Division comprising the following local conferences: Allegheny East, Allegheny West, Chesapeake, Mountain View, New Jersey, Ohio, Pennsylvania, and Potomac.
Territory: Delaware, Maryland, New Jersey, Ohio, Pennsylvania, Virginia, West Virginia, and the District of Columbia.
Statistics (June 30, 2021): Churches, 752; membership, 149,941; population, 52,508,342.1
Origins
Formation of the Columbia Union Conference was one of several territorial reorganizations involving the union conferences in North America that the General Conference Committee recommended at its meeting in Gland, Switzerland, May 15, 1907.2 Up to this point the Atlantic Union Conference, one of the original six organized in 1901 to decentralize denominational administration, covered all of the states along the east coast from Maine to Virginia. The perception that a new union conference was needed in the mid-Atlantic apparently arose in part from the fact that Washington, D.C. had become a major Adventist center as a result of the General Conference and the Review and Herald Publishing Association moving there in 1903, followed by establishment of a college and a sanitarium in Takoma Park, Maryland. Another factor was the need to devote greater resources and attention to the large cities of the east, where Adventism had thus far made little headway.
The General Conference Committee thus voted to request the Atlantic Union Conference to divide and relinquish the southern portion of its territory and the Lake Union to release Ohio "so that a new union might be formed of the states of Pennsylvania, New Jersey, Delaware, Maryland, and Ohio." After the Atlantic and Lake Union constituencies voted compliance with the recommendation, the new entity, the Columbia Union Conference, was organized at Philadelphia, Pennsylvania, on November 17, 1907 by delegates representing each state. The organizers declared their resolve to "earnestly press our work into unentered portions of the field and in the great centers of population" and to "arrange for the full departmental organization of our work, making provision for the publishing, educational, medical missionary, religious liberty, and young people's missionary volunteer departments." W. J. Fitzgerald, president; H. H. Burkholder, vice-president; and E. R. Brown, secretary-treasurer, made up the first slate of officers, elected to serve a biennial term.3
Organizational History
Thus organized in 1907, the Columbia Union Conference officially began operations January 1, 1908. Its first headquarters office was located at 63 Goethe Street in Cumberland, Maryland, though only the president and secretary-treasurer worked out of that office, with the other officers and department heads at various locales throughout the union territory.4 The union included seven conferences—Chesapeake, Eastern Pennsylvania, New Jersey, Ohio, Virginia, West Pennsylvania and West Virginia—with a combined membership of 6,063 in 228 congregations and a paid work force of 42 ordained ministers, 23 licensed ministers and 54 licensed missionaries.5 Its membership was the sixth largest among the 12 union conferences formed by then in North America but the population of the territory it served was the largest of all.
Mount Vernon, Ohio, headquarters of the Ohio Conference, would also remain a major center of action for the Columbia Union during its early years. The Welcome Visitor, the Ohio Conference paper since 1896, became the union conference weekly paper, re-titled the Columbia Union Visitor starting with the March 18, 1908, issue.6 The Visitor was issued from Mount Vernon until November 1941.
The Columbia Union also, at its inception, assumed responsibility for Mount Vernon College as its post-secondary "training school."7 Begun as a 12-grade academy in 1893, the school became a college, offering four-year programs leading to bachelor's degrees, in 1905. The school struggled financially, but the Columbia Union took action to reduce its debt and make improvements to campus facilities, and the college's enrollment trended upwards in the early 1910s. In 1914, though, when the Washington Foreign Missionary Seminary in Takoma Park, Maryland, became a liberal arts college, re-named Washington Missionary College (WMC), it became the college supported by the Columbia Union. The union discontinued operation of the college program at Mount Vernon with the school continuing to offer secondary education as an Ohio Conference institution.8 WMC was a General Conference institution, but the Columbia Union became closely involved in overseeing its administration and in giving it financial support. The union conference president, F.H. Robbins, first became chair of the school's "local board" in 1919, and from 1920 onward he and subsequent union presidents functioned as chair of the board of trustees.9
After two years in its initial locale, the Columbia Union office headquarters moved from Cumberland to Takoma Park, Maryland in 1910. Except for two years in Harrisburg, Pennsylvania, 1922-1924, the office remained in Takoma Park until construction of the current headquarters in Columbia, Maryland was completed in 1981.10
Though it was the locale of the Columbia Union headquarters for close to 70 years, Takoma Park was not part of the union's territory at the time of its formation. The General Conference, after moving to the Washington, D.C. area in 1903, formed a committee for direct oversight of the churches in Takoma Park and the District of Columbia. This arrangement remained in place until 1909 when the District of Columbia Conference was formed and admitted to the Columbia Union at the second biennial session on December 2, 1909.11
A second change in the structure of the union's member conferences came in 1924 when the Potomac Conference was formed from a merger of the Virginia and District of Columbia conferences (which also included Montgomery, Prince George's, Charles, and St. Mary's counties in Maryland). Three reasons were given for its formation: 1) to save on overhead costs and focus those resources on keeping "workers in the field;" 2) there was too little territory for operations in D.C. and too much territory in Virginia; and 3) the easy accessibility by "boat, railroad or automobile" from D.C. to Virginia. Uniting the two conferences received overwhelming approval from church members in votes conducted in each congregation before the change was voted by the union conference constituency at the second quadrennial session on March 24, 1924.12
Another merger of conferences in the union took place nearly four decades later when the East and West Pennsylvania Conferences united in 1963 to form the Pennsylvania Conference.13 In 1968, the Columbia Union leadership recommended that the West Virginia Conference disband and its territory be distributed to surrounding conferences. West Virginia's relatively small membership made it difficult for the conference to provide its members, particularly young people, with adequate resources, and the move promised to relieve financial pressures. A vote at the conference's 1968 constituency session went in favor of the recommendation to disband but before the action was finalized, the members rallied in favor of staying together as a conference, reconstituted as the Mountain View Conference in 1971.14
Diversity and Equality
The most significant structural change in the history of the Columbia Union Conference came after the General Conference approved formation of "colored" or "regional" conferences in 1944. Concerns arising from pervasive racial injustice in church governance and discrimination at denominational institutions led to the plan for black-administered conferences enabling black Adventist ministers to lead the work among their own people and have improved representation in the denomination's conference system.15 After initial agreement to the plan, hesitance to implement it in Ohio, and then to follow through with it at all became evident on the part of some in the Columbia Union leadership. However, General Conference influence finally prevailed and on December 17, 1944, 237 lay representatives and the 30 black ordained and licensed ministers employed throughout the union met at Ebenezer Church in Philadelphia along with General Conference officials and the Columbia Union Conference committee to organize the new conference.16
Forty predominantly black congregations with members totaling 3,576 were transferred from the other seven conferences in the union into the new Allegheny Conference. It began operation on January 1, 1945, its office located in Washington, D.C. before moving to Pine Forge, Pennsylvania in 1947.17 The Allegheny Conference would cover the entire seven states plus District of Columbia territory of the Columbia Union for more than 20 years. Its growth to 11,542 members by 1966 prompted a division of the conference, approved by its constituents in May 1966 by a vote of 496 to 171. Allegheny East, headquartered in the Pine Forge office, and Allegheny West, with headquarters in Columbus, Ohio, officially came into being on January 1, 1967.18
Over a history spanning close to eight decades, the Columbia Union's Allegheny conferences have sustained a high rate of growth. In 1945, at the end of its first year, Allegheny Conference had 4,047 members, more than 15 percent of the union total of 26,253. At the same time Allegheny members returned 11 percent of the tithes received unionwide that year. In 2020, 75 years later, the 49,515 combined member total of the Allegheny East and Allegheny West Conferences constituted 33 percent of the Columbia Union membership (148,963) while the two conferences generated 30% of the union's total tithe income.19 At the same time, the advance of racial and ethnic diversity in the Columbia Union has spread far beyond the regional conferences. In the 21st century, Hispanic believers, for example, have become the majority of the New Jersey Conference membership, with nearly 60 percent identified with Spanish-speaking churches in 2018 and another 10 percent with other non-English-speaking ethnicities.20 In 2007, the Columbia Union added an administrative position to foster the church's growth in the increasingly diverse population of its territory. Ruben Ramos was appointed assistant to the president, then vice president in 2014, for Multilingual Ministries.21
The Columbia Union Conference has been at the forefront of encouraging equality of opportunity and recognition for women called to ministry and church leadership. In 1973, union president Cree Sandefur preached the Sabbath sermon for the organization of the Washington Seventh-day Adventist Church of International Brotherhood, after which Josephine Benton was ordained as the local elder, apparently the first woman ordained to this office in the Seventh-day Adventist church.22
Nearly 50 years later, on July 29, 2012, delegates from the eight conferences in the union voted 209 to 51 in favor of the following motion: "That the Columbia Union Conference authorize ordination to the gospel ministry without regard to gender."23 This was the first such action taken by a union conference in the Seventh-day Adventist denomination, though the Pacific Union Conference soon approved a similar measure. Tension, as yet unresolved, developed with the General Conference, which regards the Columbia Union's assertion of such a policy to be in conflict with votes at the 1990, 1995, and 2015 General Conference sessions defeating proposals for allowing the divisions of the world church to decide the issue for their respective territories24
The Columbia Union is also the first union conference to elect a female vice president. In March 2014 the union executive committee designated Celeste Ryan Blyden, formerly assistant to the president for communication, as vice president for strategic communication and public relations.25 On November 11, 2021, Blyden was elected executive secretary, thus becoming the first woman executive officer elected in the 114-year history of the Columbia Union.26
Institutional Expansion
A vast increase in the Columbia Union's role in the ownership and governance of medical and educational institutions began in the late 1950s. In 1957 ownership of Hadley Memorial Hospital was transferred to the Columbia Union Conference from the Potomac Conference which had in turn received it in 1952 as a donation from its founder and medical director, Dr. Henry W. Hadley. The now defunct hospital served predominantly black, low-income sections of Washington, D.C. until it was sold in 1990.27 In 1958, the Columbia Union took responsibility for the denomination's flagship medical institution in the mid-Atlantic, Washington Sanitarium and Hospital in Takoma Park, Maryland, previously operated by the General Conference.28 And, in 1959, the union took another major step by establishing a charter and legal framework for ownership of Kettering Memorial Hospital, opened July 7, 1961, near Dayton, Ohio. Major funding for the new institution came from Eugene W. and Virginia Kettering who had been impressed by the impact made on the community by Hinsdale Sanitarium and Hospital, an Adventist institution near Chicago, and thus entrusted the Seventh-day Adventist church with funds to launch a similar institution as a memorial to Eugene's father, Charles F. Kettering, a renowned inventor, scientist, and humanitarian.29
In 1982, these three institutions became part of Adventist Health System/Eastern and Middle America, Inc., along with four others that came under the aegis of the Columbia Union in the intervening years: Hackettstown Community Hospital in New Jersey; Leland Memorial Hospital in Riverdale, Maryland; Reading Rehabilitation Hospital in Pennsylvania; and Shady Grove Adventist Hospital in Rockville, Maryland. AHS/Eastern and Middle America was one of five regional hospital networks that comprised a national corporation, Adventist Health System/United States.30 In 1991, though, AHS/US was replaced by independently-operated regional systems. Two of these were formed under the purview of the Columbia Union: Adventist Healthcare Mid-Atlantic (later Adventist HealthCare) based in Gaithersburg, Maryland, and Kettering Adventist Healthcare (later Kettering Health) in Ohio.31
As of 2022, Adventist HealthCare is the largest provider of healthcare in Montgomery County, Maryland. In 2019, after more than a century in Takoma Park, the system's largest facility, Washington Adventist Hospital, moved to a new campus in Silver Spring and was renamed Adventist HealthCare White Oak Medical Center. The network also includes Adventist HealthCare Shady Grove Medical Center and Adventist HealthCare Rehabilitation, both in Rockville, and, in Prince George's County, Adventist HealthCare Fort Washington.32
In the decades since its founding Kettering Medical Center has built a network of institutions serving southwestern Ohio. In addition to the main campus in Kettering, Kettering Health also included, as of 2021, Grandview Hospital and Medical Center in Dayton, Greene Memorial Hospital in Xenia, Soin Medical Center in Beavercreek, and Fort Hamilton Hospital in Hamilton.33
Along with two healthcare systems, the Columbia Union operates two institutions of higher learning. Eugene and Virginia Kettering envisioned, in addition to a medical center, development of a college to train medical professionals for lives of service. Accordingly, Kettering College opened in 1967 as a junior college offering certificate programs and two-year associate degrees in nursing and other health professions. In 1997, Kettering College began offering bachelor's degrees and has since added a master's degree physician assistant program (2006) and a doctoral degree in occupational therapy (2014).34
In Takoma Park, Washington Missionary College became Columbia Union College in 1961. In subsequent decades, however, changing demographics, among other factors, meant that graduates from Adventist secondary schools in the Columbia Union no longer constituted a viable enrollment base for the college. The Columbia Union Conference sustained its commitment to the college through the process of innovation in order to target its programs to specific niches of interest both among traditional-age students (18-22) and older "non-traditional" students. The school began offering master's degrees during the 2000s and, with the approval of the Maryland Higher Education Council, changed its name to Washington Adventist University in 2009.35
Mission and Priorities
The Columbia Union Conference's mission is to "encourage members to experience the mission of sharing Jesus Christ's message of hope and wholeness and preparing people for His soon return." It seeks to further the work of the Seventh-day Adventist Church by prioritizing:
spiritual renewal,

mission engagement,

leadership development,

education,

community engagement.36
Executive Officers Chronology
Presidents: W.J. Fitzgerald, 1907-1908; G.B. Thompson, 1909; B.G. Wilkinson, 1909-1918; F.H. Robbins, 1918-1932 and 1941-46; H.J. Detwiler, 1932-1941; D.A. Ochs, 1946-1957; V.G. Anderson, 1957-1958: L.E. Lenheim, 1958-1962; Neal C. Wilson, 1962-1966; Cree Sandefur, 1966-1973; William B. Quigley, 1973-1978; Wallace O. Coe, 1978-1985; Ron M. Wisbey, 1985-1994; Ralph W. Martin, 1994-1997; Harold L. Lee, 1998-2006; Dave Weigley, 2006- .
Secretaries: E.R. Brown, 1908-1912; R.T. Dowsett, 1913-1917; C.C. Pulver, 1918-1922; E.J. Stipeck, 1923-1932; W.B. Mohr, 1933-1941; C.H. Kelly, 1942-1958; T.R. Gardner, 1959-1967; A.B. Butler, 1968-1970; W.A. Thompson, 1971-1981; Luther R. Palmer Jr., 1982-1987; Henry M. Wright, 1988-1992; Harold L. Lee, 1993-1997; Edward Motschiedler, 1998-2005; J. Neville Harcombe, 2006-2011; Rob Vandeman, 2011-2020; Rick Remmers, 2021; Celeste Ryan Blyden, 2021- .
Treasurers: E.R. Brown, 1908-1912; R.T. Dowsett, 1913-1917; C. C. Pulver, 1918-1922; E. J. Stipeck, 1923-1932; W.B. Mohr 1933-1941; C.H. Kelly, 1942-1958; T.R. Gardner, 1959-1969; A. B. Butler, 1970-1976; Dale R. Beaulieu, 1977; Donald J. Russell, 1977-1996; Dale R. Beaulieu 1997-2000; Dowell W. Chow, 2001-2005; Seth T. Bardu, 2006-2017; Tabita Martinez (interim); September to December 2017; Emmanuel Asiedu, 2018- .
Sources
Adventist HealthCare website. Accessed May 3, 2022. https://www.adventisthealthcare.com/.
Annual Report 2017. Columbia Union Conference, May 6, 2018. Accessed May 3, 2022, https://issuu.com/columbiaunion/docs/cu_18_annual_report_web.
Annual Statistical Reports. General Conference of Seventh-day Adventists Online Archives (GCA), http://documents.adventistarchives.org/.
Blyden, Celeste Ryan. "New Name Touts College's Upgraded Status." Columbia Union Visitor, June 2009.
Brauer, C. V. "Brotherhood Group Organized." Columbia Union Visitor, July 19, 1973.
Columbia Union Conference website. Accessed May 3, 2022, https://www.columbiaunion.org/.
"Columbia Union Office Moves." Columbia Union Visitor, August 6, 1981.
"The Columbia Union Conference." Columbia Union Visitor, December 29, 1909.
"Executive Committee Members Debate Proposed Compliance Action." Adventist News Network, October 17, 2019. Accessed May 3, 2022, https://adventist.news/news/executive-committee-members-debate-proposed-compliance-action.
Fitzgerald, W. J. "Another Union Organized." ARH, January 9, 1908.
Fitzgerald, W. J. "The Visitor, A Union Conference Paper." Columbia Union Visitor, March 18, 1908
Henderson, Laverne. "Union Gets Multilingual Ministries Director." Columbia Union Visitor, February 2007.
"The Kettering College Story." Kettering College. Accessed May 3, 2022. https://kc.edu/.
Kettering Health website. Accessed May 3, 2022. https://ketteringhealth.org/.
"Our History." Mount Vernon Academy, February 9, 2012. Internet Archive Wayback Machine. Accessed April 29, 2022. https://web.archive.org/web/20120209185122/http:/www.mvacademy.org/aboutus/ourhistory.html.
"Progress Continues in Mountain View." Columbia Union Visitor, June 7, 1973.
Pulver, C. C. "The Union Conference Headquarters." Columbia Union Visitor, September 7, 1922.
"Report of the Columbia Union Conference." General Conference Bulletin, May 16, 1913.
Rock, Calvin B. Protest and Progress: Black Seventh-day Adventist Leadership and the Push for Parity. Berrien Springs, MI: Andrews University Press, 2018.
Rowe, Taashi. "Columbia Union Constituents Overwhelmingly Approve Ordination Without Regard to Gender." Columbia Union Visitor, August 2012.
Rowe, Taashi. "Union Names First Woman VP, Promotes Three." Columbia Union Visitor, April 2014.
Seventh-day Adventist Yearbooks. General Conference of Seventh-day Adventists Online Archives (GCA). https://documents.adventistarchives.org/Yearbooks/Forms/AllItems.aspx.
Thompson, G. B. "A New Conference in Our Union." Columbia Union Visitor, March 10, 1909.
"Uniting Conferences." Columbia Union Visitor. Second Quadrennial Number," March 20, 1924.
Notes