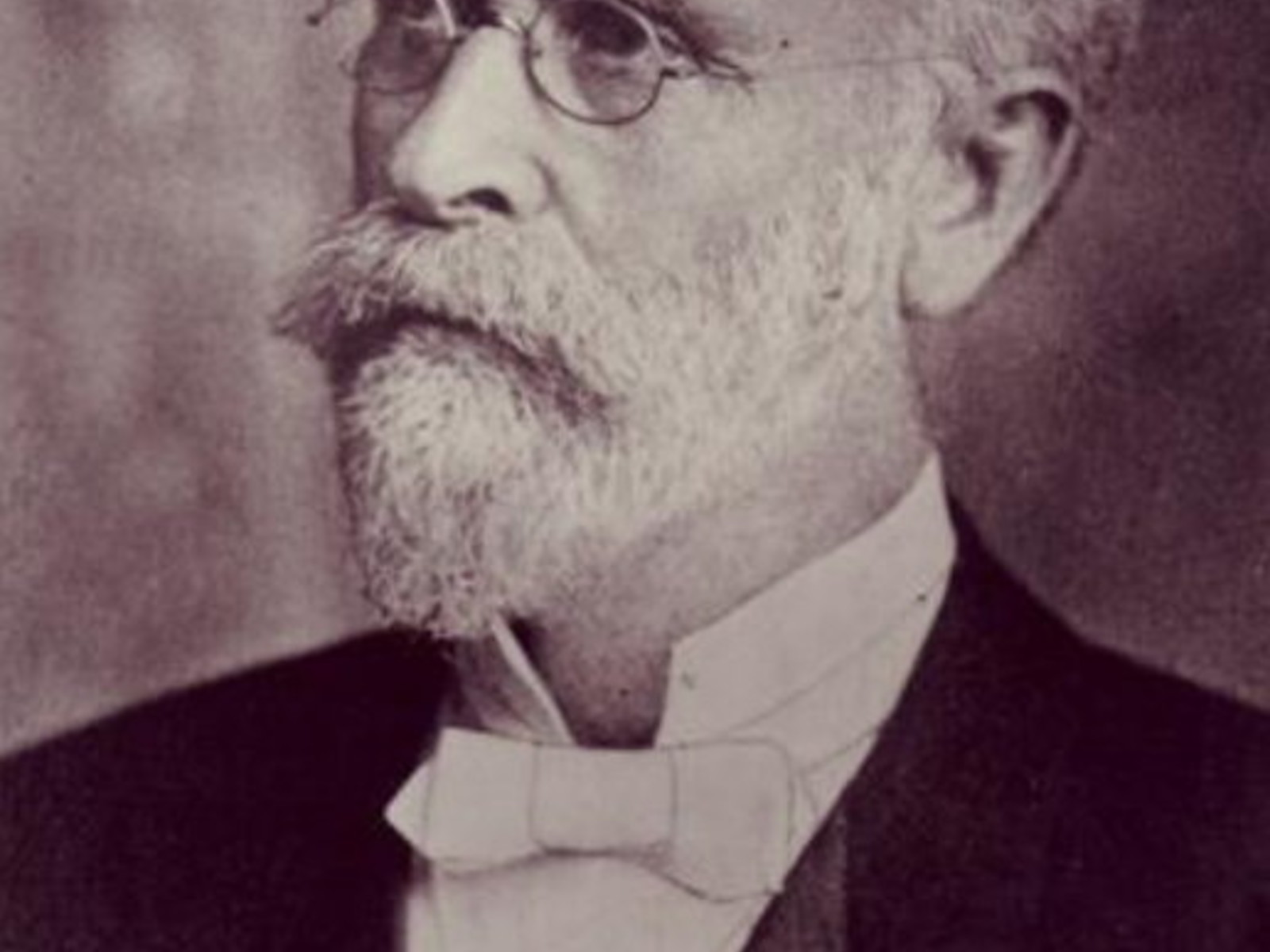 Irwin, George A. (1844–1913)
×
Gilbert M. Valentine, Ph.D. has served internationally in teaching and senior administrative roles in Adventist higher education in Europe, Asia, the South Pacific and North America. He has written extensively in Adventist studies and has authored several books, including biographies of W. W. Prescott (2005) and J. N. Andrews (2019). The Prophet and the Presidents (2011) explored the political influence of Ellen White. He has also written for the Ellen G. White Encyclopedia (2013).
First Published: January 29, 2020
George Alexander Irwin served the church as a pastor and administrator at local, union, and General Conference levels for a period of twenty-four years from 1889 until his death in 1913. His presidency of the General Conference occurred during a period of developing conflict between the church and Dr. John Harvey Kellogg that led to a major church reorganization in 1901. He is remembered for his careful management through times of transition and his generosity in the support of disadvantaged students.
Early Life, Military Service, and Marriage
George Irwin was born in Morris Township, five miles north of Mount Vernon in Knox County, Ohio on November 17, 1844. Little is known of his family background and circumstances, but available records suggest that his grandfather, George, was born in Erie County, New Jersey, moved to Westmoreland County in Pennsylvania when he was young, and then, after his marriage to Martha Norcross in 1809, migrated to Ohio, settling in Morris Township.1 It is reported that George's mother died when he was nine years of age and he was given to the care of his relatives, possibly an Uncle Isaac (1811–1879), who is noted as living on a farm next door to George Irwin and his family at the time of the 1870 census.2 George attended public school in Mount Vernon.
On January 18, 1862, nine months after the outbreak of the American Civil War, George, at age seventeen, enlisted for three years as an infantryman in the Union army, serving in Company I of the Ohio Twentieth Regiment. War service saw him engaged in seventeen major military actions, including the battle for Fort Donelson (February 1862), the battles at Shiloh (April 1862) and at Vicksburg (May 1863). After the fall of Vicksburg he enjoyed a brief furlough home, re-enlisted, and was then reassigned with his regiment to join General Sherman's 1864 campaign in Georgia. On July 22, 1864, after the killing of forty-four of his comrades and the wounding of fifty-six in an attack on the Confederate earthworks in front of Atlanta, he was captured along with fifty-four of his fellows.3 While his regiment went on to capture Savannah, he was imprisoned under the harsh conditions of Andersonville Prison in Georgia, which housed 31,000 war prisoners at the time. George was later transferred to the crowded, unsanitary Libby Prison in Richmond, Virginia, where, in April 1865, he witnessed the arrival of liberating Union troops under General Grant. In May he participated with Sherman's army in the Grand Review through the national capital. Then a week before he was mustered out of service on July 15, 1865, he was promoted to the rank of first sergeant—a parting recognition of his service.4
While imprisoned at Andersonville, Irwin was given a copy of Puritan divine Richard Baxter's book, The Saints' Everlasting Rest, which changed the course of his life. First published in 1649 as an 850-page tome, the Saint's Rest had been later condensed to about 160 pages and was widely distributed in America by the American Tract Society. Written at a time when Baxter was seriously ill and facing imminent death, the book is a meditation on salvation, heaven, and the future life. It became a Christian devotional classic, and when a copy came into George Irwin's hands in the Andersonville prison in 1865 it led to his conversion to Christianity. When he returned home to Morris Township in August that year to take up farm life again, he joined the Congregational church and a little later transferred his membership to the Methodist-Episcopal Church that met in the interdenominational Morris Union Chapel nearer to his home.5
At age 24, on September 17, 1867, two years after being mustered out of the army, Irwin married Hannah Antoinette Johnson (1849–1919), an eighteen-year-old school teacher known to her friends as Nettie.6 Reverend T. E. Monroe, pastor of the Mount Vernon Congregational church, performed the ceremony.7 George and Nettie settled on a 160-acre farm at Morris Township next door to their relatives. Nettie was the daughter of John and Priscilla Johnson, whose forebears had also migrated to Knox County from Pennsylvania around the turn of the century.8 Her mother, after the death of Nettie's father, John, in 1858, had married George's uncle Isaac in 1867.9 It was a close-knit family. To George and Nettie in November 1868 was born an only child, C. Walter Irwin (1868–1934). In his late teens, Walter would study at Battle Creek College, graduating in 1891 and then completing a master's degree at the University of Nebraska in 1895. He would go on to become a noted Adventist educational administrator, serving as president of a number of Adventist colleges and, for the last four years of his career, as head of the General Conference Education Department in Washington, D.C.10
During the 1870s and early 1880s, George Irwin became involved in leadership of the local Knox County Grange. Founded nationally in 1867, the Grange movement was a fraternal organization to nurture the social and communal values of farmers and protect their commercial interests. Protesting the monopolistic practices of railroads that demanded extortionate freight fees for agricultural products became the Grange's major cause after the panic of 1873 worsened the farmers' plight, and it gave momentum to the movement, particularly in Ohio. Based on overtly biblical principles and patterning itself to some extent on the Masonic Lodge, the Grange embraced a strong social welfare and development program as well as farmers' commercial causes.11 Irwin joined the organization and worked his way up through the various orders to become Master of the local county branch.12 Relatives on Nettie Irwin's side of the family had been involved in prohibition politics during the early 1870s, and it seems that during this period Irwin also became involved in the local temperance movement and "ardently" agitated for prohibition.13
Encounter with Adventism and Early Ministry (1883–1889)
According to Irwin's obituary writer, George and Nettie Irwin first came into contact with Seventh-day Adventists when they attended evangelistic meetings held in the one-room public school house located on a corner of their farm property during the winter of 1883–84. A local Ohio evangelist, Elder A. M. Mann, conducted the meetings. During the following winter, Willard Saxby and D. E. Lindsay returned to conduct a follow-up series. This time, forty-year old George, Nettie, and their fifteen-year old son Walter were convicted and decided to cast their lot with the Adventist cause, although the date of the family's baptism is unknown. They became charter members of a little Seventh-day Adventist congregation established on September 19, 1885 in Mount Vernon. Further evangelistic meetings two years later helped it become "one of the strongest" churches in the state.14
Already of mature understanding and wide experience, George Irwin was soon recognized by fellow church members as having pastoral and leadership gifts, even though he had received no formal education beyond high school nor any seminary training. The first report of him in the pages of the Advent Review and Sabbath Herald notes, just two years after he joined the church, that he was appointed as a member of the local conference session nominating committee.15 The following year he was appointed as treasurer for the Ohio Conference, although the position appears to have been an honorary one. He was not elected a member of the conference executive committee.16 Under highly unusual circumstances, he was to be drawn more fully into church leadership a year later.
In 1889 difficulties occurred in the Ohio Conference that led the incumbent conference president, R. A. Underwood, to withdraw his name from further consideration for conference leadership. Underwood's unwise endorsement in 1888 of an initiative by entrepreneurs in the church to establish the Mount Vernon Sanitarium at a spring that reportedly had "magnetic waters" put him in conflict with John Harvey Kellogg. The Battle Creek doctor thought Mount Vernon a poor location and believed that the institution was based on the wrong philosophy. He spoke derisively about Underwood and Irwin and their confidence in "curative waters."17 Ellen White also argued that the Sanitarium enterprise was too great an undertaking for the local conference to support successfully and agreed with Kellogg that the General Conference should not take it on either.
Further disagreement between Underwood and Ellen White over her role in the 1888 General Conference session at Minneapolis led to a loss of confidence in his leadership.18 The conflict had also apparently led to dissent among church members and involved the unauthorized starting up of new churches and the disbanding of old ones.
In the absence of other acceptable alternatives at the Ohio Conference session of 1889, George Irwin was elected president. He had impressed visiting General Conference president O. A. Olsen with his pastoral spirit, even though he had been an Adventist for only four years.19 The next day, delegates also voted to give him a preaching license.20 The presidency entrusted him with the care of forty-seven churches. Eugene Farnsworth, who was a visiting delegate to the conference session, observed, "Brother Irwin was not a preacher: he was just a farmer"—one who was "willing to drive tent stakes all day." But he also had a pastoral heart and an administrative gift, being the kind of person who "was all over the campground, looking after everybody and everything."21 Later that same year, Irwin attended his first General Conference as a delegate and was assigned to the session audit committee.22 At the next Ohio annual conference session in 1890, after he had been president for a year, delegates voted to grant him full ministerial credentials, and he was ordained on Monday, August 18, just before camp broke up.23
Ohio Conference and Southern District Leadership (1889–1897)
For six years, from late 1889 to mid-1895, Irwin nurtured the interests of the churches of the Ohio Conference. His abilities were not in public tent evangelism, although he participated in campaigns where he could. Much of his time was spent in visiting the scattered church members and meeting with churches, encouraging local evangelistic effort.24 During his period of leadership, conference membership grew steadily from 1,062 to 1,277, a 20-percent increase.25 A major challenge of his early years in office was negotiating the difficult transition involved in closing down the unsustainable Mount Vernon Sanitarium in 1892 and converting the building into a successful academy. The school opened its doors in 1893 with only fifty students but grew steadily during Irwin's remaining Ohio tenure.26
At the General Conference session of 1895, Irwin was appointed as Superintendent of District Two, a broad region embracing nine southern states in which there were two organized conferences.27 African-Americans comprised half of the region's population, but as yet Adventists had done very little to reach them. The position of superintendent was not an administrative executive role, for there were no direct lines of accountability or staff to direct as in a state conference. It was, however, a coordinating role with a large mission field component in which to encourage growth. During Irwin's two years in the role he increased the number of those engaged full-time in work among African-Americans from six to seventeen.28 The role also made Irwin an ex officio member of the General Conference Executive Committee, and he thus became more familiar with church governance processes in Battle Creek.
An immediate objective of Irwin's effort in the southern district was to locate a suitable site for an industrial-type school for African-Americans and to set it in motion. This was to follow up on the pioneering work of Edson White with his Morning Star steamboat on the Mississippi. Irwin, accompanied by O. A. Olsen and General Conference treasurer Harmon Lindsay, located a 360-acre abandoned farm property five miles north of Huntsville, Alabama, assessed its suitability, and after reporting to headquarters, negotiated its purchase. Irwin and Olsen decided on the name Oakwood for the institution because of the stands of grand oaks in the center of the property. Principal Solon Jacobs of Iowa was secured to run the school, and Irwin visited the acclaimed Tuskegee Institute, 200 miles to the south in Alabama, to learn what he could from the experience of Booker T. Washington and his industrial training program. Subsequently, Irwin insisted that the Huntsville Industrial School follow a year-long agricultural calendar rather than an academic calendar in order to best utilize the property's full farming potential for education. As a hands-on board member, he invested significant time on site at Huntsville along with Olsen, repairing the dilapidated buildings in the rush to have the school open on time. They missed the September date but succeeded in opening the institution on November 16, 1896.29 Around this time Irwin began a pattern of generously sponsoring needy students through Adventist schools to obtain their education. Long-time colleague I. H. Evans would later say of him that he did not know of anyone among his acquaintances "who has put so many young men and women through our schools to equip them" for church work as Elder Irwin did.30
General Conference President (1897–1901)
The General Conference session in early 1897 that Irwin attended on the campus of Union College in Nebraska, three months after he opened the Huntsville school, was the longest, most confused and difficult session ever conducted by the church. Including the pre-session institute, delegates were together for almost six weeks. Much of their time at the session was given to daily study periods, analyzing and seeking to understand the numerous letters and manuscripts from Ellen White urging the need for organizational restructuring. No consensus emerged on how to interpret the counsels nor any clear idea about what specifically should be done by way of reorganization. Although deep earnestness prevailed, so did heated argument and strongly expressed opinions that marred the meeting and attracted startling newspaper headlines.31 Uncertainty prevailed about whether the General Conference should be divided up territorially with components of equal authority or whether it should stay as one but with several presidents. Ellen White had hoped that W. W. Prescott would be elected to replace incumbent O. A. Olsen, who had declared he would not stand again. Prescott, however, with his criticism of past administrative practices, failed to win the confidence of delegates.
With widespread confusion among delegates, the election of officers could not be accomplished until the very last day of the session when, in a most unexpected move, the relatively inexperienced George Irwin was elected as president. Even then, the nominating committee report was approved only after "many hours of warm discussion."32 Other major elective positions were filled from the floor of the session, bypassing the nominating committee altogether. When the news, much later, reached Ellen White in Australia, she was surprised at the election, considering Irwin, at first, to be but a "stripling," and wishing that there were "proper" leaders who could serve.33 Eventually, however, she came to deeply appreciate Irwin's leadership, particularly after his visit to Australia in 1899. During his four years in office he received thirty or more personal letters from Ellen White, valuing her spiritual counsel and her growing confidence in him. He in turn felt comfortable sharing confidential information and sometimes correcting misunderstandings she had developed about matters in the office.34
Irwin's introduction to the duties of the president was not smooth. During his first few months the financial situation at headquarters deteriorated rapidly, and he was obliged to cut budgets savagely.35 Archibald Henry's legal claim of $50,000 against the Review and Herald Publishing Association shortly after the 1897 session, alleging libel by Ellen White, exacerbated Irwin's financial anxiety. Upheavals in the numerous boards that governed the allied church agencies such as the publishing house and the college became politicized and complicated the new president's administrative task. Anti-curriculum reform faculty at Battle Creek College launched a power struggle for the control of the governing board, and the accumulation of proxy votes created contentious elections based on financial interests on the board of the publishing association.36 By mid-year 1897, however, Irwin was able to ensure that a long-delayed formal investigation of the publishing house's human resource practices was undertaken. The report produced in August helped significantly to improve the management culture of the institution.37 It also helped Irwin understand Ellen White's outspoken criticisms of its managers.
Out in the field, Irwin gave much of his energy and skill to an effort to implement the organizational reforms introduced at the 1897 session. He spent much time visiting with the five United States District Superintendents in an effort to turn the districts into genuine administrative entities. But he was no more successful than his predecessor. Vested interests in the state conferences opposed the changes in the absence of any clarity about how to fairly divide up and distribute assets. Only in Australia and in Europe did the union conference concept take root.
Other changes introduced in 1897 such as the relocation of the Foreign Mission Board to New York and the reassigning of board chairmanships in Battle Creek made Irwin's responsibility as General Conference president more complicated—worse rather than better. Continued stockholder troubles in Battle Creek with accumulated proxy voting prompted him in 1898 to devise a new system that would prevent the "cumulative voting of a few men thwarting the will and desire of the majority."38 Irwin found from experience that the system of governance was as much at fault as the people who had to run it.
In mid-1898, he took his first journey overseas to attend the European Union Council in Hamburg and to visit Prescott in the United Kingdom. The journey broadened Irwin's horizons and helped to expose him to the enormous challenges of international mission.39
As the 1899 General Conference Session approached, Irwin felt it would be better to schedule the session away from Battle Creek so that the church would be free of "the disturbing element" resident around the institutions. He persuaded his colleagues to convene the session in South Lancaster, Massachusetts. Ellen White declined his invitation to attend because her indebtedness would not allow her to travel, but she sent numerous manuscripts to be read. Ironically, the closer the 1899 session loomed, the more Irwin feared that Ellen White's continued criticism of centralized leadership was encouraging John Harvey Kellogg's sanitarium to consider greater independence and autonomy. Kellogg planned for separate board meetings and began to withhold institutional tithe. This created further headaches for Irwin, who began to see the possibility of the church dissolving into separate autonomous entities. Thus at the 1899 session he found himself emphasizing "union in the work."40
Irwin went to the session with a clear grasp of the problems that confronted the organization and enumerated these carefully, but he was able to make little progress on developing a consensus or a solution. He and his colleagues were very much aware of Ellen White's oft-repeated criticism that the General Conference no longer could be regarded as "the voice of God" in its governance of the church, and Irwin arranged for these numerous statements to be read at the session. The readings led to corporate confession, public repentance, and lengthy prayer on the part of Irwin and other leaders.41 But how to fix things on a practical basis eluded them. As historian Richard Schwarz observes, delegates were not yet ready for a "major overhaul of the machinery" because there was no clear consensus on what the future structure should look like.42 But delegates appreciated Irwin's efforts, and on March 2, just prior to the end of the session. they re-elected him president for another two years.
Three months after his 1899 re-election, Irwin embarked on an extended visit to Australia in order to attend the fourth annual session of the Australasian Union Conference, visit with Ellen White, and become acquainted with the work of the church in Australia and the South Pacific. The visit gave him a deeper understanding of the financial dilemmas faced by A. G. Daniells in his leadership of the work in Australia and of the complexity of the problems that Ellen White faced in her relationships with the American publishing houses. These difficulties he was able to address on his return, but systemic and personnel problems still prevented a resolution to the complete satisfaction of all of the parties. Despite his best efforts, Irwin, like Olsen before him, was the recipient of a stinging rebuke from Ellen White.43 Publishing house tensions continued to plague his presidency with many problems reflecting unresolved historic conflicts between various authors and the publisher. These cast a shadow over the present.
A major topic of discussion during Irwin's visit to Australia concerned the escalating tensions between the General Conference and the rapidly expanding medical work under the leadership of John Harvey Kellogg. During Irwin's second term, the proposed development of a new sanitarium in Australia, the additional support needed for existing health projects in England, and a fledgling sanitarium in Mexico, and the interests of Kellogg's American Medical Missionary College and social welfare program in Chicago all sparked an intense competition for scarce financial and personnel resources in the denomination. Irwin was exposed to this as he toured the camp meeting circuit in the summer of 1899.
The inability of Kellogg's Battle Creek Sanitarium to provide financial support to the new project in Australia, because of Michigan state legal constraints, set off alarm bells for Irwin and the Australian leadership about the acute dangers of the church's legally independent stockholder approach to the organization of its institutions. In Australia, the proposed new Sydney sanitarium was placed firmly in the control of the local union conference, out of the reach of Kellogg's umbrella organization. The sudden awareness of these dangers triggered a flurry of correspondence between Ellen White and Irwin and the suggestion that Ellen White might have to return to America.44 Much of the correspondence between Ellen White and Irwin and most of Irwin's labor during the last eighteen months of his presidency had to do with how to handle the Kellogg problem.
In early 1900 Irwin found himself trying to mediate another intense conflict between Kellogg and the church over disputed intellectual property rights in connection with Kellogg's health food manufacturing initiatives. In June 1900, as his relationship to Kellogg soured further, Irwin pressed urgently for a firm commitment from Ellen White that she would return from Australia. Given the confusion over things she had written to previous sessions, he could not envisage another General Conference session succeeding without her personal presence to clarify issues. Furthermore, political tensions and rivalries were becoming so fevered in Battle Creek that Irwin was beginning to fear for the unity of the church and the implications of this for the continuation of his presidency.
Irwin's last months in office were disturbed by a dark rumor that he would be replaced as president at the upcoming session. Emanating from an associate of A. G. Daniells and W. C. White in Australia, the report alleged that a conspiracy had been hatched by the Australian leadership to replace him with the more seasoned Daniells and that the plan had been endorsed by Ellen White. W. C. White would be vice–president. The report had been thought serious enough to be brought before the Battle Creek Sanitarium Board of Trustees in Irwin's presence. In response to distressed and alarmed enquiries from Irwin, Ellen White strongly denied the existence of any such conspiracy, calling such reports "false statements," and she affirmed that Irwin had her "fullest confidence." To her colleague Stephen N. Haskell, whom she anticipated would disseminate the information in Battle Creek, she reiterated that she considered Irwin to be "the proper man for the place he occupies" and she saw no reason "why he should be exchanged for another man."45 So sustained and damaging was the rumored coup d'état, however, not only to Irwin but also to her son's reputation, that Ellen White had to deny the "surprising falsehoods" even more publicly in November.46
As matters eventuated in the upheaval of the 1901 General Conference session, Irwin was replaced by A. G. Daniells. The inadequacies of the existing structure, seen alongside the benefits of the new union conference structure that had been successfully field tested in Australia, provided the momentum needed to make a major reorganization possible. A leading agency of the change was Daniells, and as the session proceeded, delegates, without the prompting of any conspiracy theory, felt that he was best equipped to balance the growing power of Kellogg and to implement the new organizational regime. Given the assurances he had received in the lead-up to the conference, the outcome was traumatic for Irwin as he saw his reputation shattered. He knew that people would be assuming that he had made a failure of his work and that he had somehow lost favor with Ellen White. Colleagues who respected him deeply would later speak of it as "the greatest crisis of his life," and as "a severe day in his experience."47
Australasian Union President (1901–1905)
Sometime before the end of the 1901 session, apparently at his own initiative, Irwin suggested that he go to Australia to replace Daniells as president of the Australasian field. Session delegates agreed, and by the middle of July he had made the Pacific crossing and was presiding at the fifth annual union conference session, which convened in early August at Cooranbong, New South Wales. His appointment may have chagrined E. W. Farnsworth, the vice president who had been acting president for the previous fifteen months following Daniells's departure. The transition to Australia was made somewhat easier because Irwin's son Walter and his daughter-in-law Minnie had accompanied him to take up teaching positions at Avondale. Walter would be appointed as Avondale principal before the end of the year.
Following the conference, George and Nettie settled in the suburb of Summerhill near the union office, just four miles from Sydney's central business district. Irwin focused his energies on re-energizing and overseeing the new sanitarium being slowly constructed in Wahroonga. During 1900 the church's medical work in Sydney had seen some disarray when leases on the sanitarium in Summerhill had expired and progress on the new building at Wahroonga had been interrupted for lack of funds. Australian church members were doggedly opposed to taking on debt. With the arrival of Irwin from America there was new coordination but still a struggle to find funding. The institution finally opened its doors on January 2, 1903.
It took some time for Irwin to process the emotional fallout of the 1901 conference as he worried over the question of how he had failed in Battle Creek, about what people thought, and about the value of the assurances from Ellen White prior to the session. Ellen White also apparently brooded over the events and in 1902 wrote reassuring him that he had not been sent to Australia because he was not wanted in America. The exchange of correspondence reveals the depth of the trauma Irwin experienced and Ellen White's own discomfort about how things had worked out for Irwin.48 The letters also helped in his healing.
In early 1903 Irwin attended the momentous General Conference session at Oakland, California that finalized the new constitutional arrangements for the General Conference and reinstated the position of president. On his return to Australia he traveled by way of Europe to deputize for Daniells in follow-up administrative assignments. He was needed to help O. A. Olsen work through some difficult organizational meetings in the United Kingdom and to attend a European Mission Council in Berlin.
He arrived back in Australia in August in time for the next biennial meetings at Cooranbong. The big news that Irwin had to share with his delegates was that the 1903 session had expanded the Australasian Union by adding the numerous but largely unentered countries of Southeast Asia to its territory. As he explained to delegates at the biennial union meeting, sending missionaries to Asia from Australia would cost only one-third as much as sending them from America.
Many new demands confronted Irwin as entered his second term of office in Australia: steady growth in the Pacific Islands territory and now the added challenge of expanded territory in Asia, combined with a rapidly expanding medical work and innovative health food work at Cooranbong, along with the prospect of finding a new rural location for the Bible Echo press.49 Before 1904 was concluded, he had overseen the purchase of new property at Warburton for the publishing house, which was taken out of stockholder control and absorbed under the union conference. Another bold new advance promoted by Irwin in late 1904 was the sending of the first Australian missionaries to Singapore. Irishman G. F. Jones and his wife and colporteur R. A. Caldwell were in the first rank.50
When Irwin left Australia on December 1, 1904, to attend the General Conference session of 1905 he fully expected to return. On his way to the United States he spent four months travelling through the union's new mission territory, carefully assessing new opportunities. He was the first Adventist official to formally venture into these territories. He traveled on a lumbering cargo boat that took him to Thursday Island, across to Papua New Guinea, and around the Bismarck Archipelago, back to Port Moresby, then on to Sumatra. There he met up with missionary R. W. Munson and travelled with him to Singapore, where Irwin spent several weeks with the newly arrived Jones and Caldwell. From there he travelled to Hong Kong and then to the Philippines to identify the best sites for the new mission to that region funded by a special inaugural mission budget from the General Conference.51
From Manila Irwin sailed directly to San Francisco on a new travel line that he had learned about from the American consul in Singapore. All along the way during his four months of exploration, Irwin visited mission stations—both Catholic and Protestant—and talked to pastors and priests and government officials, asking questions, making observations, and learning all that he could about the new territory and its challenges. He published a stream of reports for his readers in the Australasian Union Conference paper.52 It was a transforming personal education as well as a learning opportunity for the church. Irwin was well prepared for his report to the 1905 General Conference session in Washington, D.C. that had world mission as its major emphasis, even as the church was recovering from its struggle with Kellogg.
North America Again (1905–1909)
Irwin's new mission education and his experience in overseeing establishment of the sanitarium in Australia apparently made him too valuable a resource to send back, much to the disappointment of his fellow workers in the Australian union. At the General Conference session of 1905 he was elected as one of two vice presidents of the General Conference and given special responsibility for the North American work. L. R. Conradi cared for Europe. Irwin's place in Australia was assumed by O. A. Olsen.
As Irwin moved back to America in mid-1905, he was one of the first generation of leaders to occupy the recently completed General Conference building in Takoma Park. In his new role in North America he was asked to give special attention to the newly created Foreign Department with its emphasis on evangelism among the burgeoning immigrant population in the United States. He structured the work under four supervisors to foster work among the foreign language groups, two German-speaking pastors (caring for regions east and west of the Mississippi), a Swedish sector, and Danish/Norwegian sector, the latter two both based in Chicago. Camp meeting attendance and providing counsel at union conference and local conference sessions was a significant focus of his work, keeping him in the field sometimes for three months at a time.53 Irwin also found much of his time involved in overseeing the successful establishment of the new Washington Sanitarium in Takoma Park, serving as president of the institution and chairman of its board. His wife, Nettie, served as matron of the newly opened associated branch sanitarium on Iowa Circle in downtown Washington D.C.
With the North American work not being a territory with its own separate constituency, there was considerable overlap between the responsibilities of Daniells and Irwin. Irwin's role as vice president required him to coordinate closely with Daniells, deputizing for him where requested in order to free the president as much as possible to focus on overseas matters. The relationship worked well, and at the General Conference session of 1909 in Washington, D.C. Irwin was re-elected for a further four-year term. Just prior to the session he had invested in a new home in the Takoma Park area, and he and Nettie were thus able to provide accommodation for Ellen White during her extended stay in the capital to attend the session and visit Adventist projects afterwards.54
Pacific Union Conference Presidency and Loma Linda (1910–1913)
When, at the end of 1909, the General Conference Committee requested that Irwin and I. H. Evans, the General Conference treasurer, attend the Pacific Union Conference session at Mountain View, California in early 1910, they apparently did not anticipate the change it would mean for George Irwin. Neither did Irwin himself.
The distant attitude of union president H. W. Cottrell made Irwin and Evans feel rather unwelcome at the session. They found Cottrell defensive and isolated, locked in conflict with W. C. White and his mother and with the leaders of the Loma Linda Sanitarium and school. Because of the heavy debt that the union had already incurred from substantial new sanitarium development around the state, the closure of the indebted Healdsburg College in 1908 and the need to launch a new college at Angwin (Pacific Union College), Cottrell was opposed to going further into debt to enable Loma Linda to become a fully-fledged medical training school for physicians so soon. Loma Linda leadership, just a month previously, had changed the name of their institution to express the objective of training "medical" evangelists. Cottrell was aware that Ellen White had earlier cautioned about moving too quickly, and he had also sought professional and state academic advice about the implications for such things as cost and accreditation. In an open conflict with W. C. White at the session, a stressed and over-worked Cottrell lost the confidence of delegates, and a polarized nominating committee failed to agree on his re-nomination. When the deadlock proved impossible to resolve, Ellen White read a public rebuke of Cottrell to the delegates in session, asserting that he should not be re-elected. A new nominating committee was appointed and recommended George Irwin as the president. When Ellen White told Irwin he should accept, he felt he could not refuse.55
Cottrell retained his role as president of the Pacific Press Publishing Association and found additional employment with St. Helena Sanitarium.56 Irwin returned to Washington to sell his house, resign his position with the Washington Sanitarium, and attend Spring Council meetings. He was back in California by mid-April. While the next few years were stressful for Irwin, there was a family advantage to living on the west coast. In early 1909, Ellen White, apparently bypassing formal channels, had persuaded Irwin's son Walter to return from Australia to head up what would become the new college at Angwin on Howell Mountain. When George and Nettie moved to the west coast in mid-1910, they lived in a home in the village of St. Helena, not far from the Sanitarium and Ellen White's home at Elmshaven. Nettie served as the first matron at the college and also later served as the senior matron at the Loma Linda college.
During the next two years, after Ellen White had clarified her ambiguous counsel on the appropriateness of professional medical training, with all that that entailed, and gave an endorsement of the initiative, Irwin poured himself into becoming an advocate of the new medical school at Loma Linda. He oversaw organizational realignments that consolidated the sanitarium and the college, and enlisted the support of church members around the division rather than only relying on the membership of the Pacific Union.57 In May 1910 he oversaw lengthy meetings that resulted in the framing up of a new, much wider constituency for the institution and negotiated its incorporation under the General Conference. This transfer of the institution from the control of the Pacific Union meant that the new enterprise became the medical school for the whole denomination. Irwin was appointed board chair of the new institution and was charged with shepherding it through the critical transition and onto stable ground. In 1911 he oversaw a further expansion of the constituency to include all the union conferences in the United States and Canada.58
During 1911 increasing episodes of ill health arising from a heart ailment gave Irwin warning that a lighter work load with less stress might be a wiser choice for a sixty-seven-year-old Civil War veteran. He sought release from the union presidency at the next session in early 1912 and took up a newly created role of union vice president, freeing up more time to devote to his chairmanship of the board for the new medical school. His reappointment as chair of the board at the 1912 constituency meeting involved him moving his residence from St. Helena to Loma Linda. The political rumors that swirled around staff changes in 1912, associated with the visit of A. G. Daniells, created discomfort and internal controversy about the role of the men "from the east," and the increasing complexity of the enterprise required closer attention.59 As chair of the board, in partnership with Ellen White and John Burden, Irwin successfully oversaw the acquisition of extensive additional property in front of Loma Linda Sanitarium and surrounding it in an effort to prevent commercial and residential encroachment on the property the school already held. The task required diplomatic negotiation between vested interests and the projection of a confident, forward-looking perspective.60
In 1913 Irwin became involved in spearheading a new campaign to erect a much-needed seventy-bed training hospital in downtown Los Angeles to meet critical clinical training requirements.61 Although not feeling well, Irwin pushed himself to attend the 1913 General Conference session in Washington, D.C. There were important issues on the agenda he wanted to address. But while attending the session he fell seriously ill. Mid-way through the meetings he was admitted to Washington Sanitarium, where he died unexpectedly of heart failure on May 23. His death at his post of duty shocked and surprised his colleagues and friends attending the session and led to an adjournment of proceedings out of respect to his memory. His funeral was held in the large conference tent on Sabbath afternoon, May 24, and he was buried in Rock Creek Cemetery near Takoma Park.
Contribution
Irwin's twenty-four years of ministry in the Seventh-day Adventist Church involved extended service on two continents, visits to many countries, and service at every level of church administration. His leadership was particularly valued for the contribution he was able to make at difficult times of transition for the church, such as in Ohio in the 1880s, Battle Creek in 1897, and California in 1910. His entry into leadership responsibility and ability to solve problems in Ohio at a time of perplexity was long remembered. His unexpected call to leadership of the General Conference during a period of stress and systemic failure proved a difficult period of service, and his evident graciousness in submitting to the painful processes of unpredictable electoral outcomes in 1901 served as a model for others. Irwin's initiatives in the founding of the Oakwood school in 1895 secured a favorable site for the institution. His advocacy for the Loma Linda College of Medical Evangelists during a time of financial and organizational crisis helped move that institution forward against significant opposition and uncertainty about objectives.
Irwin's generous and confident leadership style endeared him to colleagues who admired his constant cheerfulness and gift of warm encouragement. These were skills that enabled him to build strong morale and commitment to achievement of goals. The exhortation that concluded his last presidential report expressed well his leadership philosophy. "I trust that not a single note of discouragement will be heard from this body [the Pacific Union constituency], nor the pessimistic cry, 'It can't be done.' May our slogan be, 'We are well able to go up and possess the land.' "62
Sources
Archival Sources
Correspondence, Record Group 11, Folders 1910-I. and 1908. General Conference of Seventh-day Adventist Archives. Silver Spring, MD.
Document Files 3, 135-f, 392. Loma Linda University Heritage Research Center, Loma Linda, CA.
Ellen G. White Letters and Manuscripts, Ellen G. White Writings, https://egwwritings.org. EGWE.
White Estate Incoming Correspondence, ellenwhite.org. EGWE.
Campbell, Michael, W. "Irwin, George Alexander (1844–1913) and Nettie (Johnson) 1849–1919," in The Ellen G. White Encyclopedia, edited by Denis Fortin and Jerry Moon (Hagerstown, MD: Review and Herald, 2013.
Hill, N. N. History of Knox County, Ohio: Its Past and Present. Mount Vernon, OH: A. A. Graham, 1881.
Howell, W. E. "Prof. C. W. Irwin, obituary," ARH, September 6, 1934.
Irwin, G. A. "A Note to the Reader" in The Purchase of Land at Loma Linda and Letters from Mrs. E. G. White. Loma Linda, CA: College Press, 1912.
———. A Brief History and Some Facts Relative to the College of Medical Evangelists, Loma Linda California. Loma Linda, CA: College Press Print, 1910.
"Life Sketch and Funeral Service of Elder G. A. Irwin." ARH, June 5, 1913.
Ochs, Daniel and Grace Lillian Ochs. The Past and the Presidents: Biographies of General Conference Presidents. Nashville, TN: Southern Publishing Association, 1974.
Robinson, Alta. "From Soldier Boy to President," Guide, May 3, 1967, 2–6, 20.
Schaefer, Richard. "College of Medical Evangelists," in The Ellen G. White Encyclopedia, edited by Denis Fortin and Jerry Moon. Hagerstown, MD: Review and Herald, 2013.
Schwarz, Richard W. "The Perils of Growth, 1886-1905," in Adventism in America, edited by Gary Land. Grand Rapids, MI: Erdmans, 1986.
Schwarz, Richard W., and Floyd Greenleaf. Light Bearers: A History of the Seventh-day Adventist Church. Nampa ID: Pacific Press, 2000.
Seventh-day Adventist Encyclopedia. Washington, D.C.: Review and Herald, 1976.
Seventh-day Adventist Yearbooks, 1885–1913. GCA.
Valentine, Gilbert M. The Prophet and the Presidents. Nampa ID: Pacific Press, 2011.
Wilcox, F. M. "Mrs. G. A. Irwin, obituary," ARH, July 10, 1919.
Notes
"Life Sketch and Funeral Service of Elder G. A. Irwin," ARH, June 5, 1913, 543–545. N. N. Hill, History of Knox County, Ohio: Its Past and Present, (Mount Vernon, OH: A. A. Graham, 1881), 704, 707. Isaac Irwin, after the death of his first wife, Nancy McCracken, married Mrs. Priscilla Johnson, George Irwin's future mother-in law, in September 1866; Knox County, Ohio Vital Statistics Abstracts, accessed August 1, 2018 (paywall), https://search.ancestry.com/cgi-bin/sse.dll?indiv=try&db=knoxohabs&h=3980.↩

"George A. Irwin," 1870 United States Census, Knox County, Ohio, roll M593_1229, page 405A; Family History Library Film 552728, accessed August 1, 2018 (paywall), https://www.ancestry.com.↩

"G. A. Irwin," U.S., Civil War Soldier Records and Profiles, 1861-1865, http://ancestry.com (paywall). See also Hill, 303, 304.↩

"G. A. Irwin," U.S., Andersonville and Fort McHenry Civil War Prisoner Index, 1861-1865, accessed August 1, 2018, http://www.nps.gov/civilwar/search-prisoners-andersonville-detail.htm?prisonerId=D91C4015-ACE0-481D-B8DE-95A1FB25FC12&prisonerLocation=A↩

Hill, 543.↩

"George A. Irwin," Ohio, County Marriage Records, 1774-1993, accessed October 10, 2018, https://search.ancestry.com/search/db.aspx?dbid=61378. F. M. Wilcox, "Mrs. G. A. Irwin obituary," ARH, July 10, 1919, 31.↩

Hill, History of Knox County, Ohio, 417.↩

Ibid., 707.↩

1870 United States Census; Knox County, Ohio, Vital Records, 1800-1882, accessed October 10, 2018, https://search.ancestry.com/search/db.aspx?dbid=3915. "Priscilla Johnson," Ohio, County Marriage Records, 1774-1993, accessed October 10, 2018. https://search.ancestry.com/search/db.aspx?dbid=61378. Marriage records indicate that T. E. Monroe also performed this wedding service.↩

W. E. Howell, "Prof. C. W. Irwin obituary," ARH, September 6, 1934, 21.↩

"Grange History and Archives," National Grange of the Order of the Patrons of Husbandry, accessed August 2, 2018, https://www.nationalgrange.org/7255-2/.↩

"Life Sketch and Funeral Service of Elder G. A. Irwin." See also "The Grange," accessed August 2, 2018, https://www2.kenyon.edu/projects/famfarm/fo&cl/service/grange.htm.↩

N. N. Hill (746) reports that Nettie's relatives on her mother's side of the family had been prohibition activists. See also "Life Sketch and Funeral Service of Elder G. A. Irwin."↩

"History of the Mount Vernon Hill Seventh-day Adventist Church," accessed July 28, 2018, https://mountvernonhilloh.adventistchurch.org/about; George W. Anglebarger, "Mt Vernon," ARH, August 16, 1887, 523.↩

"Ohio Conference Proceedings," ARH, September 27, 1887, 620.↩

"The Ohio Conference Proceedings," ARH, September 11, 1888, 589.↩

J. H. Kellogg to O. A. Olsen (not dated but internal evidence indicates around 1889), letter, Document File 135-f, Loma Linda University Heritage Research Center (LLUHRC).↩

Ellen G. White to R. A. Underwood, January 8, 1889, Letter 22a, 1899, Ellen G. White Estate, Silver Spring, Maryland.↩

"Ohio Conference Proceedings," ARH, October 1, 1889, 620.↩

Ibid.↩

"The Close of the Conference," Union Conference Record, July 28, 1898, 14. Farnsworth's remarks were part of a farewell speech for Irwin at the Annual Australian Union Conference Session.↩

"Conference Proceedings," ARH, October 22, 1889, 664.↩

W. A. Colcord, "The Ohio Camp Meeting," ARH, August 26, 1890, 522; "Ohio Conference Proceedings," ARH, October 14, 1890, 635.↩

E. J. Van Horn, "Ohio," ARH, July 29, 1890, 475.↩

Seventh-day Adventist Yearbook 1889, 67; Seventh-day Adventist Yearbook 1894, 64. General Conference Archives (GCA), Silver Spring, Maryland.↩

Seventh-day Adventist Encyclopedia, s.v. "Mount Vernon Academy" (Washington DC: Review and Herald, 1976).↩

"General Conference," ARH, March 5, 1895, 155.↩

G. A. Irwin, "District Two," General Conference Bulletin, February 24, 1897, 140.↩

"Early Days of Oakwood College," from the manuscript "Lights and Shades," 248–264, Document File 3, LLUHRC. See also, Richard W. Schwarz and Floyd Greenleaf. Light Bearers: A History of the Seventh-day Adventist Church (Nampa ID: Pacific Press, 2000), 235, 236.↩

"Life Sketch and Funeral Service of Elder G. A. Irwin."↩

See a documented analysis of the 1897 General Conference Session in Gilbert Valentine, The Prophet and the Presidents (Nampa ID: Pacific Press, 2011), 115–124.↩

"From Prayer to Scrapping," Nebraska State Journal, March 5, 1897, 8.↩

Ellen G. White to E. J. Waggoner, August 26, 1898, Letter 77, 1898; Ellen G. White to Brother and Sister Prescott, August 27, 1898, Letter 71, 1898, Ellen G. White Estate.↩

G. A. Irwin to Ellen G. White, letter, October 13, 1897, Ellen G. White Estate.↩

W. W. Prescott to Ellen G. White, letter, November 15, 1897, Ellen G. White Estate.↩

Valentine, The Prophet and the Presidents, 124, 125.↩

"Appendix I: Summary of Findings of the 1897 Committee of Investigation into the Affairs of the Review and Herald Office," in Valentine, The Prophet and the Presidents, 338.↩

G. A. Irwin to W. W. Prescott, letter, April 8, 1898. Record Group 11, Box 53, Outgoing Letterbook 19, GCA.↩

W. W. Prescott, "Notes from Great Britain," ARH, September 13, 1898, 587.↩

G. A. Irwin to Ellen G. White, letter, January 2, 1899, Ellen G. White Estate.↩

"General Conference Proceedings," General Conference Bulletin, February 24, 1899, 37, 75.↩

Richard W. Schwarz, "The Perils of Growth, 1886-1905," in Gary Land, ed., Adventism in America (Grand Rapids, MI: Erdmans, 1986), 128.↩

Ellen G. White to "My Brethren in Responsible Positions in the Review and Herald Office," January 16, 1900, Letter 9, 1900, Ellen G. White Estate.↩

Valentine, The Prophet and the Presidents, 156–166.↩

G. A. Irwin to Ellen G. White, letter, July 2, 19, 1900; Ellen G. White to G. A. Irwin, August 12, 1900, Letter 123, 1900; Ellen G. White to Brother and Sister S.N. Haskell, August 13, 1900, Letter 121, 1900, Ellen G. White Estate.↩

D. H. Kress to Ellen G. White, letter, October 18, 1900; Ellen G. White to "Officers of the General Conference," November 1, 1900, Ellen G. White Estate.↩

Both Daniells and I. H. Evans spoke of his pain and his resilience during the difficult experience. "Life Sketch and Funeral Service of Elder G. A. Irwin," ARH, June 5, 1913, 543–545.↩

. Ellen G. White to G. A. Irwin June 15/30, 1902, Letter 113, 1902; October 14, 1902, Letter 160, 1902, Ellen G. White Estate; G. A. Irwin to Ellen G. White. letter, cited in Alta Robinson, "From Soldier Boy to President," Guide, May 3, 1967, 2–6, 20.↩

G. A. Irwin, "President's Report," Union Conference Record, September 27, 1903, 20, 21.↩

E. M. Graham, "Year in Review," Union Conference Recorder, June 1, 1905, 13, 14.↩

"Notice," Union Conference Record, December 15, 1904, 8.↩

G. A. Irwin, "En Route to the General Conference," Union Conference Recorder, January 1, 1905, 7; February 15, 1905, 3, 4; March 1, 1905, 3, 4; March 15, 1905, 4, 5; April 1, 1905, 6; May 15, 1905, 3–5.↩

"After an absence," ARH, September 30, 1909, 24.↩

"Note," ARH, May 13, 1909, 24.↩

G. A. Irwin to A. G. Daniells, letter, January 31, 1910, Record Group 11, Folder 1910-I; see also M. C. Wilcox to A. G. Daniells, letter, February 6, 1910, Record Group 11, Folder 1908-W, GCA. Wilcox explained that Cottrell was stressed over the debt and had been obliged to carry much of the workload of the aging S. N. Haskell, failing as president of the California state conference.↩

"Elder H. W. Cottrell," Pacific Union Recorder, March 21, 1910, 8.↩

Richard Schaefer, "College of Medical Evangelists," in The Ellen G. White Encyclopedia, ed. Denis Fortin and Jerry Moon (Hagerstown, MD: Review and Herald, 2013), 722–725.↩

G. A. Irwin, "President's Address," Pacific Union Recorder, April 18, 1912, 3.↩

W. C. White to A. G. Daniells, letter, August 15, 1912, Ellen G. White Estate.↩

G. A. Irwin, "A Note to the Reader" in The Purchase of Land at Loma Linda and Letters from Mrs. E. G. White (Loma Linda, CA: College Press, 1912), 1.↩

G. A. Irwin, "Encouraging Outlook at Our Medical College" (undated but internal evidence indicates early 1913). Document File 392, LLUHRC.↩

G. A. Irwin, "President's Address."↩