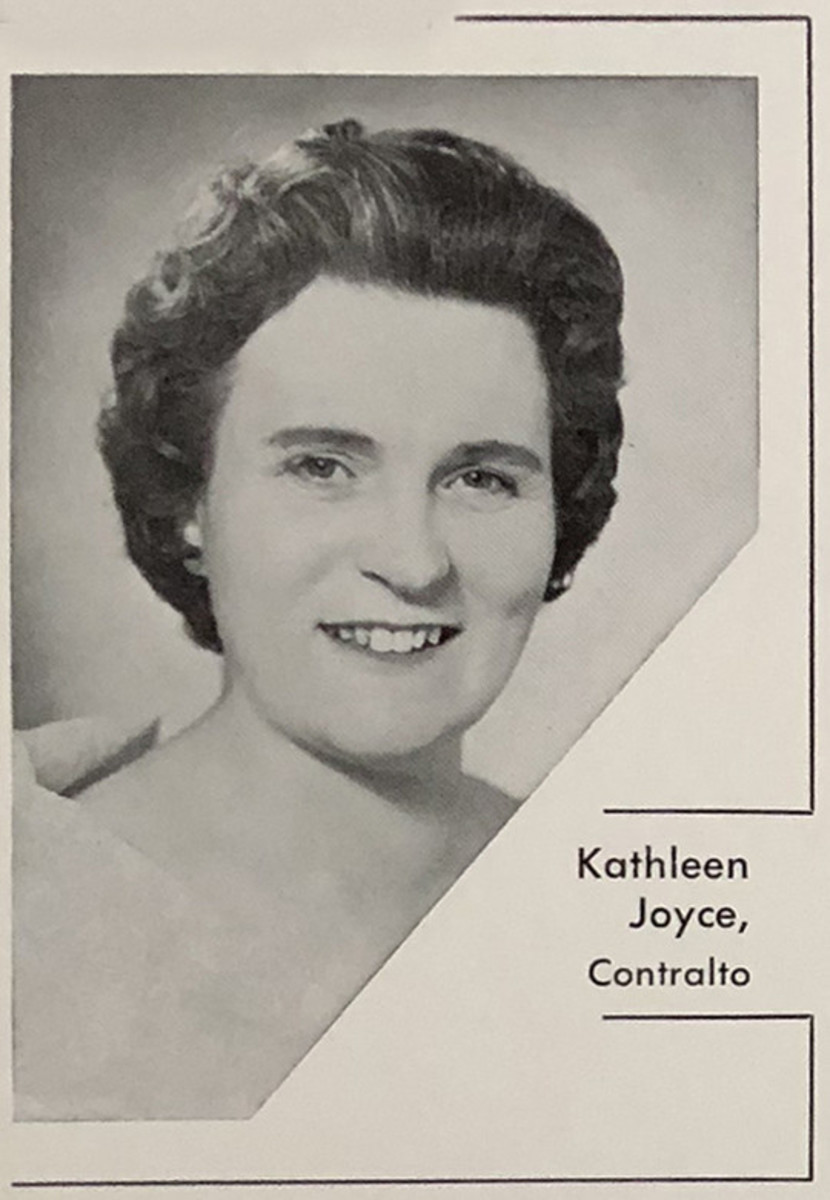 Watson, Kathleen Joyce (1922–1993)
×
Dan Shultz, emeritus professor of music, Walla Walla University, has researched and written extensively about Seventh-day Adventist music history and musicians. His publications include A Great Tradition–a history of music at Walla Walla University, and the Adventist Musicians Biographical Resource–an encyclopedia with biographies of over 1100 Adventist musicians. He founded the International Adventist Musicians Association, serving as its president for ten years and editing its publications and website for over thirty years. Shultz and his wife, Carolyn (nee Stevens), live in College Place, Washington.   
Kathleen Joyce, noted contralto singer, received high praise from music critics in Europe and the United States. From the beginning of her career in the 1940s and continuing for more than three decades, they described her voice as rich, possessing an even, beautiful tone through its full range, without the mid-range break that troubles many contraltos. She was recognized for the clarity of her diction and the somber hues of her lowest notes.
Born in Newport, Gwent, South Wales, in 1922, she was one of three children and the only daughter of Joshua George and Winifred Mable Freeman.1 She started piano lessons with her aunt, Rose Essery, later Mrs. E. G. Rodgers of Oshawa, Ontario, Canada.2 Following graduation from Stanborough Park School, she worked briefly in a health food factory before deciding to pursue a career in music as a pianist.3 On August 12, 1943, she married Edward James Watson, an amateur musician she had met in a singing group in the Stanborough Park Seventh-day Adventist Church.4 They would have a son, Malcolm, 10 years later.5
Kathleen practiced diligently, became a Gold Medalist, and then served as an accompanist for Arthur Jay at the Watford School of Music and later at the Guildhall School of Music and Drama in London. He urged her to begin studying voice with him, and in the summer of 1947, at age 24, she was featured in her first of what would be many broadcasts on the British Broadcasting Corporation (BBC), using the professional name of Kathleen Joyce.6
She made her debut in London at the Royal Albert Hall in March 1951 as a soloist in J. S. Bach's St Matthew Passion with the Bach Choir, under the direction of Reginald Jacques, a Bach specialist.7 Critics were unanimous in their praise. In numerous subsequent recitals and performances as a soloist in oratorios and in appearances in other famous venues, including Wigmore Hall, she consistently received rave reviews.8
Subsequently she would participate in many performances of both the St Matthew Passion and Handel's Messiah, singing the latter on numerous occasions with noted orchestras in prestigious concert halls throughout the British Isles, including the Royal Albert Hall and a performance in Westminster Abbey.9
Joyce appeared with leading orchestras and choral societies in Great Britain and other countries in Europe under the direction of famous conductors of that era, including Malcolm Sargent, Adrian Boult, Josef Krips, John Barbirolli, and others. Kathleen Ferrier, noted singer of that time who admired Joyce's interpretation of lieder, brought her to the attention of Barbirolli, who then featured her with his orchestra and on tours on several occasions.10
Although mostly a recitalist and a soloist in oratorio productions, Joyce also enjoyed success in operatic-style singing, performing in the Verdi Requiem on one occasion and featuring operatic solos in her recitals.
Making the first of several trips to the United States in April 1955, she began with a concert at Southern Missionary College, now Southern Adventist University, and then continued with concerts in the Sligo Seventh-day Adventist Church in Takoma Park, Maryland; an Adventist church in Atlanta, Georgia, and in other Adventist churches and colleges on the West coast. Her program, which included solos from oratorios, spirituals, and other sacred solos, created a sensation. When she performed at Sligo, it recorded its largest attendance ever, with some left standing outside.11
In November of that same year Joyce returned to the U.S. for another tour, performing mostly in New York and Washington, D.C, during a period of 20 days. In addition to singing in numerous Adventist venues, she also gave a recital at the Brooklyn Academy of Music and sang the alto solos in a presentation of the Messiah at Constitution Hall in Washington, D.C. The performance given by four community choirs and the National Symphony Orchestra was under the direction of Howard Mitchell.12 It, and later one of the St Matthew Passion, led to the following observations by two noted critics of that time:
Kathleen Joyce, a Welsh contralto, filled the hall with some of the noblest sound it has heard. Her voice is a true contralto, evenly handled from its deepest notes to a top of round beauty. Clearly Miss Joyce has been solidly schooled in the finest traditions of singing. There is not a note that comes from her that is not precisely where she wants it, and that has not been properly prepared" (Paul Hume, The Washington Post).13

Miss Joyce has a remarkably fine voice. The range is wide, the tone full and resonant, the diction superb, the breath control beyond criticism. I sat for part of the program in the last row of orchestral seats and every word came through. She sings in excellent taste (Wendell Margrave, The Evening Star).14
In a return to Washington, D.C., in 1969, she performed a recital at the National Gallery of Art which also received favorable reviews:
The Welsh singer who has previously been heard in this area in oratorio is truly an excellent performer endowed with fine musical attributes. She has an even, well-controlled voice which avoids the hazard of the mid-range break that plagues many contraltos" (Ylda Novik, The Evening Star, November 3, 1969).15

For encores, Miss Joyce pulled off that most difficult of all singing feats--tuning a cappella performing--delighting the audience with two gorgeous folk songs. How much more effective and attractive they are sung this way than in those awful arrangements that have glutted the market and the recital hall (Joan Reinthaler, The Washington Post, November 3, 1969).16
Joyce's recording debut had occurred in 1952 on the Parlophone label. A 10-inch record, it included an aria from Elijah and Gounod's There Is a Green Hill Far Away. Within a year, that label released two more records that received excellent reviews in The Gramophone magazine.17 Numerous recordings appeared in subsequent years under different labels, including at least one, Think on Me, by Chapel Records in 1963.18
Joyce gave unsparingly of her time and talent for church-related events in Great Britain and elsewhere, not only in singing, conducting a choir in her church, and teaching voice lessons, but also in serving for 20 years as head of singing at the Watford School of Music. She sang in countless evangelistic crusades and church services, for benefit concerts, as a regular soloist on the British version of the Voice of Prophecy radio broadcast, and as a frequent soloist in concerts at the New Gallery Center and with the Newbold College choirs in tours and programs.19
Both the beauty of her voice and the deeply felt emotion with which she sang invariably touched her listeners. An Oslo, Norway, music critic described her voice as a "noble alto, pure and cultured, and above all expressive and filled with character."20
She was a featured soloist at the 1962 and 1966 SDA General Conference Sessions held respectively in San Francisco, California, and Detroit, Michigan.21 The 1975 General Conference Session selected, her along with Del Delker, and Virginia Gene Rittenhouse, as one of three women to be honored for their contributions in music to the church.22
A few months after Kathleen and Edward celebrated their fortieth wedding anniversary in 1983, he died November 6.23 Three years later she had a major heart attack, but lived long enough to see her son, Malcolm, marry and become an ordained minister. Kathleen died on June 20, 1993.24
Sources
Armstrong, W. W. "Union Notes." British Advent Messenger, June 1, 1951.
Armstrong, W. W. "Union Notes." British Advent Messenger, December 11, 1953.
"BBC Artist to Perform at Andrews University." Lake Union Herald, June 21, 1966.
Emmerson, W. L. "Adventist Singer to Broadcast Again." British Advent Messenger, September 26, 1947.
Emmerson, W. L. "New Records by Kathleen Joyce." British Advent Messenger, November 27, 1953.
Emmerson, W. L. "Two Outstanding Adventist Artistes, A Notable Contralto." British Advent Messenger, January 25, 1952.
Emmerson, W. L. "Adventist Singer Records." British Advent Messenger, October 31, 1952.
Glanzer, Ben, and Nettie Glanzer. "Music in Old London." The Youth's Instructor, July 7, 1953.
Gulley, Norman, "Kathleen Joyce Visits the U.S." British Advent Messenger, April 29, 1955.
Gulley, Norman, "Kathleen Joyce's Second visit to America." British Advent Messenger, February 3, 1956.
"Honored Women of the Church." ARH, General Conference Bulletin, No. 10, August 7-14, 1975.
"Kathleen Joyce, Singing Appointments." Columbia Union Visitor, November 17, 1955, and November 24, 1955.
King, G. D. "Watson-Freeman" wedding notice. British Advent Messenger, September 24, 1943.
Lacey, Kenneth, "Progress at the New Gallery Centre, London, England." The Ministry, October 1961.
Marshall, D. N. "Kathleen Joyce Watson obituary." British Advent Messenger, October 8, 1993.
Marshall, D. N. "Forty Happy Years." British Advent Messenger, November 18, 1963.
Marshall, D. N. "Kathleen Joyce Watson obituary." British Advent Messenger, October 8, 1993.
Novik, Ylda. "Kathleen Joyce Displays Excellence at Gallery." Washington Evening Star, November 3, 1969.
Read, Sheila. "Joshua George Freeman obituary." British Advent Messenger, July 25, 1975.
Reinthaler, Joan. "Fulfilled in Every Respect." The Washington Post, November 3, 1969.
Stearman, Peter. "Edward James Watson obituary." British Advent Messenger, December 30, 1983.
"Think on Me." British Advent Messenger, July 19, 1963
Vine, R. D. "Winifred M. Freeman obituary." British Advent Messenger, September 27, 1963.
Notes