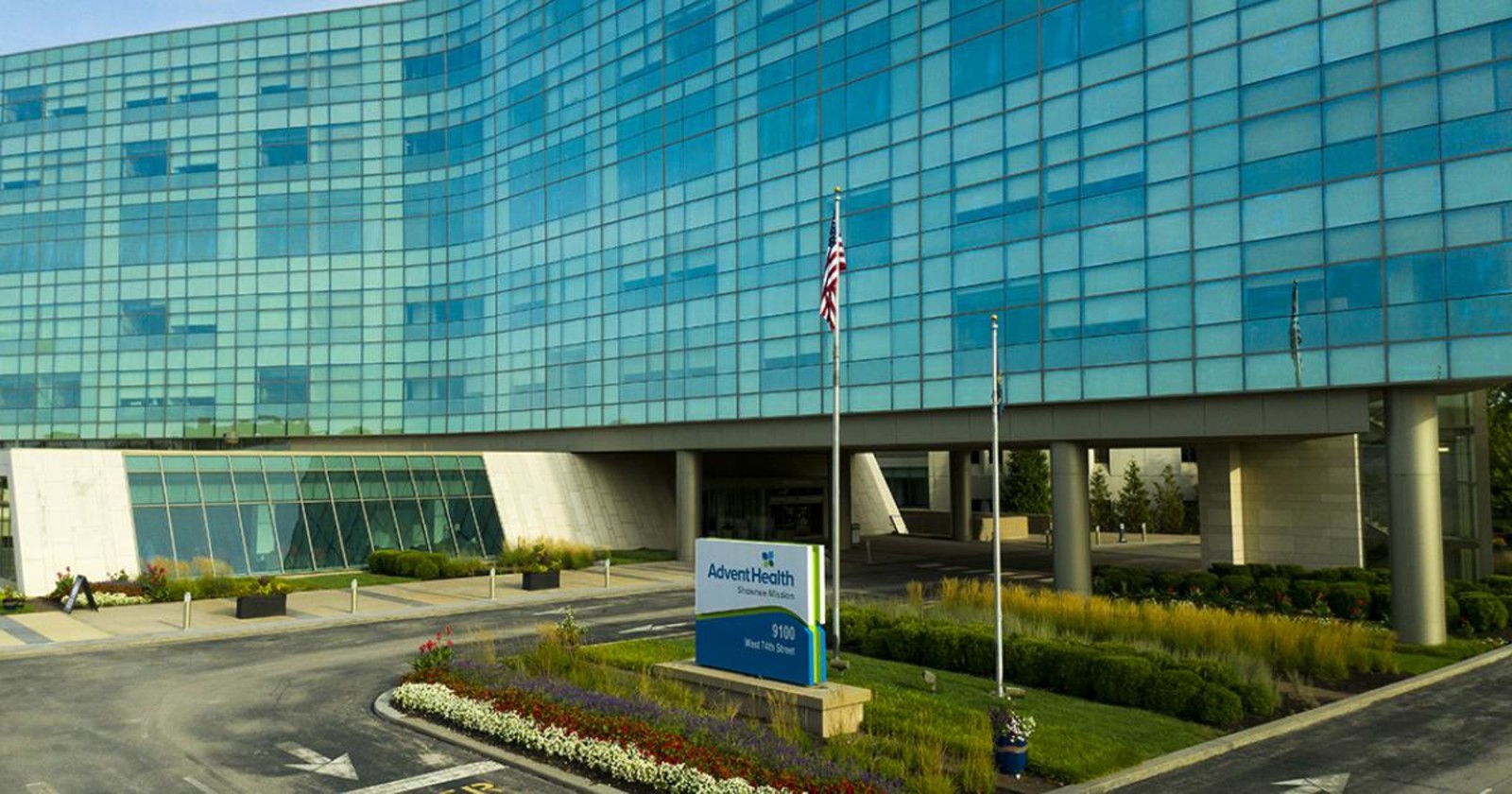 AdventHealth Shawnee Mission
×
Morgan Shandler is the senior public relations strategist for AdventHealth Shawnee Mission. She earned her Master of Science in Journalism from the University of Kansas, and Bachelor of Arts in Mass Media from Washburn University in Topeka, Kansas. Shandler has worked for AdventHealth since 2015 and in public relations since 2010.
First Published: October 8, 2020
AdventHealth Shawnee Mission, previously known as Shawnee Mission Health and Shawnee Mission Medical Center, is a 504-bed hospital in Merriam, Kansas, that serves the Kansas City community with faith-based, whole-person care and a wide range of medical services.1
Origins and Development
The beginning of the institution dates to 1955, when members of the New Haven Seventh-day Adventist Church in Overland Park, Kansas, physicians from the Johnson County Medical Society, and community leaders joined forces to meet the health care needs of Johnson County's growing communities. The first element of the current hospital was Pleasantview Health and Vocation Institute, a 102-bed nursing care facility that opened in 1961.2
Shawnee Mission Hospital opened in May 1962 with 65 acute care beds. In 1966, an additional 70 acute-care beds were added, as well as additional space for expanded diagnostic and therapeutic services.3
In 1971, Shawnee Mission Hospital changed its name to Shawnee Mission Medical Center. Ownership of the hospital was transferred to the denomination in 1972 and it came under the direction of the Central (now Mid-America) Union Conference in 1972.4 By then the bed count was 241, and in January 1975 these became acute care beds because of the pressing need for acute care. By 1982 the acute care bed total reached 383. In 1991 and 1992, new maternity, women's services, cardiac care, and outpatient facilities were added.5
In 1996, Shawnee Mission Medical Center entered into an affiliation with St. Luke's Health System. This affiliation continued until 2002, when Shawnee Mission Medical Center joined Adventist Health System, headquartered in Altamonte Springs, Florida.
Recent Growth
The late 2000s began a period immense growth for the hospital, both at the main campus in Merriam and throughout Johnson County. The Shawnee Mission Outpatient Pavilion at Prairie Star Parkway opened in Lenexa, Kansas, in fall 2008. This location includes an emergency department, laboratory, imaging center, The Bariatric Center of Kansas City and physician practices.6
In 2009, a new hospital tower opened at Shawnee Mission Medical Center. This $114 million expansion added 265,000 square feet to the hospital, including a new emergency department, surgery floor, intensive care unit, cardiac care unit and main entrance. This tripled the size and capacity of the emergency room and added four operating rooms. The final two floors of this expansion opened in 2011.7
In February 2013, the Shawnee Mission Birth Center opened on the Shawnee Mission Medical Center campus, tripling the size of the previous birth center. The expansion included a 24-bed Level III Neonatal Intensive Care Unit, offering private, single-family rooms. Long the leader in maternity care in Kansas City, the birth center surpassed 5,000 births annually in 2015.
In March 2014, the local health system became Shawnee Mission Health to reflect its growing footprint in Johnson County. Shawnee Mission Medical Center continued to be the name of the flagship hospital in Merriam, Kansas, and the outpatient pavilion in Lenexa became Shawnee Mission Health – Prairie Star.
Expansion on the Shawnee Mission Medical Center campus continued with the opening of the Shawnee Mission Cancer Center in April 2014. The Cancer Center offers a full array of oncology services, including medical oncology, radiation oncology, infusion therapies and other on-site integrative treatments and cancer support services. In addition, the Center also offers a PET/CT scanner that provides advanced imaging and treatment planning. In November 2017, the Shawnee Mission Cancer Center became the only certified member of MD Anderson Cancer Network®, a program of MD Anderson Cancer Center, in Kansas City.8
In October 2015, Shawnee Mission Health introduced the first Centra Care Shawnee Mission Urgent Care to the Kansas City market with a location in Overland Park. Additional locations opened in Olathe in 2016 and in Shawnee in 2017.9
In 2016, Shawnee Mission Medical Center unveiled a transformation of the first floor of its original hospital tower, including a new cafeteria called Harvest Kitchen. The renovation also included additional offices, an updated administrative suite, a physician lounge and state-of-the-art conference rooms. The renovation project was part one of a three-phase Master Plan to modernize the campus to better serve patients and employees.10
On February 1, 2017, Shawnee Mission Health – Overland Park opened in the Bluhawk development of south Overland Park. The initial phase of the $40 million development included a 26,000-square-foot emergency department, lab and imaging center, followed shortly by a 75,000-square-foot medical office building featuring physicians in a variety of specialties, including women's imaging services, primary care and physical therapy. In October 2019, construction began on a 193,000 square-foot, 85-bed hospital at this location.11
Rebranding
One of the most significant changes in the hospital's more than 50-year history occurred on January 2, 2019, when Shawnee Mission Health and all of Adventist Health System rebranded as AdventHealth. Shawnee Mission Medical Center became AdventHealth Shawnee Mission, and the Prairie Star and Overland Park campuses became AdventHealth Lenexa and AdventHealth South Overland Park. The system also includes AdventHealth Centra Care and AdventHealth Medical Group locations throughout Johnson County, Kansas. The new naming structure allows consumers to more easily distinguish AdventHealth's care locations and services throughout the United States. The name AdventHealth signals the arrival or beginning of health and expresses a strong and clear connection to the healing and salvation that God has promised. AdventHealth's promise of wholeness is an expression of the belief that caring for the physical, emotional and spiritual needs of every person is the key to good health.12
In 2019, the B. E. Smith Family Center opened on the AdventHealth Shawnee Mission campus, which houses the Britain Development and Early Learning programs – serving children of all abilities. AdventHealth at College Boulevard is expected to open in late 2019. The 58,000 square foot facility in Overland Park will include an emergency department, imaging center, lab, functional medicine practice and preventative wellness offerings including a teaching kitchen.13
As of 2019, AdventHealth Shawnee Mission employed more than 3,300 local residents and supports an exceptional staff of nearly 700 physicians. With more than 22,000 annual admission, nearly 200,000 annual outpatient visits and more than 73,000 annual emergency department visits, it is the third largest health system in Kansas City. AdventHealth Shawnee Mission has earned numerous honors and accolades, including the following recent examples:
2018 Top Hospital by IBM Watson Health.

Baby-Friendly Hospital Designation earned in 2018.

Magnet recognized beginning in 2019.

12 consecutive A grades from The Leapfrog Group as of spring 2019.
Official Names
Shawnee Mission Hospital (1962-1971), Shawnee Mission Medical Center (1971-2014), Shawnee Mission Health (2014-2019), AdventHealth Shawnee Mission (2019- ).
Presidents/Chief Executive Officers
Frank Salt (1962-1971); J. Russell Shawver (1972-1977); Thomas W. Flynn (1978-1982); Cleo Johnson (1982-1987); James W. Boyle (1988-1996); William G. Robertson (1996-2000); Samuel H. Turner, Sr. (2000-2011); Ken Bacon (2012-2018); Sam Huenergardt (2018- ).
Sources
"Advent Health South Overland Park Begins Hospital Expansion." AdventHealth Shawnee Mission, October 3, 2019. Accessed October 15, 2020. https://www.adventhealth.com/hospital/adventhealth-shawnee-mission/news/adventhealth-south-overland-park-begins-hospital.
"CentraCare Shawnee Mission Urgent Care Opens Fourth Location in Shawnee." Shawnee Chamber of Commerce, March 4, 2017. Accessed October 15, 2020. https://www.shawneekschamber.com/centracare-shawnee-mission-urgent-care-opens-fourth-location-shawnee/.
"Plans for New Hospital Outlined for Civic Groups." Kansas City Times, February 24, 1962.
Rosenberg, Jaime. "Shawnee Mission Health Partners With Top-Ranked Cancer Network to Deliver World-Class Cancer Care Locally." AJMC, November 29, 2017. Accessed October 15, 2020. https://www.ajmc.com/view/shawnee-mission-health-partners-with-top-ranked-cancer-network-to-deliver-worldclass-cancer-care-locally.
Reuter, Elise. "One of KC's largest hospitals rebrands (again)." Kansas City Business Journal, August 14, 2018. Accessed October 15, 2020. https://www.bizjournals.com/kansascity/news/2018/08/14/shawnee-mission-health-rebranding-as-adventhealth.html.
Seventh-day Adventist Encyclopedia. Second revised edition. Hagerstown, MD: Review and Herald Publishing Association, 1996. S.v. "Shawnee Mission Medical Center."
"Shawnee Mission Health Opens Harvest Kitchen as Part of Major Hospital Renovation." AdventHealth Shawnee Mission, December 15, 2016. Accessed October 15, 2020. https://www.adventhealth.com/hospital/adventhealth-shawnee-mission/news/shawnee-mission-health-opens-harvest-kitchen-part-major.
"Shawnee Mission Medical Center finishes $20M expansion." Kansas City Business Journal, March 3, 2011. Accessed October 15, 2020. https://www.bizjournals.com/kansascity/news/2011/03/03/shawnee-mission-medical-center.html.
"Shawnee Mission Medical Center Opens Outpatient Pavilion." Nurse.com, October 6, 2008. Accessed October 15, 2020. https://www.nurse.com/blog/2008/10/06/shawnee-mission-medical-center-opens-outpatient-pavilion/.
"Simple Ceremony at New Hospital." Kansas City Times, May 7, 1962.
Wankum, Leah. "AdventHealth opens new B.E. Smith Family Center facility to serve children with developmental disabilities." Shawnee Mission Post, April 30, 2019. Accessed October 15, 2020. https://shawneemissionpost.com/2019/04/30/adventhealth-opens-new-b-e-smith-family-center-facility-for-children-with-developmental-disabilities-78905/.
Yeagley, Bryan. "A Modern-Day Miracle." Mid-America Outlook, May 1, 1987.
Notes