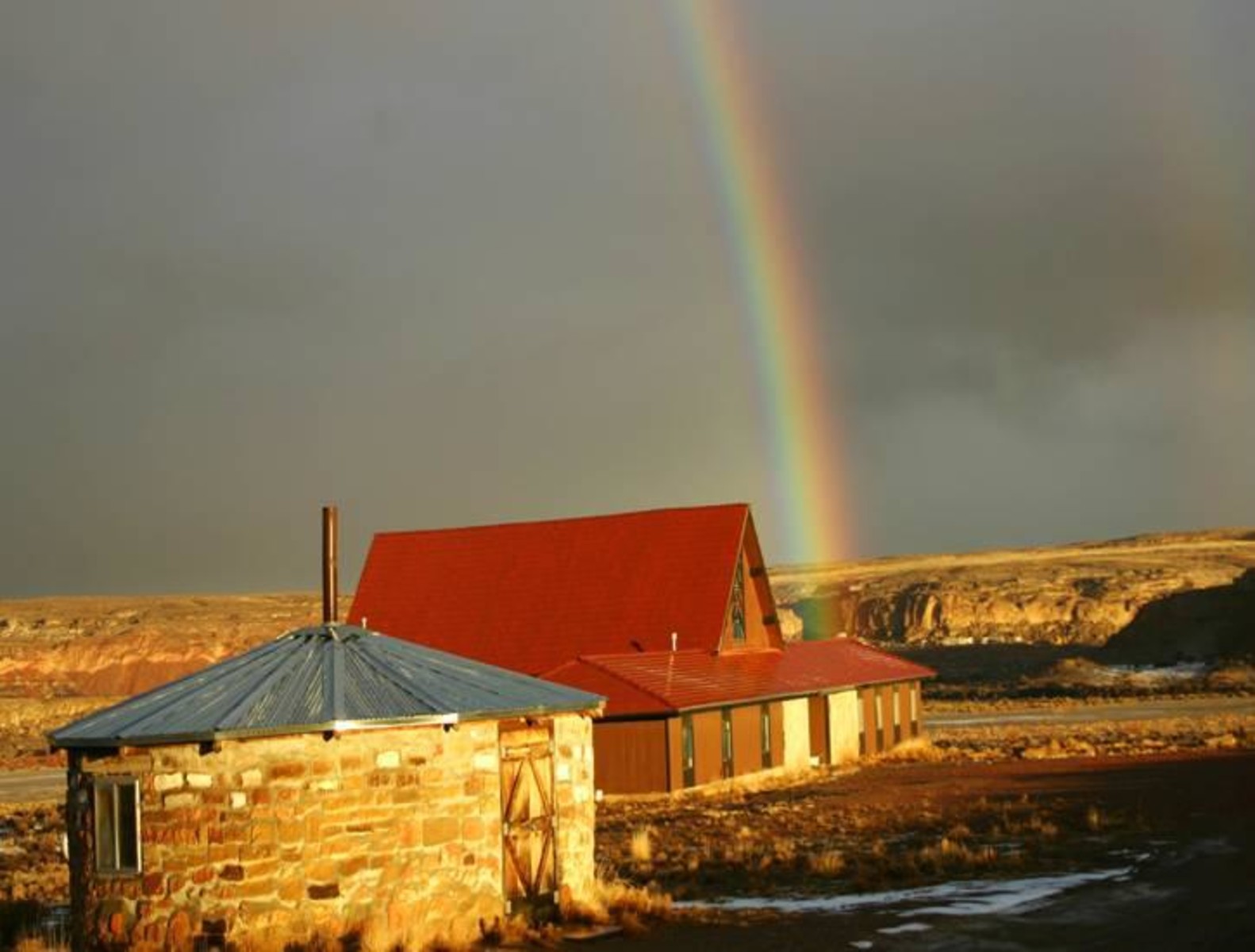 La Vida Mission
×
Frank W. Hardy, Ph.D. (University of New Mexico, Albuquerque, New Mexico, 1979) is now retired. He worked at La Vida Mission (Tsaya, New Mexico) 1969-1972, at Southwestern Adventist College 1978-1980, and at the General Conference of Seventh-day Adventists (Silver Spring, Maryland) 1996-2012. He has published two bilingual missionary booklets (Navajo, English): Christ Bíhígíí [Things That Are Christ's] (Pacific Press, 1978); Jesus Hol Yi'ashgo [Walking With Jesus] (Ellen G. White Estate, 2008). The second is an adaptation of Steps to Christ by Ellen G. White.
First Published: January 29, 2020
La Vida Mission is an independent Seventh-day Adventist ministry to the Navajo Nation located near Crownpoint, New Mexico, fifty miles south of Farmington. It operates a boarding school (K-12) and a clinic, sponsors evangelistic projects, and provides a variety of community services.1
The inspiration for La Vida Mission arose from a dream experienced by Lilakai Julian Neil (1900-1961), the first baptized Seventh-day Adventist from among the Navajo people (1917), and later the first woman elected to the Navajo Tribal Council (1946-1951).2 One night Neil had a dream in which she saw a circle of light. Jesus was inside the circle and many feet wearing moccasins were walking past it. Some came into the light and Neil noticed that most of these were children. From this she understood that Navajo children would be more responsive to the gospel than their parents and other elders.3
Lilakai Neil did not found La Vida Mission, but those who did were responding directly to her dream about the circle of light, her desire to see a Seventh-day Adventist mission established in the area north of Crownpoint, New Mexico, where she was born in 1900, and her concept that, once established, this mission should reach out primarily to children. Today both La Vida Mission and Smith Lake, where Lake Grove Mission once stood, are located along Route 371 about 47 miles from each other. This is the easternmost part of the Navajo Reservation.
Members of the Farmington Seventh-day Adventist Church, who became known as the "Missions Committee," worked to make Neil's dream a reality. Among the most active was Veda Scholder, who visited widely and at her own expense in the interests of developing a mission.4 The Farmington group established a branch Sabbath school in the Tsaya area in which the mission would eventually be located. At first the branch Sabbath School met under a bridge and then, when the weather turned cold, at a government school, Lake Valley, about two miles from the mission's current location.5
Wetzel Williams, a physician who settled in the Farmington area, oversaw establishment of a non-profit corporation, La Vida Missions, Inc., for legal ownership of property and management of the mission. On December 1, 1961, the newly formed mission corporation completed the purchase of 180 acres of land in the Tsaya area from Little Billy and Mary R. Becenti for $4600 ($2000 down, $2600 payable in one year).6 When the year came to a close, funds arrived at the last minute enabling the board to pay off the remaining $2600 with almost $1100 to spare.
When the mission school, staffed by Tilly and Neal Scott, opened in 1962, classes were held in the only buildings on the land–the small and primitive structures that a white man known locally as Shash Yáázh ("Little Bear") had put up to form trading post. A proper school building with two spacious classrooms was completed in 1963. This was followed by a modern clinic in 1966, one part of which served for a few years as a girls' dorm and lunch room. Doctors took turns flying to the mission one day a week to provide free professional services in the clinic.7 In 1967 ground was broken for a multi-level dormitory building and dean's residence.8
A local Seventh-day Adventist congregation was organized at La Vida Mission in 1972,9 with 22 charter members. In 1978 ground was broken for a church,10 which would come to be known as the Lily Neil Memorial Chapel.
The La Vida Mission school opened the 2018-2019 school year with 21 students enrolled, 12 in the elementary grades and nine in the high school.11 As of 2019 it was providing mail service to more than 200 families in an area without rural delivery and water for many desert families who lack access to a well or other water-supply for themselves and their livestock. The mission's evangelistic outreach included a Healthy Lifestyle Education Center, a prison ministry, a church plant in Crownpoint, and a Community Services Center.12
Sources
Christiansen, Scott and Barbara Starrett. "Reaching the Navajo–One at a Time." ARH, December 23, 1993.
Cummings, Violet. Along Navajo Trails. Washington, DC: Review and Herald, 1964.
Cummings, Violent M. "Church Organized at La Vida Mission for Navajo Indians." ARH, April 5, 1973.
Fly, James L., "Light Shines at La Vida Mission." Adventist Review, April 7, 1988.
"La Vida Mission History." Accessed March 3, 2019, https://lavidam0.securelytransact.com/about/history.
"Lilakai (Lily) Julian Neil." Wikipedia. Accessed March 3, 2019. https://en.wikipedia.org/wiki/Lilakai_Julian_Neil.
"Navajo Nation." Wikipedia. Accessed March 3, 2019, https://en.wikipedia.org/wiki/Navajo_Nation#Executive_branch.
Navajo News. Office of Archives Statistics and Research, General Conference of Seventh-day Adventists, 1962-1991 issues. La Vida Mission web site, May 2018 to present issues. Accessed March 4, 2019, https://lavidam0.securelytransact.com/news.
Starrett, Barbara. Circle of Light. La Vida Mission web site. Accessed February 21, 2019, https://lavidam0.securelytransact.com/about/history.
Notes