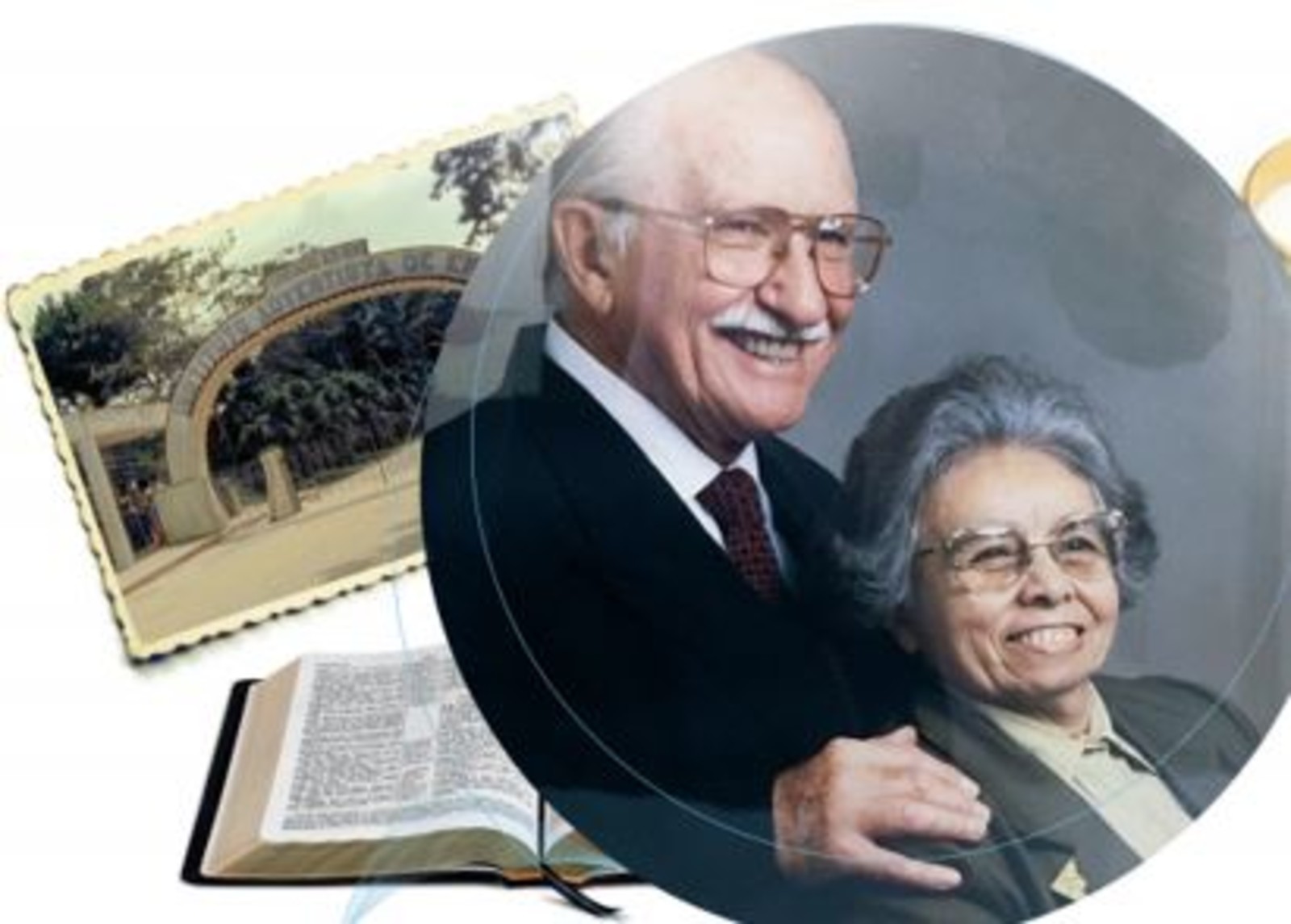 Walting, Jorge Frederico (1919–2016)
×
The Brazilian White Center – UNASP is a team of teachers and students at the Brazilian Ellen G. White Research Center – UNASP at the Brazilian Adventist University, Campus Engenheiro, Coelho, SP. The team was supervised by Drs. Adolfo Semo Suárez, Renato Stencel, and Carlos Flávio Teixeira. Bruno Sales Gomes Ferreira provided technical support. The following names are of team members: Adriane Ferrari Silva, Álan Gracioto Alexandre, Allen Jair Urcia Santa Cruz, Camila Chede Amaral Lucena, Camilla Rodrigues Seixas, Daniel Fernandes Teodoro, Danillo Alfredo Rios Junior, Danilo Fauster de Souza, Débora Arana Mayer, Elvis Eli Martins Filho, Felipe Cardoso do Nascimento, Fernanda Nascimento Oliveira, Gabriel Pilon Galvani, Giovana de Castro Vaz, Guilherme Cardoso Ricardo Martins, Gustavo Costa Vieira Novaes, Ingrid Sthéfane Santos Andrade, Isabela Pimenta Gravina, Ivo Ribeiro de Carvalho, Jhoseyr Davison Voos dos Santos, João Lucas Moraes Pereira, Kalline Meira Rocha Santos, Larissa Menegazzo Nunes, Letícia Miola Figueiredo, Luan Alves Cota Mól, Lucas Almeida dos Santos, Lucas Arteaga Aquino, Lucas Dias de Melo, Matheus Brabo Peres, Mayla Magaieski Graepp, Milena Guimarães Silva, Natália Padilha Corrêa, Rafaela Lima Gouvêa, Rogel Maio Nogueira Tavares Filho, Ryan Matheus do Ouro Medeiros, Samara Souza Santos, Sergio Henrique Micael Santos, Suelen Alves de Almeida, Talita Paim Veloso de Castro, Thais Cristina Benedetti, Thaís Caroline de Almeida Lima, Vanessa Stehling Belgd, Victor Alves Pereira, Vinicios Fernandes Alencar, Vinícius Pereira Nascimento, Vitória Regina Boita da Silva, William Edward Timm, Julio Cesar Ribeiro, Ellen Deó Bortolotte, Maria Júlia dos Santos Galvani, Giovana Souto Pereira, Victor Hugo Vaz Storch, and Dinely Luana Pereira.
Jorge Frederico Walting, a pastor, teacher and administrator, was born in Riga, Latvia,1 August 28, 1921. The son of Johanns and Wallija (Baar) Walting,2 he came to know the Adventist message at a series of meetings held in Riga.3 He had one sibling, Erhard Walting (-1929).4 When Jorge was six years old, their mother died.5
In 1934 Walting emigrated to Brazil with his father and maternal grandmother.6 Desiring to receive a Christian education, Walting went to study in the Brazilian Adventist College (known today as Centro Universitario Adventista de São Paulo, or UNASP-SP). During his last year of secondary education, he met Eunice Lourenço (1924-2017). They married December 2, 1940.7 Both served together the Seventh-day Adventist Church. Eunice, who had a Master's degree in Education, worked as a professor of Methodology and French at Adventist boarding schools, such as Cruzeiro do Sul Adventist Academy, Petropolitano Adventist Academy, and São Paulo Adventist Academy.8 The couple had two daughters, Jacira and Júnia.9
After graduating from high school, Walting continued his studies at Brazilian Adventist College, graduating with a degree in theology in 1941.10 In the following year, he accepted a call to be an office assistant at the São Paulo Conference, where he stayed until 1943.11
As he also had a degree in accounting sciences, in 1944 Jorge was called to work as secretary-treasurer and director of the publishing department at the Rio-Espírito Santo Mission (today Southeast Brazil Union), in the city of Vitória, Espírito Santo state. He served in this area for four years.12
He served as treasurer at the Adventist Theological Academy (now Petrópolis Adventist Academy), in Rio de Janeiro state, from 1948 to 1953. Among with his administrative duties, he also taught Ancient History and Business Mathematics in the theological program, and World History, Brazil History, English, and Music classes to the secondary education students.13
In 1954 Walting accepted the call to be secretary-treasurer and director of the Book and Bible House Department at the Bahia and Sergipe Mission. He served there until 1956, when, in January, he also was ordained to the pastoral ministry at the Central Adventist Church of Rio de Janeiro.14
When the Santa Catarina Conference was established in 1957, Watling became its first secretary-treasurer.15 He also directed the following departments: Book and Bible House, from 1957 to 1960; Home Missionary, from 1957 to 1959; Sabbath School, in 1957; and Youth, from 1958 to 1959.16 In 1961 he accepted the call of the South Brazil Union Conference to manage São Paulo Adventist Hospital, where he served until the following year.17
Watling worked as treasurer of Brazilian Adventist College from 1963 to 1970.18 He served as a professor of higher education for ten years, teaching: Bible, from 1972 to 1982;19 applied theology, from 1974 to 1976;20 law and economics, from 1974 to 1982;21 and philosophic-religious culture for the nursing school, from 1979 to 1982.22
After retiring in 1982, the Watlings moved to Campo Grande, Mato Grosso state, and then to Serra Negra, in the countryside of São Paulo state.23 In 2015, after 75 years of marriage, Eunice began to show signs of Alzheimer's disease. In order for her to receive appropriate treatment, the couple moved together to a nursing home in the city of Hortolândia, São Paulo, where they lived until their last days.24 Jorge died in November 2016, at the age of 95.25
Jorge Frederico Walting served the Seventh-day Adventist Church for over 40 years. He was the pioneer secretary-treasurer of the Santa Catarina Conference, and professor and administrator in the Northeast, Southeast and South regions of Brazil.26
Sources
Azevedo, Roberto C. "Instituto Adventista de Ensino," Revista Adventista, April 1971, 35. Accessed September 4, 2019.
"Diário Oficial da União de 30 de abril de 1962," Jusbrasil, April 30, 1962.
"Eunice L. Walting," Revista Adventista, March 2017.
Fernandes, Daniela, "A Fórmula do Amor," Revista Adventista, July 2016.
"Jorge Frederico Walting," Revista Adventista, January 2017.
Nigri, M. S. "Bienais na União Sul," Revista Adventista, May 1958, 26-27. Accessed September 4.
Nigri, Maria Alida Baar. "A Minha Vida no Colégio Adventista," Revista Adventista, February 1968.
Nigri, Maria Alida Baar. "O Chamado para Campo Missionário," Revista Adventista, January 1961.
Oliveira, Enoque de, "A Assembleia Quadrienal da União Este -Brasileira," Revista Adventista, June, 1956.
Riffel, Juan. "Grande Série de Convenções Missionárias," Revista Adventista, November 1957.
Santos, Ismael F. "Curso de Colportagem em Itabuna, Bahia," Revista Adventista, July 1957.
Seventh-day Adventist Yearbook. Various years. https://www.adventistyearbook.org/.
Zukowski, Samuel , "Santa Catarina: berço da mensagem adventista no Brasil," Revista Adventista, February 1994.
Notes