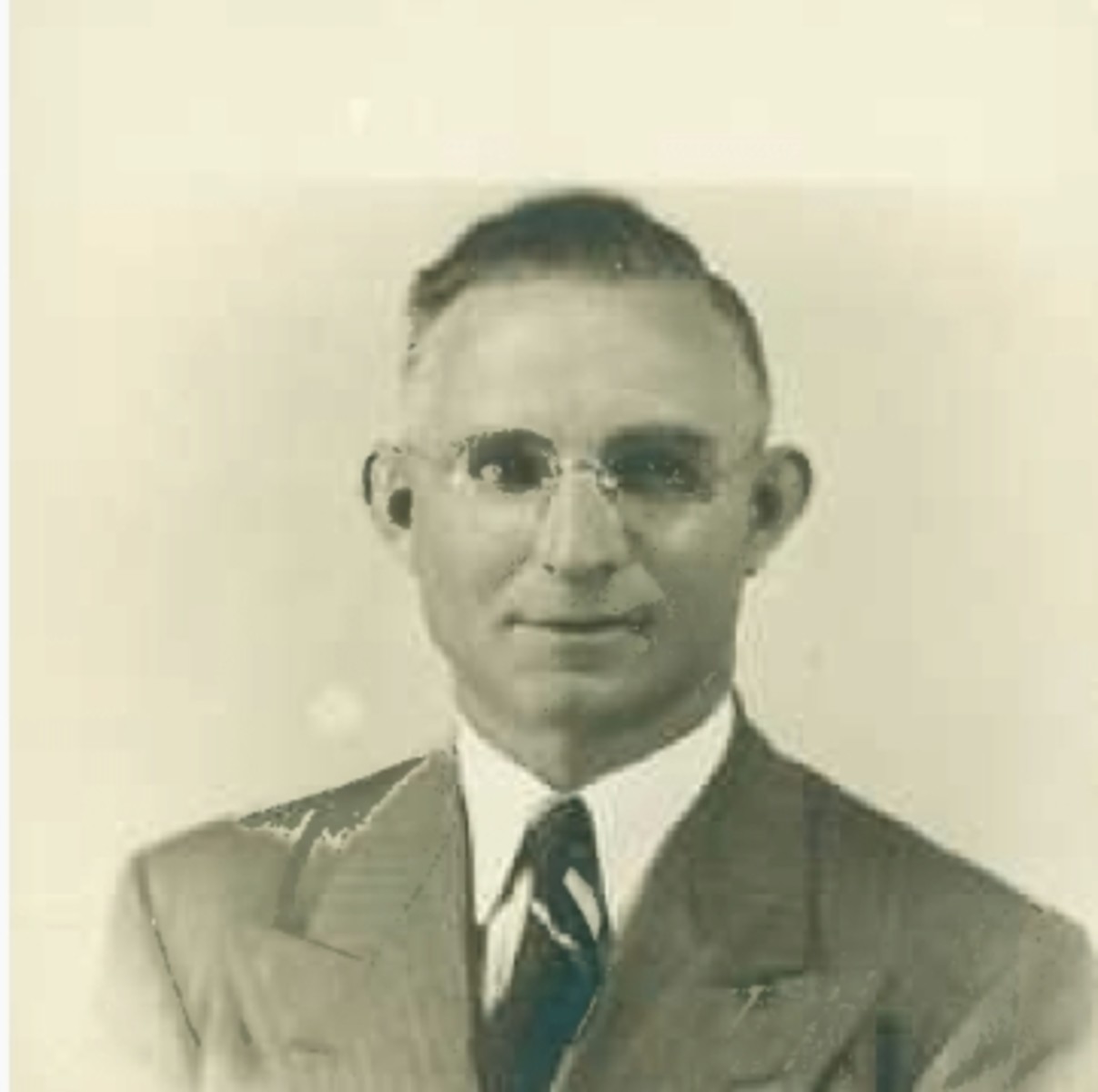 Larsen, Frederick Martin (1888–1984)
×
Kristopher C. Erskine completed an M.S. in social science at Syracuse University and a Ph.D. in the history of Sino-U.S. Relations at The University of Hong Kong. Erskine teaches American Foreign Policy, topics in the 20th century United States and Chinese history.  Erskine has published articles on Sino-U.S. Relations, written a book on the history of Adventist commercial cookie bakers, and is completing a manuscript on the role of non-state actors in the formation of international relations. Erskine is an assistant professor of history and history education at Athens State University. 
Frederick Martin Larsen (1888-1984) was a Norwegian-American church worker and missionary from c.1918 until c.1953. Larsen spent his entire career working for the Seventh-day Adventist church both as a missionary in China and Jamaica, and as a pastor and field missions secretary in the United States. Fred's first wife, Ragna, worked with the Sabbath School department of the Manchurian Mission until her death in 1928, and Fred's second wife, Rose, also worked with her husband in China.
Early Life, Education, and Marriage
Born on October 19, 1888, in Bergen, Norway, Frederick M. Larsen immigrated to the United States in 1910 at the age of 22 and became an American citizen in 1919.1 Little is known of Larsen's childhood or education, but he may have immigrated to the small town of Hutchinson, Minnesota, in McLeod County, about 60 miles west of Minneapolis, where he registered as an alien in 1918.2 There is some indication that he was engaged in church work in Minnesota in the 1910s, but he officially comes into the Adventist record in 1918, where he worked in the Danish Norwegian Department of the Greater New York Conference of Seventh-day Adventists, but the records are not clear what position he held.3 A year later, in 1919, Frederick is the Field Missions Secretary for the Greater New York Conference's Tract Society.4 Frederick does not appear to have had any family with him in New York, until, on November 12, 1920, at age 32, Larsen married fellow Norwegian, Ragna Petronova Haagensen.
Ragna Haagensen Larsen was born on November 12, 1889, in Lillesand, Norway.5 She was born into a Lutheran family, and in 1908 immigrated to the United States to live with her aunt and uncle. Ragna converted to the Adventist church in 1910 and soon enrolled at South Lancaster Academy, near Boston, Massachusetts, and it seems she also began working for the church as a colporteur (literature evangelist) at this time. After completing her studies at SLA she began a three-year program at the Adventist-run New England Sanitarium (also known as Melrose Sanitarium) and graduated in 1915. For the next two to three years she remained at the sanitarium and worked, but by 1919 she had moved to Brooklyn, New York, where she worked as a nurse.6 In New York where she was active in the Brooklyn English Church.7
Probably in either late 1919 or 1920 Ragna returned to Norway, presumably to visit her family, but when she returned to the United States on board the S.S. Bergensfjord on July 6, 1920, her younger sister, Rosa Synnove Haagensen, voyaged with her. Rosa was eighteen, employed as a domestic worker, and appears to have lived with her sister after their arrival in New York.8
Career
Although there is some indication that Frederick Larsen may have engaged in Bible work in his home state of Minnesota in the early 1910s, he first appears in Adventist records as a pastor and field secretary in the Greater New York Conference in 1918. By mid-1919 he seems to also have taken charge of the colporteur work in that conference and "rallied around him a group of earnest workers." The work produced a "splendid seed-sowing."9
After his wedding in 1920, Frederick returned to Minnesota, where he continued his work with the church and is listed as a missionary in the 1920 census and as "reverend" in the Minneapolis city directory in 1921. The Seventh-day Adventist Yearbook lists Frederick as working with the Greater New York Conference during this same 1920 period, so his stay in Minnesota was a short one. Although Ragna may have joined him in Minnesota later, as The Review and Herald reported, she does not appear to have initially moved with him; he is listed as living as a lodger in a household where the head, Peter Brodersen, was a clergyman.10 Neither is she listed as living with him in the city directory in 1921.11 But in 1921 the Seventh-day Adventist Yearbook indicates that Frederick Larsen was working at the General Conference headquarters in Maryland and was assigned to the Bureau of Home Missions.
Yet the Larsens would find careers in foreign missions, not home missions, and by August 1922 Frederick and Ragna were en route to China.12 Most missionaries who arrived in foreign postings spent a year, usually in a larger city, studying the local language prior to traveling to the mission outpost. The Larsens studied in Peking.13 There that the Larsens' son, Frederick Einar, was born on February 18, 1923.14
By late 1923 the Larsens had arrived at their first mission posting in Manchuria, where Frederick worked as Director of the Kirin Provincial Mission (吉林省), and Ragna served as the Sabbath School departmental secretary, where it was reported by another missionary that she poured "her heart and soul into" her leadership of the Sabbath School work.15
Although both she and Frederick were busy with their mission, almost from the outset Ragna seems to have struggled with her health. The nature of Ragna's ongoing health problems is not well known, but her obituary claims that in March 1928 she suffered a nervous breakdown and "suffered at times most intensely."16 Then, on "Sabbath afternoon, July 28, without any apparent cause, her heart ceased to function properly, and in a few moments she passed away."17 This account, written by another Adventist missionary, may be at odds with her official causes of death which are listed as both "pulmonary embolism" and a "previous deep lacerated wound."18
Ragna Larsen was buried in China, but after her death her younger sister Rosa traveled from New York to accompany Frederick, with Ragna's personal effects, out of China. Fellow China missionary Frederick Griggs reported that the "loss to her husband and little boy is irreparable."19 The General Conference was mindful of Larsen's loss, and offered the "heartfelt sympathies of the entire denomination," adding, "May God bless you richly as you struggle alone."20
But Fred Larsen did not "struggle alone" for long; Rosa and Fred traveled to Norway, where Ragna and Rosa's parents still resided. The purpose of traveling to Norway instead of to the United States is unknown, but presumably it was to visit Ragna's family, who do not appear to have immigrated to the United States. On April 7, 1929, while in Norway, Fred married Rosa, his late wife's sister. Just a few weeks after marrying, the new Mr. and Mrs. Larsen departed Norway for New York, where Rosa had been living since arriving with her sister in July 1920.
By November 1929 Fred Larsen and his new wife Rosa "Rose" Larsen were back in China, where Fred served as the chaplain of the Shanghai Sanitarium.21 From 1929 to 1940 the Larsen's official postings have them assigned to both China and to the United States, but they seem to have been on extended furlough for part of the late 1930s.22 Between the years 1937 and 1941 Fred M. Larsen appears as a church worker in Manchuria, the Atlantic Union (United States), Ningbo (China), and Oakland, California. Due to Japanese advances into China, by November 1940 it was clear that the Larsens would need to be evacuated, which they were on November 20.23 Eager to return to China, Fred and Rose were twice booked passage to China in the summer of 1941, but due to the war they remained in Glendale, California, where he seems to have been taken on by the North Pacific Union Conference, at least temporarily.24
The Larsens remained in the United States for the duration of the war, and after a short stint in California the Larsens accepted a position in the Greater New York Conference, where Fred worked as the Field Missions Secretary.25 But the Larsens planned to return to China after the war, and "talked about [China] wondering what we should do." Yet when the time came to make that decision, because there was no suitable school for their children in China, Fred and Rose chose to wait. They talked of returning to China in their later years, "after there are no children to worry about."26 Ultimately, Fred and Rose accepted a call to Jamaica, where Fred served as the Union Department Secretary and the Home and Missionary Volunteer Departments for the British West Indies Union.
Although Fred's health was listed as "excellent," and his temperament was noted as both "adaptable" and "not given to worry," Rose's health was not stable. In January 1945 Rose Larsen was noted to suffer from "mild anemia for which treatment should be instituted," yet she was still cleared to return to the mission field. The Larsens' tenure in Jamaica was brief; by February 1946 Rose Larsen's health condition had worsened, and it was determined that she and her husband would return to the United States. In his correspondence with General Conference officials, Fred indicated his preference of pastoring a district upon returning home in the summer of 1946. Ultimately, he and Rose permanently left the foreign mission field, and accepted a call to Minnesota, where Fred worked for the Northern Union assisting the Publishing Department Secretary.27
Fred Larsen was a missionary and church worker for 35 years. His first wife, Ragna, served with him for ten of those years. Little is known of Ragna's role in the mission field, other than her work with the Sabbath School Department, which is mentioned in her obituary rather than the official church record. Rose, after marrying Fred in 1929, served with her husband in the mission field until they officially retired from service, at some point in the early 1950s. Rose served with Fred for 25 years; her years in China no doubt saw Rose actively engaged in mission work, as was the practice with wives in the mission field. Unfortunately, the 183-page General Conference personnel file on Fred Larsen reveals little of the role Fred's two wives had in the mission field. In 1944, in Rose's 16th year of service, Fred's file does finally reveal that Rose was a graduate nurse, having trained at the New England Sanitarium, and that she was engaged in "private nursing" in the mission field. She had also "Helped teach mission school in Mukden, Manchuria for over two years," but otherwise there appears to be no official record of her service. Yet even here she was not officially appointed to a mission post; that posting was officially listed as "Appointed to (Local Post): Wife of Frederick Marselius Larsen."28 Ragna and Rose Larsen were silent servants, memorialized in name solely because they married Frederick.
Later Life
Fred and Rose returned from the foreign mission field when he was 58 and Rose was 43. Little is known of their lives after retiring from church work sometime in the early 1950s, but they seem to have spent time in Wisconsin and then Virginia, before finally retiring to Southern California around 1953 or 1954, near Loma Linda. Fred remained at least moderately active on the local preaching circuit, until at least 1964 at the age of 66, when he last appears in church documents found during this research. Rose also appears to have remained active in the nursing field after retirement.29
Rosa Synnove Larsen passed away in San Bernardino, California on May 8, 1966. She was 64 years old. Frederick Marcelius Larsen lived another 18 years, dying July 18, 1984, at the age of 95.
Summary of Service
Location
Position
Dates
Greater New York Conference, New York, NY
Pastor and Field Secretary
1918 – c.1921
General Conference, Tacoma Park, MD
Bureau of Home Missions for the General Conference of Seventh-day Adventists
c. 1921 - 1922
Peking, then Changchun, China

Language Study, then

Director of Kirin Provincial Mission

1922 – c.1929
Shanghai, China
Chaplain and Bible teacher at Shanghai Sanitarium
1929 – 1930
Manchuria, China
Manchuria Union Home Field and Missionary Secretary
c.1934 – 1936
Atlantic Union, South Lancaster, MA
Field Missionary Secretary for the Atlantic Union
1937
Manchuria, China
Sabbath School Secretary, Manchurian Union Mission
1939
Ningbo, China
Field Missionary Secretary
1940
Oakland, CA
Colporteur work (Unknown, but perhaps as a Field Secretary)
1941
Greater New York Conference
Field Missionary Secretary / Pastor
1942
British West Indies Union, Jamaica

British West Indies Union / Union Department Secretary

Home Missionary, Missionary Volunteer

Sabbath School Secretary

1945
Northern Union, Minnesota
Assisting Publishing Department Secretary
1946 – c.1949
Wisconsin
Unknown work, but perhaps pastor in the Rhinelander District
1949 – c. 1953
Virginia
Unknown
c.1953
Sources
1920 United States Federal Census. Provo, UT, USA: Images reproduced by FamilySearch. Original data: Fourteenth Census of the United States, 1920. (NARA microfilm publication T625, 2076 rolls). Records of the Bureau of the Census, Record Group 29. National Archives, Washington, D.C. Accessed October 27, 2020. https://www.ancestry.com/imageviewer/collections/6061/images/4312183-00385?pId=45117986.
"Alien Registration of 1918." Iron Range Research Center. Accessed October 27, 2020, https://www.ironrangeresearchcenter.org/details/0/89398/.
Andrews, W.R. "Wedding, Larsen-Haagenson." Atlantic Union Gleaner, November 24, 1920.
"Arrivals." Asiatic Division Outlook, November 1929.
Asiatic Division Outlook, March 1, 1923.
Campbell, R.G. "Appreciation." Atlantic Union Gleaner, May 12, 1937.
"Church Calendar." University Scope, July 3, 1964.
"Deaths of American Citizens Abroad, 1835-1974." National Archives at College Park. College Park, Maryland, U.S.A. NAI Number: 302021; Record Group Title: General Records of the Department of State; Record Group Number: Record Group 59. Series Number: Publication A1 205, Box Number: 4654. Accessed November 3, 2020. https://www.ancestry.com/imageviewer/collections/1616/images/31070_171058-00064?pId=45227913.
Franklin, E.E. "The Colporteur Work in Greater New York." Atlantic Union Gleaner, May 26, 1920.
"From the North American Division." ARH, February 24, 1938.
General Conference Committee minutes for April 1946. General Conference Records. April 15, 1946, p. 2378. Accessed November 3, 2020. https://documents.adventistarchives.org/Minutes/GCC/GCC1946-04.pdf.
Gilbert, F.C. "North China Union, Biennial Session." ARH, August 9, 1923.
Griggs, Frederick. "Ragna Haagensen Larsen." ARH, September 27, 1928.
"Greater New York." Atlantic Union Gleaner, October 23, 1918.
"Greater New York, week ending July 26, 1912." Atlantic Union Gleaner, August 7, 1912.
"INACTIVE Interdivision Employee (IDE) Documents." Larsen, F.M., Service Record, North American Division of the General Conference of Seventh-day Adventist Archives. Record ID 46289, User Box 9874.
Larsen, F.M. "Greater New York Field Missionary Department." Atlantic Union Gleaner, May 13, 1942.
Meyers, C.K. "Workers Sent to the Field in 1922." ARH, January 18, 1923.
Mount, Bessie. "Sabbath School Interests in the Manchurian Union." China Division Reporter, October 15, 1939.
"News Items." Atlantic Union Gleaner, December 21, 1921.
New York, State and Federal Naturalization Records, 1794-1943. Ancestry.com Operations, Inc., 2013. Original data: Naturalization Records. National Archives at New York City, New York, New York. Accessed October 27, 2020. https://www.ancestry.com/imageviewer/collections/2280/images/32126_23131830337207-00896?pId=3484250.
"New York, Passenger and Crew Lists (including Castle Garden and Ellis Island), 1820-1957." Year: 1920. Arrival: New York, New York, USA. Microfilm Serial: T715, 1897-1957, Line: 27. Page Number: 266. Ancestry.com. 2010. Provo, Utah. Accessed November 3, 2020. https://www.ancestry.com/imageviewer/collections/7488/images/NYT715_2793-0500?pId=4016189714.
"North American Division Gleanings – Atlantic Union." ARH, March 26, 1942.
"The Dollar a Week Fund for Foreign Missions – New England Sanitarium." Atlantic Union Gleaner, February 24, 1915.
"The Sanitarium." Atlantic Union Gleaner, November 3, 1915.
"U.S. City Directories, 1822-1995." Ancestry.com. 2011. Provo, Utah. Accessed November 3, 2020. https://www.ancestry.com/imageviewer/collections/2469/images/13752344?pId=839105624.
Peterson, Bernhard. "Back in Manchuria." Asiatic Division Outlook, September 1928.
Seventh-day Adventist Yearbook. Washington D.C.: Review and Herald Publishing Association, 1920.
"Wedding, Larson-Haagensen." Atlantic Union Gleaner, November 24, 1920.
"With Our Workers in Manchuria." Far Eastern Division Outlook, March 1925.
Notes