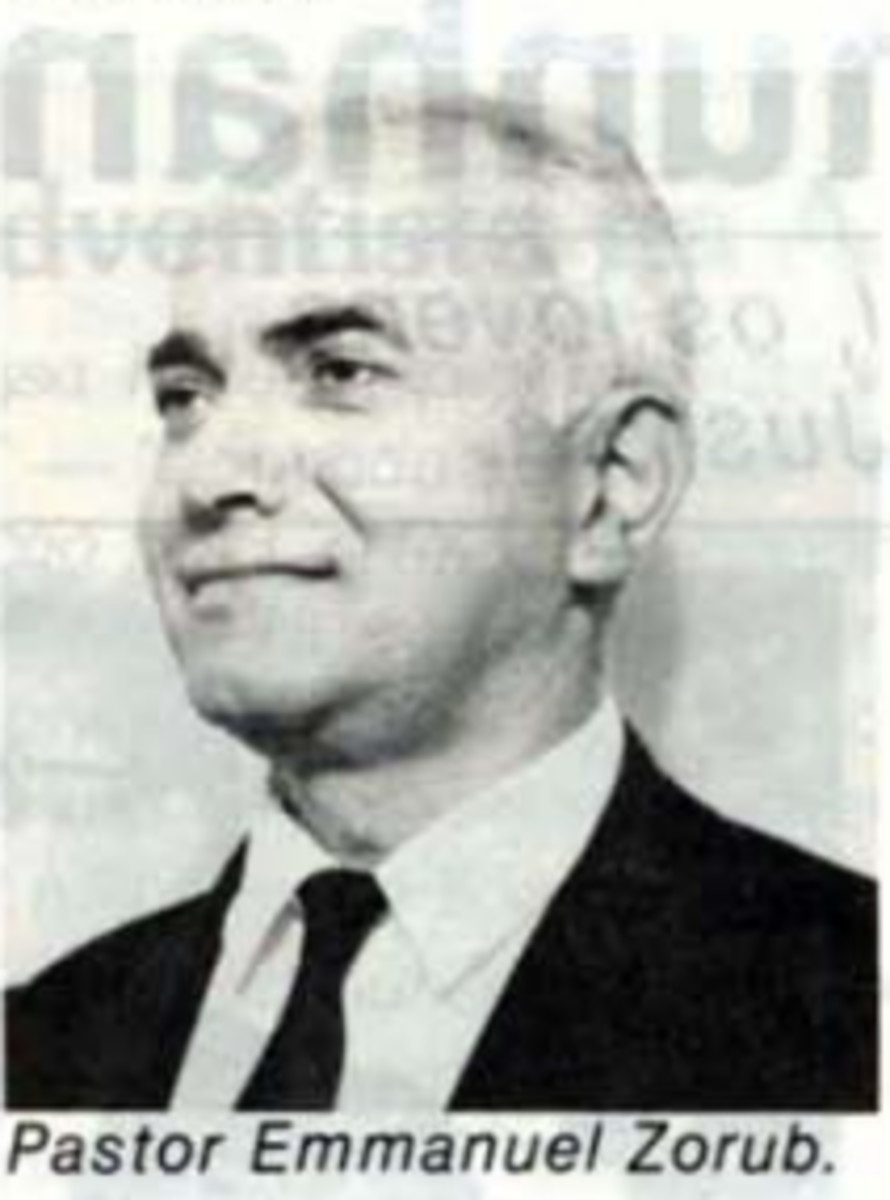 Zorub, Emmanuel (1912–1981)
×
The Brazilian White Center – UNASP is a team of teachers and students at the Brazilian Ellen G. White Research Center – UNASP at the Brazilian Adventist University, Campus Engenheiro, Coelho, SP. The team was supervised by Drs. Adolfo Semo Suárez, Renato Stencel, and Carlos Flávio Teixeira. Bruno Sales Gomes Ferreira provided technical support. The following names are of team members: Adriane Ferrari Silva, Álan Gracioto Alexandre, Allen Jair Urcia Santa Cruz, Camila Chede Amaral Lucena, Camilla Rodrigues Seixas, Daniel Fernandes Teodoro, Danillo Alfredo Rios Junior, Danilo Fauster de Souza, Débora Arana Mayer, Elvis Eli Martins Filho, Felipe Cardoso do Nascimento, Fernanda Nascimento Oliveira, Gabriel Pilon Galvani, Giovana de Castro Vaz, Guilherme Cardoso Ricardo Martins, Gustavo Costa Vieira Novaes, Ingrid Sthéfane Santos Andrade, Isabela Pimenta Gravina, Ivo Ribeiro de Carvalho, Jhoseyr Davison Voos dos Santos, João Lucas Moraes Pereira, Kalline Meira Rocha Santos, Larissa Menegazzo Nunes, Letícia Miola Figueiredo, Luan Alves Cota Mól, Lucas Almeida dos Santos, Lucas Arteaga Aquino, Lucas Dias de Melo, Matheus Brabo Peres, Mayla Magaieski Graepp, Milena Guimarães Silva, Natália Padilha Corrêa, Rafaela Lima Gouvêa, Rogel Maio Nogueira Tavares Filho, Ryan Matheus do Ouro Medeiros, Samara Souza Santos, Sergio Henrique Micael Santos, Suelen Alves de Almeida, Talita Paim Veloso de Castro, Thais Cristina Benedetti, Thaís Caroline de Almeida Lima, Vanessa Stehling Belgd, Victor Alves Pereira, Vinicios Fernandes Alencar, Vinícius Pereira Nascimento, Vitória Regina Boita da Silva, William Edward Timm, Julio Cesar Ribeiro, Ellen Deó Bortolotte, Maria Júlia dos Santos Galvani, Giovana Souto Pereira, Victor Hugo Vaz Storch, and Dinely Luana Pereira.
First Published: July 31, 2021
Emmanuel Zorub was a pastor, lecturer, journalist, and administrator from Brazil.
Early Years
Emmanuel Zorub, who served as a pastor, lecturer, journalist, and administrator, was born on April 19, 1912, in the city of Porto Feliz in the state of São Paulo, Brazil.1 He was the son of Elias Thomé Zorub, and his father, who was born in Syria, was the first convert to the Seventh-day Adventist faith in that country. Formerly a Presbyterian pastor, he taught Ancient History classes at the Presbyterian University of Damascus. After his conversion, Elias became the first Syrian Adventist pastor and served as a church worker there for eight years, enduring much suffering on behalf of his beliefs. After attending a post-graduate program at Andrews University, Elias was invited to be a teacher there, but his U.S.A. visa was denied due to a trachoma.2
In Syria, Elias married Marta Hadded (Assma) Zorub (b. Syria, 1874; d. Brazil, September 10, 1966), who was baptized into the Adventist faith in Lebanon around 1903. In 1911, the couple emigrated to Brazil along with their four children in order to become self-supporting missionaries. After their arrival, they lived in many countryside cities of the state of São Paulo until settling in the capital, the city of São Paulo, where they were active members of the Santo Amaro Church until their last days.3
Elias and Marta intended that all their eight children should have an Adventist education and study at Brazil College (now known as UNASP-SP). Years later, the couple saw six of their children achieve this goal.4 Apart from Emmanuel, their other children were: Adelina Zorub, who was part of the first graduate class of Brazil College; Iracema Zorub,5 who served the Church as a Bible instructor;6 Alice Zorub, who was secretary of the South Brazil Union Conference for 33 years;7 Maria Zorub, who taught at the São Paulo Conference;8 Rosa Luz Zorub; Rangel Zorub; and Israel Zorub, pastor.9
Instructed to follow his parents' faith, Emmanuel was baptized in his youth. His father established a fabric factory in São Paulo where he was helped by his children, including Emmanuel, who showed great management talent. However, his father wanted him to study theology at Brazil College. In order to get enough resources for his children to study there, Elias even had to sell the factory.10 Following his father's desire, Emmanuel graduated after studying theology at Brazil College in 1934.11
Ministry
Emmanuel Zorub joined the Adventist work as a Bible instructor at the Rio Grande do Sul Conference.12 After that, he accepted the call from São Paulo Conference to be pastor of the church in Mogi das Cruzes. Upon seeing there was an opportunity to share the Gospel through education, on May 25, 1935, he founded the Mogi das Cruzes Adventist School, along with Inocêncio Nunes Siqueira, and became its first teacher. He worked in this position full-time, serving as the school's only teacher, principal, secretary, and treasurer.13 Afterwards, in February 1937, he was appointed pastor of the Adventist Church in the Brás District in the city of São Paulo.14
Also in 1937, Emmanuel married Carolina Rizzo Zorub (who passed in 2013) in a ceremony officiated by Pr. Rodolfo Belz. Working with her husband, her missionary efforts reached many people. Throughout her life, she served as leader of the Adventist Solidary Action ministry. She was not in favor of donating second-hand products, so she collected donations from prominent businesspeople and organized dinners for the poor that were known for their excellent quality. Carolina also used her talents as a painter and singer on behalf of preaching the Adventist message. She began to paint Emmanuel's projection slides in colors since until the time they were black and white. After that, she painted many rolls of projector slides for use by the General Conference. The couple had two children: Paulo Lysias and Valdilea Zorub.15
Shortly after their marriage, Emmanuel was appointed pastor of the Adventist Church in Santos in the state of São Paulo, where he served for two years.16 After that, he pastored the Campinas Adventist Church, also in the state of São Paulo, for two years.17 From 1941 until his retirement, Emmanuel served in the administrative area of the Adventist Church. He led the Sabbath School and Missionary Action departments at the São Paulo Conference until 1943,18 where he was ordained as a minister in 1942.19
He left the São Paulo Conference in 1944, accepting the call to lead the Sabbath School and Missionary Action departments of the East Brazil Union Mission, who had their headquarters in Rio de Janeiro.20 In 1947, he also took on the responsibility of managing the Radio department. He served in these positions until 1948.21 An interesting fact to note is that in 1946, Emmanuel introduced the children dedication ceremony to the Brazilian Seventh-day Adventist Church, which previously had not practiced this custom. In addition, he was part of the administrative board that decided to buy the plot of land where Silvestre Adventist Hospital it is located today in the city of Rio de Janeiro.22
In 1949, he was sent by the Union to study at Andrews University in the United States so he could be better prepared to serve the Church. After returning in the same year, he was appointed pastor of the Central Church of the city of Rio de Janeiro,23 where he served for one year. In 1950, he was appointed president of the Rio-Minas Gerais Mission, working in this position until 1955.24 Under Emmanuel's leadership, the mission turned into a conference in 1955.25
In 1956, he was appointed as manager of the Brazilian version of the Adventist radio program Voice of Prophecy, and he served alongside program director Roberto Rabello, and his knowledge and experience were very valuable.26 Through his friendship with Assis Chateaubriand (1892–1968), who was a journalist, a Brazilian businessman in the communication field, and one of the most influential man in Brazil in the 1940s and 1950s, Emmanuel obtained the opportunity to record the Voice of Prophecy programs in his studios, thus making it possible to record these episodes in Portuguese in Brazil. Previously, they had been made in the United States. Another landmark of Emmanuel's administration was the expansion of Adventist broadcasting in Brazil. By acquiring the services of radio stations in various regions of the country, this made it possible to broadcast the program to almost all Brazilian states.27
In his personal studies, he always had been interested in archeology and anthropology. So, in 1957, he went to the United States to study archeology at Andrews University in Berrien Springs, Michigan. While a student there, he had the opportunity to travel across the entire Middle East, which was a requirement of one of the study programs. This knowledge became a useful tool, enhancing his talents as a great lecturer.28 Emmanuel worked as director for the Voice of Prophecy Brazil until 195929 when he was appointed president of the Minas Gerais Conference. He served there during 1960 and 1961, also leading their Radio Department.30
At the end of 1961, he accepted the call to be president of the Rio Grande do Sul Conference.31 The following year, he familiarized himself with the five-day plan on how to stop smoking during a trip to North America as one of the delegates invited to the General Conference meeting.32 Aiming to implement it in Brazil, he translated it into Portuguese and entitled as Como Para de Fumar em Cinco Dias (How to Stop Smoking in Five Days),33 then presented it for the first time November 11 through 16 of 196434 in Porto Alegre in the state of Rio Grande do Sul.35 That same year, Emmanuel Zorub held evangelistic series in Campo Grande in the state of Mato Grosso, which greatly increased the number of members in the local church. During 1964, 290 people were baptized there, mainly due to the evangelistic series carried out by Zorub.36
After leaving the presidency of Rio Grande do Sul Conference, in 1965 he served as lecturer at South Brazil Union Conference.37 In 1966, he was appointed assistant to the president of São Paulo Conference, serving in this position until 1970.38 By his initiative, the Stewardship Department of the South Brazil Union Conference was created, and he was the director there from 1970 to 1971.39 Afterwards, he was the Union secretary from 1972 to 197340 and a president from 1974 to 1975.41
Last Years
After 42 years of dedicated service, Emmanuel Zorub retired in 1975 due to an illness. Still, he occasionally preached in some churches when he was feeling better. In 1981, Zorub preached his last sermon, which was entitled It is impossible for God to lie, in his hometown of Porto Feliz. He passed away on October 9, 1981, at the age of 69 in the city of São Paulo after living for five years with pulmonary fibrosis, and he was buried in the Santo Amaro Cemetery.
Contribution
Emmanuel Zorub left a 42-year legacy to the Seventh-day Adventist Church in Brazil, making an important contribution as a pastor, lecturer, journalist, and administrator. He was known as a wise and well-prepared worker, making a powerful difference in all the places he served – São Paulo, Rio de Janeiro, Minas Gerais, Mato Grosso, and Rio Grande do Sul. In addition, he was a member of the "Associação Brasileira de Imprensa" (Brazilian Press Association)42 and received a journalist title in recognition of his contribution to this area in the Adventist Church.43
Sources
Belz, Rodolpho. "Petrole." Revista Adventista 50, no. 8 (August 1955).
Biografia de Alice Zorub. In Collection of the National Center of Adventist History/Ellen G. White Research Center: UNASP-EC, Engenheiro Coelho, SP. Bookcase: 2. Shelf: 7. Folder/Box: "Zorub, Alice." Accessed February 27, 2018.
Bottsford, R. C. "Evangelistic Series in Campo Grande, Mato Grosso." ARH, March 18, 1965.
"Colégio Adventista de Mogi das Cruzes." Adventist National Memory Center Network (Online), September 12, 2013.
Conceição, Jonatan. Fé, Coragem e Vidas Transformadas: Conheça a História de A Voz da Profecia e do Quarteto Arautos do Rei. Nova Friburgo, RJ: Author's Edition, 2014.
Jimenes, Antônio. "Zorub." Revista Adventista 62, no. 5 (May 1967).
Nigri, M. S. "Elias Thomé Zorub." Revista Adventista 44, no. 12 (December 1949).
"Pastor Emmanuel Zorub (1912 - 1981)." Revista Adventista 76, no. 12 (December 1981).
Seventh-day Adventist Yearbook. Washington, D.C.: Review and Herald Publishing Association. Various years. https://www.adventistyearbook.org/.
Sesóstris, César. "Plano de 5 Dias." Revista Adventista 59, no. 3 (March 1964).
"Sobre a escola: Colégio Adventista de Mogi das Cruzes." Educação Adventista Network (Online).
"The Five – Day Plan." South American Division Bulletin 41, nos. 1 and 02 (January-June 1965).
Notes