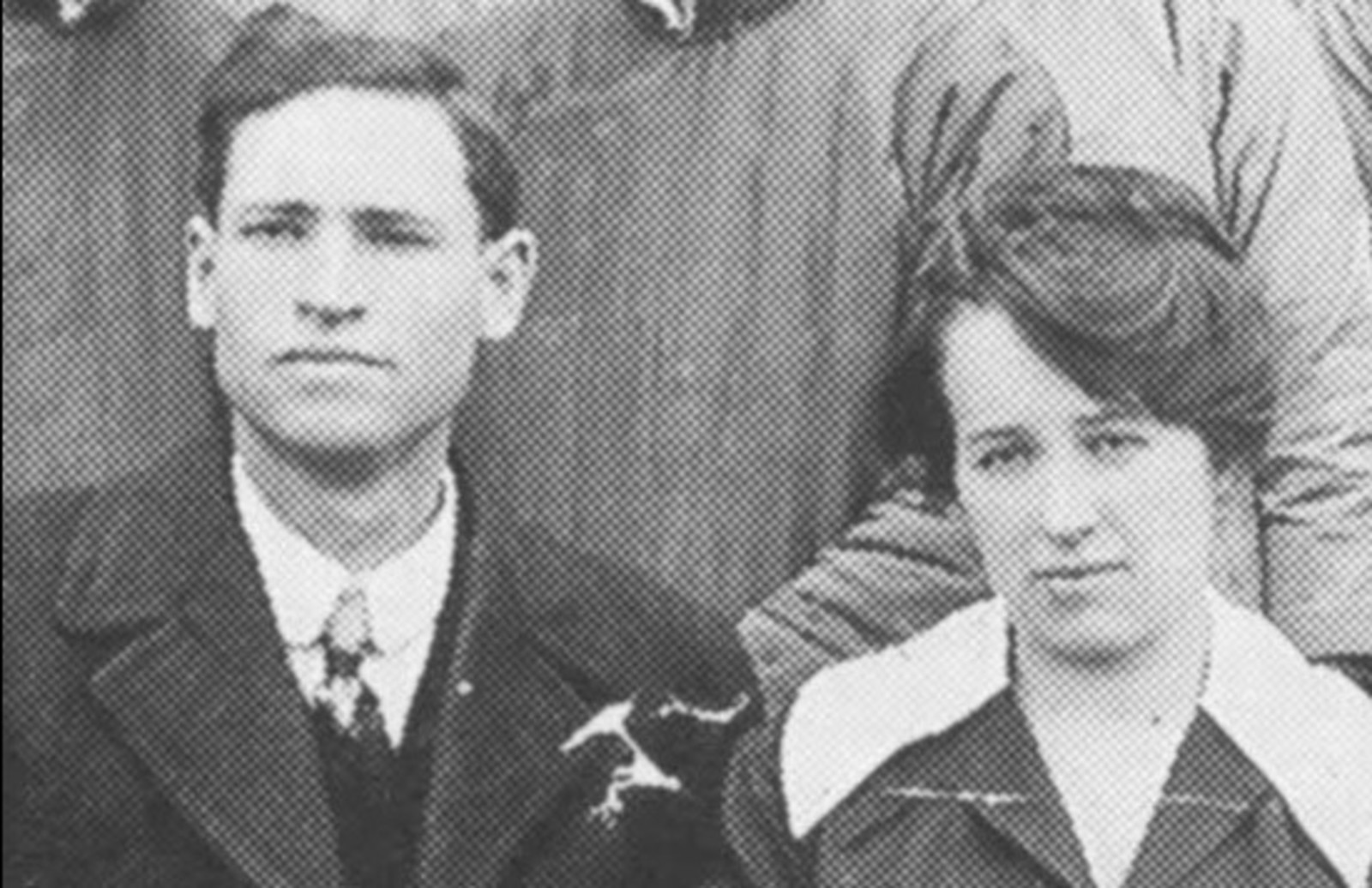 Parker, Harry Beecher (1886–1977) and Irene Lenore (Urquhart) (1890–1976)
×
Kristopher C. Erskine completed an M.S. in social science at Syracuse University and a Ph.D. in the history of Sino-U.S. Relations at The University of Hong Kong. Erskine teaches American Foreign Policy, topics in the 20th century United States and Chinese history.  Erskine has published articles on Sino-U.S. Relations, written a book on the history of Adventist commercial cookie bakers, and is completing a manuscript on the role of non-state actors in the formation of international relations. Erskine is an assistant professor of history and history education at Athens State University. 
First Published: October 6, 2022
Harry and Irene Parker were American missionaries to China from 1916 to 1935.
Early Life, Education, and Marriage
Born in the small town of Columbus, Montana, on December 14, 1886, Harry Beecher Parker (Chinese name: 柏加德, Pinyin: Bǎi Jiādé) spent his formative years in rural Big Sky country; Columbus is located on the Yellowstone River between Bozeman and Billings. Although exactly when the Parker family joined the Seventh-day Adventist Church is unknown, Harry's parents appear to have been Adventists from at least Harry's very early youth. He attributes his conversion in 1903 to his "parents and school."1 For at least some of his formal education, he attended Adventist schools, and in 1904, at the age of 18, Harry graduated from the eighth grade at an Adventist school in Bozeman that later became Mount Ellis Academy in 1905, a year after Harry finished his schooling there. His was a small class of only 10 students, most of whom appear about as old as Harry. Harry's sister Maude, at the age of 15, was also in Harry's graduating class.2
Irene Lenore Urquhart was born in Belgrade, Montana, also a rural community. Little is known of Irene's early education although Belgrade's close proximity to Bozeman may have meant that she and Harry attended school together in Bozeman. At the very least, the Urquhart and Parker families knew one another, either in Montana or later in Chico, California, where both families immigrated within a few years of Harry's 1904 eighth-grade graduation.3 It was from Chico that the Parkers were sent as missionaries to China.4
On May 21, 1905, in Santa Rosa, California, Harry married Irene Urquhart. When they married, Harry had not yet begun the church work that would define much of his career, but he was enrolled in a teacher training program at Chico State Normal School (today, Chico State University) in 1905, and in 1906 seems to have transferred to Healdsburg College (Today, Pacific Union College, or PUC) where he completed an "elementary normal" training program.5
Career
After completing his initial teacher training, Harry seems to have engaged in Bible work, selling religious literature, but by 1907, he was in Red Bluff, California, where he had accepted his first position as a teacher of a small one-teacher school. He taught 20 students in a grade 1-8 program.6 Harry taught in Red Bluff from 1907 until probably 1911.7 But in July 1907, the summer after his first year in Red Bluff, Harry's 17-year-old wife gave birth to Leland Harry Parker, their first of six children.
When Harry and Irene began thinking about foreign mission service is unknown. There are no hints toward a career overseas in his resume to date. Harry seemed focused on a career in teaching when he enrolled at college again in 1911. In 1912, he completed "advanced normal" training at PUC, but instead of returning to a teaching position, he continued his studies for another three years, completing a bachelor of arts in 1915, also at PUC.8 While at PUC, Harry helped build a new PUC campus in Angwin and was one of the first group of students to study there.9
When he left the PUC campus is unknown, but Harry wrote on his General Conference personnel file that he graduated from PUC in 1915 and was teaching in Modesto in 1915. This was presumably an Adventist school, but it is unknown which campus. The stay in Modesto was a short one, and in July 1915, The Pacific Union Recorder announced that, although Parker was slated to teach in Bakersfield for the coming year, he had accepted a position in China.10 Harry and Irene did not leave for China until August 1916, longer than a year after he had accepted a call there. Whether he taught for a year, or whether he spent the year in preparation for mission work is unknown.
On August 1, 1916, Harry Beecher Parker and Irene Urquhart Parker left for China aboard the President McKinley.11 These were in the first group of foreign missionaries to leave from Chico, but that group was large, more than 40, many of whom would serve in Asia. Among those were the Urquarts (Harry and Irene's married sister and brother, respectively), who were briefly in China, en route to Korea. The group arrived in Shanghai in mid-September, and Irene was three or four months pregnant when she and Harry arrived. 12 But Shanghai was a temporary stop; the Parker's would soon head to Nanning, Guanxi Province, where Harry would assume a mission posting as treasurer of the newly organized Kwangsi Mission, and where he would also study Cantonese.13
Over the next few months, Harry and Irene traveled extensively in southern China while Irene was pregnant. Their first stop was in Canton, Kwangtung Province (now Guangzhou, Guangdong Province), where they had arrived by December 1916.14 Then in January, the mission board voted to assign Harry as treasurer of the newly organized Kwansi Mission in neighboring Kwansi Province (Guangxi).15 In Kwansi, Harry and other missionaries would operate from Nanning, the provincial capital. But a February announcement in an Adventist publication noted that Harry (柏加德) and Irene were living in Wuchow (Wuzhou), a smaller town in 1917 that laid a few hundred miles east of Nanning. But in January or February of that same year, the Parkers traveled to Hong Kong where Irene gave birth to their second child on February 13, a daughter, Lois Parker.16
Presumably the Parkers returned to Kwansi after Lois' birth, and perhaps they had even vacated the station in Wuzhou to relocate in the capital of Nanning. The Asiatic Division Outlook reported in April 1917 that new homes were under construction for the missionaries just outside Nanning's South gate. The Kwansi Mission counted 120 church members, two new outstations, and operated three schools with a total enrollment of 67. The mission was growing.17 But by September the Parkers had been reassigned to Canton, where Harry would work as both the treasurer of the Canton Mission and the principal of the Canton Intermediate School, where he would also supervise the building of a new campus.18 Harry was 31 and had probably only four years of classroom teaching experience.
Except for a short "attack of the sprue," probably Sprue Disease, which required Harry to spend several weeks at Matilda Hospital in Hong Kong during the summer of 1921, he and Irene remained in Canton until they left on furlough in 1922.19 Harry wasted no time earning more credentials and making himself more useful in his mission. Both he and Irene enrolled in a one-year Medical Missionary Course at The College of Medical Evangelists in Loma Linda (today, Loma Linda University).20 The course would not qualify them as physicians or nurses but was specifically "offered [to] those who desire to secure a brief preparation for practical nursing and care of the sick in times of emergency in home and neighborhood. The course 'has been designed particularly for those of more mature experience, who wish to add some practical medical knowledge to their qualifications as workers.'"21
After completion of the medical missionary course, Harry traveled to Colorado Springs, Colorado, to attend the World's Education Convention in August 1923.22 Although when the Parkers returned to China is not known, in January 1923, the General Conference voted to approve his return to China at the end of his furlough, and it is likely that he returned in the fall or winter of 1923.23 Certainly by March 1924, the Parker family was back in Canton just in time for the birth of their third child, Lauretta Maude Parker, on March 25. Parker resumed his work at the Canton Intermediate School, but the political situation in Canton was unstable, and in April 1925, the Parkers were forced to flee to Macau. Of their departure, Parker wrote, "What drove me to the city of Macao… was an uprising in Canton. The city was in confusion. Contending armies had already entered the streets, and as I was escaping in an auto with my son, driving down along the river front, the bullets of the rebels flew over and around us. As we could not return to the city for some time, we took up work on this little island."24
Except for the first, Irene's pregnancies had taken place during periods of difficult or stressful travel, and this was no exception. During their retreat from Canton, Irene was in the early stages of her fourth pregnancy. Fleeing to Macau with the Parkers were other mission workers, all Chinese. They were the Hoh Wai Man family, Mr. Lo Lok Tin, and Mr. So Ye Chun. Parker and his Chinese counterparts arrived in April 1927 to look for a chapel and establish a base for mission work.25 "Soon a large, well-lighted, airy building was rented, and in it a series of gospel meetings was conducted."26 The Parkers would stay in Macau for three years, and the group from Canton was the first to open a Seventh-day Adventist mission there.27
On August 3, just three and a half months after arriving in Macau, tragedy struck the Parker family. Their Christmas Eve baby, Lorraine Esther, fell ill and died. Little Lorraine was one year, seven months old.28 Of their first three children – Leland, Lois, and Laurel – only Lois and Laurel were with them in Macau. An 18-year-old Leland was living in Chico, California.
In May 1930, the Parker family returned to the United States on furlough, and they would never return to Macau.29 After more than a year's rest, spending time with family, and no doubt time which saw Harry engaged in writing and delivering countless sermons – as was typical of furloughed missionaries of that era – the Parkers arrived back in Shanghai on August 26, 1931, on the Tatsuta Maru, and then headed for Canton, where Irene and Harry would spend the last three years of their mission service.30 During these last three years, Harry would not teach or work as a school administrator. Instead, he worked with the Canton Sanitarium's health food industry on the campus of the Canton Training Institute.31
What Irene's role was upon returning to Canton in 1931 is not known. Irene had been pregnant or caring for young children for nearly her entire life in China. Her 1931 return to Canton is the first time in almost 15 years of mission work that she was not caring for a child under the age of five or was not pregnant. Irene held a missionary license, and there can be no doubt that her role in the mission field was essential, as was the case with most married women supporting their husbands. They functioned as Sabbath School superintendents, and often they taught school or served in medical clinics. Irene had completed the one-year Medical Missionary course at Loma Linda in 1923, so it is evident that she was a participant in the mission work with which her husband was engaged and for which he receives much credit. Yet church records and publications are almost silent on Irene's work. The lengthiest description of her responsibilities is given as an explanation of why her husband is returning home early, in May 1935, and without her or their children. It noted that she and "the children are remaining in Shanghai, where she is assisting temporarily as matron in Far Eastern Academy, and where the children are closing up their year's school work" and that they would sail for the United States on July 6.32 Why they were in Shanghai is not known since records indicate they were posted to Canton until just before their return in 1931.
On May 14, 10 weeks before Irene and the children sailed for the United States, Harry left China to attend the Advanced Bible School at PUC from June 5 to August 27. Harry's health was failing due to the hard work he had been doing at the Canton health food factory, and the typical missionary demands more generally were blamed for his ill health. "Notwithstanding the earnest efforts of skilled physicians, it has seemed impossible for our brother to gather sufficient strength to permit him to continue in the very strenuous program that almost everyone who serves in a mission field must follow. With much reluctance the brethren have arranged for the permanent release of Brother and Sister Parker from mission service."33 On separate passages, in May and July, the Parker family sailed home for the final time.34
Whether he attended or completed the Advanced Bible School at PUC is not known, but in August 1935, the China Division Reporter announced that anyone wishing to write to the Parker family should contact them "in the care of the Loma Linda Sanitarium," so it seems that Harry may have made an effort to address his ill health, and he was on Sustenation Allowance in 1936 due to his illness. He seems to have remained on Sustenation off and on for the next 30 years. This would be unusual, yet his General Conference personnel file indicates in 1963 that he was on Sustenation at that time.35
When they left China, Harry was 49 years old. Irene was 45. The Parkers had spent 18 years as China missionaries, and with the exception of three years in Macau, nearly all of their service was in Canton at the Canton Intermediate School on the Tunghshan campus.
After returning from China, Harry Parker seems to have left preaching and teaching as a profession. He and Irene were living in Milford, Utah, for at least a short stint in 1937, and he was an elder at the local Milford Adventist Church.36 But by 1940, Harry and Irene are living in College Place, Washington, where he was working with Columbia Foods.37
Later Life
In 1943, Harry was 59 years old, and he and Irene retired and moved to Sanger, California, near Fresno.
Although retired from any official church work, Harry did not retire from unofficial work. From the time they arrived in Sanger in 1943 until at least 1963, Harry remained in the active service of the church as an unpaid, ordained minister. He did not have his own church, but he traveled extensively and preached often. In 1963, he wrote,
Since coming to this valley in 1943 I have spoken nearly every Sab[bath] in one of the churches in the valley. Some at a distance of 140 miles round trip, and nearly every Sab[bath] 50 to 100 miles. Some places I have spoken several nites [sic] in succession at a distance of 100 miles. Also nearly every prayer meeting night. I have never reported any travel. I have paid all of my travel expenses.38
This narrative is part of Harry's 1963 missionary personnel file, but typically missionaries completed these prior to leaving for the mission field or during furlough, so it is unclear what Harry might have been requesting with the completion and submission of this form well after he had retired. Harry Parker was 25 years removed from his last mission posting and no record of General Conference employment exists after he and Irene returned to the United States in 1935.
Harry and Irene remained in Sanger for the rest of their lives, and they both died there. Irene died on July 16, 1976, and Harry died on September 29, 1977. They are both buried in the Sanger Cemetery in Fresno County, California.
Summary of Service
| Location | Position | Dates |
| --- | --- | --- |
| Pacific Union Conference | Home worker / colporteur | 1907 |
| Red Bluff, California | Teacher, principal (one teacher school) | 1907 – c.1911 |
| Modesto, CA | Teacher39 | 1915 |
| Nanning, Guangxi | Treasurer of Kwangsi Mission | 1916 – 1917 |
| Canton, Guangdong | Treasurer of Canton Mission and principal of Canton Boys School | 1917 - 1927 |
| Macau | Evangelist | 1927-1930 |
| Canton | Superintendent of Canton Intermediate School health food factory | 1930-1935 |
| College Place, WA | Unknown position – Columbia Foods | c.1940 |
| Fresno, CA | Retired missionary and minister | 1943 – c.1977 |
Sources
"Another Grave on Mission Soil." Asiatic Division Outlook, September 1, 1927.
"Arrivals." China Division Reporter, October 1, 1931.
Asiatic Division Outlook, January 1, 1918.
Asiatic Division Outlook, February 15, 1923.
"Biographical Information Blank." Harry B. Parker Service Record, North American Division of the General Conference of Seventh-day Adventist Archives. Versatile Box No., 7301, User Box, 2514. Folder, Personal Information Forms and Biographical Material, -- 1950, P to Pet.
"California Conference Current." Pacific Union Gleaner, October 6, 1910.
"Central California – Items of Interest." Pacific Union Recorder, July 8, 1950.
Cyndee Davis, image uploaded to ancestry.com. Accessed April 5, 2022, please see here.
"Departures." China Division Reporter, August 1, 1935.
Harry B. Parker and Irene B. Parker. "Asia as Viewed by the New Arrivals." Asiatic Division Mission News, September 15, 1916.
Ham, A.L. "Reports from the Field." Far Eastern Division Outlook, January 1, 1928.
"Here and There." Pacific Union Recorder, July 28, 1937.
"H B Parker – Return to China." January 24, 1923, Eighty-Seventh Meeting General Conference Committee Minutes, 228. Accessed April 12, 2022, https://documents.adventistarchives.org/Minutes/GCC/GCC1923.pdf.
J. S. J. "A Visit to the South China Union." Asiatic Division Outlook, September 1, 1917.
Keem, Law. "The Kwangsai Field." Asiatic Division Outlook, April 15, 1917.
Lee, Frederick. "Tales of Missionary Adventure." The Youth's Instructor, March 31, 1931.
"Macao." Asiatic Division Outlook, February 1, 1928.
Millard, F. R. "Chico Church Sends out Forty-two Missionaries." ARH, September 5, 1963.
"Miscellany," Pacific Union Recorder, August 17, 1916.
"Mission Board Items." Columbia Union Visitor, January 25, 1917.
"Mission Notes." Asiatic Division Outlook, October 1, 1921.
National Archives and Records Administration; Washington, D.C.; Passenger and Crew Lists of Vessels Arriving at Seattle, Washington; NAI Number 4449160. Record Group Title: Records of the Immigration and Naturalization Service, 1787-2004. Record Group N, page 8.
"Northern California." Pacific Union Recorder, November 4, 1915.
"Notes." Asiatic Division Mission News, April 1, 1917.
"On Furlough." Far Eastern Division Outlook, May 1, 1930.
"Our First Word From the World's Educational Convention." Asiatic Division Outlook, August 1, 1923.
Porter, R. C. "Canton General Meeting." Asiatic Division Mission News, December 15, 1916.
"Returning from Years of Service." China Division Reporter, June 1, 1935.
"Teacher's Exchange – California." Pacific Union Gleaner, September 30, 1909.
"The Field – California." Pacific Union Recorder, October 21, 1919.
Urquahart, Edward J. "The Future of Yoru Students." Home and School: A Journal of Christian Education 22, no. 10 (October 1930).
Utt, Walter. A Mountain, A Pickax, a College: Walter Utt's History of Pacific Union College. 3rd ed. (Pacific Union College Press, 1996). Accessed April 12, 2022, https://www.puc.edu/__data/assets/pdf_file/0005/91805/Pickax-Book.pdf.
Notes