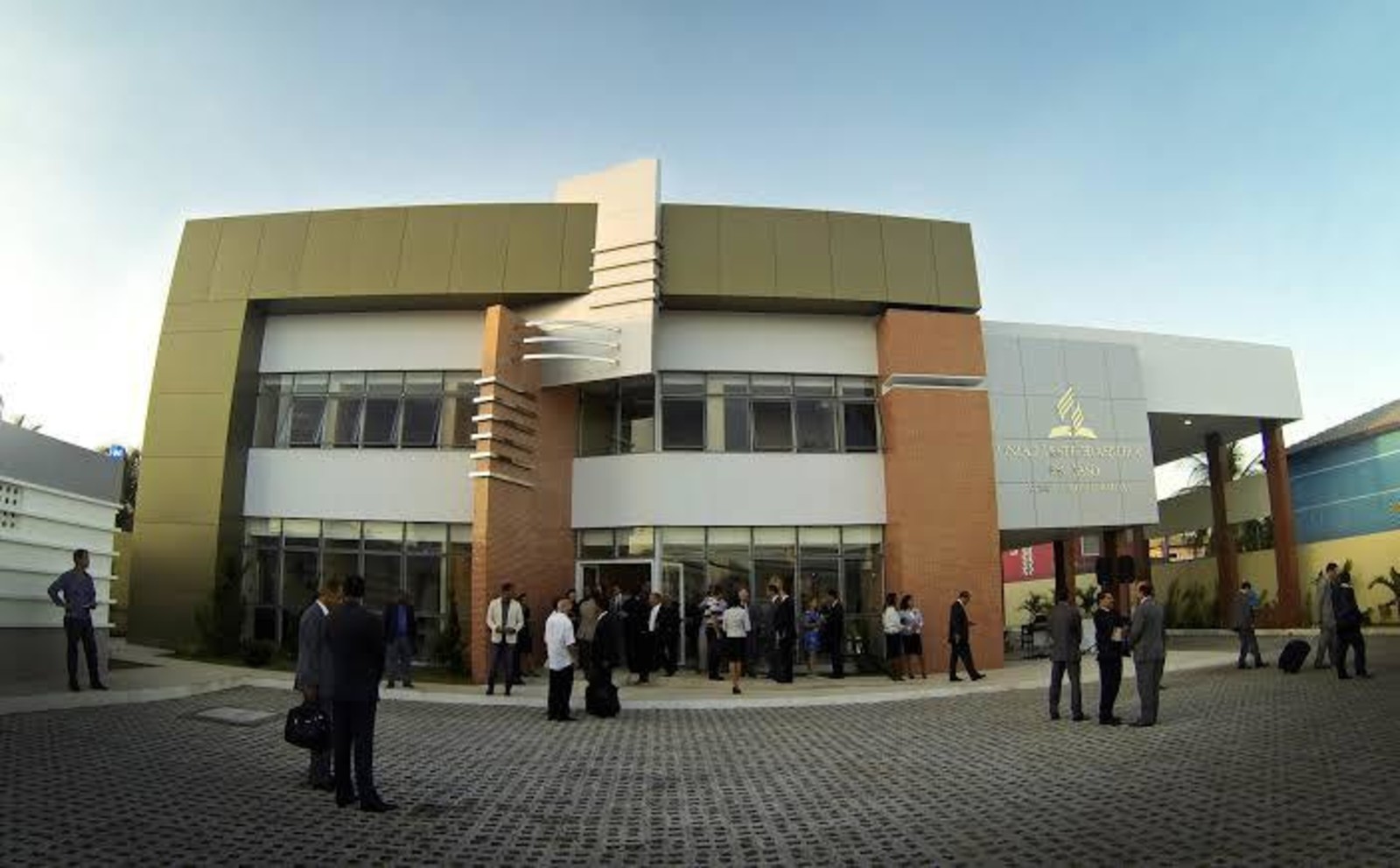 East Brazil Union Mission
×
Nesias Joaquim dos Santos
First Published: October 31, 2021
The East Brazil Union Mission is an administrative unit of the Seventh-day Adventist Church located in the territory of the South American Division. Its headquarters is at João Marques Oliveira, 819, 42.710-900, Buraquinho neighborhood, in the city of Lauro de Freitas, in the state of Bahia, Brazil.1
The East Brazil Union Mission is located in Eastern Brazil, in an area with approximately 1,700 kilometers of sea coast. The union includes churches in the states of Bahia and Sergipe. Its geographical area totals 586,649,519 square kilometers,2 with a population of 17,420,416 people.3
The population of Bahia is the largest in the Northeast and the fourth largest in Brazil. The majority of the inhabitants are of African descent.4 Most people are between 15 and 34 years old.5 As of 2015, the illiteracy rate by age group was 7.5 percent ages 7-14; 1.6 percent ages 15-17; and 13.5 percent ages 18+.6 Across the state, there are 23,015 schools (public and private) of basic education, serving more than 3.5 million students. The state is served by 116 institutions of higher education, including public (7) and private (109).7
The East Brazil Union Mission manages four conferences and three missions: the Bahia Conference, headquartered in the city of Salvador; Central Bahia Conference, headquartered in Feira de Santana; South Bahia Conference, headquartered in Itabuna; North Bahia Conference, headquartered in Juazeiro; Southwest Bahia Mission, headquartered in Vitória da Conquista; South Bahia Mission, headquartered in Eunápolis; and Sergipe Mission, located in the city of Aracajú, in Sergipe.8
The East Brazil Union Mission contains about 250 pastoral districts, 1,069 churches, and 1,501 groups. Membership is 206,912, led by 350 pastors, of whom 246 are ordained and 104 are licensed to the ministry. The territory includes two stores of the Brazil Publishing House, one in Salvador and another at Bahia Adventist College, as well as six stores of the Multibom factory.
The East Brazil Union Mission is home to 24 church schools and an Adventist college, with a total of about 14,000 students and 1,300 teachers. Bahia Adventist College is a university with more than 10 courses in the city of Cachoeira. A school health clinic located in the Capoeiruçu district, alongside an ADRA agency.9
The Bahia conference is served by Castelo Branco Adventist Academy, Liberdade Adventist Academy, Itapagipe Adventist Academy, Salvador Adventist Academy, São Caetano Adventist Academy, Lauro de Freitas Adventist Academy, Amaralina Adventist School, Jardim Cruzeiro Adventist School, Iapi Adventist School, Paripe Adventist School, and Praia Grande Adventist School.
The Central Bahia Conference is home to Feira de Santana Adventist Academy, Bahia Adventist Academy, Santo Antônio de Jesus Adventist Academy, and Valença Adventist School. The South Bahia Conference includes Eunápolis Adventist Academy, Teixeira de Freitas Adventist Academy, Ilhéus Adventist Academy, and Itabuna Adventist Academy. In the North Bahia Conference are Jacobina Adventist School and Juazeiro Adventist Academy. The Southwest Baha Mission has Barreiras Adventist Academy,Vitória da Conquista Adventist Academy, Itapetinga Adventist School, Adventist School of Itapetinga II, and Jequié Adventist School. The Sergipe Mission is served by Cerqueira Campos Adventist Academy and Lagarto Adventist Academy.
Hope Channel Brazil broadcasts on channel 39 in the Metropolitan Region of Salvador. In closed channels, Hope Channel Brazil is on channels 184 and 684 by NET and Claro TV;10 33 and 233 on SKY; and 14 and 214 on OI TV. In addition, New Time Radio operates in AM 920, available to more than 4.5 million inhabitants. Across the territory, there are about 73 re-transmitters.11
Organizational History
In 1995 the East Brazil Union was broken up and the Northeast Brazil Union created. The union oversaw the states of Alagoas, Bahia, Paraíba, Pernambuco, Rio Grande do Norte, and Sergipe, and received from the North Brazil Union the states of Ceará and Piauí.12
As the church grew, it chose to create a new administrative unit in the Northeast Region. In 2010 land was acquired in the Metropolitan Region of Salvador, 12.4 kilometers from Deputado Luís Eduardo Magalhães International Airport.
In 2012, the South American Division appointed administrators for the new institution, the East Brazil Union. Geovani Souto Queiróz was elected president; Cícero Gama, secretary; and Ivo de Azevedo Vasconcelos, treasurer. That November 11 and 12, the union General Assembly met, alongside the first East Brazil Union Mission General Assembly.13
Pastor Hebert Kleber, who left North Coast Conference, was elected to lead Adventurers, Pathfinders, Youth, and Music; Pastor Josanã Alves, who left the Northeast Mission, was appointed for the Christian Stewardship and Health departments; and Rosicler Queiroz was appointed to direct the Children's, Youth, and Women's Ministries. Professor Marcio Góes was elected to lead the Department of Education; Pastor Geraldo Magela, of the South Brazil Union, Publishing Ministry and Family; Pastor Osmar Borges, who left South Bahia Conference, Evangelism, Sabbath School, Small Groups, and Personal Ministry.14
On December 5, 2013, East Brazil Union Mission's headquarters was inaugurated at Ismar R. Prates, 819, in the Portão neighborhood, in Lauro Freitas, Grande Salvador, Bahia. At the time of its founding, the union had 984 churches and 173,657 members among the 15,058,490 inhabitants in its territory. Currently, the North Bahia Mission is also part of its territory.15
The creators who led the founding of the new administrative unit were: Geovani Souto Queiroz, Miguel Pinheiro Costa, Erton Kohler, Ivo de Sousa Vasconcelos, Antônio Hélio de S. Santiago, André de Sousa Dantas, Daniel Weber Thomas, Jairo Torres, Cleiton Lins da Mota, José Wilson Da Silva Barbosa, Moisés Moacir, Eliezer Junior, Carlos Ferreira da Silva, Adean Queiroz, Antônio Miguel, Dr. Elias Oliveira, and others. They encouraged local church directors, pastors, administrators, and church leaders to believe and work for the project. They saw the following reasons for undertaking it: (1) to seize the opportunity for Adventism growth in the region; (2) to better serve existing churches in the jurisdiction of Bahia and Sergipe; (3) to reduce distances between the fields and the institutions that administer them; and (4) to enable the creation of new denominational organizations, such as schools, colleges and offices, focused on advancing evangelical preaching.
The North Bahia Mission, now the North Bahia Conference, in Juazeiro, Bahia, was created in 2014. The South Bahia Mission will soon be headquartered in Eunápolis, Bahia.
In 2013, the union mission launched the Santuário de Esperança project with the objective of planting a thousand new churches in five years.16 On September 29, 2018, the "Time to Celebrate" meeting brought together 30,000 people at the Roberto Santos stadium in Salvador, and celebrated the construction of 1,000 new Adventist churches. The event was attended by conductor Williams Costa Junior and his wife, Sonete Costa; journalist Cid Moreira, who narrated a text of gratitude to God; American singer Wintley Phipps; and the Arautos do Rei quartet. Also present were Pastor Köller, president of the South American Division, and Pastor Queiroz, president of the East Brazil Union Mission, with the presidents of the regional headquarters. Pastor Mark Finley preached, and Pastor Luís Gonçalves, South American Division evangelist, conducted a ceremony in which 800 people were baptized.17
The mission has always worked to empower young students who dedicate their vacation to evangelism and service to their neighbors. The Calebe Mission project emerged in Bahia and is now a project carried out worldwide.18The Vida Por Vidas [Life for Lives] Project is one of the main contributors to the Hematology and Hemotherapy Foundation of Bahia (Hemoba). Through this project, the Adventist youth society donates blood frequently. In one of the last mobilizations,19 5,000 youth dressed in red to simulate a great bubble of blood.20
The East Brazil Union Mission also supports the Hope Impact project in its territory. Between 2013 and 2016, 8,785,000 missionary books were distributed. In 2019, the city Mata de São João, headquarters of the project that year, received 6,500 units.21 Through the Mutirão de Natal [Christmas Project], another project developed in 2013/2014, 45 tons of food were collected and donated.22 In addition, the union supported the organization of more than a thousand health fairs between 2015 and 2018, serving approximately 100, 000 people.23 Projeto Maná [Manna Project] helped distribute Sabbath school lesson quarterlies. Between 2013 and 2018, the union reached the mark of 496,317 subscriptions.
As a result of all these projects and the intense missionary work done by leaders and members, in 2013, 16,470 people were baptized; in 2014, 18,143; in 2015, 19,004; in 2016, 15,298; in 2017, 18,350; and in 2018, 18,423. In total, between 2013 and 2018, 105,379 new members joined the union.
The union's motto is "The Church of the Future," with the objective of making strong investments in the next generation to form new leaders. Projects include: (1) Lidere o Amanhã [Lead for Tomorrow], taking young people to Adventist universities to prepare them for direct missionary service; (2) A Year in Mission, which recruits and trains young people to serve in needy places for one year; (3) Caleb Mission, with an emphasis on acting in communities; (4) Adventurers, a program for children aged six to nine; (5) Pathfinder clubs, a social and evangelistic program for young people aged 10 to 15; and (6) Youth Society, to assist and evangelize people aged 16 to 36.
The East Brazil Union Mission adopts the mission of the Seventh-day Adventist Church, "to proclaim to all people the eternal gospel in the context of the three angels messages of Revelation 14: 6-12, leading them to accept Jesus as their personal Savior [...]."24 The union adopts this objective as an institutional mission and will work to create three more administrative units in its territory. The opening of South Bahia Mission has already been voted on; soon, it will go into operation. The West Bahia Mission, designed to have its headquarters in Barreiras, will assist the west of the state. Another project is East Bahia Mission, which will have its headquarters in one of the cities in the metropolitan region.
Today, the most challenging regions for East Brazil Union Mission evangelists are the following: Chapada Diamantina, in the center of the state, where there are few churches and few members; western Bahia, which is economically strong, but does not show homogeneous growth; and the Drought Quadrilateral. In the latter region, the population needs to leave their homes to look for water, food, work, and sustenance, which causes a great population exodus that makes evangelism difficult.
The East Brazil Union Mission faces three main challenges. One concerns the large cities and metropolitan regions of Aracaju and Salvador, with around 5.5 million inhabitants, involving social, economic, and cultural issues. Second, the challenge of poverty, both in the capital and in the countryside. Third is the drought that plagues the region, resulting in the frequent relocation of families. Nonetheless, the union collects positive experiences that inspire plans for the future with a view to fulfilling the Adventist goal of proclaiming the eternal gospel.25
Chronology of Administrative Officers
Presidents: Giovani Souto de Queiroz (2013-2018); Stanley Arco (2018-present).
Secretaries: Cícero Ferreira Gama (2013), Eber Liessi (2014-2015); Andre Henrique de S. Dantas (2016-present).
Treasurers: Ivo de Azevedo Vasconcelos (2013-2018); William Ferreira (2018-present).26
Sources
Alves, Roberto. "Adventistas inauguram Santuário da Esperança na região central da Bahia" [Adventists Inaugurating Sanctuary of Hope in central Bahia]. Notícias Adventistas (Online) [Adventist News Network], September 18, 2018.
Bahia, 2018. Census in Brazil, "Cidades e Estados" [Cities and States]. IBGE, July 11, 2019, https://bit.ly/2WY0tYX .
Bahia, 2018. Census in Brazil, "População" [Population]. IBGE, July 11, 2019, https://bit.ly/2MEEpOO.
Bahia Adventist College. http://www.adventista.edu.br/vestibular.
Brazilian Institute of Geography and Statistics (IBGE). https://www.ibge.gov.br/.
"Convocação da Assembleia Geral Extraordinária da União Nordeste Brasileira da Igreja Adventista do Sétimo Dia" [Convocation of the Extraordinary General Assembly of the Northeast Brazilian Union of the Seventh-day Adventist Church]. Revista Adventista [Adventist Review], June 2019.
East Brazil Union Mission. https://ulb.adventistas.org/.
Firmino, Thaiane. "Doação de sangue movimenta Hemocentro da Bahia" [Blood donation stirs up blood center in Bahia]. Notícias Adventistas (Online) [Adventist News Network], March 25, 2013.
Notícias Adventistas [Adventist News Network]. https://noticias.adventistas.org/en/.
Novo Tempo [Hope Channel Brazil]. http://novotempo.com.
Portal do Governo do Estado da Bahia [Bahia State Government Website]. http://www.educacao.ba.gov.br/ .
Relatório do pastor Geovani Queiróz no Concilio de Estela Mares, Salvador, Bahia, fevereiro de 2013 [Report by pastor Geovani Queiróz at the Council of Estela Mares, Salvador, Bahia, February 2013].
Santana, Heron. "Igreja na Bahia e em Sergipe inaugura nova sede administrativa" [Church in Bahia and Sergipe opens a new administrative headquarters]. Notícias Adventistas (Online) [Adventist News Networks], December 6, 2013.
Santana, Heron. "'Tempo de Celebrar' comemora construção de mil templos adventistas" ['Time to Celebrate' Inaugurating the construction of a thousand Adventist churches]. Notícias Adventistas (Online) [Adventist News Network], October 7, 2015.
Santana, Heron. "Voluntários entregam livros para moradores de cidade do litoral baiano" [Volunteers deliver books to inhabitants of a city in the coast of Bahia]. Notícias Adventistas (Online) [Adventist News Network], May 18, 2019.
Sella, Luiz Fernando and Daniela Tiemi Kanno. Manual da Feira de Saúde [Health Fair Manual]. South American Division, 2015.
Sergipe, 2018. Census in Brazil, "Cidades e Estados" [Cities and States]. IBGE, July 11, 2019. https://bit.ly/2XxVgEw.
Seventh-day Adventist Church (Brazil) Website. https://www.adventistas.org/en/.
Seventh-day Adventist Yearbook. Various years. https://www.adventistyearbook.org/.
Silva, Natan Fernandes and Nesias Joaquim dos Santos. Contando nossa História: 110 anos da Igreja Adventista do Sétimo Dia No estado da Bahia [Telling our History: 110 Years of the Seventh-day Adventist Church in the state of Bahia]. Salvador, BA: EGBA Empresa Gráfica da Bahia [Bahia Graphics Company], 2016.
Silva, Natan Fernandes. Os presidentes da Igreja Adventista no Estado da Bahia [Adventist church presidents in the state of Bahia]. Cachoeira, BA: Ceplib Centro de produção literária [Ceplib Center for Literary Production], 2015.
Vida por Vidas [Life for Lives]. http://www.vidaporvidas.com/pt/.
Vote 2011-333 AG - Northeast Brazil Union Mission - reorganization - register.
Vote of the initial meeting of the East Brazil Union Mission in 2012.
Notes