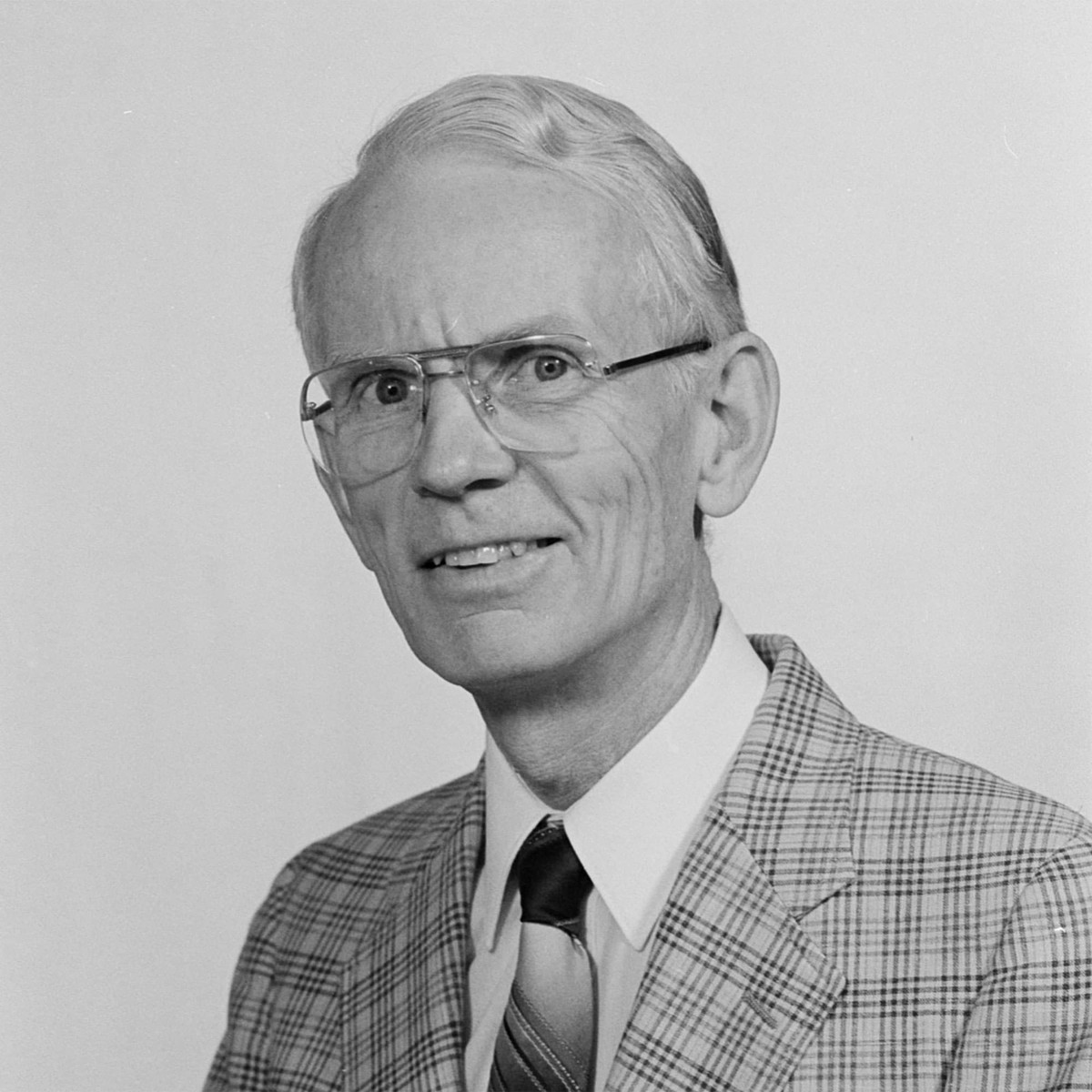 Neall, Ralph Eugene (1927–2021)
×
Sabrina Riley was born in Auburn, New York and raised in Dowagiac, Michigan. She received a B.A. in history from Andrews University and an M.A. in information and libraries studies from the University of Michigan. Riley was a member of Andrews University's library staff from 1998 to 2003, library director and college archivist at Union College from 2003 to 2016, and is presently a freelance researcher, author, and information professional.
First Published: May 12, 2022
Ralph Neall was an Adventist minister, administrator, and educator.
Early Life
Ralph Eugene Neall was born October 21, 1927, in Hinsdale, Illinois, to Virle Raitt Neall (1894-1979) and Marvelle Eastman (1893-1975). At the time his father was working as a clerk at the Hinsdale Sanitarium. Earlier in his career, Virle Neall had served A. G. Daniells and I. H. Evans as secretary. He later worked for the Review and Herald Publishing Association and, among other positions, was secretary-treasurer of the Wisconsin Conference and auditor for the New York Conference.1 Consequently, Ralph was raised in New York. Ralph Neall's grandfather, John Howard Neall, pioneered Adventist medical mission work in Guadalajara, Mexico.2 His only brother, Ronald (1930-2014) was also a Seventh-day Adventist minister.3
Education and Family
Ralph Neall graduated from Union Springs Academy in 1945. During his senior year, he was both editor of the student newspaper, the Echo, and senior class pastor.4 He was also an honor roll student.5 Following academy, Neall attended Atlantic Union College from which he graduated in 1949 with a Bachelor of Arts in theology.6 He earned a Master of Divinity degree in 1971 and Ph.D. in religion, both from Andrews University. He completed his dissertation in 1982.7
On August 16, 1949, in South Pasadena, California, Neall married Beatrice May Short (1929-2019). Although they had known each other in New York State, much of their courtship was conducted by correspondence—including his proposal of marriage—because Beatrice was attending La Sierra College (now La Sierra University).8 Two children were born to the Nealls: a son, Randolph "Randy" Eugene and a daughter, Cheryl Cynthia.9
Career
While a student at Atlantic Union College, Neall worked as a colporteur.10 Following college graduation, he was assigned to assist O. D. Wright with evangelism in Rochester, New York.11 After a few years, Neall was assigned as pastor of the Batavia and Albion churches,12 and later the Wayland church, all in New York.13 He was ordained in 1954 or 1955.14 In 1955-1956, Neall accepted a one-year evangelistic appointment to Bermuda, where his family resided in Hamilton. His work was quite successful, resulting in thirty-five baptisms in the first six months.15 This number climbed to sixty by the time the Nealls departed Bermuda in July 1956.16
Following their return to New York from Bermuda, the Nealls accepted a call from the General Conference17 to revive the Seventh-day Adventist Church in Cambodia, which through relocation and death had been effectively extinguished during World War II. The New York Conference honored them with a farewell during the camp meeting held at Union Springs Academy in 1957.18 The Neall family sailed to Asia aboard the SS President Jefferson. Departing San Francisco on August 27, 1957, their journey took more than three weeks, including stops in Guam, Manila, Java, and Singapore, where they renewed or made the acquaintances of fellow Atlantic Union College alumni and other Adventist missionaries. Upon arriving at Phnom Penh, Cambodia, their final destination, they were greeted by four Adventist Chinese families, the only church members in the nation. The Nealls' first task was to learn the language.19
By the end of his first year in the Cambodia District,20 Neall was able to preach in the local language. Although still living with one of the Chinese families, land had been purchased on which to build a new mission house. Most importantly, Neall made contact with a former Cambodian church member, who was able to tell him what had happened to the church members named in the 1941 list provided by Robert Bentz, the former evangelist of the French-Indochina Mission.21 On November 1, 1958, a new Phnom Penh church was organized by H. Carl Currie, president of the Southeast Asia Union,22 although the first baptism in Cambodia since before World War II did not take place until 1959,23 and even then, no native Cambodians were baptized until 1961.24 This modest beginning was hampered by both the strong Buddhist influence in the country and the deteriorating political situation in Southeast Asia. When the Nealls returned to the United States on furlough in 1963—during which Neall studied at Andrews University—there was still only one Adventist church in Cambodia, with a membership of eighteen.25 Although the Nealls did return to Cambodia in 1964, their continued residency soon became untenable due to the escalating political tension and the severing of diplomatic ties between Cambodia and the United States.
Consequently, in 1965, Neall became president of the South Vietnam Mission and his family moved to Saigon.26 In Vietnam, not only did Neall minister to Adventist nationals, he also offered spiritual support to Adventist service personnel from the United States.27 Among the highlights of his tenure was a retreat for American servicemen in 1960,28 and the baptism of forty-eight Viet Cong prisoners on December 2, 1967.29 Neall also served as president of the new ministerial training school in Saigan.30 However, it was a tense and uncertain time. A friend of the Nealls in Vietnam, Carlyle Welch, recalled that while Ralph Neall was still president of the Seventh-day Adventist Mission in the war-torn country, the two men stood
together in the mission compound while a Cobra helicopter lay down machine gun fire at a target 100 yards away. "Are they shooting at us?" asked a nervous Beatrice. "No, they're just circling overhead," replied Neall as he continued to watch the show. "He was a calming force," said Welch. "He didn't get all excited and I think that's such a gift for difficult situations."31
In 1969, Neall was granted a sixteen-month study leave to continue graduate education at Andrews University with the understanding he would join that faculty at Southeast Asia Union College when he returned to the Far Eastern Division.32 Before returning to the Southeast Asia Union, he represented the union as a delegate to the General Conference session in 1970.33 In 1971, he became chair of the Southeast Asia Union College's Bible department in Singapore, while simultaneously serving as pastor of the college's church.34
The Nealls' permanent return to the United States was approved in 1974, effective August 30, 1974. The General Conference "VOTED, To express appreciation to Ralph E. Neall who has served in the Far Eastern Division since 1957, for his service in Cambodia, Vietnam and most recently in Southeast Asia Union College."35 Subsequent to his return to the United States, Neall served as a member of the Adult Sabbath School Lesson Committee in 1975.36
In 1976, Neall accepted a call to Union College, where both he and his wife taught in the religion department from 1976 to 1994. Part of that time he was chair of the religion department. During the 1990-1991 academic year, Neall was the faculty representative on the Union College board of trustees.37 While at Union College, he continued to serve the broader church with engagements such as speaking at the New York camp meeting in 1989.38 Other service to the denomination included membership on the Biblical Research Committee39 and participation in the Glacier View Conference. 40
Neall was appreciated for his kindness, gentleness and thoughtfulness. Colleague George Gibson remembered a student asking Neall for his opinion of Desmond Ford's controversial manuscript on the investigative judgement, which was causing a disruption in the Adventist Church at the time. "Many people would have been happy to share their hot take without a moment's research into the 991-page document, but not Neall. 'I haven't read it,' he said. 'Let me read it first and then we'll talk about it.'"41
Later Life
After Neall retired from teaching in 1994, he pastored the Capital View church in Lincoln, Nebraska, for a brief time. Ralph and Beatrice Neall both served as theology lecturers at Avondale College in Cooranbong, New South Wales, Australia, in 1997. 42 They also briefly returned to teach at Union College in the spring of 2005 when the unexpected departure of a faculty member created a minor crisis. In 2005 as well, the Neall's moved to Ooltewah, Tennessee, where they became involved in outreach to the local Muslim community in Chattanooga. Beatrice Neall died on December 8, 2019. Ralph Neall died on June 11, 2021, in Ooltewah, Tennessee.43
Sources
"Assisting Elder Wright." Atlantic Union Gleaner, September 27, 1949.
"Bermuda." Atlantic Union Gleaner, August 22, 1955.
California, County Birth, Marriage, and Death Records, 1849-1980. Digital image. Ancestry.com, 2017. Accessed August 9, 2020. https://www.ancestry.com.
Capman, H. J. "Your Mission Field and Mine." Atlantic Union Gleaner, April 29, 1957.
Clark, S. L. "Atlantic Union College Colporteur Rally." Atlantic Union Gleaner, March 11, 1947.
Currie, H. C. "Southeast Asia Union Mission." Far Eastern Division Outlook, January 1960.
Dick, Linda. "Dr. Beatrice Neall: Minister." Outlook (Mid-America Union), December 1987.
"District Changes." Atlantic Union Gleaner, July 22, 1952.
"Far East Delegation to the General Conference Session—1970." Far Eastern Division Outlook, May 1970.
General Conference Committee. General Conference Archives. Accessed April 26, 2022. https://documents.adventistarchives.org/Minutes/GCC.
"Graduation Exercises." Atlantic Union Gleaner, June 14, 1949.
Jenkins, H. Reese. "Bermuda." Atlantic Union Gleaner, July 16, 1956.
"John Howard Neall obituary." ARH, December 24, 1936.
Martin, C. D. "U.S. Servicemen's Weekend in Saigon." Far Eastern Division Outlook, March 1960.
Millard, F. R. "S.D.A. Servicemen in Vietnam." Atlantic Union Gleaner, December 6, 1965.
National Archives at St. Louis. St. Louis, Missouri. Draft Registration Cards for Massachusetts, 10/16/1940-03/31/1947. Record Group: Records of the Selective Service System, 147; Box: 705. Accessed April 13, 2022. https://ancestry.com.
Neall, Beatrice. "Letter From the Nealls." Atlantic Union Gleaner, December 15, 1958.
Neall, R. E. "The First in Fifteen Years." Far Eastern Division Outlook, November 1961.
Neall, Ralph. "Forty-eight Viet Cong Prisoners Baptized in Vietnam." Far Eastern Division Outlook, January 1968.
Neall, Ralph E. How Long, O Lord? Hagerstown, MD: Review and Herald Publishing Association, 1988.
Neall, Ralph E. "The Nearness and the Delay of the Parousia in the Writings of Ellen G. White." PhD diss., Andrews University, 1982.
Neall, Ralph E. Reflections on the Judgment Theme in the Writings of Mrs. E.G. White. Term paper, Andrews University, Seventh-day Adventist Theological Seminary, 1976.
Neall, Ralph and Beatrice Neall. "Nealls Arrive in Cambodia." Atlantic Union Gleaner, November 11, 1957.
Neall, Ralph Eugene, and Beatrice M. Neall. The Rains Descended and the Floods Came: A Survey of the Seventh-Day Adventist Church in Communist China. [Place of publication not identified]: [publisher not identified], 1971.
"News From Here and There." Far Eastern Division Outlook, January 1959.
"News From Here and There." Far Eastern Division Outlook, April 1969.
"1989 New York Camp Meeting." Atlantic Union Gleaner, May 4, 1989.
"Notes of Progress." Atlantic Union Gleaner, January 9, 1956.
"Ralph E. Neall obituary." Dignity Memorial, 2022. Accessed April 27, 2022. https://www.dignitymemorial.com/obituaries/chattanooga-tn/ralph-neall-10230737.
"Rochester District." Atlantic Union Gleaner, January 29, 1952.
"Ronald R. Neall obituary." Find a Grave. 2022. Accessed April 25, 2022. https://www.findagrave.com/memorial/130524829/ronald-r-neall.
"S. A. U. C. News Notes." Far Eastern Division Outlook, October 1971.
Seventh-day Adventist Yearbook. Washington, D.C.: Review and Herald Publishing Association, 1957-1975.
"They Still Go." ARH, December 11, 1997.
"Union Springs Academy." Atlantic Union Gleaner, November 10, 1944.
"Union Springs Academy." Atlantic Union Gleaner, February 23, 1945.
"Union Springs Academy." Atlantic Union Gleaner, March 9, 1945.
"Virle R. Neall obituary." ARH, October 25, 1979.
Wagner, Deena. "Ralph and Beatrice Neall Will Join College Staff." Central Union Reaper, January 27, 1977.
Notes