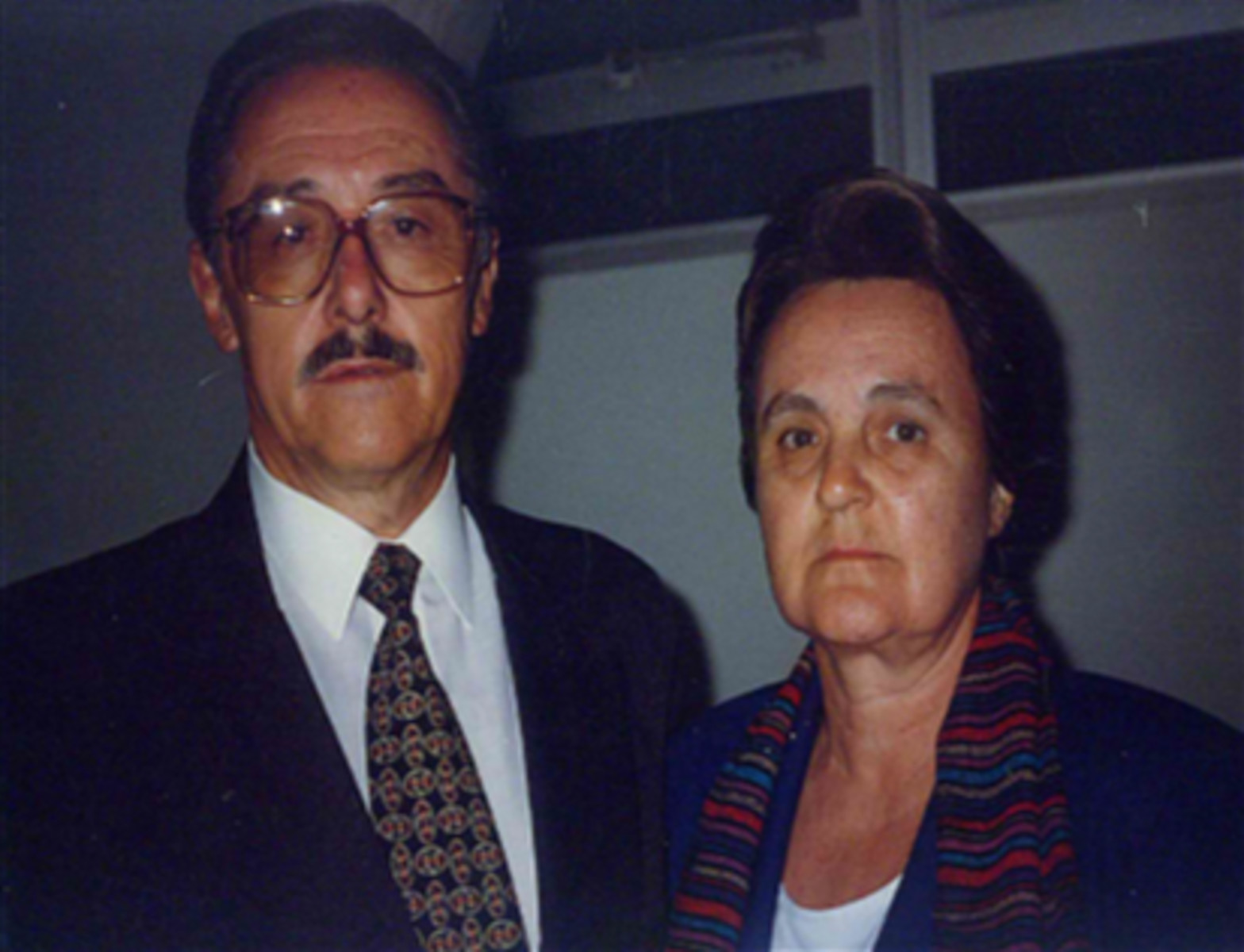 Souza, Oleval Aniceto de (1936–2015)
×
The Brazilian White Center – UNASP is a team of teachers and students at the Brazilian Ellen G. White Research Center – UNASP at the Brazilian Adventist University, Campus Engenheiro, Coelho, SP. The team was supervised by Drs. Adolfo Semo Suárez, Renato Stencel, and Carlos Flávio Teixeira. Bruno Sales Gomes Ferreira provided technical support. The following names are of team members: Adriane Ferrari Silva, Álan Gracioto Alexandre, Allen Jair Urcia Santa Cruz, Camila Chede Amaral Lucena, Camilla Rodrigues Seixas, Daniel Fernandes Teodoro, Danillo Alfredo Rios Junior, Danilo Fauster de Souza, Débora Arana Mayer, Elvis Eli Martins Filho, Felipe Cardoso do Nascimento, Fernanda Nascimento Oliveira, Gabriel Pilon Galvani, Giovana de Castro Vaz, Guilherme Cardoso Ricardo Martins, Gustavo Costa Vieira Novaes, Ingrid Sthéfane Santos Andrade, Isabela Pimenta Gravina, Ivo Ribeiro de Carvalho, Jhoseyr Davison Voos dos Santos, João Lucas Moraes Pereira, Kalline Meira Rocha Santos, Larissa Menegazzo Nunes, Letícia Miola Figueiredo, Luan Alves Cota Mól, Lucas Almeida dos Santos, Lucas Arteaga Aquino, Lucas Dias de Melo, Matheus Brabo Peres, Mayla Magaieski Graepp, Milena Guimarães Silva, Natália Padilha Corrêa, Rafaela Lima Gouvêa, Rogel Maio Nogueira Tavares Filho, Ryan Matheus do Ouro Medeiros, Samara Souza Santos, Sergio Henrique Micael Santos, Suelen Alves de Almeida, Talita Paim Veloso de Castro, Thais Cristina Benedetti, Thaís Caroline de Almeida Lima, Vanessa Stehling Belgd, Victor Alves Pereira, Vinicios Fernandes Alencar, Vinícius Pereira Nascimento, Vitória Regina Boita da Silva, William Edward Timm, Julio Cesar Ribeiro, Ellen Deó Bortolotte, Maria Júlia dos Santos Galvani, Giovana Souto Pereira, Victor Hugo Vaz Storch, and Dinely Luana Pereira.
First Published: July 24, 2021
Oleval Aniceto was a treasurer and administrator in Brazil.
Oleval Aniceto was born on May 18, 1936, in the district of Rio dos Sinos in the city of Santo Antônio da Patrulha in the state of Rio Grande do Sul, Brazil.1 The son of José Aniceto de Souza and Regina Rosa de Jesus, he had eight siblings: Valdomiro, Oscar, Paulino, Edite, Zila, Osvaldo, Valter, and Anilda.2
When he turned three years old, his family moved to the District of Campestre to work the land of an uncle. It was this uncle who presented the Adventist message to his father who, before his conversion, was an alcoholic and a smoker. In order to understand more about God's Word, his father learned to read and became an avid student of the Bible. He also acquired the habit of praying and led the daily family worship at mornings and evenings, thus exerting a great influence in his children's development.3
Oleval completed his primary education at the Camprestre Adventist School, which was located next to the local church building.4 At nine years of age, he lost his father, who died from tetanus.5 His family went through many sacrifices in order to pay for an Adventist education for their children, so this loss was especially harsh on them. Oleval had been used to working in agriculture since a young age, and among his tasks was to lead a group of oxen to plow the land. On his 15th birthday, he was baptized by Pastor Lourival Ferreira.6
At the age of 18, he was summoned to serve the army and took the Army Corporal course. Fearing that this profession would cause him difficulties to keep the Sabbath, he left the military and returned home, where he resumed his work in the fields.7
Years later, in 1958, he was invited to sing baritone in the Cruzeiro do Sul quartet, which was composed of students at the Rio Grande do Sul Academy (today IACS) in Taquara. Oleval was able to study that year at the school and participate in many trips with the quartet in order to promote the Academy with the resources he had earned from the rice crop.8
His plans for the following days were to work in a factory during daytime and study at night. However, God had other plans for him. In October of 1958, he was hired by a friend to work as an office-boy and auxiliary at the Rio Grande do Sul Conference. His duties included packing and dispatching the books for the canvassers, sending mail at the post office and all the tasks that had to be done at street. After three years, he was promoted to be a regular worker. 9
In February 9, 1961, he married Ercy Kern Wolff, whom he had met at Rio Grande do Sul Academy. From their union, three daughters were born: Janice, Josiane, and Josselize.10
At end of 1963, Oleval decided to leave the Rio Grande do Sul Conference and enter into a partnership with his brothers and a brother-in-law to grow irrigated rice in the São Francisco River valley in the state of Minas Gerais. However, due to a flood, the plantation was almost entirely destroyed, and much of the work was lost.11
A year after this, Oleval accepted a call from the East Brazil Union Mission to become cashier of the Luminar Medical-missionary Launch II and treasurer of an agricultural school founded by Pastor Carlos Sofield at the São Francisco riverbanks. However, his wife was continually sick with malaria and, due to medical and the pastor's recommendations, they returned to Taquara in 1966.12
There, Oleval canvassed for six months until accepting an invitation to work at Rio Grande do Sul Academy, responsible for the cattle and the dairy. In three months, they managed to double milk production from 300 to 600 liters. Over time, he was promoted to manager of the school's grocery and of the purchasing sector; then he worked as a cashier for four years. In 1969, he concluded a technical course in Accounting at Colégio Comercial Dr. Edmundo Staf. In 1971, he became the school treasurer.13
In early 1972, Oleval accepted a call to serve as treasurer of Brazil College (today UNASP-SP), where he learned many important skills for his profession since the Nursing School and the church temple were being constructed. However, in July of 1973, his youngest daughter developed serious Asma complications and was only saved by a miracle. Thus, the Church appointed him as treasurer of the South Mato Grosso Mission where the climate was more favorable. Many were the hardships faced due to financial conditions, but still the Mission's headquarters were constructed in addition to 14 houses for pastors and an evangelistic center. Also, more pastors were hired, and the number of pastoral districts doubled.14
In July 1977, he accepted a call to be treasurer for the Lower Amazon Mission, which was headquartered in Belém in the state of Pará. During a six-year period, 16 pastoral houses were built, and the number of pastoral districts increased from 10 to 27. One of the strategies he supported was to build houses for church workers and, in this way, save money through rental assistance, thus opening the way for hiring new pastors and preaching the Gospel in new places.15 In March 12, 1983, he was ordained to the ministry, thus able to perform baptisms and marriages in the regions he visited since in many of them, there weren't any ordained church workers.16
In July 1983, he was appointed as treasurer of the Central Amazon Mission, where he served until July 1984. During this period, he participated as one of the officiating pastors of a great baptism in the Negro River where 500 people were baptized. Afterwards, he was appointed as secretary and treasurer of the North Mato Grosso Mission where, in four years, 15 houses for pastors were constructed and many new pastoral districts were established.17
In 1989, he was appointed as administrative director of the São Roque Adventist Clinic in the state of São Paulo. In the meantime, he participated in 1990 of an intensive Theology course offered by the South America Division held in Itaipava in the countryside of São Paulo. Afterwards, he worked as treasurer of UNASP on the campus Engenheiro Coelho until his retirement in 1996.18
From 2004 on, he worked as treasurer for the Adventist Retired Workers of the Central Brazil Union Conference in the city of Artur Nogueira in the state of São Paulo.19 Pastor Oleval died in 2015 at the age of 78, and is remembered for the 35-year contribution he left for the Adventist Church in Brazil as a treasurer and administrator in which he sought to promote the expansion of the Adventist message into new fields.20
Sources
"Novo Colégio." Revista Adventista 73, no. 1 (January 1978): 19-20.
"Ordenação ao Ministério." Revista Adventista 78, no. 5 (May 1983): 33.
"Oleval Aniceto de Souza obituary." Revista Adventista 110, no. 1297 (May 2015): 32.
Pinto, Wilson Luiz. "Vida e Obra do pastor Oleval Aniceto de Souza." Monograph, Brazil College, 1996.
Sarli, Tercio. Minha Vida De Pastor: Setenta Pastores De Sua Vida E De Sua Vida E De Seu Ministério. 1st edition, Tatuí, SP: Casa Publicadora Brasileira, 2009.
Notes