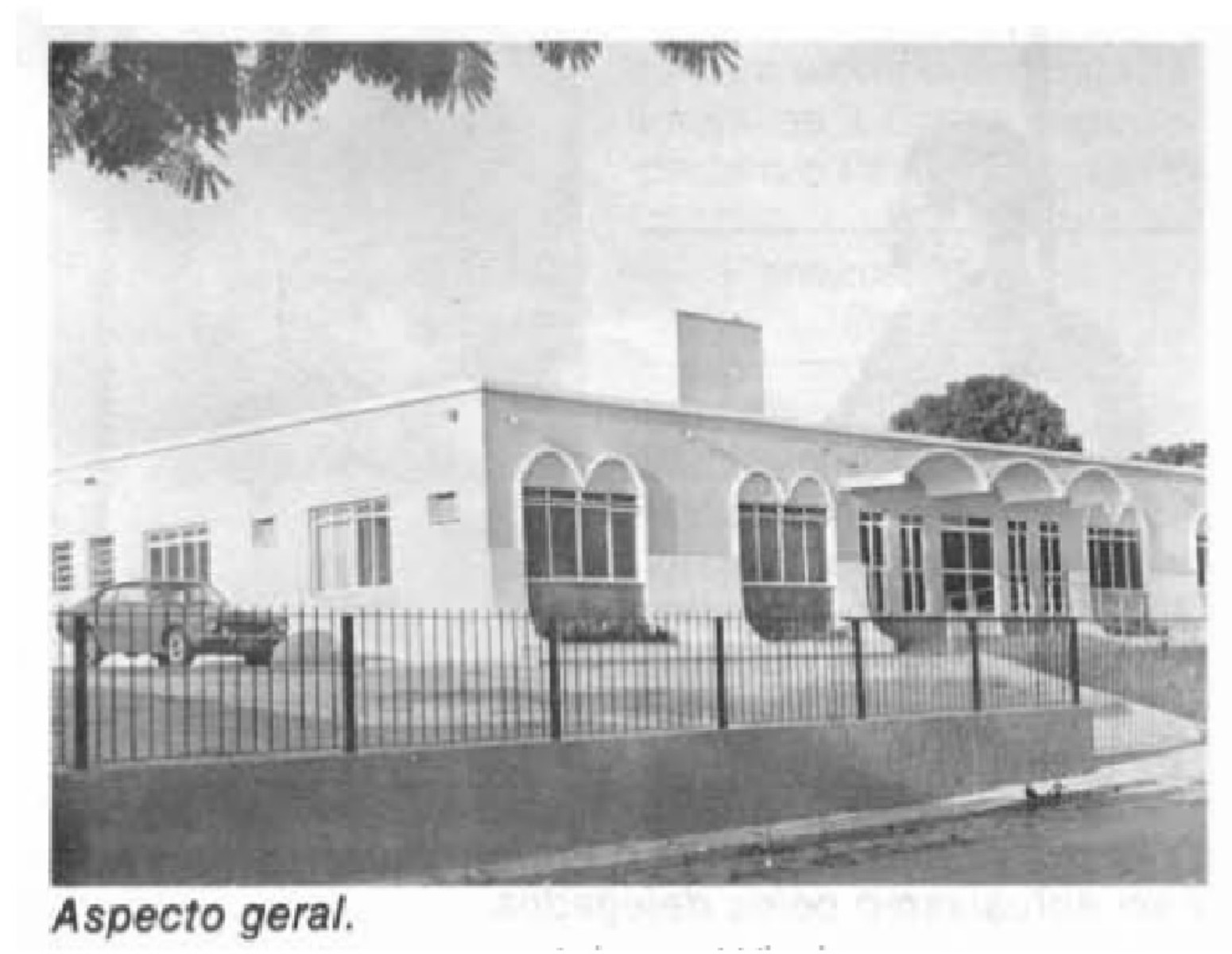 Espirito Santo Adventist Hospital (1982–2000)
The first Adventist Hospital in the state of Espírito Santo operated for 18 years in the county of Vila Velha, offering quality medical care combined with gospel preaching. Known as Vitoria Adventist Hospital (HAV) it carried this name for 14 years until it was renamed as the Espírito Santo Adventist Hospital in 1996.
During its operating time (1982-2000), it was located on a 9688 sq. ft. (900 m²) corner plot at Rua dos Expedicionários, 72, Cristóvão Colombo (former Soteco district), Vila Velha, state of Espírito Santo, Brazil. 
Developments Leading to Establishment of the Institution
The county of Vila Velha is one of the first cities established in the state of Espírito Santo, besides being one of the oldest municipalities in Brazilian territory. It has one of the 10 largest chocolate factories in the world1 and is known for having some of the most relevant tourist spots in the state, including Penha Convent, Piratininga Fort, and Santa Luzia Lighthouse.2
Espírito Santo Adventist Hospital (HESSC) has been a major reference for the medical missionary work of the Adventist Church in the state of Espírito Santo.3 Vila Velha was chosen for the establishment of the hospital because it is "the cradle of Adventist work in Espírito Santo."4 There the first administrative meeting of Espírito Santo Mission, founded on May 10, 1925,5 took place.
In the 1970s, there was significant growth of the Church in this state and in those years a number of people completed a series of Bible studies provided by The Voice of Prophecy radio program.6 The growth achieved through the evangelistic campaigns that reached large numbers of baptisms was accompanied by the opening of new churches in the central region of the state, as church members participated and often assisted in these campaigns.7 Currently, in 2019, in Vila Velha, there are 47 congregations and two Adventist schools located in the Ibes neighborhood, which seek to base their teachings on Bible principles by uniting excellence in teaching with Christian values.8
With the spread of the Adventist message in the region as early as the 1970s, church administrative leaders concurred that the time had come to invest in medical missionary work.9 Initially, Pastor Palmer Harder built a social welfare center,10 which inspired leaders to establish an institution that combined gospel preaching with integral needs.11
In September 1972, the East Brazil Union Conference (EBUC) held a major event in commemoration of its 75 years of existence in the state of Espírito Santo.12 On the same occasion, the faithful ones learned about the arrival of Adventism in Espírito Santo territory. The arrival of the message came through canvassing, but to rekindle the will to continue preaching the gospel in areas not yet reached by the Advent message, it was necessary to use new methods.13
In 1978, the South America Division (SAD) assessed its growth across the Brazilian countryside and devised new ventures for the following year.14 In its report of the predominantly educational projections, it took the opportunity to state the following about medical institutions: We believe there is a need to build new hospitals and clinics in our country."15 This stimulus gave impetus to what would come in the following years.
Foundation of the Institution
The medical institution was to first function as a clinic because of its small size until it grew large enough to become a hospital.16 However, the institution was opened as a hospital because following some meetings with church leaders the Adventist Hospital Group of Brazil (GHAB) decided that other institutions would provide sufficient support to begin work in this way until the hospital became self-sustaining.17
The East Brazil Union Conference administered medical missionary institutions in its territory, such as Silvestre Hospital and three other clinics at the time. Although relevant in their respective regions, such institutions lacked support to broadly and closely serve Adventists and the population of states such as Rio de Janeiro, Espírito Santo, Minas Gerais, and some states in northeastern Brazil.18
In this context, the administration of Espírito Santo Conference (ESSC) held an administrative meeting on February 6, 1974 and voted to cancel the arrival of a worker who would assist at the conference and instead, a doctor was hired, providing part of the necessary resources for the operation of a clinic that would be fully established and inaugurated as the Vitoria Adventist Hospital in 1982.19 However, planning and resources were still needed, which would require the support of higher levels of the Church. That support came as the SAD, concerned that the field of action was extensive and engaged in the purpose of carrying the Advent message to all countries in its territory, studied ways to succeed in facing this challenge.
At the same time, and for the same purpose worldwide, the General Conference launched a project called "Adventure of Faith" which was promptly adopted by the SAD.20 The purpose of the program was to carry the Advent message by "penetrating into new territories, evangelizing new metropolises, cities, and towns, and establishing the work in these places."21 The project encouraged the faithful to bring specific offerings to the churches for this purpose on specific days of worship, and finally each local organization was to apply the offerings to their most necessary needs.
The program has been successful worldwide. In the 1979 Adventist Review, Pastor Neal Wilson, then president of the General Conference, stated that this project had had the highest Adventist Church fundraising, and had gained a large number of followers from new members since its launch.22 It was the time for beneficiary institutions to advance the preaching of the gospel in the poorest regions.23 From this opportunity, on July 4, 1975, Espírito Santo Conference approved, by vote 74/688, the allocation of offerings from the plan entitled "Adventure of Faith," whose balance would be reversed by 30 percent to build a clinic. In the following years, this percentage reached 50 percent.24
The venue for the construction of this important building was a former site where Adventist youth formerly held meetings for the lively "social hour," located on a beautiful hill seven miles (12 km) from the capital, Vitória.25 The clinic's construction project was approved on March 10, 1977.
With the work in progress, in May 1979 the construction was budgeted at Cr$ 3,000,000.00. Espírito Santo Conference requested help from the East Brazil Union Conference of 25 percent of the value.26 With the work in progress it was noted that the amount raised to that point would not be sufficient to complete the project, as the equipment was still missing. As a result, Espírito Santo Conference requested permission from the higher levels of the Church to make a bank loan of up to $15,000,000.00. Following DSA's approval, the East Brazil Union Conference accepted this request in October 1981. In this same vote it was specified that the financial responsibility for the work and for the repayment of the loan to the bank would be the Adventist Hospital Group of Brazil (GHAB).27
In addition to the contributions received for the opening of the hospital, donations were also required. Several Adventist Church health institutions had been solicitous and had made donations ranging from simple materials such as bandages, to furniture, such as stretchers. In Brazil, Adventist Silvestre Hospital (HAS) and Belém Adventist Hospital (HAB) were among the institutions that helped. There were also donations from a California hospital, Florida Adventist Hospital, Loma Linda University, and SDA World service-USA, among other foreign institutions.
Given this support, Vitoria Adventist Hospital had the opportunity to begin activities with a qualified and competent team who were committed to its medical missionary purpose. The day of its inauguration was March 4, 1982. Vitoria Adventist Hospital had a capacity of 25 beds, three offices, a clinical analysis laboratory, a complete X-ray room, nursery, operating theater, nursing station, four bedrooms, three apartments, cafeterias, kitchen, living room, and chapel, among other ambiences. With a small but modern structure, the hospital functioned under the leadership of the Adventist Hospital Group of Brazil.28
Vitoria Adventist Hospital's opening ceremony included a ribbon cutting and a cocktail which was served to its staff and 200 other guests including "civilian, military, and Adventist organization leaders."29 The highlight of the event was the baptism of Doctors Octavius and Aldemina Koch, a testimony that closed the inaugural ceremony. Thus the hospital began its story by bringing the Advent message to people, which continued until the end.
Dr. Daniel José dos Reis was the first medical director,30 while Pastor Floriano Keller was the hospital administrator. He had worked at the Belém Adventist Hospital, along with his wife, who was the first nurse.31 Two days after the inauguration, Pastor Fernando de Almeida, head of Vila Velha district, led a thanksgiving service for the latest events in the hospital chapel, which gathered all its servers.32
The hospital staff's vocation for service was demonstrated even before the formal inauguration of the Vitoria Adventist Hospital when, about a month before opening, Dr. Daniel performed bilateral gynecomastia surgery on behalf of the hospital.33 The procedure was performed at Santa Monica Health and Maternity House and the patient was a 14-year-old adolescent. The cost of this procedure was around Cr$ 1,500.00.34 Prior to the inauguration, there was another emergency call and this time the receiver was an Vitoria Adventist Hospital employee.35
With the hospital officially opened, in March 1982, its two directors were able to attend an event which gathered over 500 people, including other directors of other Adventist medical institutions in Brazil. This meeting, held on December 7, celebrated the 40th anniversary of medical work in Brazil and Vitoria Adventist Hospital was represented as the youngest of the Adventist Church's medical institutions at the time.36
History of the Institution
The Vitoria Adventist Hospital began its journey of service shortly after its inauguration. On November 5, 1982, a child named Marcos, just over one-year old, was admitted to the hospital emergency room. He had suffered a car accident with his parents, and his mother was pregnant. The details of the dramatic account were told by the boy's father, Fernando, who was then a pastor in Vila Velha. The accident occurred when, upon returning from an antenatal appointment, they collided with a runaway truck and miraculously, everyone involved in the accident survived. At the end of his report, Fernando thanked God and the Vitoria Adventist Hospital staff who cared for his son during the seven days the child was hospitalized.37
But not all calls had a happy ending. A sad note echoed in the hospital corridors on April 30, 1986 when a five-year-old girl died after an intense fight against leukemia. Aline Almeida was one of four daughters of Pastor Alcy Tarcísio de Almeida, President of Espírito Santo Conference at the time.38 During her burial, there was a great mobilization of the whole Church in Brazil and even politicians from the state of Espírito Santo. The burial was attended by over 1,000 people, including Deputy Nelson Aguiar, who represented the governor of Espírito Santo.39
However, among joys and sorrows, Vitoria Adventist Hospital sought to fulfill its mission of bringing hope to people. The hospital not only offered medical treatments, but also employee service programs. Led by a pastor, the programs contained fasts, testimonies, Sabbath School lesson study, prayer, and inspiring preaching with applications to the medical missionary context. These services helped relieve the pressure on health care workers and nurtured families in difficult times.40
An important administrative change took place on January 4, 1984 when the East Brazil Union Conference met in assembly for the primary purpose of appointing its leaders. Vitoria Adventist Hospital was incorporated into the union, making the hospital no longer the responsibility of Espírito Santo Conference, but directly assisted by the East Brazil Union Conference.41
Due to its growth, in 1988, six years after its opening, the hospital acquired new land next to the building where it operated. The goal was to reach the 40-bed mark soon.42 Vitoria Adventist Hospital had had many achievements in its first 10 years of existence and there had been occasional improvements in some of its sectors. The operating room, for example, had acquired a microscope for performing different types of microsurgery. Another sector that received new equipment was the laboratory: an automatic cell counter and a digital spectrometer, both to aid speeding up the exams and their results.43
The laundry sector was improved by separating it from other hospital sectors, which was important in hospital infection control, and the acquisition of new washing machines, as the hospital laundry worked with household machines. In addition. the laundry received a calender, a dryer, a spinner, and a cabinet. To accommodate this equipment, it was necessary to increase the physical structure.44
A Thanksgiving service was held on May 23, 1993, in gratitude to God for the results obtained from the laundry room expansion. Directed by Pastors Tito Rodrigues, director of the Department of Health of the South American Divsion, and José Correia of the East Brazil Union Conference, the ceremony was attended by some distinguished guests, including the Mayor of Vila Velha and Dr. Vasco Alves.45 The sterilization center and the physiotherapy sector received new equipment, among other sectors, which also received improvements due to the growing number of medical services.
However, the progress of Vitoria Adventist Hospital extended beyond investments in equipment and structures to hiring and training people. The 13 beds, which were distributed in five apartments, as well as the two wards, clinical analysis laboratory, and operating theater, were assisted by 42 employees, seven of them workers. The non-Adventist physician or servant was made aware of the philosophy and practice of that hospital, and in accepting work there, had to adopt a Christian professional stance in accordance with pre-established principles.46
Thus, Vitoria Adventist Hospital was gaining relevance within and beyond the Adventist scope. In the 1990s, the hospital worked in conjunction with mobile clinics to support Adventist welfare. Some of these clinics only came into operation because of donations from large companies like Golden Cross.47
The hospital became known and received recognition by society and authorities. The mayor of Vila Velha, Doctor Vasco Alves, after winning the municipal elections, held a service of gratitude and invited the hospital board, who kindly participated in this event and presented him with the book Morning Meditations.48 Throughout its career, the hospital took every possible opportunity to fulfill its full evangelical mission.
Since its foundation, the hospital had been a strong ally during the health evangelism organized by Espírito Santo Conference for the successful spread of the Adventist message.49 Noteworthy in such initiatives was the "How to Quit Smoking" course, which was held at the hospital and attracted a huge number of people. There was even a time when it was necessary to offer this course twice in a row because of the high demand from people who wanted to quit smoking. Another community project developed by Vitoria Adventist Hospital was "Total Health," in which about 5,000 people participated in stress and coronary risk assessment. Once again, Silvestre Adventist Hospital was a strong ally in this project, sending a mobile clinic to Costa Beach, Vila Velha. The repercussion of this project was so great that it was highlighted in the news of certain television networks. At the official opening of the project, Mayor Jorge Anders and his advisers were present.50
Vitoria Adventist Hospital also served society by providing medical and dental care to the needy population in combination with spiritual assistance to those people. Such efforts were socially recognized when Vitoria Adventist Hospital representatives, Dr. Antonio Lino (medical director), Ivan D'ouro (administrative director), and Zaqueu Hein (chaplain), received the title of Honorary Citizens of Vila Velha in recognition of the humanitarian services provided by the institution. This was a remarkable congratulation, evidencing that in its nearly 20 years of history the hospital had not lost its missional focus, seeking to reach everyone around it.51
Since its beginning in 1982, HAV had recognized the need to improve access roads and had been asking the city hall to pave the streets leading to the hospital to facilitate passage, especially for ambulances and the arrival of patients who did not live in the surrounding area.52 Nonetheless, it was not carried out until 13 years later, in 1995. At the time, a thanksgiving worship service was held for the opening of the runway, celebrated by staff, patients, city councilors, community members, and some SDA leaders. They thanked the city hall and the mayor, Dr. Vasco Neto, and honored the engineers, secretaries and workers who participated in this work.53
Over the years, the hospital built new units in various locations in the state of Espírito Santo. The units had good facilities and these service posts increased medical-Adventist access in the territory by providing the first supports and enabling patients to be redirected to the hospital whenever necessary. The one located in the center of Vila Velha, for example, had four offices, an ultrasound and electrocardiogram room, and a collection station. This unit was inaugurated on July 9, 1996.54
The HAV continued to expand and on July 29, 1996, an expansion was inaugurated in addition to the initial installations. In this new building were the financial sector, the board of the hospital, the computer room, health insurance, as well as "three laboratory rooms, five offices, and diagnostic rooms with the following specialties: echocardiogram, ergometry test, and endoscopic examination."55
After just over 14 years of operating as Vitoria Adventist Hospital, the East Brazil Union Conference met in assembly and changed its name. Hence, from November 1996, the institution was called Adventist Hospital of Espírito Santo (HESSC), a name that lived up to its performance at the regional level.
Important for the success of Adventist Hospital of Espírito Santo was the support it received from other Adventist medical institutions, with particular emphasis on the assistance received from Silvestre Adventist Hospital (HAS). This much more experienced institution was fundamental because it "assumed Vitoria Adventist Hospital as its extension," offering "technical and professional guidance, as well as financial support."56 Without the support offered by Silvestre Adventist Hospital, Adventist Hospital of Espírito Santo would not have progressed as far.57
Outlook
In 1997 the scenario at Adventist Hospital of Espírito Santo had become even more challenging. That year a survey was carried out to evaluate the real situation of the hospital. The report stated that at the time there were 12 beds, although it offered a much wider range of services than those already provided since its inauguration, namely: psychotherapy, ultrasound, electrocardiogram, digestive endoscopy, and so on. In addition, it had expanded its partnership with other non-Adventist institutions.58 Although data showed an increase in service modalities, the institution had significantly reduced the number of servers and beds offered due to serious financial difficulties.
In October 1998, the institution underwent a change in its technical management. Through vote 98-168,59 the East Brazil Union Conference appointed Dr. Silas Araújo Gomes to take over the medical direction of the hospital, inviting his wife to serve as a nurse.
In 1999, the financial crisis worsened, which led to a further reduction in the number of staff hired by the hospital. The 13 staff were reduced to seven and were arranged as follows: a medical director, managing director, patient accountant, accountant, X-ray technician, doctor, and nurse.60 Several other attempts were also made to cut costs that for years had suffocated the accounts. Throughout its history, the hospital had received grants from higher levels of the Church without achieving self-sustainability.61 However, over the years it had become impossible for these institutions to continue to subsidize the Adventist Hospital of Espírito Santo accounts.
In assessing what should be done, it was considered that the longer the hospital remained active, the more expenses it would generate, resulting in ever larger deficits that were harder to repair.62 With these and other related reasons Brazil East Union Steering Committee decided on September 13, 2000, to terminate the activities of Espírito Santo Adventist Hospital indefinitely.63 At this meeting, it was clear that the administrators who worked at the hospital made a valiant effort to secure long-awaited growth and financial independence, but were unsuccessful. In recognition of that, there were votes of thanks to the last leaders of the institution as a way of acknowledging their "relevant services."64
After the end of the activities, the former hospital building came to be used by the municipal health department. There, Glória neighborhood Emergency Care functioned while Glória Health Unit was being refurbished.
Until 2011, the hospital building was still standing, even though it no longer belonged to the SDA Church. What is left of the old Adventist Hospital of Espírito Santo are the marks left in the history of the city of Vila Velha through the efforts made to save lives in that place.
List of Names
Vitória Adventist Hospital (1982-1996); Espírito Santo Adventist Hospital (1996-2000).65
List of Leaders
Medical directors: Dr. Daniel José dos Reis (1982-1987); Dr. Gilead dos Reis Bergamann (1987-1996); Dr. Antônio Lino Vaz (1996-1998); Silas Araújo Gomes (1998-2000).66
Administrators: Floriano Keler (1982-1983); Gastão de Oliveira (1983-1985); Elias de Oliveira (1985-1988) Dourivan Dantas Dias (1988-1989); Joaquim de Oliveira (1990-1996); Ivan D'Ouro de Carvalho (1996-1998); Eustáquio Sérgio Ataíde Ferreira (1999-2000).67
Sources
"ADRA/Assistência Social Adventista." Revista Adventista [Adventist Review], no. 4, April 1992.
"Aline de Castro Almeida." Revista Adventista [Adventist Review], Junho 1986.
Barros, Alexandre Fontana. "A Obra médico missionária adventista no Brasil - nascimento, desenvolvimento e identificação" [Adventist Medical Missionary Work in Brazil - beginning, development and identification] (monography, Brazil College, 1986).
Belz, Rodolpho. "Nótulas do Este" [News from the East]. Revista Adventista [Adventist Review], January 1966.
Bezerra, Daílson M. "Hospital Adventista de Vitória 10 anos de atuação pelo Espírito Santo" [Vitória Adventist Hospital 10 years acting for Espírito Santo]. Revista Adventista [Adventist Review], July 1992.
"Cidadãos Honorários" [Honorary Citizens]. Revista Adventista [Adventist Review], January 1999.
"Comunicação - Notícias e Mensagens da Divisão Sul-Americana" [Communication - News and Messages from South America Division]. Revista Adventista [Adventist Review], August 1988, 36.
Ebinger E. "O Trabalho Missionário na Igreja de Vila Velha" [The Missionary work at Vila Velha Church]. Revista Adventista [Adventist Review], December 1945.
"Emissora lidera audiência" [broadcaster leads audience]. Revista Adventista [Adventist Review], September 1991.
"Evangelismo e Saúde são destaques" [Evangelism and Health are highlights]. Revista Adventista [Adventist Review], August 1996.
"Evangelismo Frutífero em 1977" [Fruitful Evangelism in 1977]. Revista Adventista [Adventist Review], February 1978.
"Falecimentos" [Deaths]. Revista Adventista [Adventist Review], March 2003.
"Falecimentos" [Deaths]. Revista Adventista [Adventist Review], June 2012.
"Falecimentos" [Deaths]. Revista Adventista [Adventist Review], March 2003.
Guedes, Leonidas V., interviewed by the author, Engenheiro Coelho, February 21, 2019.
"Hospital Adventista do Espírito Santo" [Espírito Santo Adventist Hospital], Enciclopédia da Memória Adventista no Brasil [Encyclopedia of Adventist Memory in Brazil].
"Hospital Adventista tem nova lavanderia" [Adventist Hospital has new laundry]. Revista Adventista [Adventist Review], July 1993.
"Hospital de Vitória" [Vitoria Hospital]. Revista Adventista [Adventist Review], February 1993.
"Hospital inaugura novas instalações" [Hospital inaugurates new facilities]. Revista Adventista [Adventist Review], October 1996.
"Mais um Hospital" [One more Hospital]. Revista Adventista [Adventist Review], May 1982.
"Menina ganha colega para a Verdade" [Girl brings colleague to the Truth]. Revista Adventista [Adventist Review], March 1980.
Minutes of East Brazil Union. East Brazil Union Mission records, Lauro de Freitas, BA, Brazil.
Municipality of Vila Velha. http://www.vilavelha.es.gov.br/.
"Novo Hospital Adventista" [New Adventist Hospital]. Revista Adventista [Adventist Review], April 1982.
Oliveira, Isaí Segóvia. Documentação da Memória do Adventismo na América do Sul, no Brasil, no Estado do Espírito Santo e em sua capital Vitória [Documentation of the Memory of Adventism in South America, Brazil, Espírito Santo State and its capital Vitória]. Vitória, ES: Graphic and Publisher Sete, 2011.
Oliveira, Ivacy Furtado de. "Quadrienais Assinalam Progresso na UEB" [Quadrennials Mark Progress at UEB]. Revista Adventista [Adventist Review], February 1984.
"Prefeitura melhora acesso a hospital adventista" [Municipality improves acccess to adventist hospital]. Revista Adventista [Adventist Review], April 1995.
"Quarenta anos pela saúde" [Forty years for health]. Revista Adventista [Adventist Review], January 1983.
Rutz, Arnoldo. "75 anos do Surgimento da Mensagem Adventista na União Este-Brasileira da IASD" [75th Anniversary of Adventist Message in East Brazil Union of SDA]. Revista Adventista [Adventist Review], January 1973.
"Saúde Total" [Total Health]. Revista Adventista [Adventist Review], no. 4, April 1998.
Seventh-day Adventist Yearbook. Hagerstown, Md.: Review and Herald Publishing Association, 2000.
Silva, Fernando de Almeida. "Íamos Todos Morrer!" [We were all going to die]. Revista Adventista [Adventist Review], February 1983.
"SS em Vila Velha-E.S." [SS in Vila Velha - E.S.]. Revista Adventista [Adventist Review], June 1976.
"Uniões e Instituições" [Unions and institutions]. Revista Adventista [Adventist Review], April 1973.
Valle, Arthur S. "Divisão Sul-Americana - Comunicação" [South America Division - Communication]. Revista Adventista [Adventist Review], September 1978.
Wilcox, R. A. "Aventura de Fé" [Adventure of Faith]. Revista Adventista [Adventist Review], April 1975.
Wilson, Neal. "Mais preciosa do que Ouro" [More precious than Gold]. Revista Adventista [Adventist Review], December 1979.
Notes
CATS - Centro de Atendimento ao Turista [Centre of Tourist Attendance], "Histórico Cultural," [Cultural Historic], Accessed on February 15, 2019, https://goo.gl/k4FBNP.↩

CATS - Centro de Atendimento ao Turista [Tourist Service Centre], "Histórico Cultural," [Cultural History], Accessed on February 15, 2019, https://goo.gl/nJBPs9.↩

Ibid.↩

E. Ebinger, "O Trabalho Missionário na Igreja de Vila Velha," [The Missionary work at Vila Velha Church] Adventist Review, no. 12 (December 1945): 24.↩

Isaí Segóvia Oliveira, Documentação da Memória do Adventismo na América do Sul, no Brasil, no Estado do Espírito Santo e em sua capital Vitória [Documentation of the Memory of Adventism in South America, Brazil, Espírito Santo State and its capital Vitória] (Vitória, ES: Graphic and Publisher Sete, 2011), 118.↩

"Uniões e Instituições" [Unions and Institutions], Adventist Review, April 1973, 26; "SS em Vila Velha-E.S.," [SS in Vila Velha/ES] Adventist Review, June 1976, 12.↩

"Menina ganha colega para a Verdade" [Girl brings colleague to the Truth], Adventist Review, March 1980, 25; "Evangelismo Frutífero em 1977" [Fruitful Evangelism in 1977], Adventist Review, February 1978, 28.↩

Find a church: https://igrejas.adventistas.org/; Visit our educational institutions: https://www.educacaoadventista.org.br/#ondeEstudar.↩

Alexandre Fontana Barros, "A Obra médico missionária adventista no Brasil - nascimento, desenvolvimento e identificação" [Adventist Medical Missionary Work in Brazil - beginning, development, and identification] (monography, Brazil College, 1986), 41-45.↩

"Before turning 82 in California, U.S.A. Pastor Harder worked 41 years at the East Brazil Union, in the treasury area, and twice as president of Espírito Santo Conference." "Falecimentos" [Deaths], Adventist Review, March 2003, 25.↩

Daílson M. Bezerra, "Hospital Adventista de Vitória 10 anos de atuação pelo Espírito Santo" [Vitória Adventist Hospital 10 years acting for Espírito Santo], Revista Adventista, July 1992, 37.↩

Arnoldo Rutz, "75 anos do Surgimento da Mensagem Adventista na União Este-Brasileira da IASD" [75th Anniversary of Adventist Message in East Brazil Union of SDA], Revista Adventista, January 1973, 19-20.↩

Ibid.↩

"Divisions are sections of the General Conference, with administrative responsibility assigned to them in certain geographic areas. In the case of South America, eight countries (Brazil, Uruguay, Argentina, Paraguay, Chile, Peru, Bolivia, and Ecuador) are part of the South America Division, based in Brasilia."Accessed on February 20, 2019, https://bit.ly/2SfDm62.↩

Arthur S. Valle, "Divisão Sul-Americana - Comunicação" [South America Division - Communication], Revista Adventista, September 1978, 28.↩

Minute of East Brazil Union, September 13, 2000.↩

Leonidas V. Guedes, interviewed by the author, Engenheiro Coelho, February 21, 2019.↩

Rodolpho Belz, "Nótulas do Este" [News from the East], Revista Adventista, January 1966, 35.↩

Alexandre Fontana Barros, "A Obra médico missionária adventista no Brasil - nascimento, desenvolvimento e identificação" [Adventist Medical Missionary Work in Brazil - beginning, development and identification] (monography, Brazil College, 1986), 41.↩

"A Associação Geral coordena o ministério global da Igreja Adventista do Sétimo Dia, e é responsável pelos planos espirituais e de desenvolvimento da igreja ao redor do mundo" [The General Conference coordinates the global ministry of the Seventh-day Adventist Church, and is responsible for the church's spiritual and developmental plans around the world], Accessed on February 19, 2019, https://www.adventist.org/pt/igreja-mundial/conferencia-geral/.↩

R. A. Wilcox, "Aventura de Fé" [Adventure of Faith], Revista Adventista, April 1975, 25.↩

Neal Wilson, "Mais preciosa do que Ouro" [More precious than gold], Revista Adventista, December 1979, 42.↩

Alexandre Fontana Barros, "A Obra médico missionária adventista no Brasil - nascimento, desenvolvimento e identificação" [Adventist Medical Missionary Work in Brazil - beginning, development and identification] (monography, Brazil College, 1986), 41.↩

Ibid.↩

Ibid., 42.↩

Ibid.↩

Minutes of East Brazil Union, October 20, 1981, vote no. 81-328.↩

Ibid.; "Mais um Hospital" [One more Hospital], Revista Adventista, May 1982, 32-33.↩

"Novo Hospital Adventista" [New Adventist Hospital], Revista Adventista, April 1982, 17.↩

"At 76 years old, in Cuiabá, MT, victim of a car accident. He served as a missionary doctor, especially in the specialties of general, thoracic, and cardiac surgery. He was the clinical director of Belem Adventist Hospital, PA, the first clinical director of Vitoria Adventist Hospital, ES, and chief of medical residency at the Adventist Silvestre Hospital, RJ. He also worked at the São Paulo Adventist Hospital." "Deaths," ARH, June 2012, 37.↩

Alexandre Fontana Barros, "A Obra médico missionária adventista no Brasil - nascimento, desenvolvimento e identificação" [Adventist Medical Missionary Work in Brazil - beginning, development, and identification] (monography, Brazil College, 1986), 42.↩

Ibid., 43-44.↩

"Gynecomastia or 'mammary hypertrophy' is a neoplasm, which can be either benign or malignant. Its main feature is the growth of breasts in men, some of which may be hermaphroditic, and usually occurs during periods of hormonal change." Accessed on February 14, 2019, https://bit.ly/2BTaoph.↩

Alexandre Fontana Barros, "A Obra médico missionária adventista no Brasil - nascimento, desenvolvimento e identificação" [Adventist Medical Missionary Work in Brazil - beginning, development and identification] (monography, Brazil College, 1986), 43.↩

Ibid.↩

"Quarenta anos pela saúde" [Forty years for health], Revista Adventista, January 1983, 18-19.↩

Fernando de Almeida Silva, "íamos Todos Morrer!" [We were all going to die], Revista Adventista, February 1983, 31-32.↩

"Aline de Castro Almeida," Revista Adventista [Adventist Review], June 1986, 28.↩

Ibid.↩

Alexandre Fontana Barros, "A Obra médico missionária adventista no Brasil - nascimento, desenvolvimento e identificação" [Adventist Medical Missionary Work in Brazil - beginning, development, and identification] (monography, Brazil College, 1986), 44-45.↩

Ivacy Furtado de Oliveira, "Quadrienais Assinalam Progresso na UEB" [Quadrennials Mark Progress at East Brazilian Union], Revista Adventista [Adventist Review], February 1984, 22-24.↩

"Comunicação - Notícias e Mensagens da Divisão Sul-Americana" [Communication - News and Messages from South America Division], Revista Adventista [Adventist Review], no. 8, August 1988, 36.↩

Daílson M. Bezerra, "Hospital Adventista de Vitória 10 anos de atuação pelo Espírito Santo" [Vitória Adventist Hospital 10 years acting for Espírito Santo], Revista Adventista [Adventist Review], July 1992, 37.↩

"Hospital Adventista tem nova lavanderia" [Adventist Hospital has new laundry], Revista Adventista [Adventist Review], July 1993, 20.↩

Ibid.↩

Daílson M. Bezerra, "Hospital Adventista de Vitória 10 anos de atuação pelo Espírito Santo" [Vitória Adventist Hospital 10 years acting for Espírito Santo], Revista Adventista [Adventist Review], July 1992, 38.↩

"Emissora lidera audiência" [broadcaster leads audience], Revista Adventista [Adventist Review], September 1991, 19; "ADRA/Assistência Social Adventista," Revista Adventista [Adventist Review], April 1992, 29.↩

"Hospital de Vitória" [Vitoria Hospital], Revista Adventista [Adventist Review], no. 02, February 1993, 29.↩

"Evangelismo e Saúde são destaques" [Evangelism and Health are highlights], Revista Adventista [Adventist Review], August 1996, 27.↩

"Saúde Total" [Total Health], Revista Adventista [Adventist Review], April 1998, 23.↩

"Cidadãos Honorários" [Honorary Citizens], Revista Adventista [Adventist Review], January 1999, 22.↩

"Prefeitura melhora acesso a hospital adventista" [Municipality improves access to Adventist hospital], Revista Adventista [Adventist Review], April 1995, 19.↩

Ibid.↩

"Hospital inaugura novas instalações" [Hospital inaugurates new facilities], Revista Adventista [Adventist Review], October 1996, 32.↩

Ibid.↩

Ibid.↩

Leonidas V. Guedes, interviewed by the author, Engenheiro Coelho, February 21, 2019.↩

"Hospital Adventista do Espírito Santo" [Espírito Santo Adventist Hospital], Enciclopédia da Memória Adventista no Brasil [Encyclopedia of Adventist Memory in Brazil], 1998, Accessed on February 14, 2019, https://bit.ly/2X3ZuDZ.↩

Minutes of East Brazil Union, no. 1502, October 26, 1998, vote no. 98-168.↩

Minutes of East Brazil Union, no. 1502, October 26, 1998, vote no. 98-169.↩

Minutes of East Brazil Union, September 13, 2000, votes no. 2000-114 and 2000-115.↩

Ibid.↩

Ibid.↩

Ibid.↩

Minutes of East Brazil Union, no. 1498, November 18-19, 1996, vote no. 96-176.↩

"Espírito Santo Adventist Hospital," Seventh-day Adventist Yearbook (Hagerstown, Md.: Review and Herald Publishing Association, 2000), 521-522.↩

"Hospital Adventista do Espírito Santo," [Espírito Santo Adventist Hospital] Enciclopédia da Memória Adventista no Brasil [Encyclopedia of Adventist Memory in Brazil], 1998, Accessed on February 14, 2019, https://bit.ly/2X3ZuDZ.↩