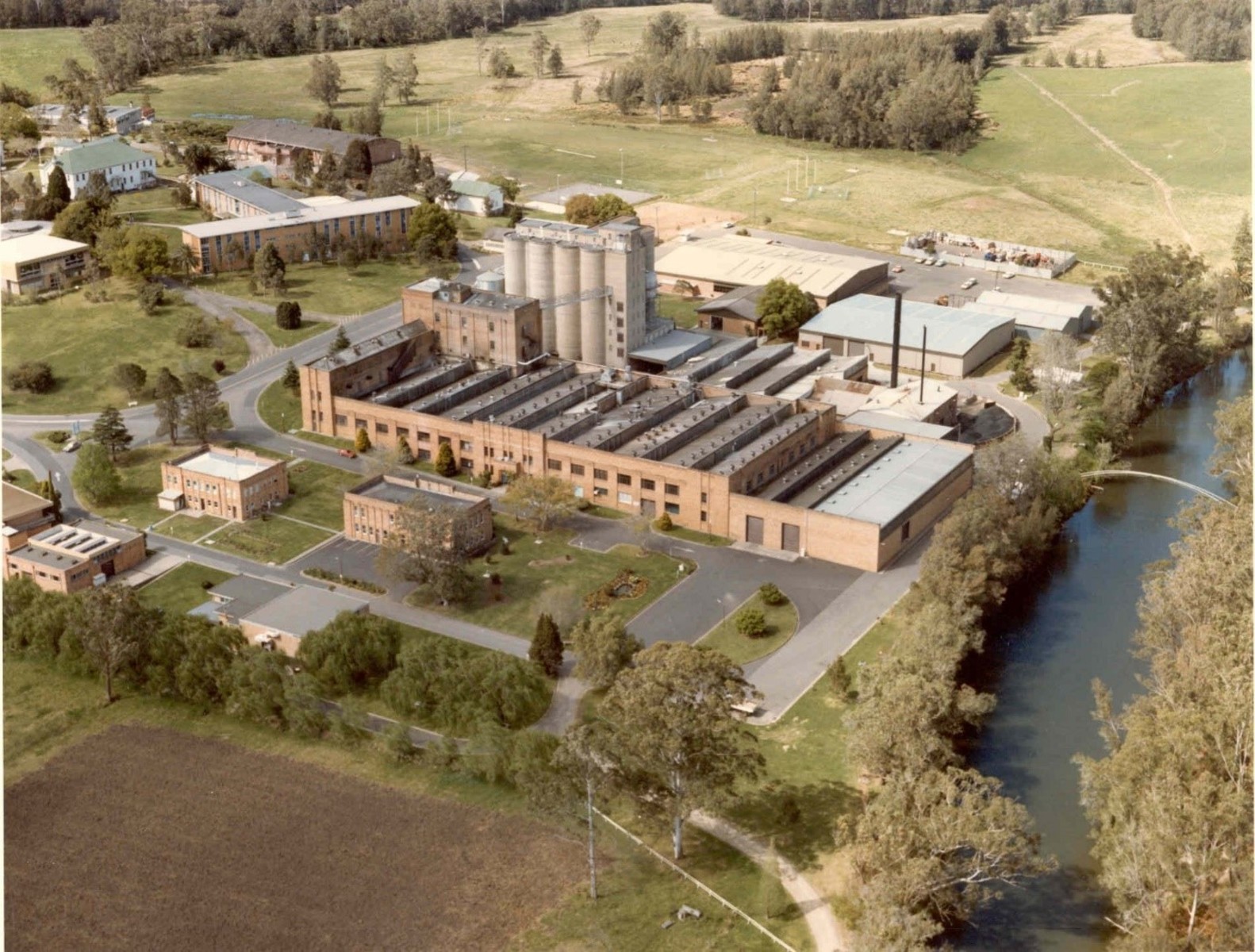 Sanitarium Health and Wellbeing, South Pacific Division
×
Julie Praestiin (Dip. Management, Newcastle University, Australia) commenced her career in public relations in 1979. In 1983, Julie and her husband Axel commenced working for ADRA in Bolivia and Colombia (SA) until 1992. Julie then joined Sanitarium, leading the corporate communications function from 1995, including the management of the heritage archives. Since 2005, Julie has served ADRA Australia as a board member. In authoring Sanitarium's historical story, Julie's sees God's definitive leadership in the health food business.
First Published: July 20, 2020
The Seventh-day Adventist Church's Health Food Department in the South Pacific Division, referred to as Sanitarium Health & Wellbeing Group, owns a number of innovative health food and health and wellness operations.1 This group of pioneering entities share a vision to improve the health and well-being of communities in Australia, New Zealand, and globally, in the context of the church's religious, charitable, and educational work. The group includes: Sanitarium Health Food Company – Australia and New Zealand; Life Health Foods Australia, New Zealand, India, and the United Kingdom; Vitality Works Australia and New Zealand; Lifestyle Medicine Institute; and the Complete Health Improvement Program (CHIP).
Originally inspired by the counsel of Ellen G. White on plant-based foods and healthy living, the company is now united under its purpose of "changing lives every day through whole person health."
The Beginnings of Health Reform
The Seventh-day Adventist Church grew out of the Great Advent Awakening of the eighteenth and early nineteenth centuries, and the Millerite movement of the 1840s in the United States of America.2 It was formally organized in 1863 in Battle Creek, Michigan.
James and Ellen White were among the church's early leaders.3 It was believed that Ellen White received directions from God, and she became a prolific writer and vocal leader of the rising church.4
During these years Americans developed a growing interest in health,5 with practices such as water treatments6 and vegetarianism being introduced.7 During White's early visions in the 1840s and 1850s she was shown the detrimental effects of many common lifestyle habits of the time, such as overeating, rich foods, and the use of such drugs and stimulants as alcohol, tobacco, tea, and coffee.8 She began to adopt these new health ideas following several family health problems. In the winter of 1862–1863, two of the Whites' sons were struck down by diphtheria, but fortunately Ellen and James had read a newspaper article by Dr. James C. Jackson on water treatments for the disease, and took the recommended actions. As a result, the boys' lives were saved.9
On Friday evening, June 5, 1863, Ellen White received a vision from God in which she was shown that eating meat was also discouraged because of the increase in animal diseases.10 Regular exercise, pure water, and fresh air were essential for maintaining and restoring health.11 In December of the same year, her eldest son, Henry, died of pneumonia after being given drugs by a doctor who followed the usual medical practices of the day.12 Three months later, in February 1864, younger son Willie also contracted pneumonia.13 This time his parents decided to follow the directions for hydrotherapy treatments, and after diligent care by his parents, Willie White recovered.14
Her family's experience with illness led White to seek more understanding of healthy living.15 She continued to publish her written work on the subject of health and speak about her visions and counsel.16 Gradually the Seventh-day Adventist church members began to practice these health ideas and adopted them as their preferred lifestyle.17
Health Education Formalized
In May 1866 the Seventh-day Adventist Church, at the urging of Ellen White, proposed the development of a health institute and purchased a nine-acre (3.6-hectare) property in Battle Creek, Michigan. It opened as the Western Health Reform Institute in September 1866.18 In 1876 the church appointed 24-year-old Dr. John Harvey Kellogg to take charge of the institute.19 He introduced numerous reforms and placed the health program on a more scientific base. He changed the institute's name to Battle Creek Sanitarium, defining the newly coined word "sanitarium" as "a place where people learn to stay well."20
The health program emphasized a healthy, preferably vegetarian diet, exercise, fresh air, water and muscular therapies, massage, good posture, and abstinence from alcohol and tobacco.21 Concerned that many Americans' poor health was largely owing to poor diet, Dr. Kellogg focused on producing healthy foods that helped to improve his patients' health. The first he called Granola, which was a mixture of cooked grains.22
New Health Ideas for a New Nation
In 1885 the church leaders in Battle Creek sent a small group of Seventh-day Adventist ministers and workers to start the work of the church in Australia and spread the health message.23 As the fledgling church began to grow, Ellen White, at the suggestion of S. N. Haskell,24 was requested to visit Australia to give advice and strengthen its work. In December 1891, at the age of 64, she arrived in Sydney with her son William (Willie), with the intention to stay no more than two years. They stayed for nine.25
In 1894 she was invited to talk about the health work and her visions of health reform at Brighton church's camp meeting in Melbourne, the first camp meeting held in Australia.26 The meeting proved popular, as the original order of forty tents had to be increased to 102 to cope with demand.27 It was here that church members in Australia were first introduced to the idea of developing a health food factory in Australia.28 On January 7, 1894, Ellen White spoke of the alarming extent to which poor health would grow.29 Mrs. M. H. Tuxford and a young George S. Fisher were among those who heard her speak and would become instrumental in spreading the health messages she espoused.30
Enthusiasm for Health Food
Inspired by White's lecture, a Mrs. Press asked her to share her knowledge. Mrs. Tuxford and her friend Mrs. Starr began giving cooking lessons in homes around Melbourne, including those of Mrs. Press and her friends.31
An enthusiasm for the health reform began to grow through the Adventist Church community, and members began the preparation and sale of their own health foods in other states of Australia.32 Willie White, Australia's first Adventist Church union president, was concerned about the opening of independent operations without sufficient knowledge or ability, which put the reputation of the health movement at risk. He wrote to the church leaders in Battle Creek, seeking their assistance in advancing the health work in Australia in an organized manner.33
An Accidental Secret
Meanwhile, at Battle Creek Dr. John Harvey Kellogg and his brother Will Keith Kellogg were busy experimenting with cooking new grain products to make a variety of healthy foods, suitable not only for breakfast but other meals as well. One of the most common medical complaints at that time was "dyspepsia," a term used for a range of digestive complaints. Dr. Kellogg saw a need for a grain-based health food, believing that precooking the grains to break down the starch would aid the digestive processes of his patients.34
The Kellogg brothers had been unsuccessfully trying to process cooked wheat grains by squeezing them between two eight-inch rollers. The resulting mush stuck to the rollers and had to be scraped off.35 Then, in April 1894, they had cooked a batch of wheat, but before it could be rolled, the men were called away. It was not until the Saturday evening that the Kelloggs returned to their experiment. The cooked wheat grains had gone moldy, but undeterred, the brothers decided to try rolling them anyway. To their surprise, large, smooth flakes emerged through the rollers and were easily peeled off with the knife, ready to be placed in the oven for drying and crisping.36 They had discovered this secret to success by accident: if they tempered the cooked wheat to allow moisture to move evenly through the cooked grain, then the grain could be easily rolled, with the individual flakes preserved and ready for baking.37
On May 31, 1895, Dr. Kellogg filed an application to patent the process of preparing flaked cereals from wheat, barley, oats, corn. and other grains, which was granted on April 14, 1896.38 They named the new wheat-flake product Granose,39 and it was also soon available as cereal biscuits,40 revolutionizing breakfast in the Western world. By 1906 Dr. John Harvey Kellogg and Will Keith Kellogg went their separate ways, with younger brother Will establishing his own cereal empire, Kellogg's Cereal Company.41
Meanwhile, the early Seventh-day Adventist community in Australia, encouraged by Ellen and Willie White in healthy living, were eager to access Dr. Kellogg's nonmeat products.42
Initially they received cases of health products from America,43 but the need for local production was apparent because of the challenges of importing products that would keep over such a long journey.44 In February 1895 public health lectures were given for the first time in Australia, at the Women's Community Temperance Union Hall and restaurant in Melbourne.45 This generated great interest in health foods, particularly those imported from Battle Creek. These always landed stale, and the duty and expense of the transportation added so much to the cost that they had to be sold either at a high retail price or a loss.46
Formalizing the Health Food Work
In 1895 Willie White approached the church's Executive Committee regarding organizing the emerging health food work. The committee resolved to commence the establishment of bath-houses and depots for the supply of health foods. Then, a year later, the committee decided that the time had come to formalize a health food business.47
At the Hobart church camp meeting in November 1895, White explained that the health food business would be a missionary agency. He opened a packet of Granose and passed it around for people to sample. The members were quick to request its importation.48
Following the General Conference session held in Nebraska in 1897, White scouted America for machinery and expertise to establish the company in Australia.49 Growing interest in health foods led White to consider employing a baker in Australia to start the manufacture and sale of health foods. In early 1897, when he went to the church's General Conference meeting at Battle Creek, he looked for an experienced baker,50 although he was unsuccessful. At that time George S. Fisher was given the task of costing the imports and selling them.51
In October 1897, at the first camp meeting held in New South Wales (in Stanmore, Sydney), Dr. Edgar Caro gave a series of health lectures and, together with vegetarian fare offered at the dining tent, stirred further interest in health foods.52 At the same camp meeting, on October 31, 1897, the first meeting of the Australasian Medical Missionary organizing committee was held. This newly formed committee's purpose was to establish the Australian Medical Missionary and Benevolent Association, which was to be advisory, educational, and charitable. It would have oversight of the Sanitarium Hospital in Sydney, the health food business, and charitable activities of the church.53 At this first meeting, the committee recognized the establishment of bakeries and agencies for the sale of health foods as one of its most pressing tasks.54
Willie White placed a large order with Battle Creek and wrote asking American baker Edward C. Halsey, trained at the Battle Creek Sanitarium,55 to come to Melbourne to supervise the preparation of the products.56
Sanitarium Health Food Company Is Born
Six weeks later the medical missionary organizing committee unanimously agreed to name the organization Sanitarium Health Food Agency, a nod to its Battle Creek beginnings.57 Invited by the union conference committee, E. R. Palmer became the first manager.58
Edward C. Halsey arrived in Sydney on November 8, 1897. He first visited the Avondale College and then cooked at the Melbourne camp meeting. Halsey enthusiastically searched for a suitable bakery, while sourcing baking and other equipment to make the foods.59 Meanwhile, the committee struggled to find a suitable location and to purchase the right equipment, some of which had to be bought from America. The search took a couple of months, but finally, on January 27, 1898, in the St. George's bakery in Northcote, Melbourne, Halsey began making Australia's first peanut butter and cereals such as Granola, a ready-to-eat porridge.60 Just three months later, on April 27, 1898, the Sanitarium Health Food Agency was registered as a business.61
During this time things were grim as the Australian colonies were suffering severe economic depression. Australia was passing through the most serious financial crisis it had experienced, and Melbourne had been particularly hard hit from the failure of the land boom and reconstruction of the banking industry.62 Health food was an entirely new idea, and management had very little money available, with an inferior plant for their purpose and the problem of creating demand for new and unknown products. They did not have means for advertising, yet needed to make sales to keep the business going.63
When Granola, the main product at the time, was placed on the market, it was deemed expensive by a public that had yet to appreciate the value of health foods, and when compared with more traditional breakfast foods available64 (like toast and eggs). The price was dropped, and this helped slightly. Small shipments were sent to other states, and some products were sold through retail stores in Melbourne, but some packets stayed on the shelf so long that they became prone to insects, which attracted complaints.65
However, there was a desperate need for working capital if the venture was to survive.66 Management took out a loan of £500 for operating money,67 but it became evident that there was no market for the new products.68 The situation was so desperate that even the bakehouse staff were forced to close the bakery and go out to sell their products. The Adventist Church's Tract Society offices were also asked to promote and sell the products. Finally, the Health Food Committee decided to appoint door-to-door salesmen.69
Against All Odds
Later in 1898 William White and the union conference committee arranged for the appointment of George W. Morse, who had experience in the health food business in the United States, to take charge of the health food enterprise and assist in increasing sales in Australia.70 Meanwhile, the first bakehouse in Northcote was proving unsatisfactory.71 By August 15 it was decided that the food business needed to find new premises as a means of providing better facilities for manufacturing and distribution. Various locations were looked at in Victoria and New South Wales.72
On September 7, 1898, the location committee, including A. G. Daniells, W. C. White, Dr. E. R. Caro, G. W. Morse, and E. R. Palmer, agreed to move the health food business to a property where there was suitable and affordable land adjacent to Avondale College in Cooranbong so that it could be connected to the school and the new buildings for care of the sick.73 Here new products would be tried, tested and implemented74 and would provide work for students at the college.75
The college provided student labor, opportunities to use the school facilities for training, and room to expand. The committee acknowledged, however, the problems of sourcing raw materials and transporting the finished goods.76 The raw materials were to be transported by barge from Dora Creek railway station up the creek and offloaded at a wharf nearby. The manufactured product was then transported back to the train station.77
The move was made to Cooranbong under the direction of Philip Rudge. The existing sawmill on the property was purchased and converted into the new bakery, saving considerable expenditure in constructing a new factory.78 It required a brick addition for which 65,000 bricks were produced over five months on college property. The equipment, including a reel oven, boiler and engine, and numerous mills, required a capital expenditure of nearly £400.79
Ellen White expressed her concerns for the industry: "We needed health foods, but we had no money to purchase material or machinery with which to prepare them. . . . We had not numerous churches to draw upon [unlike the work in the United States].80
In November 1898 work on converting the old sawmill to house food production was delayed. Making the bricks using the clay from the estate had taken much longer than planned. A shortage of funds and insufficient arrangement for credit to meet the immediate needs of the business meant there was no money to purchase the necessary iron fittings and pipes for the ovens. Management decided to visit an engineering and foundry firm in Newcastle to ask if they were willing to supply all the iron work. This request was successful and the building was completed; a temporary respite.81
For six months none of those engaged in the work drew any cash or any wages, and the prospect of securing funds to continue was uncertain. However, those pioneers who engaged in the business did so believing they were "doing God's service" and showed a spirit of determination to overcome against all odds. They worked long hours with meager facilities, and often did not receive their small wages for months.82 Operations at the factory depended entirely upon money that came from church members.83
Praying for a Miracle
During this period A. G. Daniells, president of the union conference, struggled with the problem of debt. He went to Melbourne, where he found the church administrators hard pressed to find funds to repay loans. They decided to visit the bank. On arrival they found it closed for the day; however, on closer inspection they noticed a door was miraculously ajar, so one of the men pushed the door open and they went inside. A loan was negotiated with the surprised bank manager, on the honor of one of the brethren and without any security whatsoever.84
Following this, a special appeal was made to the Seventh-day Adventist community, and sufficient funds were donated to cover the immediate needs of the work. After that, money trickled in, while there was a slight but steady increase in sales.85 By the following year, E. R. Palmer reported that manufacturing now included Granose biscuits, Granose flakes, Bromose, Nuttose, antiseptic tablets, Granola, Caramel Cereal, nut butter, wheatmeal biscuits, gluten biscuits, gluten meal, and still other foods that are in the experimental stage.86 Avondale Health Retreat, which was opened in December 1899, did not use animal products in its dining room, but healthy foods manufactured by Sanitarium.87
Dr. John Harvey Kellogg proposed to remit all royalties if the food business was placed under the Sanitarium Hospital boards, so in 1900 Sanitarium Health Food was placed under control of the Australasian Medical Missionary and Benevolent Association.88 Later, when the factory came under control of the college, the issue was raised as to whether the company was bound to pay royalties on Granose.89
Of this health food work, Ellen White counselled: "In all our plans we should remember that the health food work is the property of God and this it is not to be made a financial speculation for personal gain. It is God's gift to His people and the profits are to be used for the good of suffering humanity everywhere."90
Laura Lee Inspires Sales to the Public
In November 1899 Miss Laura Lee, who had spent time in the home of Ellen G. White and had been a cook in the home of Willie White, attended the Maitland church camp meeting.91 She observed the health food exhibition tent, sampled the food provided, and heard of the formal decision to start up a food bureau.92
Following the camp, Sanitarium opened a health food shop in the town of Maitland, selling health foods and offering health advice, under the management of G. W. Morse and with the help of Miss Lee.93 As "a thoroughly accomplished young lady, whose heart is thoroughly in the business,"94 the board was keen to retain her services,95 but after three months she returned to the Sanitarium Hospital in Summer Hill, Sydney, to complete her studies in nursing, and the shop was closed.96 However, the experience in Maitland was a precursor to the health food shops that later appeared.
Health Foods for New Zealand
During these early years interest in the health food work had also begun to grow in New Zealand. G. A. Brandstater initially established a health home in Linwood, Christchurch, which was soon moved to Papanui. There he was joined by Dr. Frederick Braucht, a former colleague of J. H. Kellogg.97 Dr. Braucht requested of the Australian Sanitarium board that it send him a baker to help prepare health foods for the Home.98 Edward Halsey accepted the invitation, arriving in Christchurch on January 11, 1901. At the New Zealand church camp meeting in Christchurch that same month, the managing committee for the Medical Missionary and Benevolent Association confirmed the purchase of the property at Harewood Road, Papanui. Halsey relocated there and established his bakery in a small, red wooden shed behind the Health Home.99
As soon as he was able, Edward Halsey started making Granola, Caramel Cereal, unleavened rolls, and bread for use in the health home.100 Sidney H. Amyes, a wealthy farmer, was so keen to see the enterprise grow that he funded the purchase of a small oven, which cost £55, and later became the unpaid manager, working alongside Halsey. Amyes was a man of vision: he was determined that New Zealanders should have access to the products that were gaining prominence in the United States.101
Amyes and Halsey made a formidable team, building the fledgling business first through church members, then bringing the products to the public through grocers.102 By 1922 a new factory had been built in Christchurch.103
Health Food Café in Sydney, Australia
In March 1902 a café was opened briefly in Royal Arcade, Sydney, and attracted passersby to sample the health foods being promoted. By March this had moved to nearby premises at 283 Pitt Street for a rental price of £10 a week and was managed by John Burden. Known as the Pure Food Vegetarian Café, Mrs. Tuxford and Miss Lee operated the restaurant. On the first day 25 meals were served, but in a short time as many as 88 meals were served on an average day.104 A sample meal of the day's menu was displayed in the window, and health foods were available for purchase from a small counter, marking the start of the retail branch of the company.105
During her nursing training, Laura Lee had met Carl August Ulrich and married him soon after they completed their studies. Both now trained as Sanitarium nurses, they opened treatment rooms adjacent to the café, giving massages and other remedial treatments to patrons.106 Laura Lee developed healthy recipes, special instructions to prepare health foods, and an explanation of the health benefits, later publishing a book of her recipes.107
In March 1904 the café moved to larger premises located in the basement of the Royal Chambers at 45 Hunter Street, on the corner of Castlereagh Street. Formerly it had been a Cobb and Company coach stable and the renovations cost £150.108
George Fisher's Leadership
Just as the finishing touches of the refurbishment to the café were undertaken, George Fisher was appointed manager of the café and retail stores. He relocated to Sydney from Melbourne, where he'd been working at the Bible Echo Publishing Company.109
The café opened early in March, with a daily patronage of 60 to 70 people. However, there were no funds to purchase so much as floor coverings, and Fisher was told by the union conference that the business would have to sink or swim. According to Fisher, the workers were so committed to the work that they determined, with God's help, that they would carry on and not suffer defeat.110 Gradually the café's ailing finances began to improve, and with strenuous efforts George Fisher and his staff turned it into a profitable business.111
Fisher's success was based on his passion for what he had first heard from Ellen G. White at the Brighton camp in Melbourne, and his ability to lead people and business. Fisher had a vision of what the business could become.112 He wrote: "Every penny was turned over more than once before it was spent. Coconut runners were laid instead of linoleum. We purchased a two-wheel hand cart, and we would push it along Pitt Street in the early hours of the morning, filled with vegetables. We swept our own chimney on a Saturday night. But all the workers were so deeply interested in the success of the work that they did not mind what they did."113
The staff members met in the office just before the midday meal each day to have prayer, asking the Lord to give them grace to be good witnesses to the customers and for operations to run smoothly. They also voted to reduce their wages so that expenses could be met, without reference to the board.114 Reporting favorably at the end of the financial year, Fisher stated that the daily average number of meals served had started at 90, but by the end of the financial year had risen to nearly 200, with the daily record being 204 meals.115
Mail orders began in 1905, after a man visiting Sydney from 300 miles (482 kilometers) away was so impressed by his meal at the café that he requested a dinner to be sent by rail. Over several months a number of agencies were established in various parts of New South Wales to fill mail orders for health foods.116 In 1908 Fisher asked Laura Lee to return to the Sydney café as matron. She and her husband had returned to Tasmania a few years before because of his illness, and after his accidental death in 1904 she had opened a café in Hobart.117 Knowing the benefits of personal contact and interaction with customers in the café and heeding Ellen G. White's advice to "let them learn how to live healthfully, teaching to others what they have learned,"118 George Fisher asked Laura Lee to train his café staff and give lectures, demonstrations to the public on nutrition, and the preparation of healthy meals.119 As cafés were established in other cities, Lee was called upon to give help and cooking demonstrations, and she also experimented with new foods at the Avondale factory. Her expertise was a valuable contribution to the health food work of the company.120
After showing his considerable capabilities in café management, George Fisher was elected as the secretary of the health food work and given the position of factory manager at Cooranbong in 1910.121 He was instrumental during World War I in procuring much-needed supplies to keep the work of the factory going.122
George Fisher was known as "the father of the health food work." He considered it his privilege to have a part in fulfilling the health ministry vision, throwing his whole life into the health food business. Members of his family recall that during those years he was always busy "doing the work of the Lord."123
First Profits to the Missions
The café work continued to grow. In the beginning the patronage was predominantly businessmen, but many of them were so impressed that they began convincing their wives of the Pure Food Café's culinary benefits. Cooking classes were started, and in turn more ladies would lunch at the café, so patronage increased.124 The need to expand became evident. After Fisher and his staff made it a matter of prayer, an opportunity to acquire the Catholic repository next door provided space for a further 25 to 30 people.125
To celebrate the opening of the new extension on August 19, 1906, the café staff prepared a dinner for more than 100 church members.126 They were well aware of Ellen White's counsel: "In all our plans we should remember that the health food work is the property of God and that it is not to be made a financial speculation for personal gain. It is God's gift to His people, and the profits are to be used for the good of suffering humanity everywhere."127 During the ceremony George Fisher stood up and read a recommendation by the union conference council in Melbourne, urging that conference committees and institution boards make "a donation toward foreign mission work" from "ordinary income." Fisher went on to say that the "café family" had "united in practising economy .  .  .  to save something for the island missions." He then unveiled a model sailing ship made of pearl-shell carrying 25 golden sovereigns and presented it E. H. Gates, a missionary visiting Sydney. This represented the first profits of the fledgling business.128
By October 1906 Fisher was able to report to the Sydney Sanitarium and Benevolent Association (SSBA) that for the previous three month a profit of £127 had been made at the Pure Food Café, apart from the £25 given to mission work.129 In 1907 the SSBA decided that the name "Pure Food Café" should be changed to "Sanitarium Health Food Café."130
During the financial years July 1906 through June 1908 Fisher reported that 99,695 meals were served.131 In January 1912 one of their storerooms was converted into an expansion of the café, and in that same year the number of meals served climbed to 271,899.132
Fisher began searching for larger premises and in 1914 opened a branch café at 283 Clarence Street during World War I years. In addition to the cafés and oversight of the Cooranbong factory operations, he was also responsible for the promotion of general sales and supervision of the wholesale business, which was gradually reaching grocers around the country and overseas.133 In July 1916 the SSBA decided that all Sydney operations should be centralized in one location, and the businesses were consolidated in large premises at 306-308 George Street.134
George Fisher went on to open cafés in Adelaide, Brisbane, Melbourne, Perth, and Hobart in Australia, as well as Wellington, Auckland, Christchurch, and Dunedin in New Zealand.135
Under George Adair, SHF general manager, the move was made back to Hunter Street in late 1935, then across the road in 1974 when the building was bought by developers.136 Over the years retail shops opened in more locations in Sydney, such as Chatswood, Manly, and Liverpool, as well as other major Australian cities.137
In 1988 the company closed down the entire retail operation,138 predominantly because of the changing nature of the retail market. Most Sanitarium products were by now available to the public through supermarkets, which had moved into health food retailing, there had been steep increases in property rentals in the areas where Sanitarium's retail shops operated, and a large proportion of retail business was taking place on Saturdays, when Sanitarium's stores were closed.139 In the year ending December 1987, the shops in Australia and New Zealand had not been able to increase their sales in line with inflation, and further losses were projected.140
In tandem with the operation of the retail shops, Sanitarium had developed a strong food production and distribution division, establishing itself as a significant supplier to the grocery industry. This division accounted for almost 90 percent of the business and was viewed by management as the way forward.141
New Zealand Cafés
After establishing successful cafés in Sydney and Melbourne, George Fisher expanded these into the major cities of New Zealand. His first move was to establish a depot in Wellington, New Zealand's capital city,142 before opening retail outlets and cafés. In November 1906 the SHF opened a café at 37 Taranaki Street, Wellington, under the management of George Hansford.143 It was well patronized, and the need for a more central location soon became evident.144 In March 1907145 the business was transferred to 16a Willis Street. By January 1909 New Zealand Conference officials wanted to close the café work because of declining patronage and a high rental;146 however, in 1910 a third attempt was made at a different site in Manners Street.147
A second vegetarian café was opened in Auckland in November 1907,148 and prospered for a number of years. Eventually it was closed in 1958 and, instead, two separate retail shops were opened. The Christchurch café was opened in March 1908, in Cashel Street West.149 Less than a year after its opening, the New Zealand Conference administration again became concerned about its precarious financial situation and threatened closure.150 Matters improved, and Fisher reported in 1913 that the balance sheet showed a profit,151 but apparently this could not be maintained, as the enterprise ceased to be listed after 1919. Despite the failure of the Christchurch café, another was opened in the South Island at Dunedin. It was short-lived.152
Company Restructure
In September 1919 the Australasian Union Conference Council moved to restructure the operations of the company. Until this time, each of the institutions had the power to individually borrow money to develop their businesses, and this had resulted in the Cooranbong factory and Sydney café, accumulating large debts.153
At Avondale there were numerous industrial activities, such as carpentering, transportation, and printing, all used as part of the food production, so these were all combined under the jurisdiction of the factory under the name "Avondale Industries." The investments between the college and factory were readjusted, and the board of management was completely restructured all the way down from the general board at Wahroonga, chaired by the union conference president. These changes paved the way for Sanitarium Health Food Company to form its own identity as an independent organization.154
In 1920 another significant decision was made: to separate the wholesale and the retail/café arms of the business. Until then, all mail orders had been filled from the retail branch in George Street, where the café was based, but demand grew so much during the war that the department was transferred to a larger depot in Sussex Street. Here the first Leyland truck was put into service.155 Times were changing.
The Making of Aussie and Kiwi Icons
The foods sampled and sold in the cafes and retail shops included many of Sanitarium's now-iconic products. Dr. John Harvey Kellogg had patented a peanut butter process in 1895,156 and by 1898 it was being manufactured by Sanitas in the United States.157 The same year, Sanitarium began advertising one of the world's first commercially available peanut butters, simply called "nut butter." From the 1930s Sanitarium marketed the peanut butter under the brand name of "Betta." Dairy farmers objected to the use of the term butter, and as a consequence, some states eventually introduced regulations requiring the product to be called peanut paste.158
In 1908 George Fisher was one of the first people in Australia to taste Marmite wheat extract spread. During World War I Marmite supplies from England were cut off,159 so in 1919 he went to England and obtained the right for Sanitarium to be the Australasian agent for Marmite.160 The company began importing it from England, then repacking it in Christchurch from 1924.161 It was also packed in Melbourne162 and later at the Lewisham branch in Sydney.163
In the latter part of 1939, when the hostilities of World War II escalated, the Australasian Union Conference officers immediately sent Treasurer T. W. Hammond to London to arrange for supplies and obtain the formula for Marmite. Despite the Marmite Company in Britain placing thousands of pounds worth of the extract in Melbourne, both the Australian and British governments stepped in and took the remaining supplies from each country for military purposes, as it was a high-value food for the troops.164
The next problem was obtaining brewer's yeast, which led to laboratory staff creating a substitute using hydrolyzed gluten, baker's yeast, and vitamin B from wheat germ.165 Since the mid-1980s all Sanitarium Marmite was produced at the Sanitarium factory in Christchurch until the operation moved to Auckland in March 2019, using the original brewer's yeast recipe.166
The mid-1920s saw health consciousness grow in the large cities, and people were slowly being educated to look more carefully at what they and their families ate. In 1926 one Sydney journal noted Granose and Marmite as popular breakfast and sandwich fillings, respectively.167 During the Depression of the late 1920s and 1930s Sanitarium saw significant growth, as it was producing what people needed: simple, good value, healthy foods.
By this time the range of grain products included Granose Biscuits (a flaked wheat breakfast biscuit), Granose flakes, Granola, gluten meal, Grainut, and a variety of biscuits, including Wheatmeal and Oatmeal biscuits.168 Almond Meat, Nut Meat, Nut Cheese, Nuttolene, baked beans, and soups were sold as alternative protein sources to meat. The company also produced a number of drinks, including Caramel Cereal and Bromose. Sanitarium regularly published recipe booklets to educate consumers on how to incorporate these products into their diets.169
In the 1930s, 1940s, and early 1950s, despite the intervention of World War II, the company's manufacturing facilities expanded. Factories were built or bought in all capital cities of Australia and were also established or expanded in New Zealand at Auckland, Palmerston North, and Christchurch.170
Competition Emerges
From 1900 Sanitarium had about 20 years without serious competition in the breakfast food market and reported remarkable growth in sales, especially during World War I, when Granose was purchased by the Australian government and used to help feed the ANZACS.171 However, during this time the price of wheat, the main ingredient of Granose, rose substantially, and supplies were uncertain.172
Production at the Cooranbong factory increased significantly from the end of the war until the mid-1920s because of rebuilding the plant.173 From 1923 to 1927 new mills and presses were ordered to meet supply for an increasing demand for Granose.174 It was reported in July 1924 that seven railway trucks of Granose were expected to be dispatched in one week, a record.175 However, after the war and into the 1920s, rival health food or breakfast cereal food companies appeared.176 They included Cerix Puffed Wheat and Rice, Kellogg's Corn Flakes, as well as several important competitors also producing wheat biscuits.177
Sanitarium responded in its printed health food material: "There are many kinds of biscuits on the market, but we doubt if there are any so carefully prepared and so pure in their makeup as Granose Biscuits. Granose Biscuits . . . consist of wheat, the whole wheat, and nothing but the wheat."178 Cereal Foods Limited was established in Sydney in about 1923 and launched its rival product, Vita-Brits. J. H. Camp, the sales manager for Vita-Brits, was formerly the general secretary of SHF179 and had intimate knowledge of Sanitarium's business. Vita-Brits were very like Granose, but sweeter.180
Sanitarium bought the business off Cerix Puffed Wheat Pty., Ltd., in 1929 after protracted negotiations with the proprietors.181 The price paid was £26,148 for the business, but not the premises in Concord.182
Weet-Bix Enters the Market
Meanwhile, Arthur Shannon, businessman and senior elder of the Stanmore SDA Church, was also interested in making a sweet cereal biscuit similar to Granose and had the backing of family money.183 He established and financed Grain Products Limited (GPL),184employing engineer and former Sanitarium employee Norman Jeffes, baker Frederick Foots, and sales and marketing professional Bennison Osborne to help him with the fledging company.185 Jeffes, an engineer, had worked at the Sanitarium factory making Granose, as well as for Cereal Foods, making Vita-Brits.186 Fred Foots had worked at SHF Cooranbong and knew the recipe for Granose.187
Grain Products, Limited, took the Kellogg brothers' basic Granose formula and added some sugar and malt to produce a more palatable product.188 Sanitarium had omitted sugar from Granose, given its focus on healthy foods, but the product lacked the flavor of the Weet-Bix biscuit.
The first Weet-Bix factory was built in 1926 at 659-661 Parramatta Road, Leichhardt.189 By November 1926 the production of Weet-Bix was beyond the experimental stage, and manufacturing was well under way.190 Shannon and Osborne developed a new way of marketing Weet-Bix. They sold on consignment, with ten Chevrolet trucks sent throughout the suburbs to distribute Weet-Bix and collect cash for goods sold in the previous week. This strategy proved appealing to grocers, who weren't required to pay up front.191
The competition from Grain Products' Weet-Bix was visibly impacting sales of Granose, despite SHF refining its marketing. Some tension toward Shannon from members of SHF was reported on account of the loss of market share.192 To maintain and grow its share in the grain products market, SHF improved its sales methods, but more significantly, decided to attempt to buy out its immediate competitors in Australia and New Zealand.193 The Weet-Bix business in 1928 was very successful, so it was a prime target.194
The impact of Weet-Bix sales on Sanitarium Health Foods had reached the highest levels of church administration. C. K. Meyers, vice president of the General Conference of SDAs in the United States, visited Australia in 1928 and persuaded Shannon to sell the Australian operations of Grain Products, explaining that it was going against God's work with a sweeter, more popular biscuit. Shannon was loyal, so he sold the business to the denomination.195
The sale was dated October 30, 1928, commemorated by SHF as the beginning of its ownership of the Weet-Bix brand. The sale was, in effect, a gift to the church, at the extraordinary price of only £15,000, with a 10 percent deposit and the balance over 10 years at 7 percent interest. It also included an option over the NZ business. SHF continued to manufacture Weet-Bix at the Parramatta Road premises for some years, paying rent of £15 per week to Shannon, who still owned the factory.196
At the beginning of 1931 SHF decided to move the manufacturing of Weet-Bix to Cooranbong. This was to provide more employment to the Australasian Missionary College (now known as Avondale College) students and to make economies.197
Kiwis Embrace Weet-Bix
Weet-Bix was initially imported into New Zealand from in 1926.198 Ian Malcolm Macfarlane, a salesman for GPL and a friend of Bennison Osborne,199 set up the distribution agency there.200 Manufacturing began in 1927,201 when Norman Jeffes moved to Christchurch to establish a Weet-Bix factory in Belfast Street on behalf of GPL. This factory provided a significant expansion in the quantity and availability of Weet-Bix in New Zealand. In 1928, Jeffes established a second factory in Randolph St, Auckland.202 This move was in direct competition to Granose.
SHF endeavored to combat the Weet-Bix expansion in New Zealand by developing Sweetweets, its own biscuit minimally sweetened with honey. Sweetweets competed quite successfully in New Zealand against Weet-Bix for a number of years.203 Then in 1929 Shannon decided that he would discontinue his flake biscuit operation in New Zealand. SHF purchased GPL New Zealand for a price of £30,000 in April 1930, with changeover official on May 23, 1930.204
Community Health Education
After World War II the cafés began to close as retail outlets popped up. These did quite well until extended trading hours started in supermarkets in later years.205 As plans for extending the production and sale of health foods were discussed, managers were reminded of the educational side of the work: "Every packet of food must carry the message. If it goes out as a commercial venture only, we shall utterly fail in our purpose."206
An educational cooking demonstration program run in Hobart by S. M. Uttley featured vegetarian recipes, simple water treatments, and talks on nutrition. The state minister for health attended the final program in the series and spoke in glowing terms of the health education he'd seen and enthused about the associated magazine Health (later Good Health), commending the work of the church for their service to the people of Hobart.207
In the 1960s Les Gill, Sanitarium's Melbourne manager, arranged a series of demonstrations and engaged a public relations agency to send letters to 500 ladies' clubs throughout the city. The response was so overwhelming that the plan for biweekly demonstrations became weekly events. Attendees were given handouts to accompany the presentations and some bags with Sanitarium products, reinforcing the nutritional value of Sanitarium's goods.208
The demonstrations had many iterations over the years and they introduced a new generation of ladies to vegetarian cooking.209 A Victorian television station requested that the chief demonstrators at that time, Mrs. Joan Bateman and Mrs. Patsy Stewart-Jacks, record three months' worth of five-minute television spots for their series "Taste for Food." The series was so well received that the station commissioned the segment to run twice a week indefinitely. The popularity of the program exceeded expectations, advertisers were clamoring to be featured near the segment, and other television stations began to ask for copies of the programs. This underlined to Sanitarium management that there was a large audience who could be shown healthier lifestyles. Wherever there were retail shops, they did demonstrations on local television, and the results were seen in the sales figures across the country.210 There were many more examples of cooking demonstrations in cities all over Australia, including shopping centers as they sprang up.211
A similar trend was happening in New Zealand under the vision of Mrs. Lola Thomas, who gave demonstrations and disseminated information at church groups, parenting group meetings, Police and social clubs, and even gaols, reaching an estimated 6,000 people a year. She presented the company's products and demonstrated how protein substitutes could be used to replace or provide variety to meat.212
In the mid-1980s the company recognized that to sustain the momentum of nutrition education, a professionally oriented support system was needed. Drawing on its long history of teaching the benefits of plant-based eating and giving cooking demonstrations, Sanitarium Nutrition Education Services was established in October 1987.213
According to an article in the Record, its purpose was "to formalise the early commitment of bringing to the community at large the health philosophy of the SDA Church. It will exist as a resource facility, an advisory service and a training centre for both the church and local conference personnel as well as staff for the Sanitarium Health Food Company. It is intended that as this programme develops it will become an information centre for government health departments and related community health organisations." 214
The service operated for 21 years under the leadership of Dianne Butler, then Cathy McDonald, and greatly influenced Sanitarium's standing in nutrition with government and consumers. The team answered thousands of consumer enquiries about nutrition and vegetarianism, published cookbooks, gave cooking demonstrations, and attended trade fairs, before folding to invest in future ways to engage people in health and well-being,215 such as the workplace programs now run by Vitality Works.
However, the service lives on through Sanitarium's nutrition insights team, which continues to support the development of educational materials and recipes used in Sanitarium's digital program and provides nutrition advice at the start of product development. The team also supports the "Ask a Nutritionist" inquiry line, continuing this free service for consumers. The team plays an important role in making government submissions on food and food industry policies, health claims, the Health Star Ratings program and future advances in public health, working with peak industry bodies like the Dietitians Association.216
More Innovation Redefines the Market
Research had been done on soy drinks ever since 1956 after a visiting doctor shared his knowledge. American medical missionary Dr. Harry Miller had been experimenting for years in China where he produced two soy milks. Using Miller's recipes and similar equipment, Sanitarium's Cooranbong scientists produced two products, Soyagen and Soyalac. First beans were used, then soy flour and later soy concentrate, but despite much experimentation a strong bean flavor remained that wasn't palatable to the general public. Despite several market entries over the next couple of decades, products didn't sell well and were dropped.217
It was 1984 before interest in soy milk gained momentum again, after a couple of U.S. salesmen left behind them a bag of soy protein isolate that they had been trying to sell as a fortifier in meat substitutes.218 Sanitarium's research and development team experimented with it until they gradually developed a milklike drink. They arranged a small trial run for the new product at Oak Dairy Company at Hexham, New South Wales, packaged in 10-ounce (300-milliliter) milk cartons.219 This initial run had a short shelf life, which presented a problem for distribution and marketing, as Sanitarium did not have the setup for the product at that stage.220 Then the idea to package it in a Tetra Pak was floated, and Dairy Farmers in Sydney was engaged to do contract packaging.221
The first production batch of So Good Regular was produced at the Dairy Farmers site in Ultimo in 1986.222 Dairy Farmers processed So Good until it reached 50 tons per month. Eventually it became economically viable to bring it in-house and a processing plant was developed at Castle Hill in Sydney.223
Exporting to the World
On November 5, 1987, Sanitarium opened a new $7.2 million complex at Castle Hill, in Sydney, superseding its previous wholesale branch at Lewisham. This became a distribution center for all of the company's products in New South Wales (NSW), and a base for the growing export business in eastern Asia and the South Pacific.224
In the late 1980s it became apparent that the Cooranbong factory was insufficient to meet demand, and a site at Berkeley Vale was selected and purchased. By 1992 the factory had been built and production had commenced,225 laying the foundations for the capacity to produce new products, which were just around the corner.
In the mid-1990s Sanitarium Health Food Company noticed a trend called breakfast skipping. The company's nutritionists and food scientists were inspired to create a convenient and nutritious breakfast option for busy people, so in 1998 the company launched UP&GO, creating a liquid breakfast category in a world-first innovation.226 It proved to be a product idea that would change the breakfast landscape in Australia and New Zealand for decades to come. Initially it was a challenging time for the team, as the product was not expected to pay returns for a number of years, which took a considerable amount of foresight from the board.227
In early 2000, after creating new communications, the marketing team decided to take a radical approach to media spend and diverted the entire television advertising budget to morning radio instead. This was a successful strategy as demand quickly outstripped supply, which kickstarted the growth curve UP&GO has enjoyed since.228 Sales of UP&GO grew into the top ten of the breakfast category in 2003, only six short years after the product's inception.229 In part this was owing to the credible reputation and brand Sanitarium had built on the back of offering quality, healthy products.230
The company had a long history of vegetarian offerings, from meat substitutes Protose and Nutmeat to baked beans,231 savory lentils, vegetarian sausages, steaks, and burger patties.232 These were predominantly produced in cans, because of the processed nature of the products.233 By the mid-1990s Sanitarium had a range of vegetarian products to offer its well-established community of Adventists and vegetarians, and Sanitarium was actively promoting plant-based diets at church camps and other expos for many years before vegetarianism and flexitarianism became trendy. There were Sanitarium stores that sold only the products in Australia and New Zealand, but they were also exported to the United States and the South Pacific.234
Recognizing the growing opportunity in plant-based foods for savvy new consumers who were seeking taste and convenience beyond what Sanitarium was traditionally producing, the search began for a way to gain a greater footprint in the market.235
Vegetarian Range Grows
Life Health Foods (LHF) burgeoned from New Zealand, where it began as a collection of small startups that had launched in the 1980s and 1990s. They were all making plant-based foods and developed over the years to the point where they came to the notice of Sanitarium CEO Kevin Jackson, who was looking to expand the Sanitarium group's portfolio of vegetarian meal products.236 These small businesses were based on stirring success stories of individuals inspired by a similar mission to Sanitarium's pioneers; to introduce healthy and delicious vegetarian foods to as wide an audience as possible.237
The first business acquired was Lisa's Healthy Foods in 2002. Lisa's story began in 1990, when young primary school teacher Lisa Er wanted her small children to try hummus but was frustrated at the lack of good-quality products in her local Auckland shops. Motivated by an uncompromising passion for natural, healthy, plant-based food, Lisa began making her own preservative-free and additive-free version of the Middle Eastern dip in her kitchen for her family and friends.238
Hummus was not widely known in New Zealand at that time, but the word spread so quickly about Lisa's delicious recipe that she started selling little pots of it to the local health food store, with the lids hand-labeled "Lisa's Hummus" in permanent marker pen. Since its acquisition the Lisa's brand has grown nearly tenfold on the back of continued product and range innovation.239
The new entity grew further when Bean Supreme and Naked Organics were acquired in 2006. Bean Supreme, Ltd., was founded in 1984 by two Auckland entrepreneurs, the Johnston brothers, who pioneered New Zealand-made tofu. Paul Johnston is still a dedicated and involved member of the Life Health Foods family. During the past ten years the Bean Supreme product range has been extensively expanded through continued innovation, and today its wholefood vegetarian burgers and sausages are found in all major supermarkets across New Zealand and Australia.240
In the late 1990s, Kiwi chef Angus Allan founded Naked Organics, which was based on entirely natural ingredients. The brand was renamed Naked Cuisine following its acquisition and expanded into the Naked Locals soup range (based on produce sourced from the best local farmers in different growing regions across New Zealand)241 and Naked Kitchen (meals inspired by the great kitchens of the world). Both Naked Locals and Naked Kitchen hold number-one market share positions, despite competing in nonvegetarian categories.242 In 2010 Kato, a business owned and inspired by Chef Russell Cowley, was purchased; it came with two very strong food-service brands, Food By Chefs and Prep Kitchen.243
Under the leadership of Bennie Hendricks, these individual businesses were relocated to a purpose-built site in Avondale, Auckland, and the business was named Life Health Foods.244 LHF is now the number-one plant-based meals manufacturer in New Zealand,245 with 150 employees.246
In July 2014 Sanitarium Health & Wellbeing Australia transferred its vegetarian meals business, including its popular Vegie Delights brand, to Life Health Foods Australia, a new company and subsidiary of LHF New Zealand. This move was driven by the success of the New Zealand business which operated as a separate, focused entity. LHF Australia'svegetarian foods expertise spans over a century from Sanitarium's earliest canned foodslike Nutmeat, launched in 1912.247
LHF Australia relocated to a purpose-built factory near Sanitarium's Berkeley Vale headquarters on the NSW Central Coast and opened for business in January 2015 with 55 staff members. It launched the Naked Kitchen range in April 2016, and also began importing Bean Supreme and Prep Kitchen from LHF New Zealand.248
In August 2016 LHF Australia launched the Alternative Meat Company, with a range of meatlike chicken-free and beef-free strips and chunks. This was followed in 2019 with a new generation range of "beefy" burgers, sausages, and mince packed in butcher-style trays, in a move to capitalize on the quickly growing category of vegetarian "meat." In late 2018 a sister brand, the Alternative Dairy Company range of vegan cheese products, was launched.249 Building on the group's legacy of producing delicious, healthy foods, the Vegie Delights brand was given a facelift250 and is now a 100 percent vegan-friendly range, which has further cemented Life Health Foods as a leading plant-based manufacturerin Australia. Today LHF Australia has a staff of 130 and has nearly doubled its revenue.251
The Life Health Foods family now extends around the world. ProSoya, which had pioneered soy milk in India, joined the group in 2011, and was renamed as Life Health Foods India in 2015. It was the first company to manufacture almond milk in India. In mid-2018 the So Good brand was introduced, with availability expanding to multiple cities across the country.252 Together, So Good Almond Milk and Soy Milky provide an alternative to dairy in a country that has a high level of lactose intolerance253 and lifestyle diseases.254 So Good is now well established as the largest brand in Almond Milk, and the Soy Milky range holds number two position in the soy milk category.255 Life Health Foods India has tripled its sales revenue during the past five years.256
Life Health Foods UK was established in 2015, supplying innovative breakfast foods including Nutri-Brex Gluten-Free cereal biscuits and mueslis, and UP&GO liquid breakfast and snacks, to the European market.257 The business plans to grow the range of products on offer in this market and has already supported a number of Trans-European Division health programs.258 British Swimming has signed a three-year sponsorship arrangement with UP&GO as the Official Breakfast Partner for the team.259
As leader in the plant-based food categories in New Zealand260 and Australia,261 Life Health Foods continues its innovative focus, responding to consumer demand for meat-free and nondairy options by developing healthy, convenient, affordable plant-based products that are good for people and the planet.
Health and Wellbeing Services
In 2005 CEO Kevin Jackson and his senior team undertook a strategic review of the company's future. They set out to take a fresh look at the company's original mission, with a view to continue building on the trust and credibility the company had earned in the fields of health and well-being.
With progress being made in the food business, Kevin Jackson believed now was the time to revitalize the company's original emphasis on direct contact with consumers, reflecting its philosophy of promoting full, abundant and "wholistic" living that nourishes the whole person. Cathy McDonald, by now general manager for Health and Wellbeing Services, was tasked with leading the development of this area.262 She had led Sanitarium's key Nutrition Education Service team for more than two decades; a team that had played an instrumental role in building up the company's credibility and standing with consumers to the point where a far-reaching expansion could be undertaken.
The management team was well aware of research showing that consumers still associated Sanitarium with its historically famed vegetarian cafés, which had operated up to the 1970s. In April 2008 CFO Dale Williams led a pilot program in Brisbane, Kitchen Sanitarium, which started serving delicious vegetarian meals in a contemporary revival of the "hands-on" philosophy. It was later decided that a broader approach was needed, and this venture eventually closed in February 2017.263
As part of the considerations on future direction, there was concern that despite all the nutrition information available to the public, preventable "lifestyle" diseases such as type 2 diabetes and obesity were soaring toward crisis levels.264 Combining these circumstances with a renewed focus on workplace health and safety across Australia and New Zealand, Jackson, McDonald, and their team identified a gap in the market that Sanitarium was ideally placed to fill: taking health-based services directly to employees in their own workplaces.265
By this stage Sanitarium had already been operating its own acclaimed program called BetterU. It offered Sanitarium staff services and activities across a broad spectrum, including nutrition, weight management, physical activity, and mental health.266 Its success helped Sanitarium to take first place in the 2013 New Zealand Workplace Wellbeing Awards,267 and to win Employer of Choice in the Australian Business Awards 2016.268
Cultivate by Sanitarium, based on the company's trial of BetterU, opened for business in 2010 and was well received, with $50,000 worth of contracts secured within its first two months. Based in Pyrmont, Sydney, Cultivate offered coaching to Sanitarium staff and to external clients Australia-wide in three specialized areas: 1) health and well-being, with access to experienced health coaches and covering areas such as stress, motivation, work/life balance, sleep and movement; 2) food coaching, with an accredited practicing dietitian to help with meal plans, weight management and chronic disease management; and 3) movement coaching, with an accredited exercise physiologist to help participants maximize energy levels and endurance, improve muscle strength or flexibility, manage their weight, and prepare for an event or recover from injury.269
Research showed that employees who participated in BetterU and Cultivate were found to have much lower health risks.270 They were also happier and more satisfied in their jobs, took fewer days off work, and performed better in general.
In 2010 McDonald spearheaded the development and fit-out of Sanctuary, an innovative startup aimed at uniting traditional and complementary medicines to address whole-person health under one service. Sanctuary by Sanitarium was based around the corner from Cultivate in the old CSR sugar mill building in Pyrmont, NSW.271
Sanctuary's team of professionals, comprising doctors, nutritionists, physiotherapists, and counsellors, were soon busy applying Sanitarium's nutrition services to the area of practical, whole-person health. "Wholistic" advice and support were provided to more than 8,000 clients in the Pyrmont community, including cooking demonstrations and exercise programs.272
The difficult decision was taken to close Sanctuary in January 2016. The company had achieved its objectives in terms of providing much-appreciated "wholistic" services to the local community, but the level of competition in this field had increased to the point where its business model was no longer financially viable.273
However, the Sanctuary experience led the business to recognize the opportunity in the sector of providing health checks to a potentially large market of executives and corporates. McDonald and the Sanitarium executive team set about an ambitious and exciting expansion of their workplace-based services,274 extending the mandate of finding new ways to help communities to stay well to every workplace.275
The first step was to purchase several small companies that offered a variety of workplace health and well-being services in Australia and New Zealand.276 Onsite Health Solutions (OHS) was headquartered in Perth, with offices around Australia and New Zealand employing 48 staff. Its services included workplace mental health and wellness, rehabilitation, ergonomic assessments, and stress and resilience training. OHS, purchased by Sanitarium in 2012, also developed the highly popular and successful SafeSpine injury prevention program, which, with some modifications, is still one of Vitality Works' flagship services.277
Sanitarium also acquired WA-based Futuris Health, purchased in June 2013, with 31 staff members offering preemployment medical examinations, among other services; Provax, which provided onsite flu vaccinations; Calastica, a provider of workplace medical assessments; and a New Zealand business, Vitality Works, which had operated since 2009, specializing mainly in "team challenge" packages.278
Sanitarium decided to keep the name of the New Zealand company they'd bought, Vitality Works, because it expressed clearly the philosophy behind the services of the new venture. In 2013 these six businesses were combined into one organization under the trademark Vitality Works.279
As McDonald recalls: "Three of the businesses serviced staff in the mining sector. We bought these at the peak of the mining boom, when there were historically high numbers of mining employees. When the mining boom started to fall away, employees were laid off, and the three companies we had acquired experienced a big drop in demand. This was very challenging for us, and it took a toll on the whole team because we had invested so much of ourselves in the new venture, emotionally as well as financially. But we stuck with it because of our deep commitment. After a lot of hard work, in 2017 we began to see an upward turn, and today we are Australia and New Zealand's largest workplace health provider."280
Vitality Works offers its partners a range of evidence-based and individually tailored packages in the fields of injury prevention, team health, occupational health and health assessments.281
Based on the team's 15 years of experience and touching the lives of more than 1 million employees, the results have seen that improving individual employee well-being sets people up to be happier, healthier employees, which in turn builds value for the organization through a safer, more productive workforce and a workplace that attracts and retains talent.282
Today, Vitality Works employs eighty staff and is a trusted leader in workplace health and well-being, counting among its six hundred clients Air New Zealand, Commonwealth Bank Australia, Laing O'Rourke, Westpac, St. Johns, and the Reserve Bank of Australia.283
Complete Health Improvement Program (CHIP)
CHIP is a community-based lifestyle intervention program that uses behavioral change principles in a group or self-guided setting, education, and modern adult learning tools to help participants make fundamental lifestyle changes that are proven to lower key risk factors within ten to 12 weeks.
In 1965 a young German with a deep interest in nutrition and health named Hans Diehl immigrated to Canada. Diehl studied health science and public health nutrition in the United States, at California's Loma Linda University, owned and operated by the SDA Church.284
By the time he had completed his studies, Diehl was convinced that many lifestyle-related diseases could be prevented, halted, and even reversed by making simple lifestyle changes. Now fully qualified in this field, Diehl began designing an educational lifestyle intervention program that would prove his theory. He was strongly influenced by his professional collaboration with Dr. Denis Burkitt and Dr. Nathan Pritikin, who were both inspirational, world-renowned advocates of a healthy, plant-based diet combined with moderate exercise, for better health and longer lives.285
However, Diehl was also very conscious that even the smallest lifestyle changes were unlikely to be sustainable if made in isolation, with no supportive infrastructure in place. Therefore, he designed his Coronary Heart Improvement Program (CHIP) to be community-based, providing each participant with a strong support network. CHIP launched in Creston, a small Canadian community, in 1988, with four hundred people taking part in the four-week pilot program.286 From these beginnings the program expanded internationally.
In 2013 the worldwide rights to CHIP, renamed to Complete Health Improvement Program, were purchased by the Lifestyle Medicine Institute, a Sanitarium Health & Wellbeing Group company,287 reflecting the group's purpose of changing lives and promoting healthy communities.
CHIP is now a three-month, 18-session program that takes a whole-person approach, from eating fewer processed foods and moving more to building mental well-being and social connectedness, with support from a social leadership model.288
CHIP provides tools and strategies for making lifestyle choices that will stick, using dynamic and compelling live and video presentations that deliver information and motivation. The program focuses on normalizing blood pressure and lowering cholesterol, triglycerides, fasting blood sugars and BMI, among other health risk factors.289
In Australia CHIP programs, directed by the Lifestyle Medicine Institute, are predominantly run through Adventist Church community centers using video resources, workplace programs, doctors' offices and Cedarvale Health and Lifestyle Retreat, located in the Southern Highlands of New South Wales. A small percentage of participants in the program take part via an online trial version.290
More than thirty years from its founding, CHIP has proven itself to be a highly effective and evidence-based program, driving positive health outcomes for more than 85,000 participants in Australasia and worldwide.291 The program's effectiveness has been the subject of many peer-reviewed studies, while positive testimonials flow in from individuals whose lives have been turned around by the program.292
Under the auspices of the South Pacific Division, CHIP programs have been conducted internationally in Malaysia, Philippines, Namibia, Malawi, Nepal, Bangladesh, South Africa, Botswana, Fiji, Tonga, Solomon Islands, Papua New Guinea, and Vanuatu.293
Growing Product Markets
Running parallel to the developments in health education, Sanitarium Health Food Company's products have been expanding into new markets, particularly in Asia, as consumer interest grows in convenient, Western-style breakfast cereals.294
Weet-Bix adopted the international brand name Nutri-Brex in China in mid-November 2016, in order to comply with incoming trademark restrictions and capitalize on what has become Sanitarium's largest export market. Nutri-Brex is sold in more than 1,500 stores nationwide in China and multiple online channels.295
In 2014 Sanitarium introduced gluten-free Weet-Bix, made from sorghum, to the welcome response of celiac- and gluten-sensitive consumers.296 The company's Carmel factory in Perth, Western Australia, is dedicated solely to the gluten free product to eliminate the risk of wheat contamination.297 Sanitarium also produces the gluten-free Weet-Bix range for the UK, its second-biggest export market, under the Nutri-Brex brand name.298
Sanitarium's Advanced Nutrition Unit is a small team dedicated to identifying and developing solutions for people living with altered or diagnosed nutritional needs. Its first product, Weet-Bix Cholesterol Lowering, was launched in 2017 and is the first cereal in Australia to include the Heart Foundation's recommended two grams of plant sterols per serve.299 In recognition of this innovation, Weet-Bix Cholesterol Lowering was named Australian Healthy Food Guide's 2017 Product of the Year300 and Australian Business Award Winner for Product Innovation of 2018.301 The Advanced Nutrition Unit is currently partnering with such research organizations as the Hunter Medical Research Institute, CSIRO, and leading clinical researchers from several Australian universities.302
In May 2019 Sanitarium introduced Weet-Bix Protein in response to consumer demand for products with protein.303 The same year, Weet-Bix celebrated its ninetieth birthday, achieving a sales turnover of $AU140 million across the range.304
As So Good continues to compete in the nondairy milk market, Sanitarium launched the Alternative Dairy Co Barista Milk into the café segment in 2019 to further grow market share.305
Sanitarium's experienced food technologists reformulated the UP&GO range in 2019, seeking to eliminate added sugars in the product without reducing the nutrition and taste profile. The team removed 550 tons of sugar from the product range, yet maintained sales.306
Recent products developed through consumer and food science research have contributed to 10 percent of sales.307 These included So Good Cashew Milk, So Good Soy Prebiotic, Alternative Dairy Company Barista Soy and Almond Milks, Weet-Bix Protein, UP&GO Blends Strawberry Raspberry, UP&GO Mint Choc, and Low GI Granola varieties.308
Looking to the future, Sanitarium's Incubator, located at the Warnervale site in New South Wales, will continue to create innovative and healthy products for the market. 309
Sanitarium and Sport Go Hand in Hand
Sporting partnerships have been a natural fit for a number of Sanitarium's product brands. Weet-Bix particularly has teamed up with sporting associations and teams, including Cricket Australia, the New Zealand All Blacks, the Australian Wallabies rugby team, the Fiji Rugby Sevens team as well as Australian Cricketer Brett Lee, soccer star Tim Cahill, professional surfer Stephanie Gilmore, and other stars of the sports field, from soccer to snowboarding.310
In 2016 UP&GO became the official breakfast of the National Basketball Association,311 sponsoring star Australian player Matthew Delladova for two years.312
These partnerships bolster brand awareness and have helped etch Sanitarium into the national sporting psyche.
Investing in Community Health
Sanitarium Health Food Company profits continue to be directed to the Seventh-day Adventist Church in the South Pacific Division for its work to improve community health and well-being.313
Further, in keeping with Sanitarium's ethos of nutrition and healthy living, Sanitarium supports its community in a number of additional ways to its business contributions. Each year the group reports to the South Pacific Division executive committee on how it achieves its constitution and supports the mission of the church.
Good Start Breakfast Club program, run in partnership with Foodbank Australia andKickstart for Kids (South Australia), give thousands of disadvantaged children in 2,200 schools across Australia a healthy start to their day while promoting good social and learning outcomes. Sanitarium provides more than 1.5 million servings of Weet-Bix, So Good, and Marmite each year.314 Sanitarium has also partnered with Foodbank Australia since 2010 through a collaborative pack arrangement, to tackle the serious issue of food security. This has resulted in more than 2.3 million serves of Weet-Bix product donated to the many Australians seeking food assistance.315
In New Zealand, Sanitarium has partnered with Fonterra since 2009 and the New Zealand government since 2013 to facilitate Kickstart Breakfast Clubs. The program now reaches one thousand schools and provides breakfast to more than thirty thousand children each day.316
Sanitarium New Zealand also has a longstanding partnership with the Graeme Dingle Foundation. Since 2000 it has supported the Foundation's STARS Programme, which fosters a stronger community in the school and gives students more confidence and resilience in their school environment. Graeme Dingle Foundation programs reach more than 27,000 young people in 40 communities across New Zealand.317
Sanitarium has been a partner of World Vision since 1984, contributing a total of more than $NZ400,000 to support the forty-hour famine and the Youth Ambassador Programme.318
Each year Sanitarium Health & Wellbeing Group's staff fundraising efforts contribute to such worthwhile projects as providing water tanks for access to clean drinking water in Vanuatu, supporting Aussie farmers during the drought, disaster relief in Indonesia, or building schools and latrines for villages in Vietnam and Cambodia.319
Sanitarium also established the Sanitarium Weet-Bix Kids TRYathlon in New Zealand and Australia, an inclusive, noncompetitive event that has encouraged thousands of children to get involved in physical activity.320 Since the event's inception in 1992, it has grown to include more than 45,000 children participating in 28 annual events across both countries each year.321
Sanitarium works closely with Adventist Development and Relief Agency in Australia and New Zealand and across the Pacific. These partnerships are just some of the many causes supported by Sanitarium Health & Wellbeing Group across the church, food security, and health spaces.322
Group Direction
In March 2018 Kevin Jackson announced the decision to unite Sanitarium Health Food Company, Life Health Foods, Vitality Works, the Lifestyle Medicine Institute, and CHIP under the one banner of the Sanitarium Health & Wellbeing Group, renaming the South Pacific Division's Health Food Department. The move was designed to indicate internally and to its owners, the Seventh-day Adventist Church in the South Pacific region, that these entities are working together toward the common purpose of "changing lives every day through whole-person health."323
Sanitarium Health & Wellbeing Group
With such a long history of health education, Sanitarium's nutrition service endures in the form of the company's food, nutrition, and health marketing program on the digital platform, reaching the Australian and New Zealand communities. Sanitarium's latest consumer insight data indicates that consumers see Sanitarium as being a trusted source of expert information and advice on nutrition and a source of healthy, nourishing recipes.324
Sanitarium is one of Australia and New Zealand's most trusted brands, as voted by consumers as in the Annual Reader's Digest Trusted Brands awards. In Australia, Sanitarium Weet-Bix has won the Most Trusted Breakfast Food Award for the past six consecutive years to 2019,325 while in New Zealand, Sanitarium has won the equivalent award for ten straight years.326 In both Australia and New Zealand, Weet-Bix and UP&GO lead the breakfast categories,327 and So Good is one of two leaders in plant-based milks.328
Despite a tough and rapidly changing trading environment, Sanitarium has continued to succeed, achieving a sales turnover of more than $AU400 million for the financial year 2018/2019.329 Sanitarium New Zealand achieved a record operating profit and revenue of $NZ152 million during the same financial year.330
The company has recently completed the closure of two of its historic sites, the Cooranbong and Christchurch factories, while investing in other sites, including the new product Incubator production facility.331
The company's exports continue to grow, particularly across all Pacific Island markets, especially Fiji and Papua New Guinea. So Good can now be found in all markets across Southeast Asia. A number of retailers across Indonesia and Malaysia have confirmed that So Good is the number-one imported Almond milk brand.332
Life Health Foods New Zealand continues to hold and grow its position as the leading supplier of plant-based chilled foods.333 LHF New Zealand has experienced such strong growth that has seen its revenue triple since 2009, with a major expansion project under way that will see the size of its facility more than double,334 new capabilities on-site, and significant upgrades to all major processes.335
In Australia, Life Health Foods has maintained its position as the number-one supplier of vegetarian foods. Its Alternative Meat Company brand has been performing well and has now launched in New Zealand. 336
LHF United Kingdom's brands are gaining traction, with UP&GO now stocked in all major retailers in the UK, delivering the fastest share and market growth in the breakfast drinks category.337
Life Health Foods India has continued to show strong growth and is the largest player in the growing almond milk segment, with product found in more than 8,000 outlets across India.338
In the workplace health and well-being space, Vitality Works' client base continues to grow. The team now provides services to more than six hundred corporates across Australia and New Zealand, contributing to an accumulated reach of more than 1.5 million lives in the past five years.339
During the past year the Complete Health Improvement Program (CHIP) positively impacted more than 6,700 people from the South Pacific Division and around the world, who were assisted by almost 1,300 trained facilitators.340
As interest in plant-based eating continues to grow among the younger generations particularly, providing opportunities for growth in the nondairy milk space and the vegetarian food market,341 UP&GO expands into international markets,342 and more workplaces recognise that good employee health and well-being boosts organizational health,343 the future looks positive for Sanitarium Health & Wellbeing Group.
Sources
"About the Founder and Lecturer." Accessed June 7, 2019. https://chiphealth.org.au/about-the-founder-and-lecturer.
"Actions Taken by the Union Conference Council. Held at Wahroonga, New South Wales, September 9–20, 1909." Union Conference Record, October 4, 1909.
Amyes, S. H. "A Brief History of the Start and Progress of the Sanitarium Health Food Work in New Zealand." The Sanitarium Traveller, May 1934.
———. In The Sanitarium Traveller, September 1934.
Auckland factory official opening program, February 28, 1961.
Australasian Conference Association board minutes, April 22, 1930.
Australasian Medical Missionary and Benevolent Association committee minutes, September 7, 1898; October 7, 1898; August 9, 1899.
Australasian Union Conference executive committee minutes, September 25, 1919.
Australasian Union Conference minutes, October 21, 1896; September 14, 1905.
Avondale College board minutes, March 14, 1902.
"Avondale Industries Report." Australasian Record, October 30, 1922.
Bagnall, John Baskerville. Arthur Shannon and the Beginnings of Weet-Bix. Unpublished manuscript. Private collection of John Baskerville Bagnall, March 2014.
Baker, W.L.H. "Union Conference Proceedings, Report of the New Zealand Conference." Union Conference Record, July 22, 1901.
Beaglehole, Robert, et. al. "Health Policy: Priority Actions for the Non-Communicable Disease Crisis." The Lancet, April 6, 2011. Accessed March 1, 2020. https://www.oecd.org/els/health-systems/47531330.pdf.
Brady, Sharyn. "Sanitarium NZ Wins Wellbeing Award." Adventist Record, December 2, 2013. Accessed August 13, 2019. https://record.adventistchurch.com/2013/12/02/sanitarium-nz-wins-wellbeing-award/.
"Benefits to Business: The Evidence for Investing in Worker Health and Wellbeing." Accessed August 9, 2019. https://www.comcare.gov.au/__data/assets/pdf_file/0006/99303/Benefits_to_business_the_evidence_for_investing_in_worker_health_and_wellbeing_PDF,_89.4_KB.pdf.
Butler, G. I. "Still Onward." Review and Herald, May 12, 1885.
Castle Hill branch official opening program. November 5, 1987.
"Christchurch Health Food Factory." Australiasian Record, October 30, 1922.
Cobb, S[tephen] M. "The Report of the New Zealand Conference." Union Conference Record, September 7, 1908.
Cole, H. L. "News Notes From Victoria." SanCo News, March/April 1970.
Cole, Sid. "History of Soy Foods." SanCo News 33, no. 4 (1999).
Colmar and Brunton Research. Commissioned by Life Health Foods and Food Frontier, July 2019.
Convenient Vegetarian Meals. Canned Products 1997, Sanitarium PDF, 1997.
"Cooking Demonstration . . . Adelaide." SanCo News, September 1978.
"Cooking Demonstration . . . Roselands." SanCo News, September 1978.
"Cooking Demonstration . . . Townsville." Sanco News, September 1978.
"'Cultivate' Dedication a New Beginning for Sanitarium." SanCo News 70, no. 1 (2009).
De Berg, Marian. Stories From Sunnyside—Ellen White in Australia, 1891–1900. Warburton, VIC: Signs Publishing, 2017.
"Dr. Braucht arrived in Auckland . . ." Union Conference Record, March 1, 1900.
"Employer of Choice Winner 2016—Sanitarium Health and Wellbeing." Australian Business Awards. Accessed August 13, 2019. https://employerofchoiceawards.com.au/2016-winners/sanitarium-health-and-wellbeing-2016-eoc/.
Ethos and Mission Report F18-19. Sanitarium Health and Wellbeing Group, November 11, 2019.
Ethos and Mission Report F17-18. Sanitarium Health and Wellbeing Group, December 2018.
Evening Post (Wellington, New Zealand), March 8, 1927; September 22, 1928.
Farnsworth, E. W. "Sydney Vegetarian Café." Union Conference Record, April 1, 1902.
Fisher, G. S. "Avondale Industries Report." Australasian Record, October 30, 1922.
———. "Early Experiences in Health Food Work—Part 3." SanCo News 1, no. 3 (May 1939).
———. "Early Experiences in Health Food Work—Part 2." SanCo News 1, no. 2 (April 1939).
———. "Early Experiences in the Health Food Work." SanCo News 1, no. 1 (March 1939).
———. "Health Food and Café Department." Australasian Record, September 7, 1908.
———. "Health Food and Café Department." Union Conference Record, September 7, 1908.
———. "Medical." Australasian Record, April 29, 1912.
———. "Nearly Forty Years in Institutional Work." Australasian Record, July 29, 1935.
———. "Our Health Food and Café Work." Australasian Record, June 14, 1915.
———. "Our Health Food and Café Work." Australasian Record, June 14, 1914.
———. "Our Health Food and Café Work." Australasian Record, September 28, 1914.
———. "Our Health Food Work." Australasian Record, February 7, 1910.
———. "Pure Food Café." Union Conference Record, August 1, 1905.
———. "The Medical Work." Australasian Record, October 13, 1913.
Foreign Mission Board minutes. April 23, 1894.
"From Weet-Bix to Wellbeing—Sanitarium; Groundbreaking Commitment to Health." Sanitarium media release, September 6, 2010.
Gates, E. H. "A Shipload of Gold Sovereigns for Missions." Union Conference Record, September 17, 1906.
Gill, L. A. "Demonstrated Health Foods, Are They Worth While?" Australasian Record, October 25, 1965.
———. "Showing How It Is Done." SanCo News, January/February 1971.
Gospel of Health 2, no. 6, June 1898.
"Group Hug!" SanCo News 79, no. 1 (2018).
Halsey, E. C. Diary. December 14–26, 1897; January 26–31, 1898; November 15, 1900, to March 1, 1901.
Hammond, H. W. "Home Health Educational Service, Hobart." Australasian Record, November 2, 1953.
Hammond, T. W. "A Giant in the Making." Australasian Record, July 18, 1960.
Hansford, G[eorge] F. "Health Food and Café Work in New Zealand." Union Conference Record, May 6, 1907.
Hare, R. E. "New Café Premises, Sydney." Australasian Record, October 28, 1935.
Haskell, S. N. "The Australian Mission." Historical Sketches of Foreign Missions. Basle, Switzerland: Imprimerie Polyglotte, 1886. http://documents.adventistarchives.org/Books/HSFM1886.pdf.
"Have You Had Your Sorghum? Gluten-free Weet-Bix Helps Combat Diabetes." Curtin University News, July 25, 2018. Accessed June 28, 2019. https://news.curtin.edu.au/stories/sorghum-arc-collaboration-develops-gluten-free-weet-bix/.
Hawkes, J. R. "Taste and See—at Melbourne." SanCo News, July/August 1974.
———. "Two Injections for the Right Arm." SanCo News, January/February 1971.
Hayes, Alex. "UP&GO Seals New Sponsorship Deal With Aussie Player and NBA Cleveland Cavaliers." Mumbrella, January 7, 2016. Accessed August 9, 2019. https://mumbrella.com.au/up-go-seals-new-sponsorship-deal-with-aussie-player-and-nba-cleveland-cavaliers-338294.
"Head Office and Berkeley Vale Opening." SanCo News 27, no. 2 (Spring 1995).
"Health and Wellbeing Services." Sanitarium Ethos and Mission Report 2013–2014.
"Health Food Department." Australasian Record, October 30, 1922.
Health Reform Institute, Battle Creek, Mich." Review and Herald, October 19, 1876.
Hendricks, Bennie. "LUF, AU, NZ, and International." Sanitarium Health and Wellbeing Group AGM Annual Report Video Scripting and Vision, September 30, 2019.
———. "LHF AU V2." Internal Sanitarium Word document, June 24, 2019.
———. "LHF NZ V2." Internal Sanitarium Word document, June 24, 2019.
Hogan, Andrea. "Australian Healthy Food Mag Awards 2017 Winners Announced." Australian Food News, October 16, 2017. Accessed June 12, 2019. http://www.ausfoodnews.com.au/2017/10/16/australian-healthy-food-mag-awards-2017-winners-announced.html.
"How Sanitarium Launched Gluten-free Weet-Bix." July 26, 2017. Accessed June 28, 2019. https://www.marketingmag.com.au/hubs-c/weet-bix-case-study/.
Impact Magazine, March 2019. Sanitarium Health and Wellbeing Group.
IRI Aztec Temple. AU Vegetarian Grocery Scan. MAT 03/03/19. Dollars (000s).
IRI Aztec Temple. NZ Vegetarian Grocery Scan. MAT 21/07/19. Dollars (000s).
IRI Custom report. Quick and Easy Meals. MAT 28/10/18. Dollars share of category.
Jackson, Kevin. In Ethos and Mission Report F18-19. Sanitarium Health and Wellbeing Group, November 11, 2019.
Johanson, J. M. "The History of Our Health Food Work in Australasia—No. 4." Australasian Record, November 28, 1927.
———. "The History of Our Health Food Work in Australasia—No. 1." Australasian Record, October 17, 1927.
———. "The History of Our Health Food Work in Australasia—No. 3." Australasian Record, November 14, 1927.
———. "The History of Our Health Food Work in Australasia—No. 2." Australasian Record, November 7, 1927.
Johanson, W. O. "Health Food Department." Australasian Record, September 27, 1926.
———. "Health Food Department Notes." Australasian Record, May 28, 1923.
Joubert, Deon. "LHF UK." Sanitarium Health & Wellbeing Group AGM Annual Report Video Scripting and Vision, September 30, 2019.
"Kitchen." SanCo News 69, no. 3 (2008).
"Kitchen Sanitarium Closed." Sanitarium media release, February 20, 2017. Accessed February 12, 2019. https://www.sanitarium.com.au/about/media-room/kitchen-sanitarium-closed.
Krause, Gary. "White, Ellen Gould (1827–1915)." Australian Dictionary of Biography. 1990. Accessed August 9, 2019. http://adb.anu.edu.au/biography/white-ellen-gould-9071.
Leitzmann, Claus. "Vegetarian Nutrition: Past, Present, Future." American Journal of Clinical Nutrition 100, Suppl. 1 (July 2014).
Levterov, Theodore. "Ellen White and Vegetarianism" and "A Great Meat Eater: The Years Leading Up to the 1863 Health Vision." In M. Burt, ed. Understanding Ellen White: The Life and Work of the Most Influential Voice in Adventist History. Nampa, Idaho: Pacific Press Publishing Association, 2015.
Life and Health. Various issues, 1928 to 1932.
"Lifestyle diseases in India." Press Information Bureau, Government of India Ministry of Health and Family Welfare, July 31, 2018. Accessed February 2, 2020. https://pib.gov.in/Pressreleaseshare.aspx?PRID=1540840.
Litster, Glynn. The Sanitarium Health Food Company Story. Monograph by G. Litster, 1995.
"Marmite Production Underway at AMU." SanCo News 81, no. 1 (Spring/Summer 2019).
McDonald, Cathy. "Vitality Works and CHIP." Sanitarium Health & Wellbeing Group AGM Annual Report Video Scripting and Video, September 30, 2019.
Melbourne Health Food Bakery committee on arrangements minutes, December 11, 1897. Australasian Union Conference.
Montgomery, John. "Advanced Nutrition Unit." Sanitarium Health & Wellbeing Group AGM Annual Report Video Scripting and Vision, September 30, 2019.
Morse, G. W. "Location of the Food Factory." Union Conference Record, September 15, 1898.
———. "The Health Food Business." Union Conference Record, September 1, 1899.
Muir, Sophie. "UP&GO and the NBA Launch Competition for Aussie Basketball Fans." December 15, 2016. Accessed June 7, 2019. https://www.bandt.com.au/marketing/upgo-and-the-nba-make-one-australian-the-envy-of-basketball-fans-around-the-world.
Nielson Grocery Scan Mat to December 29, 2019.
"1930? Queensland Bans Peanut Butter." Australian Food History Timeline. Accessed February 11, 2020. https://australianfoodtimeline.com.au/peanut-butter-ban/.
"Nutri-Brex—A New Name for Weet-Bix in China." Accessed July 2, 2019. https://www.sanitarium.com.au/about/sanitarium-story/nutri-brex-a-new-name-for-weet-bix-in-china.
"Nutrition Education Service." Sanitarium Health Food Half Yearly Report to Board of Management, December 1991.
O'Connell, Jan. "1898 Sanitarium Peanut Butter." Australian Food History Timeline. Sydney, NSW: NewSouth Publishing, University of New South Wales Press, Ltd., 2017.
Pallant, J[esse]. "The New Zealand Conference." Union Conference Record, February 15, 1909.
Palmer, E. R. "The Health Food Factory." Union Conference Record, December 1, 1899.
Palmerston North factory official opening program, April 2, 1952.
"Pioneers—James White." Accessed May 15, 2019. https://whiteestate.org/resources/pioneers/jwhite/.
Powell, H. B. The Original Has This Signature—W. K. Kellogg. Englewood Cliffs, N.J.: Prentice-Hall, 1956.
Rego Numbers Historic, 1993–2019.
Rippon, W. P. The Beginning of Australian Marmite. n.d. Unpublished paper in Sanitarium archives.
Robinson, D. E. The Story of Our Health Message: The Origin, Character, and Development of Health Education in the Seventh-day Adventist Church. Nashville: Southern Publishing Association, 1965.
Ryan, Emily. Edits to ESDA submission extract—Sanitarium to LHF 1. Internal Word document. August 5, 2019.
Sandeman, J. S. "Melbourne Wholesale Branch." SanCo News 1, no. 8 (October 1939).
SanCo News, September/October 1971.
"Sanctuary Sanitarium Concludes Its Operation." Sanitarium information for SDA Church Senior Administration, November 17, 2015.
"Sanitarium and Nutrition Education—A Breakthrough." Record, March 19, 1988.
Sanitarium Health Food board minutes, October 5, 1898; December 11, 1899; January 11, 1900; October 28, 1900.
Sanitarium Health Food Company board minutes, May 25, 1988.
Sanitarium Health Food Company Descriptive Booklet and Recipes. Cooranbong NSW: Avondale Press, 1914.
Sanitarium Health Food Company Directory. Cooranbong, NSW: Sanitarium Press, 1981.
Sanitarium Health Food executive committee of board of management minutes, June 23, 1986.
Sanitarium Health Food half yearly report to board of management, June 1986; December 1988; June 1989.
Sanitarium Health Food Company media release, May 30, 1988.
Sanitarium Health Food general board minutes, April 10, 1924; January 7, 1931.
Sanitarium Health Food Recipes. 1940.
Sanitarium Health Food Record Book.
Sanitarium Health Recipes. 1945.
"Sanitarium to Close All Retail Shops." General statement from Sanitarium Health Food Company. May 30, 1988.
Sanitarium Weet-Bix Kids TRYathlon. Accessed June 4, 2019. https://tryathlon.com.au/.
"Sanitariums." Seventh-day Adventist Yearbook. Washington, D.C.: Review and Herald Publishing Association, 1909, 1910.
Saunders, Todd. "Sanitarium Australia." Sanitarium Health Welbeing Group AGM Annual Report Video Scripting and Vision, September 29, 2019.
Schwarz, R. W. John Harvey Kellogg, M.D. Nashville: Southern Publishing Association, 1970.
———. Light Bearers to the Remnant. Mountain View, California: Pacific Press Publishing Association, 1979.
Sharda, Shailvee. "Three Out of Four Indians Have No Milk Tolerance: Study." March 11, 2015. Accessed February 2, 2020. https://timesofindia.indiatimes.com/city/lucknow/Three-out-of-four-Indians-have-no-milk-tolerance-Study/articleshow/46522488.cms.
"She Opened Health Food Cafés in Most States." Australasian Record, November 7, 1955.
Shryock, Richard H. "The Early American Public Health Movement." American Journal of Public Health and the Nation's Health 27, no. 10 (October 1937). Accessed August 9, 2019. https://www.ncbi.nlm.nih.gov/pmc/articles/PMC1563331/?page=1.
60 Recipes Cook Book. Sanitarium Health Food Company, n.d.
SKWT Registration Records 1999–2018.
Smith, W[illiam] J. "Medical Work in New Zealand." Union Conference Record, March 1, 1901.
Statement to Sanitarium Health Food Company board, May 25, 1988.
Sydney Sanitarium and Benevolent Association board minutes, January 3, 1904; February 20, 1904; October 10, 1906; January 30, 1907; July 16, 1916.
Sydney Sanitarium and Benevolent Association, Ltd., trustees report, September 2, 1906.
Sydney Sanitarium and Benevolent Association trustees report, September 7, 1910.
Sydney Sanitarium Health Food Company Depot board minutes, October 9, 1924.
"Sydney Wholesale Branch." SanCo News 2, no. 9 (September 1940).
"The Australian Camp-Meeting." Bible Echo and Signs of the Times, January 22, 1894.
"The Changing Face of the Nutrition Education Service." SanCo News, Christmas 1996.
The Heart Foundation. "Our Current Partners: Sanitarium." Accessed June 11, 2019. https://www.heartfoundation.org.au/get-involved/our-current-partners/sanitarium.
"The Home Health Education Service of Hobart." Australasian Record, August 17, 1953.
"The Shops at Christmastide." Maitland Daily Mercury, December 13, 1899.
"The Sydney Health Food Café has been . . ." Australasian Record, October 21, 1935.
The Way to Health—A Book Concerning the Products of the Sanitarium Health Food Co. Warburton, VIC: Signs Publishing Company, 1927.
Turner, W. G. "In Memoriam" [life sketch of G. S. Fisher]. Australasian Record, February 2, 1948.
Ulrich, Laura Louisa. Good Food and How to Prepare It. Warburton, VIC: Signs Publishing Company, 1925.
United States Patent Office. "Flaked Cereals and Process of Preparing Same." April 14, 1896. Accessed June 25, 2019. https://patentimages.storage.googleapis.com/54/89/59/6d9aad382846f0/US558393.pdf.
"We are exceedingly busy . . ." Australasian Record, July 14, 1924.
"Weet‐Bix Cholesterol Lowering." Accessed November 27, 2019. https://australianbrandawards.com.au/2018-winners/weet%E2%80%90bix-cholesterol-lowering-2018-pia/.
"WeetBix Rebrands for Breakfast in China." Accessed July 2, 2019. https://finance.nine.com.au/business-news/weetbix-rebrands-for-breakfast-in-china/927e6df9-63f8-4920-843b-a898d6271990.
"What Is CHIP?" Accessed June 7, 2019. https://chiphealth.org.au/about-chip.
"What's New at Better U." Ethos and Mission Report 2015–2016. Sanitarium Health & Wellbeing Australia.
Wheeler, G. James White: Innovator and Overcomer. Hagerstown, Maryland: Review and Herald Publishing Association, 2003.
White, Arthur Lacey. Ellen G. White: The Australian Years, 1891–1900. Washington, D.C.: Review and Herald Publishing Association, 1983.
———. Ellen G. White: The Progressive Years: 1862–1876. Washington, D.C.: Review and Herald Publishing Association, 1986.
White, Ellen G. Ellen G. White to Emma White. March 16, 1894. Letter 127, 1894. Ellen G. White Estate.
———. Ellen G. White to J. E. and Emma White. February 10, 1894. Letter 88a, 894. Ellen G. White Estate.
———. Ellen G. White to J. H. Kellogg and associates. January 6, 1899. Letter 4, 1899. Ellen G. White Estate.
———. "Health Foods in all Lands." Counsels on Health. Mountain View, California: Pacific Press Publishing Association, 1923.
———. Spiritual Gifts. Battle Creek, Michigan: Seventh-day Adventist Publishing Association, 1864 (1945 facsimile).
———. The Health Food Ministry. Washington, D.C.: Ellen G. White Publications, 1970.
White, J. S. "Our Health Institute." Review and Herald, October 19, 1876.
White, William C. William C. White to AUC executive committee. July 4, 1897. W. C. White Letter Book 11A. Ellen G. White Estate.
———. William C. White to A. G. Daniells. January 26, 1897. W. C. White Letter Book 11. Ellen G. White Estate.
———. William C. White to Br. Daniells. January 20, 1897. W. C. White Letter Book 11. Ellen G. White Estate.
———. William C. White to J. H. Kellogg. December 22, 1895. W. C. White Letter Book 9. Ellen G. White Estate.
———. William C. White to J. H. Kellogg. October 24, 1895. W. C. White Letter Book 8. Ellen G. White Estate.
———. William C. White to J. H. Kellogg. September 25, 1896. W. C. White Letter Book 10. Ellen G. White Estate.
———. William C. White to J. H. Kellogg and W. K. Kellogg. December 3, 1897. W. C. White Letter Book 11A. Ellen G. White Estate.
———. William C. White to W. K. Kellogg. July 2, 1897. W. C. White Letter Book 11A. Ellen G. White Estate.
———. William C. White to W. K. Kellogg. September 16, 1897. W. C. White Letter Book 11A. Ellen G. White Estate.
———. William C. White to W. M. Crothers. November 8, 1897. W. C. White Letter Book 11A. Ellen G. White Estate.
Willis, R.J.B. The Kellogg Imperative: John Harvey Kellogg's Unique Contribution to Healthful Living. Grantham, England: Stanborough Press, 2003.
Notes
The author, who is head of corporate communications, Sanitarium Health Food Company, acknowledges the assistance of Sara McGregor as a contributing writer and Alan Fisher, heritage archivist, Sanitarium Health Food Company, in the preparation of this article.↩

R. W. Schwarz, Light Bearers to the Remnant (Mountain View, California: Pacific Press Publishing Association, 1979), chapters 1–6.↩

"Pioneers—James White," accessed May 15, 2019, https://whiteestate.org/resources/pioneers/jwhite/; G. Wheeler, James White: Innovator and Overcomer (Hagerstown, Maryland: Review and Herald Publishing Association, 2003), 38–40.↩

Gary Krause, "White, Ellen Gould (1827–1915)," Australian Dictionary of Biography (1990), accessed August 9, 2019, http://adb.anu.edu.au/biography/white-ellen-gould-9071.↩

Richard H. Shryock, "The Early American Public Health Movement," American Journal of Public Health and the Nation's Health 27, no. 10 (October 1937): 965, accessed August 9, 2019, https://www.ncbi.nlm.nih.gov/pmc/articles/PMC1563331/?page=1.↩

D. E. Robinson, The Story of Our Health Message: The Origin, Character, and Development of Health Education in the Seventh-day Adventist Church (Nashville: Southern Publishing Association, 1965), 28–37.↩

Claus Leitzmann, "Vegetarian Nutrition: Past, Present, Future," American Journal of Clinical Nutrition 100, suppl. 1 (July 2014): 496S–502S, Oxford Academic Online, June 4, 2014, accessed August 11, 2019, https://academic.oup.com/ajcn/article/100/suppl_1/496S/4576707.↩

Theodore Levterov, "A Great Meat Eater: The Years Leading Up to the 1863 Health Vision," in M. Burt, ed., Understanding Ellen White: The Life Work of the Most Influential Voice in Adventist History (Nampa, Idaho: Pacific Press Publishing Association, 2015), 200, egwwritings.org, accessed June 20, 2019, https://m.egwwritings.org/en/book/13959.1085#1085.↩

"Two of the Three White Children Stricken," Ellen G. White: The Progressive Years: 1862–1876 (Washington, D.C.: Review and Herald Publishing Association, 1986), 2:13, 14.↩

Ellen G. White, Spiritual Gifts (Battle Creek, Michigan: Seventh-day Adventist Publishing Association, 1864 [1945 facsimile]), 4a:120-151.↩

Ibid.↩

A. L. White, "Cold Turned to Pneumonia," Ellen G. White: The Progressive Years, 70, egwwritings.org, accessed May 15, 2019, https://m.egwwritings.org/en/book/672.501#501.↩

A. L. White, "Important Lessons to Learn in Treating Disease," Ellen G. White: The Progressive Years, 76–78.↩

Ibid., 78.↩

Ibid., 78.↩

Robinson, 88–96; Schwarz, 109.↩

Theodore Levterov, "Ellen White and Vegetarianism," in M. Burt, ed., Understanding Ellen White, 199, egwwritings.org, accessed June 20, 2019, https://m.egwwritings.org/en/book/13959.1085#1085.↩

Robinson, 149–155; Schwarz, 59.↩

J. S. White, "Our Health Institute," Review and Herald, October 19, 1876, 124; Robinson, 210.↩

R. W. Schwarz, John Harvey Kellogg, M.D. (Nashville: Southern Publishing Association, 1970), 62.↩

"Health Reform Institute, Battle Creek, Mich.," Review and Herald, October 19, 1876, 128, http://www.heritagebattlecreek.org/index.php?option=com_content&view=article&id=95&Itemid=73.↩

Schwarz, John Harvey Kellogg, M.D., 117.↩

S. N. Haskell, "The Australian Mission," Historical Sketches of Foreign Missions (Basle, Switzerland: Imprimerie Polyglotte, 1886), 94, accessed October 21, 2019, http://documents.adventistarchives.org/Books/HSFM1886.pdf; G. I. Butler, "Still Onward," Review and Herald, May 12, 1885, 299.↩

Arthur Lacey White, Ellen G. White: The Australian Years, 1891–1900 (Washington, D.C.: Review and Herald Publishing Association, 1983), 4:13, 14.↩

Marian De Berg, Stories From Sunnyside—Ellen White in Australia, 1891—1900 (Warburton, VIC: Signs Publishing, 2017), back cover.↩

Ibid., 5.↩

"The Australian Camp-Meeting," Bible Echo and Signs of the Times, January 22, 1894, 21.↩

G. S. Fisher, "Nearly Forty Years in Institutional Work," Australasian Record, July 29, 1935, 15.↩

G. S. Fisher, "Early Experiences in the Health Food Work," SanCo News 1, no. 1 (March 1939): 3.↩

Fisher, "Nearly Forty Years in Institutional Work."↩

Ellen G. White to Emma White, March 16, 1894, Letter 127, 1894, Ellen G. White Estate.↩

William C. White to J. H. Kellogg, October 24, 1895, W. C. White Letter Book 8, 344, http://ellenwhite.org/resources/correspondence/white-w-c/letter-books.↩

Ibid.↩

Schwarz, John Harvey Kellogg, M.D., 116, 117.↩

Ibid., 118.↩

Ibid., 118, 119; H. B. Powell, The Original Has This Signature—W. K. Kellogg (Englewood Cliffs, N.J.: Prentice-Hall, 1956), 91.↩

Ibid., 118.↩

United States Patent Office, "Flaked Cereals and Process of Preparing Same," April 14, 1896, accessed June 25, 2019, https://patentimages.storage.googleapis.com/54/89/59/6d9aad382846f0/US558393.pdf.↩

Schwarz, John Harvey Kellogg, M.D., 119.↩

Advertisement, Good Health, April 1896.↩

Schwarz, John Harvey Kellogg, M.D., 21; R.J.B. Willis, The Kellogg Imperative: John Harvey Kellogg's Unique Contributions to Healthful Living (Grantham, England: Stanborough Press, 2003), 49; Powell, 111–115.↩

W. C. White to J. H. Kellogg, October 24, 1895.↩

Willliam C. White to J. H. Kellogg, September 25, 1896, W. C. White Letter Book 10, 471, http://ellenwhite.org/resources/correspondence/white-w-c/letter-books.↩

Ibid.↩

Ellen G. White to J. E. and Emma White, February 10, 1894, Letter 88a, 1894, Ellen G. White Estate.↩

J. M. Johanson, "The History of Our Health Food Work in Australasia—No. 1," Australasian Record, October 17, 1927, 5.↩

Australasian Union Conference minutes, October 21, 1896, 132.↩

William C. White to J. H. Kellogg, December 22, 1895, W. C. White Letter Book 9, 76, http://ellenwhite.org/resources/correspondence/white-w-c/letter-books.↩

William C. White to Br. Daniells, January 20, 1897, W. C. White Letter Book 11, 207; William C. White to W. K. Kellogg, July 2, 1897, W. C. White Letter Book 11A, 93; William C. White to W. K. Kellogg, September 16, 1897, W. C. Letter Book 11A, 247, http://ellenwhite.org/resources/correspondence/white-w-c/letter-books.↩

William C. White to A. G. Daniells, January 26, 1897, W. C. White Letter Book 11, 207, http://ellenwhite.org/resources/correspondence/white-w-c/letter-books.↩

G. S. Fisher, "Early Experiences in the Health Food Work."↩

William C. White to W. M. Crothers, November 8, 1897, W. C. Letter Book 11A, 344, http://ellenwhite.org/resources/correspondence/white-w-c/letter-books.↩

MMOC minutes July 4, 1898, 16.↩

MMOC min, October 31, 1897, 1.↩

William C. White to AUC executive committee, July 4, 1897, W. C. White Letter Book 11A, 80, http://ellenwhite.org/resources/correspondence/white-w-c/letter-books.↩

Ibid.↩

Melbourne Health Food Bakery, committee on arrangements minutes, December 11, 1897, Australasian Union Conference.↩

Johanson.↩

E. C. Halsey, diary, December 14–26, 1897, 1–4.↩

Ibid., January 26–31, 1898.↩

Fisher, "Early Experiences in the Health Food Work."↩

J. M. Johanson, "The History of Our Health Food Work in Australasia—No. 2," Australasian Record, November 7, 1927, 6.↩

Ibid.↩

Ibid.↩

Ibid.↩

J. M. Johanson, "The History of Our Health Food Work in Australasia—No. 4," Australasian Record, November 28, 1927, 6.↩

Sanitarium Health Food board minutes, October 5, 1898.↩

Johanson, "The History of Our Health Food Work in Australasia—No. 2."↩

Australasian Medical Missionary and Benevolent Association committee minutes, October 7, 1898; August 9, 1899.↩

William C. White to J. H. Kellogg and W. K. Kellogg, December 3, 1897, W. C. Letter Book 11A, 347, http://ellenwhite.org/resources/correspondence/white-w-c/letter-books; Johanson, "The History of Our Health Food Work in Australasia—No. 2."↩

Johanson, "The History of Our Health Food Work in Australasia—No. 2."↩

Ibid.↩

G. W. Morse, "Location of the Food Factory," Union Conference Record, September 15, 1898, 96, 97.↩

De Berg, 289.↩

Johanson, "The History of Our Health Food Work in Australasia—No. 2."↩

Australasian Medical Missionary and Benevolent Association committee minutes, September 7, 1898.↩

De Berg, 289; Morse, 97.↩

J. M. Johanson, "The History of Our Health Food Work in Australasia—No. 3," Australasian Record, November 14, 1927, 7.↩

G. W. Morse, "The Health Food Business," Union Conference Record, September 1, 1899.↩

Ellen G. White to J. H. Kellogg and associates, January 6, 1899, Letter 4, 1899, Ellen G. White Estate.↩

Johanson, "The History of Our Health Food Work in Australasia—No. 3."↩

Ibid.↩

Ibid., 6.↩

Ibid.; A. L. White, Ellen G. White: The Australian Years, 412–415.↩

Ibid.↩

E. R. Palmer, "The Health Food Factory," Union Conference Record, December 1, 1899, 8.↩

De Berg, 262.↩

Sanitarium Health Food Record Book, 62, 63.↩

Avondale College board minutes, March 14, 1907, 232.↩

Ellen Gould White, "Health Foods in all Lands," Counsels on Health, (Mountain View, CA: Pacific Press Publishing Association, 1923), 634.↩

"The Shops at Christmastide," Maitland Daily Mercury, December 13, 1899, 4; Sanitarium Health Food board minutes, December 11, 1899; January 11, 1900.↩

Sanitarium Health Food board minutes, December 11, 1899.↩

"The Shops at Christmastide."↩

Ibid.↩

Sanitarium Health Food board minutes, January 11, 1900, 3, 4.↩

Ibid.↩

Foreign Mission Board meeting minutes, April 23, 1894, 97 (PDF, p. 115); "Dr. Braucht arrived in Auckland . . . ," Union Conference Record, March 1, 1900, 15.↩

Sanitarium Health Food board minutes, October 28, 1900, 111, as documented in H. J. Halliday, "Source Material for S.H.F. History," January to March 1962.↩

Halsey, diary, November 15, 1900, to March 1, 1901.↩

S. H. Amyes, "A Brief History of the Start and Progress of the Sanitarium Health Food Work in New Zealand," The Sanitarium Traveller, May 1934, 5.↩

S. H. Amyes, in The Sanitarium Traveller, September 1934, 9, 10.↩

Halsey, diary, January 24, 1901; W.L.H. Baker, "Union Conference Proceedings, Report of the New Zealand Conference," Union Conference Record, July 22, 1901, 25.↩

"Health Food Department," Australasian Record, October 30, 1922, 71; Avondale Industries Report," Australasian Record, October 30, 1922 83, 84; Christchurch Health Food Factory," Australasian Record, October 20, 1922, 84, 85.↩

E. W. Farnsworth, "Sydney Vegetarian Café," Union Conference Record, April 1, 1902, 16.↩

Ibid.↩

Ibid.↩

Laura Louisa Ulrich, Good Food and How to Prepare It (Warburton, VIC: Signs Publishing Company, 1925).↩

Sydney Sanitarium and Benevolent Association board minutes, February 20, 1904, 2; Fisher, "Early Experiences in the Health Food Work," 4.↩

Sydney Sanitarium and Benevolent Association board minutes, January 3, 1904.↩

Fisher, "Early Experiences in the Health Food Work," 4.↩

Sydney Sanitarium and Benevolent Association, Ltd., trustees report, September 2, 1906; Sydney Sanitarium and Benevolent Association board minutes, October 10, 1906.↩

G. S. Fisher, "Early Experiences in Health Food Work—Part 2," SanCo News 1, no. 2 (April 1939), 3; W. G. Turner, "In Memoriam" [life sketch of G.S. Fisher], Australasian Record, February 2, 1948, 8.↩

Fisher, "Early Experiences in the Health Food Work," 4.↩

Ibid.↩

Australasian Union Conference minutes, September 14, 1905, 317.↩

G. S. Fisher, "Pure Food Café," Union Conference Record, August 1, 1905, 4.↩

G. S. Fisher, "Our Health Food Work," Australasian Record, February 7, 1910, 4.↩

Ellen G. White, The Health Food Ministry (Washington, D.C.: Ellen G. White Publications, 1970), 35.↩

"She Opened Health Food Cafés in Most States," Australasian Record, November 7, 1955, 2.↩

Ibid.; G. S. Fisher, "Medical," Australasian Record, April 29, 1912, 7.↩

"Actions Taken by the Union Conference Council. Held at Wahroonga, New South Wales, September 9–20, 1909," Union Conference Record, October 4, 1909, 4; Sydney Sanitarium and Benevolent Association trustees report, September 7, 1910.↩

G. S. Fisher, "Our Health Food and Café Work," Australasian Record, June 14, 1915, 4.↩

Mrs. L. Hollingsworth (daughter of G. S. Fisher), interview by G. Litster, May 9, 1990, quoted in G. Litster, The Sanitarium Health Food Company Story (monograph, 1995).↩

G. S. Fisher, "Early Experiences in Health Food Work—Part 2."↩

Ibid.↩

Ibid.↩

Ellen G. White, Testimonies for the Church (Mountain View, California: Pacific Press Publishing Association, 1948), 7:128.↩

Fisher, "Early Experiences in Health Food Work—Part 2," 3, 4; E. H. Gates, "A Shipload of Gold Sovereigns for Missions," Union Conference Record, September 17, 1906, 4.↩

Sydney Sanitarium and Benevolent Association board minutes, October 10, 1906.↩

Ibid., January 30, 1907.↩

G. S. Fisher, "Health Food and Café Department," Union Conference Record, September 7, 1908, 32, 33.↩

G.S. Fisher, "The Medical Work," Australasian Record, October 13, 1913, 2.↩

G. S. Fisher, "Our Health Food and Café Work," Australasian Record, September 28, 1914, 24.↩

Sydney Sanitarium and Benevolent Association board minutes, July 16, 1916.↩

Turner; Fisher, "Early Experiences in Health Food Work—Part 2," 3, 4; G. S. Fisher, "Health Food and Café Department," Australasian Record, September 7, 1908, 32, 33.↩

"The Sydney Health Food Café has been . . . ," Australasian Record, October 21, 1935, 8; R. E. Hare, "New Café Premises, Sydney," Australasian Record, October 28, 1935, 8.↩

Sanitarium Health Food Company Directory (Cooranbong, NSW: Sanitarium Press, 1981), 4.↩

Sanitarium Health Food Company board minutes, May 25, 1988.↩

Sanitarium Health Food Company media release, May 30, 1988.↩

Statement to Sanitarium Health Food Company board, May 25, 1988.↩

"Sanitarium to Close All Retail Shops," general statement from Sanitarium Health Food Company, May 30, 1988.↩

W[illiam] J. Smith, "Medical Work in New Zealand," Union Conference Record, March 1, 1901, 14.↩

"Sanitariums," Seventh-day Adventist Yearbook (Washington, D.C.: Review and Herald Publishing Association, 1909), 183.↩

G[eorge] F. Hansford, "Health Food and Café Work in New Zealand," Union Conference Record, May 6, 1907, 7.↩

S[tephen] M. Cobb, "The Report of the New Zealand Conference," Union Conference Record, September 7, 1908, 8, 9.↩

J[esse] Pallant, "The New Zealand Conference," Union Conference Record, February 15, 1909, 5, 6.↩

"Sanitariums," Seventh-day Adventist Yearbook (Washington, D.C.: Review and Herald Publishing Association, 1910), 186.↩

S[tephen] M. Cobb, "The Report of the New Zealand Conference," Union Conference Record, September 7, 1908, 8.↩

Ibid.↩

Pallant, 5.↩

Fisher, "The Medical Work," 1–3.↩

W. O. Johanson, "Health Food Department Notes," Australasian Record, May 28, 1923, 8.↩

Australasian Union Conference executive committee minutes, September 25, 1919, 117–119.↩

Ibid., 116–119.↩

Sydney Sanitarium Health Food Company Depot board minutes, October 9, 1924; "Sydney Wholesale Branch," SanCo News 2, no. 9 (September 1940): 2, 3.↩

Jan O'Connell, "1898 Sanitarium Peanut Butter" (Sydney, NSW: New South Publishing, University of New South Wales Press, Ltd., Australian Food History Timeline, accessed May 10, 2019, https://australianfoodtimeline.com.au/peanut-butter/; "1930? Queensland Bans Peanut Butter," Australian Food History Timeline, accessed February 11, 2020, https://australianfoodtimeline.com.au/peanut-butter-ban/.↩

Advertisement for "Nut Butter" (manufactured by Sanitas Nut Food Company, Battle Creek), Gospel of Health 2, no. 6 (June 1898).↩

O'Connell.↩

G. S. Fisher, "Early Experiences in Health Food Work—Part 3," SanCo News 1, no. 3 (May 1939): 3.↩

Ibid., 4.↩

Sanitarium Health Food general board minutes, April 10, 1924, 54; J. S. Sandeman, "Melbourne Wholesale Branch," SanCo News 1, no. 8 (October 1939): 2, 3; SanCo News, September/October 1971, 1.↩

Sandeman; SanCo News, September/October 1971↩

SanCo News, September/October 1971.↩

T. W. Hammond, "A Giant in the Making," Australasian Record, July 18, 1960, 10; H. W. Hammond interview, referenced in Litster.↩

H. W. Hammond, interview by G. Litster, July 3, 1990, in Litster, 294; W. P. Rippon, The Beginning of Australian Marmite (unpublished paper in Sanitarium archives).↩

"Marmite Production Underway at AMU," SanCo News 81, no. 1 (Spring/Summer 2019): 6.↩

W. O. Johanson, "Health Food Department," Australasian Record, September 27, 1926, 11.↩

Advertisements in Life and Health, various issues, 1928 to 1932.↩

Sanitarium Health Food Company Descriptive Booklet and Recipes (Cooranbong, NSW: Avondale Press, 1914), 5–24; 60 Recipes Cook Book, Sanitarium Health Food Company, n.d.); Sanitarium Health Food Recipes (1940); Sanitarium Health Recipes (1945).↩

Auckland factory official opening program, February 28, 1961; Palmerston North factory official opening program April 2, 1952.↩

O'Connell, 72.↩

Fisher, "Our Health Food and Café Work," Australasian Record, June 14, 1915, 4.↩

G. S. Fisher, "Avondale Industries Report," Australasian Record, October 30, 1922, 83.↩

Litster gives sources in Autralasian Conference Association and Sanitarium Health Food minutes, but we don't seem to have these minutes.↩

"We are exceedingly busy . . . ," Australasian Record, July 14, 1924, 8.↩

John Baskerville Bagnall, Arthur Shannon and the Beginnings of Weet-Bix (unpublished manuscript, private collection of John Baskerville Bagnall, March 2014), 4.↩

Ibid., 4, 5.↩

Sanitarium Health Food Company Descriptive Booklet and Recipes, 5.↩

Bagnall, 4.↩

Ibid., 4, 5.↩

Litster, 75.↩

Bagnall, 22.↩

Ibid., 5.↩

Donald Jeffes, interview with Glynn Litster, April 19, 1991, as cited in Bagnall, 5. ↩

Bagnall, 9–12.↩

Ibid., 10, 11.↩

Ibid., 12.↩

Ibid., 5.↩

Ibid., 13.↩

Ibid., 15.↩

Ibid., 17.↩

Ibid., 20, 21.↩

Ibid., 21.↩

Ibid.↩

Ibid.↩

Ibid., 22, also Australasian Conference Association board minutes.↩

Sanitarium Health Food general board minutes, January 7, 1931, 273.↩

Evening Post (Wellington, New Zealand), March 8, 1927.↩

Bagnall, 22.↩

Evening Post (Wellington, New Zealand), September 22, 1928.↩

Bagnall, 22, 23.↩

Ibid., 23.↩

Ibid., 25.↩

Australasian Conference Association board minutes, April 22, 1930.↩

Sanitarium Health Food Company media release, May 30, 1988.↩

Johanson, "The History of Our Health Food Work in Australasia–No. 1."↩

"The Home Health Education Service of Hobart," Australasian Record, August 17, 1953, 5; H. W. Hammond, "Home Health Educational Service, Hobart," Australasian Record, November 2, 1953, 7.↩

L. A. Gill, "Demonstrated Health Foods, Are They Worth While?" Australasian Record, October 25, 1965, 1.↩

For example, J. R. Hawkes, "Two Injections for the Right Arm," SanCo News, January/February 1971, 7.↩

H. L. Cole, "News Notes From Victoria," SanCo News, March/April 1970, 5, 6; L. A. Gill, "Showing How It Is Done," SanCo News, January/February, 1971, 3; J. R. Hawkes, "Taste and See—at Melbourne," SanCo News, July/August 1974, 3.↩

For example: "Cooking Demonstration . . . Townsville," "Cooking Demonstration . . . Roselands," and "Cooking Demonstration . . . Adelaide," SanCo News, September 1978, 4, 5.↩

Lola Thomas interview by G. Litster, Pakuranga, New Zealand, March 21, 1991, reported in Litster, 55.↩

"Sanitarium and Nutrition Education—A Breakthrough," Record, March 19, 1988, 16.↩

Ibid.↩

"Nutrition Education Service," Sanitarium Health Food half yearly report to board of management, December 1991, 31; "The Changing Face of the Nutrition Education Service," SanCo News, Christmas 1996, 8–10.↩

Julie Praestiin, email message to author, January 22, 2019.↩

Sid Cole, "History of Soy Foods," SanCo News 33, no. 4 (1999): 4.↩

Ibid.↩

Ibid.↩

Ibid.↩

Ibid., 5.↩

Sanitarium Health Food executive committee of board of management minutes, June 23, 1986, 26; Sanitarium Health Food half yearly report to board of management, June 1986, 42.↩

Sanitarium Health Food half yearly report to board of management, December 1988, 29; Sanitarium Health Food half yearly report to board of management, June 1989, 1.↩

Castle Hill branch official opening program, November 5, 1987.↩

"Head Office and Berkeley Vale Opening," SanCo News 27, no.2 (Spring 1995): 1, 2.↩

Kanora Chhan, email to author, June 19, 2019.↩

Daniel Derrick, interview with author, Lake Macquarie, April 24, 2019.↩

Ibid.↩

Ibid.↩

Greg Gates, phone interview with author, July 16, 2019.↩

The Way to Health—A Book Concerning the Products of the Sanitarium Health Food Co. (Warburton, VIC: Signs Publishing Company, 1927), 16.↩

Convenient Vegetarian Meals, Canned Products range description, Sanitarium PDF, 1997.↩

Emily Ryan, edits to ESDA submission extract–Sanitarium to LHF 1, internal Word document, August 5, 2019.↩

Ibid.↩

Bennie Hendricks, "LHF NZ V2," internal Sanitarium Word document, June 24, 2019, 1.↩

Ibid.↩

Ibid.↩

Ibid.↩

Ibid.↩

Ibid.↩

Ibid.↩

IRI Aztec Temple, NZ Vegetarian Grocery Scan, MAT 21/07/19, dollars (000s).↩

Hendricks.↩

Ibid.↩

IRI Custom report, Quick and Easy Meals, MAT 28/10/18, dollars share of category.↩

Emily Ryan, email to author, August 5, 2019.↩

Bennie Hendricks, "LHF AU V2," internal Word document, June 24, 2019, 1.↩

Ibid.↩

Emily Ryan, email to author, January 22, 2020.↩

Ibid.↩

IRI Aztec Temple, NZ Vegetarian Grocery Scan, MAT 21/07/19, dollars (000s).↩

Dean Epps, email message to author, August 14, 2019.↩

Shailvee Sharda, "Three Out of Four Indians Have No Milk Tolerance: Study," March 11, 2015, accessed February 2, 2020, https://timesofindia.indiatimes.com/city/lucknow/Three-out-of-four-Indians-have-no-milk-tolerance-Study/articleshow/46522488.cms.↩

"Lifestyle diseases in India," Press Information Bureau, Government of India Ministry of Health and Family Welfare, July 31, 2018, accessed February 2, 2020, https://pib.gov.in/Pressreleaseshare.aspx?PRID=1540840.↩

Bennie Hendricks, "LHF AU, NZ and International," Sanitarium Health & Wellbeing Group AGM Annual Report Video Scripting and Vision, September 30, 2019, 5.↩

Dean Epps, email message to author, August 14, 2019.↩

Ibid.↩

Ethos and Mission Report F17-18 (Sanitarium Health & Wellbeing Group, December 2018), 29.↩

Deon Joubert, "LHF UK," Sanitarium Health & Wellbeing Group AGM Annual Report Video Scripting and Vision, September 30, 2019, 4.↩

IRI Aztec Temple, AU Vegetarian Grocery Scan, MAT 03/03/19, dollars (000s).↩

IRI Aztec Temple, NZ Vegetarian Grocery Scan, MAT 21/07/19, dollars (000s).↩

"'Cultivate' dedication a new beginning for Sanitarium," SanCo News 70, no. 1 (March 1, 2009): 5.↩

"Kitchen," SanCo News 69, no. 3 (2008): 4; "Kitchen Sanitarium Closed" (Sanitarium media release, February 20, 2017), accessed February 12, 2019, https://www.sanitarium.com.au/about/media-room/kitchen-sanitarium-closed.↩

Robert Beaglehole et al., "Health Policy: Priority Actions for the Non-Communicable Disease Crisis," The Lancet, April 6, 2011, accessed March 1, 2020. https://www.oecd.org/els/health-systems/47531330.pdf.↩

"Health and Wellbeing Services," Sanitarium Ethos and Mission Report 2013–2014, 56.↩

"Employer of Choice Winner 2016—Sanitarium Health & Wellbeing," Australian Business Awards, accessed August 13, 2019, https://employerofchoiceawards.com.au/2016-winners/sanitarium-health-and-wellbeing-2016-eoc/.↩

Sharyn Brady, "Sanitarium NZ Wins Wellbeing Award," Adventist Record, December 2, 2013, accessed August 13, 2019, https://record.adventistchurch.com/2013/12/02/sanitarium-nz-wins-wellbeing-award/.↩

"Employer of Choice Winner 2016—Sanitarium Health & Wellbeing."↩

"'Cultivate' Dedication a New Beginning for Sanitarium."↩

"What's New at Better U," Ethos and Mission Report 2015–2016 (Sanitarium Health & Wellbeing Australia), 15.↩

"From Weet-Bix to Wellbeing—Sanitarium's Groundbreaking Commitment to Health," Sanitarium media release, September 6, 2010.↩

Ibid.↩

"Sanctuary Sanitarium Concludes Its Operations," Sanitarium information for SDA Church Senior Administration, November 17, 2015.↩

Ibid.↩

Cathy McDonald, email to Zoe Rathgen, July 2, 2019.↩

Ibid.↩

"Health and Wellbeing Services."↩

Ibid.↩

Cathy McDonald, email to Zoe Rathgen, July 2, 2019.↩

Ibid.↩

Cathy McDonald, email to Zoe Rathgen, Tuesday July 2, 2019.↩

Ibid.↩

"About the Founder and Lecturer," accessed June 7, 2019, https://chiphealth.org.au/about-the-founder-and-lecturer.↩

Ibid.↩

Ibid.↩

Cathy McDonald, email to Zoe Rathgen, July 2, 2019.↩

Ibid.↩

"What Is CHIP?" accessed June 7, 2019, https://chiphealth.org.au/about-chip.↩

Impact Magazine (Sanitarium Health & Wellbeing Group), March 2019, 12.↩

Cathy McDonald, email to Zoe Rathgen, July 2, 2019.↩

Ibid.↩

Impact Magazine.↩

Ibid., 6.↩

"WeetBix Rebrands for Breakfast in China," accessed July 2, 2019, https://finance.nine.com.au/business-news/weetbix-rebrands-for-breakfast-in-china/927e6df9-63f8-4920-843b-a898d6271990.↩

"How Sanitarium Launched Gluten-free Weet-Bix," July 26, 2017, accessed June 28, 2019, https://www.marketingmag.com.au/hubs-c/weet-bix-case-study/.↩

"Have You Had Your Sorghum? Gluten-free Weet-Bix Helps Combat Diabetes," Curtin University News, July 25, 2018, accessed June 28, 2019, https://news.curtin.edu.au/stories/sorghum-arc-collaboration-develops-gluten-free-weet-bix/.↩

"Nutri-Brex—A New Name for Weet-Bix in China," accessed July 2, 2019, https://www.sanitarium.com.au/about/sanitarium-story/nutri-brex-a-new-name-for-weet-bix-in-china.↩

The Heart Foundation, "Our Current Partners: Sanitarium," accessed June 11, 2019, https://www.heartfoundation.org.au/get-involved/our-current-partners/sanitarium.↩

Andrea Hogan, "Australian Healthy Food Mag Awards 2017 Winners Announced," Australian Food News, October 16, 2017, accessed June 12, 2019, http://www.ausfoodnews.com.au/2017/10/16/australian-healthy-food-mag-awards-2017-winners-announced.html.↩

"Weet‐Bix Cholesterol Lowering," accessed November 27, 2019, https://australianbrandawards.com.au/2018-winners/weet%E2%80%90bix-cholesterol-lowering-2018-pia/.↩

Ibid.↩

Kylie Collins, email to author, June 6, 2019.↩

Nielsen Grocery Scan Mat to December 29, 2019.↩

Todd Saunders, "Sanitarium Australia," Sanitarium Health & Wellbeing Group AGM Annual Report Video Scripting and Vision, September 30, 2019, 2.↩

Ibid.↩

Impact Magazine, 6.↩

Darren Hagen, email to author, July 24, 2019.↩

Saunders.↩

James Felsch, email message to author, May 31, 2019.↩

Sophie Muir, "UP&GO and the NBA Launch Competition for Aussie Basketball Fans," December 15, 2016, accessed June 7, 2019, https://www.bandt.com.au/marketing/upgo-and-the-nba-make-one-australian-the-envy-of-basketball-fans-around-the-world.↩

Alex Hayes, "UP&GO Seals New Sponsorship Deal With Aussie Player and NBA Cleveland Cavaliers," Mumbrella, January 7, 2016, accessed August 9, 2019 https://mumbrella.com.au/up-go-seals-new-sponsorship-deal-with-aussie-player-and-nba-cleveland-cavaliers-338294.↩

Ethos and Mission Report F18-19, Sanitarium Health & Wellbeing Group, November 11, 2019, 3.↩

Ethos and Mission Report F18-19, 17.↩

Impact Magazine, 6.↩

"Breakfast Club Programs," Impact Magazine, 6; Ethos and Mission Report F18-19, 18.↩

Ethos and Mission Report F18-19, 23.↩

Ethos and Mission Report F18-19, 22.↩

Ibid., 2, 8.↩

Sanitarium Weet-Bix Kids TRYathlon, accessed June 4, 2019, https://tryathlon.com.au/.↩

SKWT Registration Records 1999–2018, verified by David Martin, event manager, Kids TRYathlon, and Rego Numbers Historic, 1993–2019, verified by Nigel Chenery, Kids TRYathlon.↩

Ethos and Mission Report F18-19, 15–29.↩

"Group Hug!" SanCo News 79, no. 1 (2018): 6, 7.↩

Julie Praestiin, email to author, August 5, 2019.↩

Darlene Delaney, email message to author, July 3, 2019.↩

Ibid. (second email message of two).↩

Rachel Shaw, email message to author, July 25, 2019.↩

Rachel Shaw, email message to author, August 12, 2019.↩

Ethos and Mission Report F18-19, 6.↩

Ibid., 7.↩

Kevin Jackson, in Ethos and Mission Report F18-19.↩

Matthew Gellin, email message to author, February 5, 2020.↩

Hendricks, "LHF AU, NZ, and International."↩

Emily Ryan, email to author, August 5, 2019.↩

Hendricks, "LHF AU, NZ, and International."↩

Ibid.↩

Hannah Curtis, email message to author, August 9, 2019.↩

Emily Ryan, email to author, January 23, 2020.↩

Cathy McDonald, "Vitality Works and CHIP," Sanitarium Health & Wellbeing Group AGM Annual Report Video Scripting and Vision, September 30, 2019, 6.↩

Ethos and Mission Report F18-19, 45.↩

Colmar & Brunton Research, commissioned by Life Health Foods and Food Frontier, July 2019.↩

Phillip Harlett, email to author, July 19, 2019.↩

"Benefits to Business: The Evidence for Investing in Worker Health and Wellbeing," accessed August 9, 2019, https://www.comcare.gov.au/__data/assets/pdf_file/0006/99303/Benefits_to_business_the_evidence_for_investing_in_worker_health_and_wellbeing_PDF,_89.4_KB.pdf.↩